Apple is getting ready to unveil its 2021 iPhone 13 series flagship on 14th September. The Apple event always keeps everyone hooked up for the surprise element. Though Apple does not bring drastic changes in its models, but in the recent past, the technological mammoth is facing a stride of issues pertaining to iPhone battery health drain on several social media platforms.
A techno-savvy user and many others resorted to Reddit and Twitter in order to gain perspective on how different users have been interacting and engaging with their iPhone battery drain. Here people are referring to the usage being reported for a duration of few months.
With the above tweet as a reference, several users opened up about their experience and their iPhone 12 series battery health.
Redditors weren't left behind in outpouring their woes. In fact, one of them tried to rope in Apple's attention towards the issue by posting a message on Reddit's iOS corner seeking suggestions on how to optimise the current battery health.
It's definitely not normal. I bought 12 mini 9 months ago and now I have 91% battery and my phone dies twice a day now. Few months ago I had battery for all day and always 10-20% left next day.
u/sorriiii
Users have found that on an average usage of 8-12 months, the maximum battery capacity has dropped by 8-12%. The reports are in for iPhone 12 Pro, iPhone 12 Pro Max and iPhone 12. Users are particularly alarmed at the trend of a decline of 1% per month. Although they have been careful in charging their iPhones with Apple-certified devices and never letting the battery level drop below 30%, they are looking for an answer.
Battery health drain in an iPhone is fairly normal because it has lithium-ion batteries that tend to lose capacity gradually over time.
The steady decline has alarmed loyal iPhone users. Many observed that the older models never had such a drain of battery capacity within a year of careful usage.
What is Apple's take on the battery health drain issue?
On Apple's website, it is pretty explicit that normal use leads to an average drop of 10% per year for the first two years. If it hits 79% before two years is up, you can get a battery replacement. You are safe as long as it is above 80% and in case it does go below one has teh option of a battery change.
"A normal battery is designed to retain up to 80% of its original capacity at 500 complete charge cycles when operating under normal conditions. The one-year warranty includes service coverage for a defective battery. If it is out of warranty, Apple offers battery service for a charge. Learn more about charge cycles."
Apple's support forum
Apple in its developer forum gives an explanation to the battery health drain issue clearly. There are tips from Apple that can help in maximising the lifetime of the battery.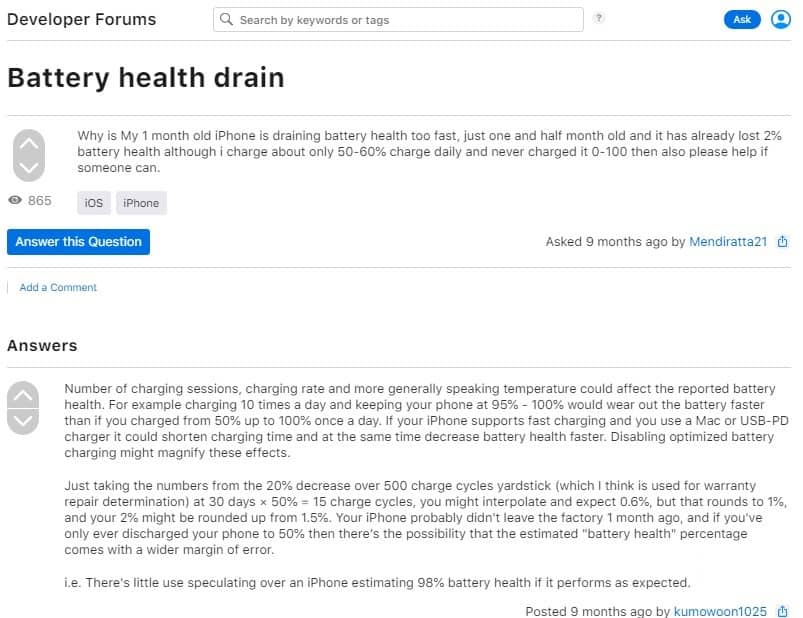 In other words, to preserve a battery it is "best" is to not charge it to 100% and keep it to about 80%. And don't discharge it completely, keep it at the lowest around 10%. Charge your phone when it gets to between 10-40% rather than letting it die completely. Partial discharges are healthier for lithium-based batteries generally. However, still do complete discharges once every month or second month as this recalibrates the power gauge.
It is also expected that iOS 15 will bring further enhancements in the battery capacity.
How to monitor an iPhone's battery health?
Apple brought in the battery health feature on their flagship models running on iOS 11.3 and above. The utmost potential and optimal efficiency statistics of the iPhone's battery can be measured.
As of now, you can view your iPhone battery health status by just following three steps. Go to > Battery > Battery Health to access the tool.
iPhone has been intended to provide a simple and easy-to-use experience. Only modern technology and smart engineering can make this feasible. Battery and performance are important parameters of technology though a complicated one.
Share with us if you were able to solve the iPhone 12 series battery health drain issue with the solution suggested by Apple.