For some reason, I'm starting to feel that the smartphone industry has a bone to pick with us. Not a day goes by when I hear of some new issue that plagues the iOS or Android ecosystem. Apple already received flak a while back for making its smartphones "Repair-proof". While iOS 14 carries a whole lot of snazzy features, the bugs are plenty too, kinda like a poorly maintained garden. Apple's iPhone 12 iOS 14.6 update is our object of scrutiny. Here's our take on the issues surrounding the matter.
What's the Issue Post iOS 14.6 Update?
Well, mentioning what the problem does feel like I'm choosing a random card from a deck. Even so, iOS 14.6 update did fix the performance throttling of iOS 14.5; credit ought to be given where it's due.
iOS 14.5 resolved several existing bugs and added new features on the iOS 14 platform. Dim glow in low brightness settings, support for AirTags, using Apple Watches to unlock the phone among others . Regardless, Apple was caught in the act of intentionally throttling the CPU to degrade performance over time. While this does sound far-fetched it also fits into Apple's image of selling more of their product line-up.
Update 14.6 is said to resolve that principal issue. Nevertheless, it also brought with it battery drain problems. Discussions on the official Apple page has had users complain about the sudden decrease in battery performance.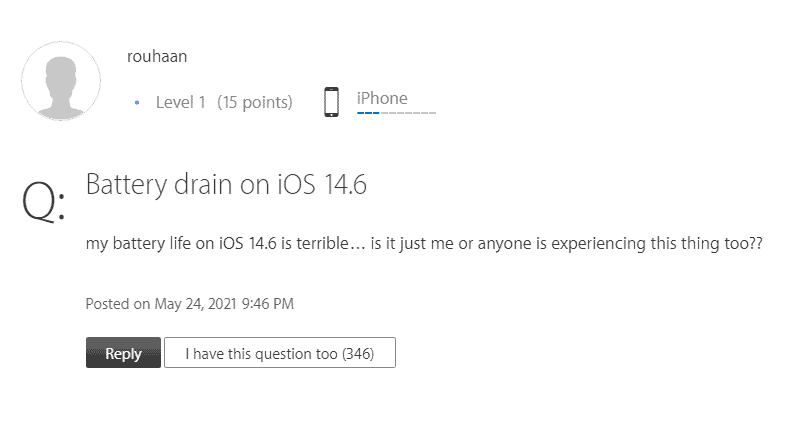 As you can see, nearly 350 other people have voted in support of the query. Besides, the similar opinion there were possible solutions as well, mostly based on user experience.
Tips to fix battery drain issue after iOS 14.6 update
According to one user on the same thread, turning off Auto-Brightness did the trick. The difference in battery consumption was night and day. Some might argue that this persists only on the iPhone 12 series as well. Well, we'll revert to public opinion instead. In the list, we have the iPhone XR, the iPhone XS, the iPhone X, and some of the lower-end iPhones too.
Turning off Background Apps also helps prevent battery drain.
Apple Podcast isn't the only culprit, most music apps are accused of sucking up a lot of battery power. Just in case, one can prevent such usage by heading over to settings and controlling the start-up of various background apps.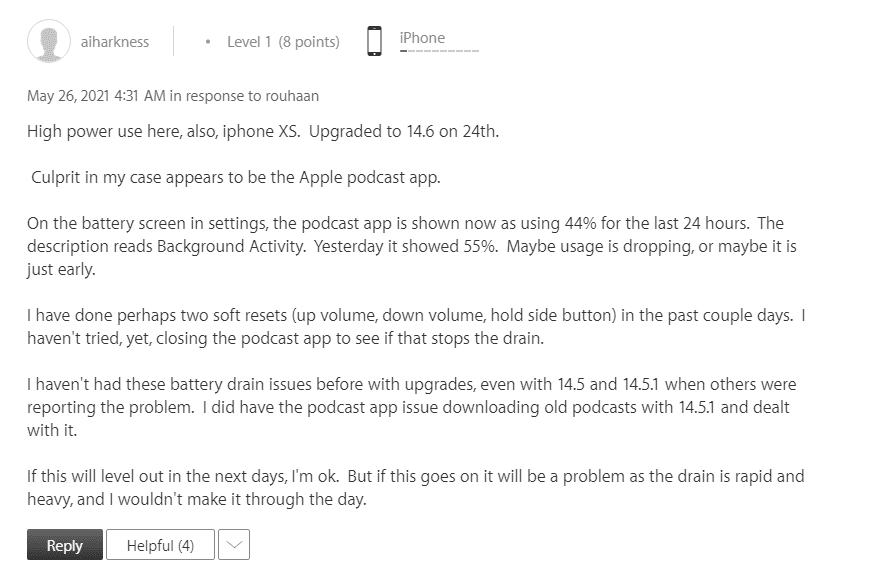 For those of you still running the 14.5 version without the performance throttle can still continue using it. Many of the long tested Beta features are available on this version.
You can also put your phone on battery saver mode when not in use by going here: "Settings > General > Battery > Low Power Mode."
One more workaround if using Airtags
Try this;
Settings -> Apple ID -> Find my -> Find my iPhone -> And turn off 'find my network'
For AirTags to work Apple devices need to constantly ping Bluetooth and U1 signals from devices which will drain a lot of battery over a day regardless of them both being low powered
You will be loosing the ability to find your iPhone or iPad if the battery is completely dead but they only just added that anyway so life will be as it was before the iOS 14.6 update.
If you have battery drain try turning off every single app refresh off in the refresh and then try it out and start adding one at a time testing in between each app enable and see what happens.
Users have tried the soft and factory reset approach but the battery drain persists. Honestly though, after paying a hefty premium for a smartphone it is disappointing to see a half-baked model being sent out every time with annoying bugs that take nearly forever to fix.
Apple really needs to work on their game here. Cutting off consumer access to numerous normal features like ease of repair and a quality UI is distasteful. With Android 12 in sight maybe they'll be forced to sit up.
Issues Faced by Previous iOS Versions
Extreme Lag when using Apps, possibly performance throttling
Auto-Brightness Malfunction
Wi-Fi and other connectivity options turning off randomly
Apps that crash mid-function
Other reports involve poor app and resource management, esp: RAM and CPU.
Given the long wait for the iOS 14.5 update and the mediocre reprisal in the form of iOS 14.6 update, Apple sure up to their eyes in complaints. With many complaints related to the iPhone battery drain piling up since updating to iOS 14.6. Apple has yet to address the issue, but it seems possible it could be fixed in iOS 14.7, probably coming in July!
Are you the "proud" owner of an iPhone 12 that serves its purpose or do you generally have any opinions about Apple's strategies? Do let us know in the comments below. For more similar content visit us here.