Omegle is a great place to have conversations with strangers, but with rising popularity, users are becoming subject to their bans way more frequently. As such, they have been very eager to know how to get unbanned from Omegle so that they can use the platform for communicating again.
This year has seen a great increase in the number of accounts banned from the platform. And this can take place for seemingly no valid reason at all. The way Omegle operates makes it really easy for users to get banned. And that's not the worst part. You can easily get banned from using the site for days or even months!
Now while you may be worried about how you can start using Omegle again, we have some great news for you! Just like it's easy to receive bans, the same goes for bypassing it. The processes are not at all complicated and without making you wait, let's take a look at the ways you can use to get unbanned from Omegle in 2023. 
What is Omegle?
Before diving straight into the steps to get unbanned, it is important to know about the platform first and its functionality. Initially created by 18-year-old Lief K. Brooks in Brattleboro in 2009, Omegle became a very popular web app allowing its users to chat with strangers. The anonymity offered by the site due to the lack of presence of any monitor or moderator still makes it a great choice for users who are looking to connect with unknown strangers.
The platform works completely on randomness and it is one of the pioneering platforms to start the 'talk to strangers' trend across social media platforms. Users can also further add their interests to pair with like-minded people in case complete randomness seems too much.
Omegle further includes both a text chat as well as a video chat feature. However, users need to be at least 18 according to the platform's terms of service. Minors who are of a minimum of 13 years of age can also access it with parental permission.
And this is why users getting banned on Omegle are of no surprise since a lot can go wrong in an unmonitored chat between strangers. The platform actually acknowledges the potential exposure to profanity, pornography, and predation since it is full of people with various intentions. Omegle is definitely not a social site that promises great security and we recommend you remain cautious about the data you share with strangers at all times!
Why did I get banned on Omegle?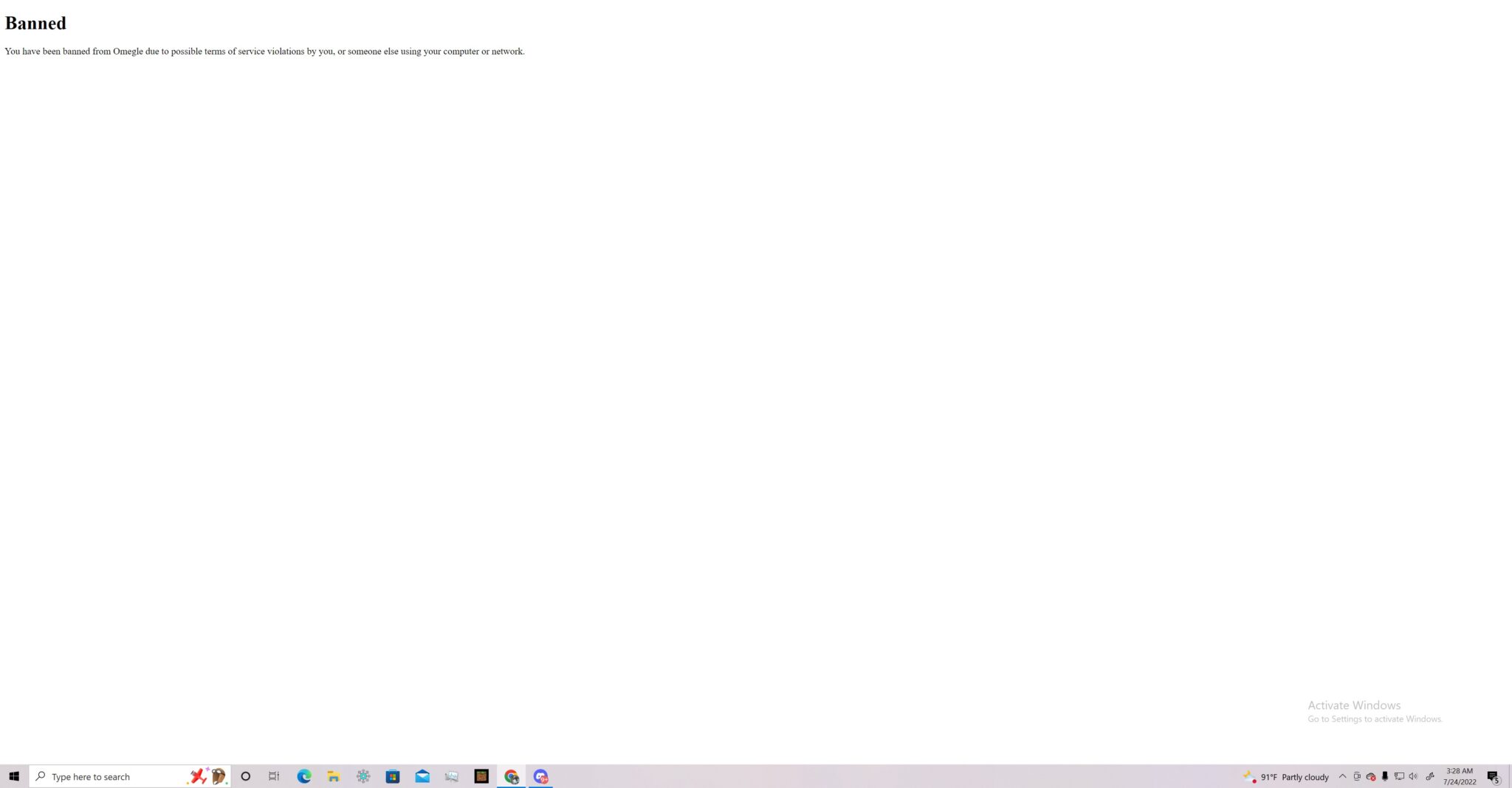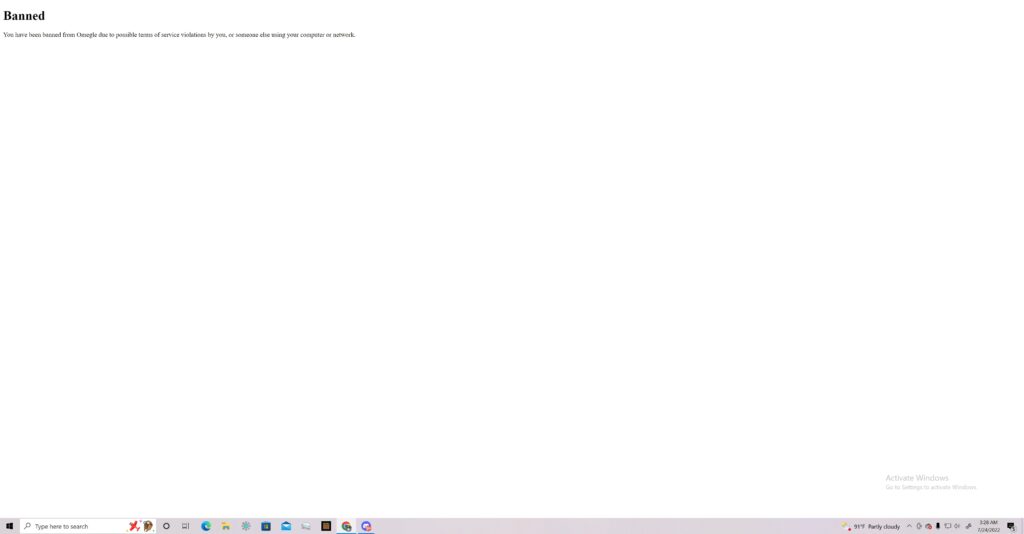 There are plenty of reasons starting from banalities to criminal violations that can effectively get your account unbanned from Omegle. The platform directly bans your IP address which ensures that banned users aren't able to join chatrooms again. The ban message usually looks like this-
"Your computer/network is banned for possible bad behavior."
OR
"You have been banned from Omegle due to possible terms of service violations by you, or someone else using your computer or network."
Now, let's take a look at the 4 primary reasons why you can get an Omegle ban.
You get dropped too much by other users
Very similar to hanging up a phone call, Omegle also offers a feature to "drop" any chat which might not intrigue your interests. Now, if too many people end up dropping the chat with you, Omegle may end up banning your account. This is done on the assumption that you may have been harassing others on the platform causing them to skip or drop your chat.
You drop the chat of too many people
Just like the first reason, but vice-versa, if Omegle detects you dropping too many chats consecutively, it may result in a ban! The platform assumes that your action denotes your lack of enthusiasm to constructively partake in the Omegle community and hence, bans you.
Your account gets reported
Omegle, like most other social media platforms, also consists of the feature to report other users if they behave inappropriately or offend you in some way. Now, more often than not, many users also report other accounts without any valid reason. Unfortunately, a single report is capable of getting your Omegle account banned almost immediately.
Violating the Terms of Service
Breaking certain rules and regulations imposed by Omegle can get your account banned for a long time. These are more serious than the other offenses which can land your account with the same consequence. Some of the actions that can result in a ban include
Spam
Adult content in the all-ages section
Racism, abuse, or harassment
Using copyrighted music, movies, or TV shows in the background
What is Omegle ban duration?
While the first Omegle ban usually lasts anywhere from a day to a week, breaking these terms of services repeatedly may result in a ban for up to 120 days! This is why it is very important to know the rules and regulations implied on any platform before using it.
How to get unbanned from Omegle?
In this article, we will take a look at the 4 best ways to get unbanned from Omegle. The steps are fairly easy to execute so read the next section carefully if you want to continue using the site again!
Method 1: Use a safe VPN to get unbanned from Omegle
The easiest way you can unban your Omegle account is by changing your IP address. A VPN software is a perfect tool in this regard since it allows users to select an IP address and location to their liking. Follow these steps to use a VPN to bypass a ban and start using Omegle again.
Sign up for a trusted and reputable VPN provider. We recommend NordVPN which is not only safe and fast but a perfect bang for the buck. Using NordVPN gives you access to thousands of available IP addresses meaning you never have to worry about an Omegle ban again.
Download the VPN software on the device you are going to use.
Turn on the VPN application and select your preferred server.
Once you connect, you will be able to browse the internet with a completely new IP address meaning you can easily access the Omegle site again!
Method 2: Using a proxy service
Proxies work in a very similar way to VPNs. The main difference is that the former doesn't usually encrypt your data. But they also send your traffic through an intermediary server letting you use that server's IP address in place of yours. This method is also very useful in bypassing Omegle bans.
Method 3: Connecting to a different network
Remember that Omegle implies the ban on the IP address you use and not the user. This means you can just choose a different network to access the site again. For example, you can use your mobile internet, public wifi, a friend's wifi, and similar sources to resume chatting with strangers!
Method 4: Getting a new IP address
If you have a dynamic IP address instead of a static one, bypassing a ban is not at all difficult. Dynamic IP addresses refresh automatically over a given time and can easily help you to access the platform without any hurdle.
Static IP address users can also contact their ISP and simply ask for a new IP address if they wish to get unbanned from Omegle.
Here are some methods that have been tried and tested by users. Check them out, in case anyone works for you!
Method 5: Use Mobile Hotspot as source of internet
Swicth your source of internet from the regular to mobile's hotspot. Just put your mobile on airplane mode and then bring it back to normal, your IP will be changed automatically, and it get's you unbanned from Omegle.
Method 6: Switch to new Browser
How to get unbanned from Omegle without changing IP address?
Many users have also questioned if it's possible to bypass an Omegle ban without changing their IP address.
Now, although some sites and services like Anonymous, BlewPass, and Unblocksit claim they can lift the ban without changing your IP address, they oftentimes fail to work. Using these sites is not recommended since they are not as reputable as the best VPN providers in the market.
How to unban Omegle account on iPhone?
VPN tools are not just limited to PC. You can easily download and connect to different servers offered by a VPN on your iPhone as well as your Android device. Thus, using a VPN is the most preferable and easiest solution for you to unban your Omegle account.
It is done by changing your IP address. However, if you really don't want to change your IP address due to some reason, you always have the option of waiting for the platform to lift up the ban after the ban period ends.
Can I use a free VPN to unban my Omegle account?
We don't recommend using free VPNs to get unbanned from Omegle mostly because of the very limited number of IP addresses that such software provides. Due to their small number, there are high chances that Omegle has already blacklisted them to prevent banned users from getting back. Some of the best VPN services you can use include NordVPN, Surfshark, and IPVanish.
There are few and best Free VPNs for Omegle. They include
ExpressVPN — Offers the best network speeds for Omegle topped up by security measures
CyberGhost — Free for 45 Days
ProtonVPN — Offers unlimited Free Data for chatting on Omegle
Share with our readers which option got you unbanned from Omegle!