Are you an iPhone user? Do you regularly face iPhone-related issues such as iPhone stuck on Apple logo, iPhone stuck on a black screen, etc.?
If you have an iPhone, you've probably seen one of these issues in your iPhone. It can get very annoying when your iPhone gets stuck on the Apple logo, and you can't get it to move. An image of the Apple logo that is usually pleasant becomes a distressing (and even panic-inducing) one.
Read below to know more about how to fix your iPhone if it's stuck on the Apple logo. There are a lot of ways to do this.
Reasons for The iPhone Stuck on Apple Logo Issue
Most likely, you're trying to figure out why your iPhone is stuck at the Apple logo. It's far less likely to happen again if you know what triggered the issue. If your iPhone's Home screen is stuck on the Apple logo, here are a few of the most typical reasons.
Due to Upgrade
Some users have reported that their iPhones become stuck on the Apple logo after upgrading to iOS 15. If you're trying to install the latest iOS on an older phone, you will most likely get this error message. Additionally, it is often considered one of the most troublesome iOS releases. Check out additional iOS issues here.
Due to Jailbreak
Jailbreaking your iPhone can result in your phone becoming stuck on Apple's logo, regardless of whether you performed the operation yourself or had it done by a specialist.
Due to Restoring from iTunes
If you restore your iPhone via iTunes or iCloud, it may become stuck on the Apple logo after you restore it.
Due to the Course of An Update or Restoration
We all have to update or restore our iPhones for various reasons periodically. You can get your iPhone 13 stuck on the Apple logo screen if you're trying to install an update or do a standard restoration.
Internal Hardware Damages
Damages to the iPhone's internal hardware may potentially affect its performance. Your iPhone stuck on the Apple logo means that you dropped it or damaged it with liquid.
How to Fix an iPhone Stuck on Apple Logo Without Technicians?
We'll show you a few alternative solutions to repair the iPhone stuck on Apple logo difficulties in this segment. The first four solutions are for people whose iPhone problem is caused by software difficulties. If you've tried all of these and still have issues, you can move on to the final option.
Force Restart your iPhone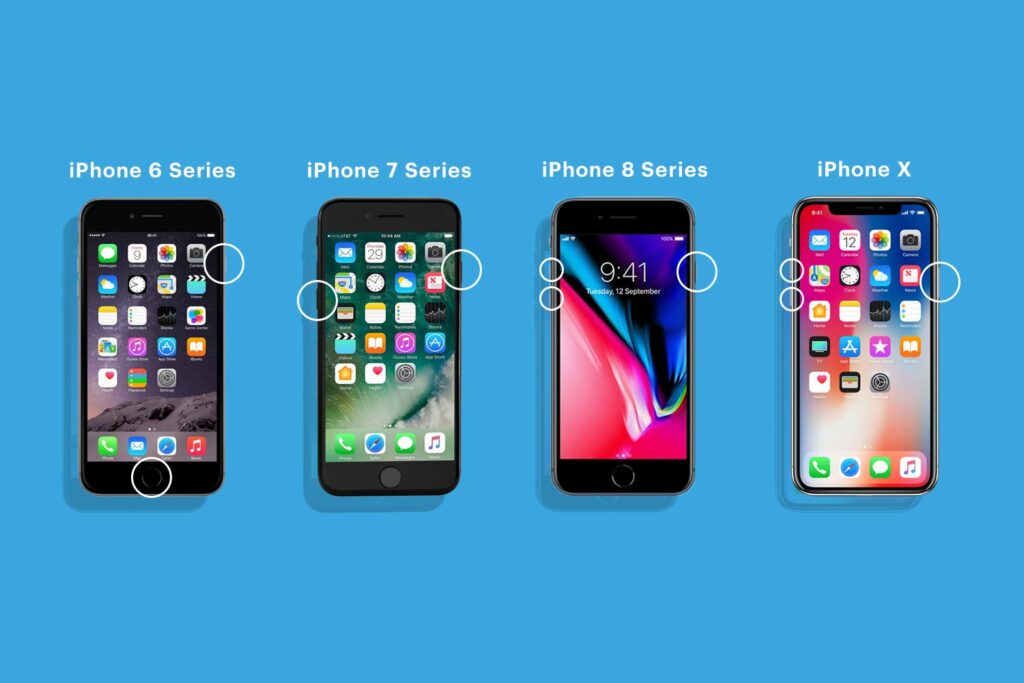 The first thing you must do is to force restart your iPhone device. It is also the easiest method to adopt while confronting typical iOS troubles such as iPhone stuck on Apple logo. Even though it may not work, it's still worth trying since the procedure won't be damaging to anything on your device. Plus, you may do the hard reset without a computer.
Set Your iPhone to Recovery
Another solution to the problem of why my iPhone keeps flashing the Apple logo and shutting down is to put it into recovery mode. Using this procedure will delete all files on your iPhone. So, make sure you've previously backed up your iPhone to iTunes or iCloud. Before you begin, make sure your computer's iTunes is updated.
DFU Restoration
The firmware (which controls your device's hardware) is completely reloaded during a DFU recovery, not just the software. Aside from the recovery mode, this characteristic distinguishes it from other restoration methods. And it's the most thorough kind of iPhone restoration.
Fix With iOS System Recovery Tool
If force restarting appears to have failed you like it usually does with many people and your iPhone apple logo is still stuck, switch to another solution by trying an iOS system recovery tool. Fortunately, TunesKit iOS System Recovery has developed a top-notch solution that may help you fix your damaged device.
How Many iOS Problems Can TunesKit iOS System Recovery Solve?
TunesKit iOS System Recovery will get you out of problems and restore your device to normal quickly and effortlessly. Regardless of whether your iOS device is stuck in recovery mode/DFU mode/white Apple logo, or has turned black/blue/frozen/disabled screen.
No matter whatsoever circumstance your iPhone is stuck in, this app, TunesKit iOS System Recovery, can get rid of them in 2 clever repair ways, Standard Mode and Advanced Mode. It is entirely user-friendly as what you need to do is to launch it and connect your device. Then the app will handle the remainder job for you and return your iOS to normal, causing no data loss or leak.
How does it work?
Step 1: Open the software and connect your device with a USB connection. Select the Start option, select the Standard Mode repair mode and click Next. Follow the window's steps to put your iPhone in recovery mode or DFU mode, then click Next.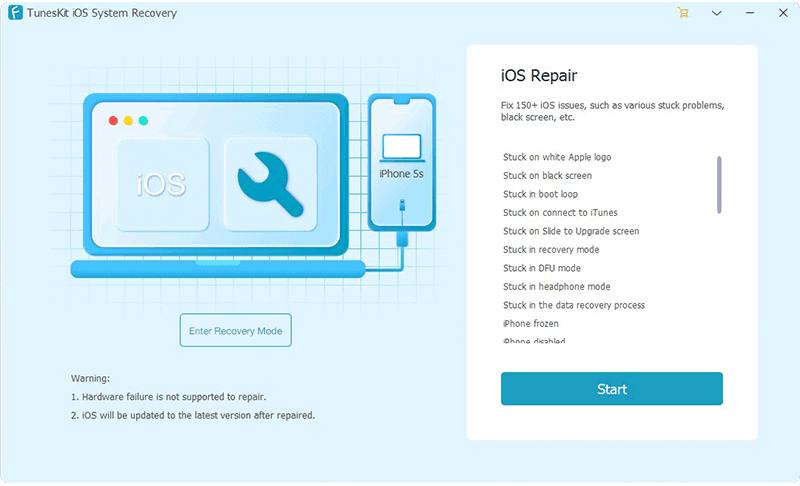 Step 2: After connecting your device, TunesKit iOS System Recovery will download the firmware package for your exact model and install it.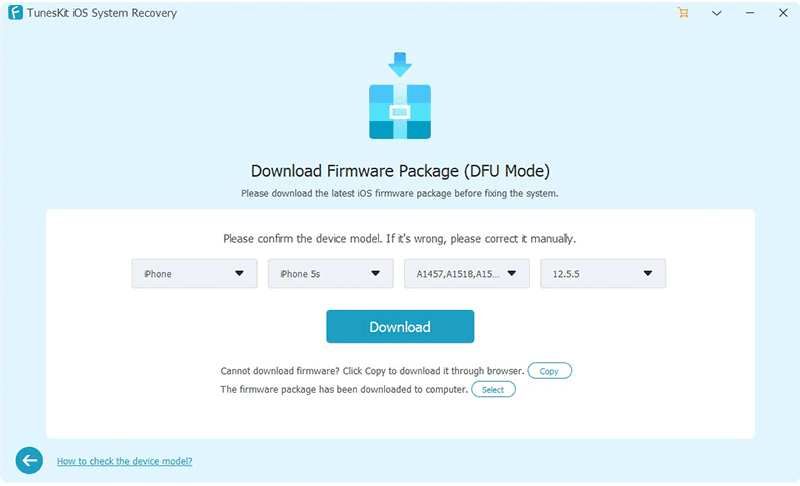 Step 3. Once the downloading finishes, click 'Repair' to begin the software to fix the iPhone stuck on the Apple screen issue.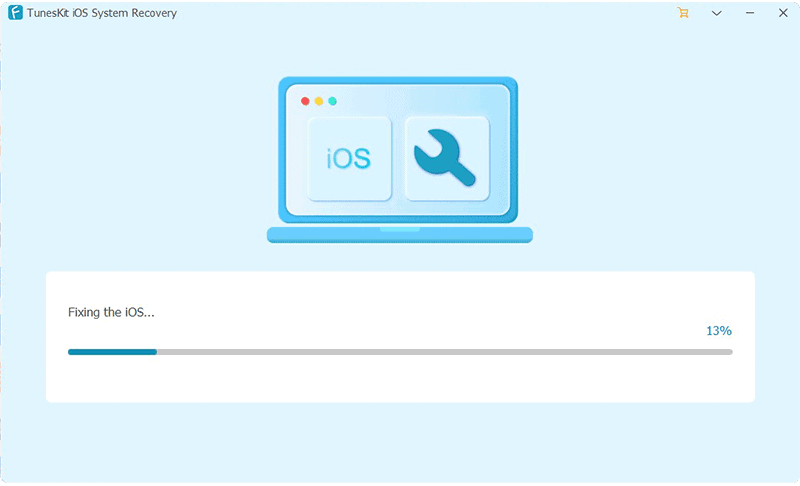 Watch the video tutorial to help you solve the issue:
Pros/Cons of Tuneskit iOS System Recovery
The advantages and drawbacks of TunesKit iOS System Recovery will be outlined in this section to assist you in having a better understanding of this solution.
Pros:
It fixes an extensive array of iOS problems
Anyone can fix the problem; no expertise is needed.
Easy to use and User-friendly
Restores the gadget to its previous condition.
Cons:
None, specifically. TunesKit iOS System Recovery is an excellent and powerful tool for resolving a broad range of iOS-related difficulties.
To Conclude
If you are facing iPhone stuck on Apple logo issue, there is a Tuneskit iOS System Recovery tool for you to aid you in fixing the issue.
TunesKit iOS System Recovery is the best solution if you have problems with your iPhone, iPad, or iPod. Using it is a pleasure, and it has a broad range of applications. This program is ideal because it doesn't require any special technical skills.
However, if any of the above solutions will not work on your iPhone, you may have a hardware issue, and it is always best to contact Apple Support for further assistance.