People are facing a strange Gift Card Error when they go ahead with redeeming on Google Play Store. The first such issue was reported on the Google Play Help Support forum in late 2020. The user complained about staring at a message while redeeming a Gift Card Error Code PRS-PGCSEFC-01. He was joined by many afterward with the error code still unable to find a permanent solution from Google.
People have tried all possible means to redeem the gift card and have wasted money too in return. Unfortunately, Google has not released any solution to it except a recommended autobot reply.
Check out a few complaints and the reply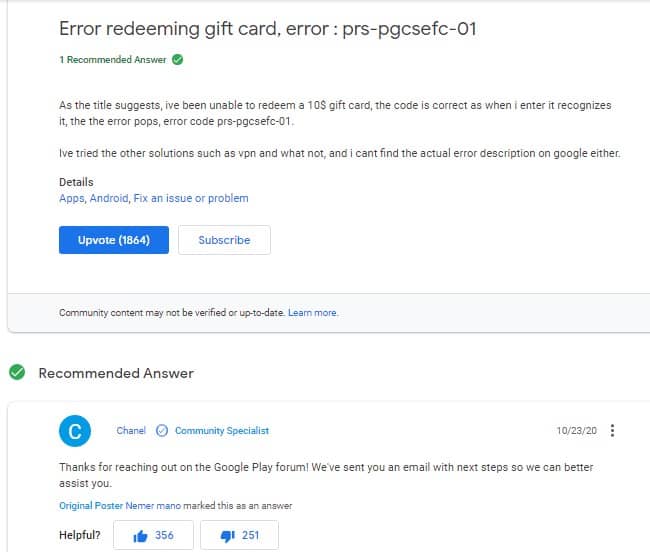 People have tried all possible means to find a way around the Gift Card Error Code PRS-PGCSEFC-01 while redeeming. They have tried all the possible combinations o fupper case, lower case and mixed case. The redemption feature can be located on the sidebar of the Google Play Store Android app.
Over a period of few months, people have found that the root cause of the issue. It is a mismatch in the country that issued the redemption card and where the Google Play account was created. For instance, if a gift card is from the USA and the account is in Germany, Redeem Gift Card Error Code PRS-PGCSEFC-01 will pop up. The gift card in US currency must be redeemed in the US only.
The reason lies behind this is Google's policy. It mandates the gift card to be from the same country where the account holder resides. Maybe the fix lies in resolving transactions between different currencies, the issue lies unattended. Cross country redemption on Google Play Store is out of scope for the time being.
There are a couple of tried and tested workarounds to it. Before you start, ensure the Google Play Store account isn't a Google Family Link and stop supervision. Clear the cache of the Store app, log out, and re-login.
If it doesn't work, opt to redeem using VPN. Here is one suggested by a user.
The above workaround is applicable only if you are in different country from where the Gift Card was purchased.