The first half of 2023 has brought some superb news for gamers with Apple lifting its Fortnite ban after almost a year. Fortnite lovers can now play their beloved battle-royale game once again on any iOS device through the Apple Store.
Previously regarded as the undaunted champion of Battle Royale games, Fortnite had one of the biggest impacts on the gaming world along with other popular titles like PUBG, Call of Duty, and others. But after its ban in the US in August 2020, people lost all glimmer of hope for the return of Fortnite on the iOS platform. However, Epic Games, the creators of Fortnite, were able to make a comeback with the aid of tech giant, Microsoft.
In this article, we will take a look at how hackers try to hack the in-game features in the game which often ends up in a Fortnite account ban. But nowadays, even normal users have started to report their Fortnite account getting banned for false reports and other miscellaneous reasons. Make sure you read to the end to know what you can do if your Fortnite account is banned.
Fortnite is one of the most popular free-to-play Battle Royale games with the availability of numerous modes for various kinds of gamers. The online video game had its initial release in 2017 by Epic Games. Gamers can choose to either play in squads or go solo as they try to survive in an open-world environment by battling other players.
Now, since we are done with all the catching up with the latest news on the Fortnite ban, let's take a look at the reasons behind the Fortnite account ban and what needs to be done to avoid it.
Why did I get Fortnite account ban notice?
Just like any other game, Fortnite is also not devoid of users who cheat their way into winning. However, Epic Games like any others want gamers to experience a fun, safe, and fair environment. In accordance, they have created a strict Code of Conduct breaking which can get your Fortnite account banned.
In other words, Fortnite account ban notice means that the account in question is debarred to log into the game, irrespective of where he played including PC or mobile. The ban stays there unless Epic Games deems it fit to be unbanned. This is the most common ban method.
However, there is another Fortnite IP ban by the name of HWID ban. It's an ID ban notice at the device level. The machine be it mobile, PC, laptop, or console gets to be permanently banned from playing Fortnite irrespective of any Fortnite account. However, it is an extreme but rare case.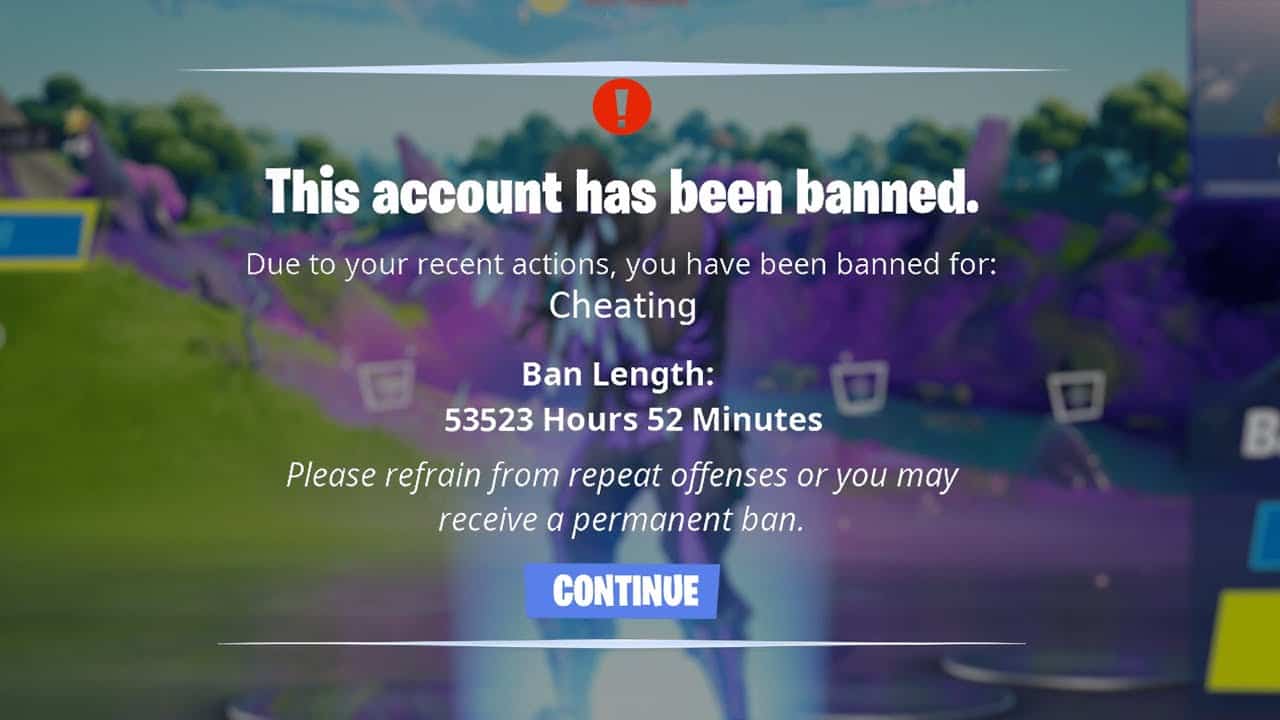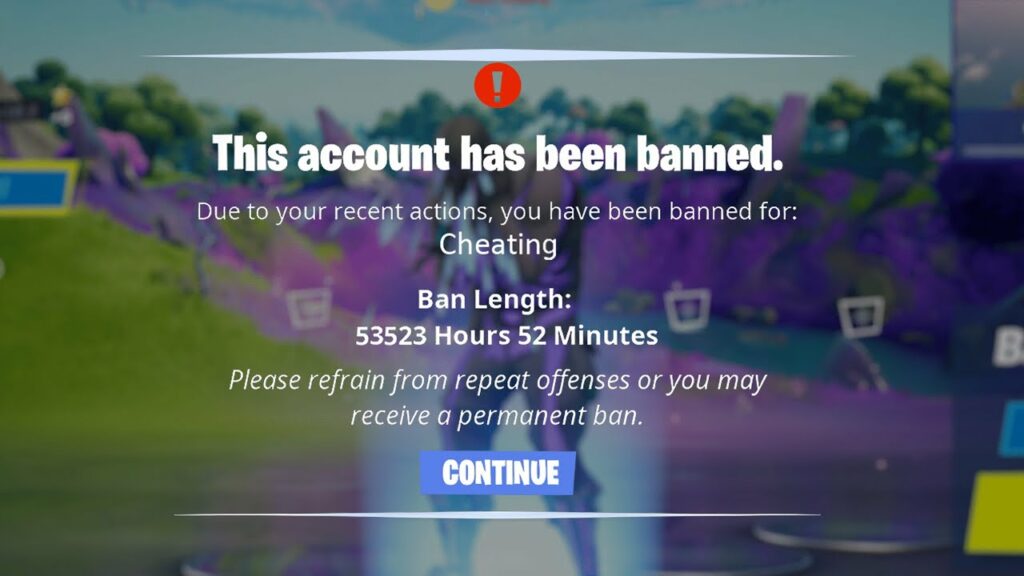 Temporary bans usually last up to 30 days after which players will be able to claim their account back. But permanent bans in Fortnite are indefinite and take place whenever someone is found cheating. Here are the possible reasons why your Fortnite account can get banned:
Cheating – This includes using any kind of third-party software, aimbots teaming up with other players in solo games, taking advantage of in-game bugs and glitches, promoting such malpractices, etc.
Bullying – Epic Games has strict guidelines against hate speech as also racism and any kind of discrimination based on religion, sexual orientation, gender, and such. Your account in Fortnite can also receive a ban if you resort to verbal attacks, insults, or threats toward other gamers.
Using Multiple Fortnite accounts – Using more than one Fortnite account can give a singular user a huge unfair advantage. Make sure to stick to one account if you don't want the developers to ban your Fortnite account. Don't make an attempt to buy someone's account or even sell your own. However, do remember that you can legally own 2 Fortnite accounts.
Gambling and Placing Wagers – There is absolutely no tolerance for any sort of gambling activity in Fortnite. If you are caught placing any kind of wager on the game and betting, your Fortnite ban might just be permanent.
Buying and selling Fortnite account information- Scamming at no cost will be allowed that many times lead to getting trading account information of co-players.
Broadcasting Unfitting Content- A player has to follow guidelines set by Epic Games on the objectionable content that cannot be posted. It majorly includes illegal content.
Fortnite IP ban
How long will the Fortnite IP ban last?
Usually, Epic Games sends notice of a Fortnite account ban that can stretch from 10 days to 30 days and even up to a lifetime. The duration of the ban is dependent upon the severity of the offence and whether a serial offender.
So, is it possible to remove the ban on your Fortnite account? Get more details here
How to get unbanned from the Fortnite IP ban?
If you find that your Fortnite account has received an IP ban, there are chances that you would have gone against Epic Games' Code of Conduct. The only way to unban your Fortnite account in this case is by installing and using the best VPN for free.
How to get Fortnite IP unban with VPN?
You can use the VPN to unban your Fortnite account if you receive a hardware ID ban too. The only con to this, however, is that you'll be requiring a different account to play Fortnite using a VPN. You should also note that using a VPN is also against the Code of Conduct. Your account can potentially receive a ban again for relying on third-party software to access Fortnite during your ban period. Read the next bit carefully to know how to unban your Fortnite account.
To dodge a Fortnite IP ban, you will need to change your IP address first. Any free VPN software can do this task easily. But we recommend you choose a premium paid VPN to ensure a smooth lag-free gaming experience when you open Fortnite.
Download and install your preferred VPN software.
Once you have completed the installation, use the VPN to connect to a new server in any location all over the world. Choose your server in a way so that you receive optimum speeds and the best connection.
Now, all you have to do is just create a new Fortnite account and you can start playing the game instantly!
Can I use a free VPN to bypass Fortnite IP ban?
Do keep in mind that free VPNs are risky to use while playing Fortnite since they are not secure when it comes to data privacy. Using free VPNs increases the chances of getting a Fortnite ban notice.
How to do a Fortnite ban appeal?
There can be certain circumstances where you really might have done nothing to receive a Fortnite ban from Epic Games. In such situations, you can submit an appeal to Epic Games regarding the matter. To do so, follow these simple steps below-
First, go to the official website of Epic Games and locate Fortnite Support Center. Click on 'Contact Us'.
Log in to your Fortnite account and you'll be redirected to the ticket submission form.
Enter your display name in the game and the email address connected to your Fortnite account. You'll also need to choose the type of gaming device you were using when you got the Fortnite ban.
Now just elaborate on the issue and explain why you deserve to have your Fortnite IP ban uplifted.
Submit the request and you're done. If the developers find it reasonable, you will soon see that you can use your account to play the game again.
People also rely on third-party platforms through which you can pay to have your issue prioritized and recover almost any account. But many a time, you can also land up like this Reddit user below:
Which country is Fortnite banned?
Fortnite play is banned in Iraq and its Arena mode in China. However, Fortnite can be played in any part of the world where a safe and legal VPN works.
Is Fortnite ban over?
In the meantime, Apple had exercised a Fortnite iOS ban in 2021 since the game violated the company's policies and launched its own in-app payment system. There was mayhem all over the Internet since it got announced that the game might get banned for up to 5 years.
With the aid of tech giant Microsoft, Fortnite has finally made its long-awaited comeback into the App Store of Apple. From Thursday, May 12, 2022, the game will be available officially in 26 countries where Xbox Cloud Gaming is available. Microsoft's Xbox Cloud gaming is a part of a new innovative push in order to utilize its Azure Cloud platform. In fact, this also ensures proper usage of Microsoft's existing investments in cross-platform gaming.
Fortnite will be directly accessible to play on iOS and iPadOS for free with XBOX cloud gaming at xbox.com/play and you only need a Microsoft account and your preferred device to play it. The game supports a controller to play as well as native touch controls if you prefer your Android or iOS devices more than Windows PC. With this move, Microsoft has now made Fortnite available to more than 3 billion players around the world.
Concluding Words
Epic Games has also upped its Code of Conduct and is always monitoring the game for any kind of inappropriate or suspicious activity. If you do not want to be slapped with the Fortnite account ban, adhere to the guidelines and steps we have mentioned above. For a great online gaming experience, be it any game like PUBG Mobile, one should stay away from shady practices.