The nail-biting serial killer drama series, Dexter will soon see the light of day. It is making a comeback after 8 long treacherous years. Yes, you heard us right! Miami's infamous serial killer, Dexter Morgan, is set to return to screens for the 9th Season-'Dexter' Returns, and fans are eagerly waiting for his arrival.
The news release by Showtime gave us hope that 2021 will be a breather, after the long & eventful year of 2020.
Dexter Season 9 News
In October 2020, Gary Levine and Jana Winograde of Entertainment, Showtime Inc., announced the arrival of the Dexter Returns. Showtime launched a 10-second video about the return of the presumably dead series on October 15, 2020. It had also teased that Dexter Season 9 episodes would be a 10-episode limited series only.
In an interview with TVInsider on Dexter Season 9 Showtime, executive producer Clyde Philips said,
Adaptation of novels by Jeff Lindsay, Dexter series ended after 8 years, in 2013. The show came to a halt after a not-so-satisfying end in Season 8.
When describing the details of the upcoming season to ET, Michael C. Hall, who plays the titular role 'Dexter', brought up a few interesting points. Firstly, he would be returning as Dexter and the plot will be set at the end of Season 8.
the last episode of season 8 featured the death of Deborah Morgan and Dexter taking his boat directly into the storm, making people that he killed himself.The last shot of Dexter Season 8 showcased the protagonist with a beard, who turned into a lumberjack.
Secondly, the new limited episodes series might be a "10-hour movie". It will be an appropriate finale to the series of Dexter, as opposed to the controversial Season 8.
Fans are debating on the title with majority in favor of not calling it Dexter Season 9. Clyde Phillips while announcing the comeback, stressed that he wanted it to be a "second finale" rather than Season 9.
Dexter Returns Release Date
The filming began in Sturbridge, Massachusetts at the start of 2021. In the second week of February shooting is expected to happen in a series of abandoned mines. If everything goes well, Showtime is speculating that the limited-series will be in front of the viewers by the fall of 2021. However, Dexter Returns Release date will be driven by the ground reality of the COVID 19 pandemic.
Dexter Returns Cast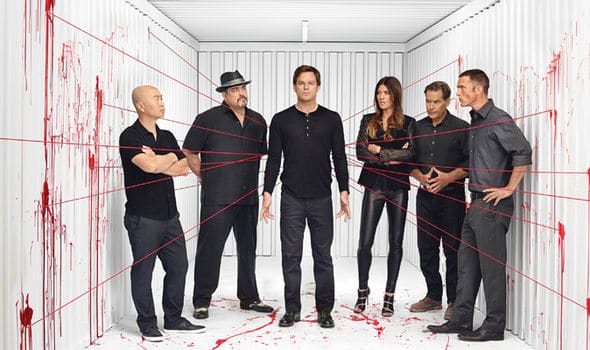 As this series is about our favorite bloodthirsty serial killer, it would be sinful to return without his presence. Michael C. Hall is said to return to the series to the character that gave him fame.
Another interesting addition to the limited-series will be Clancy Brown. He is famous for many movies like Shawshank Redemption, Highlander, Thor: Ragnarok & Krusty Krabs from SpongeBob SquarePants.
Clancy Brown is said to be the antagonist named Kurt Caldwell playing against Dexter Morgan. Dexter's on-screen sister, Deb Morgan played by Jennifer Carpenter will not be joining in. She died in the series finale and unless there are some flashbacks she will not be back in Season 9. It applies to Dexter's father, Harry, enacted by James Remar.
Both the friends of Dexter, Detective Angel Batista, and forensic expert Vince Masuka were alive when Season 8 ended. In all probability, these two characters will be back and it will be a relief to see them in an otherwise powerful show.
In addition to Michael C. Hall and Clancy Brown, Dexter limited-series will feature a number of supporting cast, including Julia Jones, Alano Miller, Johnny Sequoyah, David Magidoff, and Jack Alcott.
Recently a tweet by The Hollywood Reporter added few more names to the recurring characters.
We can expect revelations of few more names in the weeks ahead as production goes up into full throttle.
Dexter Returns Plot
There is no official note on what the plot of Season 9 aka Dexter Returns would be. But the film crew has sent teasers confirming that the plot will be set after a decade from the events that happened in Season 8.
Dexter Returns Trailer
The tentative Dexter Returns release date is in fall of 2021. The fans can expect the trailer to land sometime close to the last quarter of 2021.
Where can I watch Dexter Returns?
Production is underway and if all goes well, Dexter Season 9 2020 in all its glory will premiere on Showtime in the US in the autumn of 2021. Unfortunately, Netflix took down the show from its platform, as Showtime created its own platform and made Dexter its featured series. All the 8 seasons of Dexter were last streaming on Netflix till December 30, 2020, before being pulled down.
However, if you plan to relive Dexter Series, all the 8 seasons are available on Amazon's Prime Video. Being a Showtime original, all the past and future episodes will be available through the Showtime platform. At $10.99/ month, all the seasons are streaming on Hulu, Fubo, Sling TV, and YouTube TV with a Showtime add-on.
Will there be Dexter Returns on Netflix?
Showtime is booting up Dexter for another Season for 10 more episodes and will be streaming in the Autumn of 2021. In all probability expect Dexter Returns to come to Netflix a year later after its premiere date. Dexter Season 9 Netflix should stream in the fall of 2022. Keep watching this space for latest updates and news and share with us your excitement.