The Titans from DC Universe got officially renewed for Titans Season 3 with an announcement made before Season 2 came to an end. The newly added DC series is all set to make a comeback in 2021. The crime thriller cum drama and mystery series will take off from where Titans Season 2 left. The idea of another season dropping in has left fans pestering about DC Titans Season 3 release date.
Titans Season 3 Release Date
DC Universe and Warner Bros had planned to commence shooting of Titans season 3 in early 2020 and wind up by June 2021. But due to the outbreak of the pandemic, the scheduled shooting got pushed to late October 2020. Expectedly the release got derailed.
Though the official date is yet to be confirmed, Otakukart News substantiates that the new Titans season will air by the end of 2021. The distribution rights of all the episodes of Titans Season 3 have been bought by HBO Max. With this move, it is pretty likely that Titans may move out of Netflix completely as the coverage of HBO Max starts expanding internationally.
Titans Season 2 released on 6 September 2019 and finished on 29 November 2019. It happened nearly a year after the launch of Titans Season 1 that aired on October 12, 2018, and ended on December 21, 2018. Seasons 1 and 2 had 13 episodes of 40-50 minutes each.
In October 2020, the Titans Twitter official account teased with a caption "Red Hood" over shots of the show's logo. They uploaded the new Red Hood costume of Jason Todd shortly thereafter. Titans Season 3 Red Hood gives ample hints that Jason will be launched in the eye-catching red hood.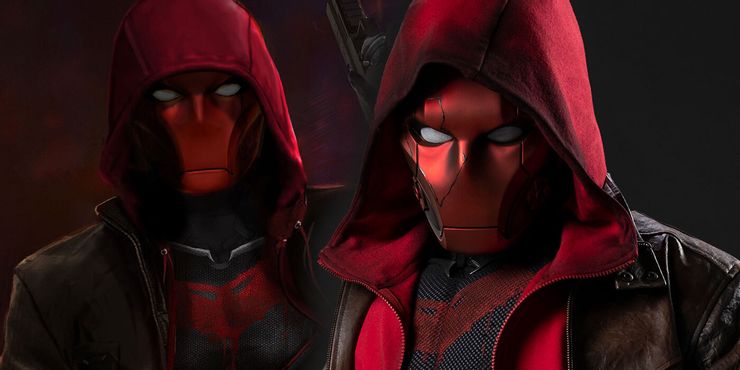 Titans Season 3 Cast
Titans Season 2 premiered in September 2019, almost after a full year the Titans Season 1 launched on DCEU and later on Netflix. Returning to Titans Tower in San Francisco, Dick Grayson started training the group, what was called Titans 2.0. The new Titans team comprised season 1's main characters – Rachel and Gar. They were also teamed up with Jason Todd, who changed from a guest appearance in season 1 to a regular in Titans Season 2.
The characters – Dawn, Hank, and Donna were a part of Dick's initial Titans team – which also included Garth (Aqualad) and who fought against Deathstroke. The Titans Season 2 also made the official introduction of many well-known characters of DC Universe like Conner Kent, Jericho, Rose Wilson, and even Bruce Wayne.
The Titans official Twitter account tweeted two confirmed characters. One was Savannah Welch as Barbara Gordon on January 19, 2021.
On January 29, 2021, the account tweeted an addition to the crew of Titans. It released the picture of Jay Lycurgo dressed up in the costume of Tim Drake or as we know him as "Robin"
Apart from these two characters, according to the sources from WB and DC, scroll for the cast who are likely to play a part in Titan Season 3!
Curran Walters as Jason Todd / Red Hood
Jay Lycurgo as Tim Drake/Robin
Savannah Welch as Barbara Gordon
Brenton Thwaites as Dick Grayson / Nightwing
Anna Diop as Kory Anders / Starfire
Teagan Croft as Rachel Roth
Damaris Lewis as Blackfire
Ryan Potter as Gar Logan
Conor Leslie as Donna Troy / Wonder Girl
Chelsea Zang as Rose Wilson
Alan Ritchson as Hank Hall / Hawk
Minka Kelly as Dawn Granger / Dove
Joshua Orpin as Conner Kent
Lain Glen as Bruce Wayne / Batman
Until the Titans Season 3 2020 hits the screens, you can watch the first two seasons of DC Universe's The Titans in Netflix and WB studios.
Titans Season 3 Plot
After the gripping resurrection of the New Teen Titans comics by Marv Wolfman and George Perez, the heroes returned for a DC Titans Season 2 with Dick Grayson as their leader. New villains emerged to fight in the form of Doctor Light, Deathstroke, and Cadmus Labs – who vowed to divide and conquer the team once and for all, ending the reign of Titans in Gotham.
Yet, the Titans season 2 finale did not end without leaving a cliff-hanger for the next one. At the end of the season – Kory was seen confusing to choose between supporting the Titans and dealing with her own family issues.
However, her issues are going for more than just a small tease in the new Titans season. Especially, as seen, her vicious sister, Blackfire, has come to Earth and will be focused as the main villain in Titans season 3. On the other hand, Rachel was sure of the idea of leaving with the Amazons and Donna Troy's body believing that her constantly growing powers could help revive Wonder Girl.
Will Titans Season 3 be on Netflix globally in 2021?
Once Season 3 wraps up on HBO Max, it is speculated that the regions where Netflix is streaming Season 1 and Season 2 will continue with Season 3. To set your expectations right, the episodes will not drop weekly.
Seasons 1 and 2 have dropped in on Netflix in the months of January on the condition that the DC series premiered in the fall schedule. Season 3 release date is delayed and likely to premiere by end of 2021.
As per the norms, after a season drops in and finishes airing on DC Universe or HBO Max, it takes around 4-8 weeks to release on Netflix internationally. You can keep your fingers crossed for Titans Season 3 Release Date on Netflix. It should fall somewhere in Q2-Q3 of 2022.
For USA region, streaming of Season 3 on Netflix is ruled out. The first two season started with DC Universe and starting November 1st, HBO Max has become the new home.