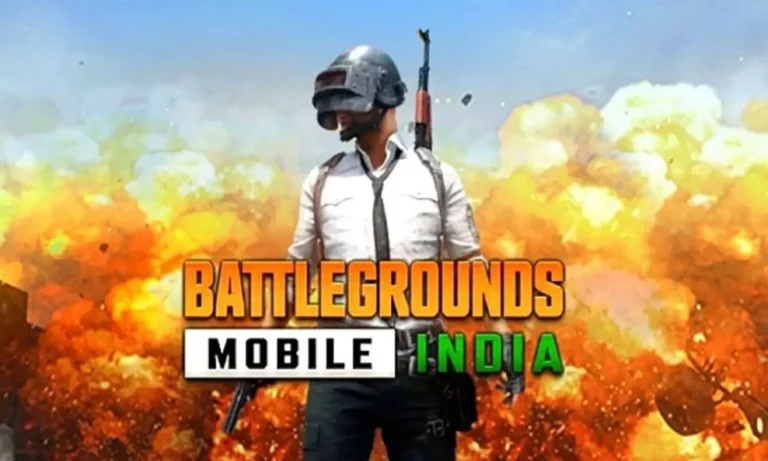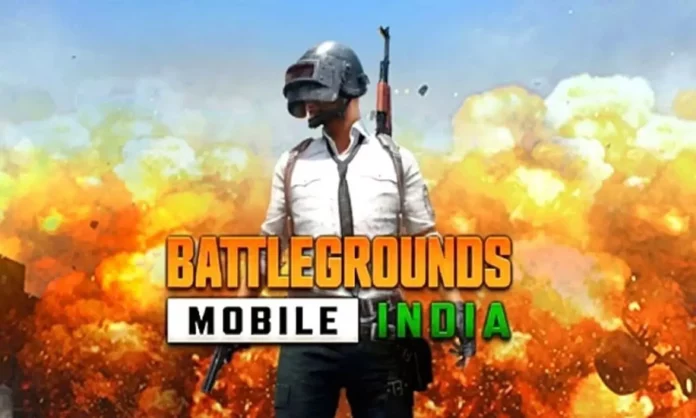 Battlegrounds Mobile India (BGMI) was released on Android(July 2, 2021) and iOS (18 August 2021) platforms exclusively in India. BGMI faced a ban in India after a few months of its initial launch due to security concerns associated with its Chinese parent company. The release of BGMI as an Indian version of the popular PUBG game was an effort to address those concerns and comply with regulations.
Krafton's CEO has confirmed the BGMI unban and its availability for download in India on the Google Play Store and Apple App Store. The official confirmation of BGMI's comeback by Krafton was announced with a teaser on its Instagram page.
Krafton's approval from the Indian government to relaunch BGMI in India and the subsequent official statement confirming its availability for download. It's excellent news that the necessary approvals have been obtained, further solidifying the return of BGMI to the Indian market.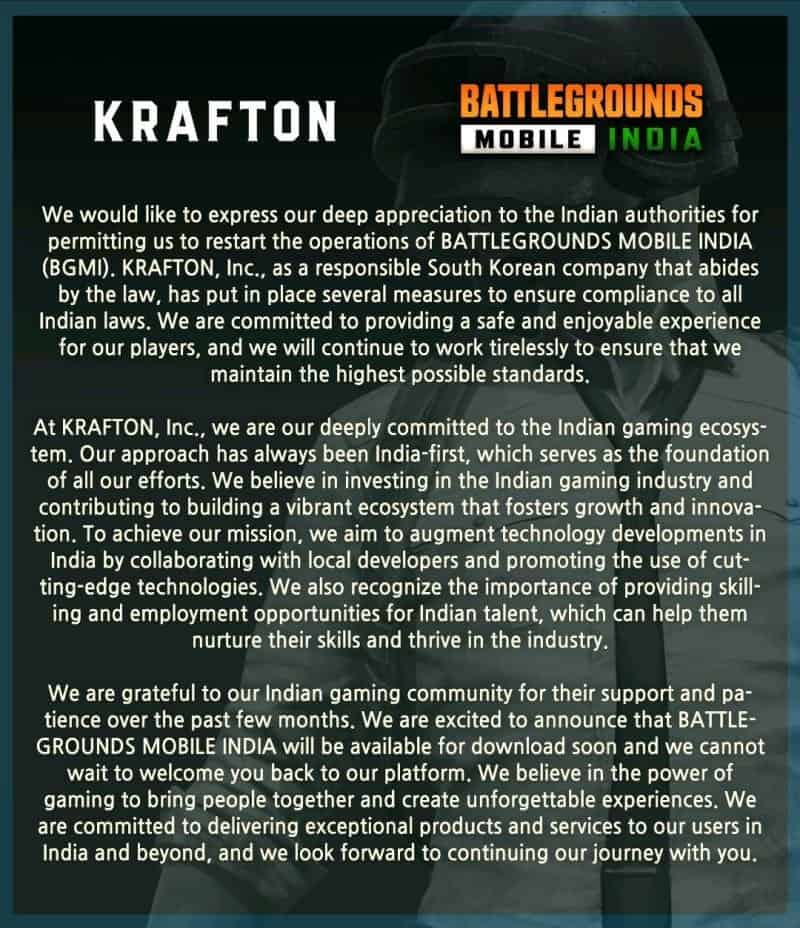 Teasers are a common marketing tactic to generate excitement and anticipation among fans. The teaser released by the Battlegrounds Mobile India Instagram handle adds to the anticipation surrounding the game's comeback and builds hype among the gaming community. The teaser added to the excitement with "It's time to switch on notifications."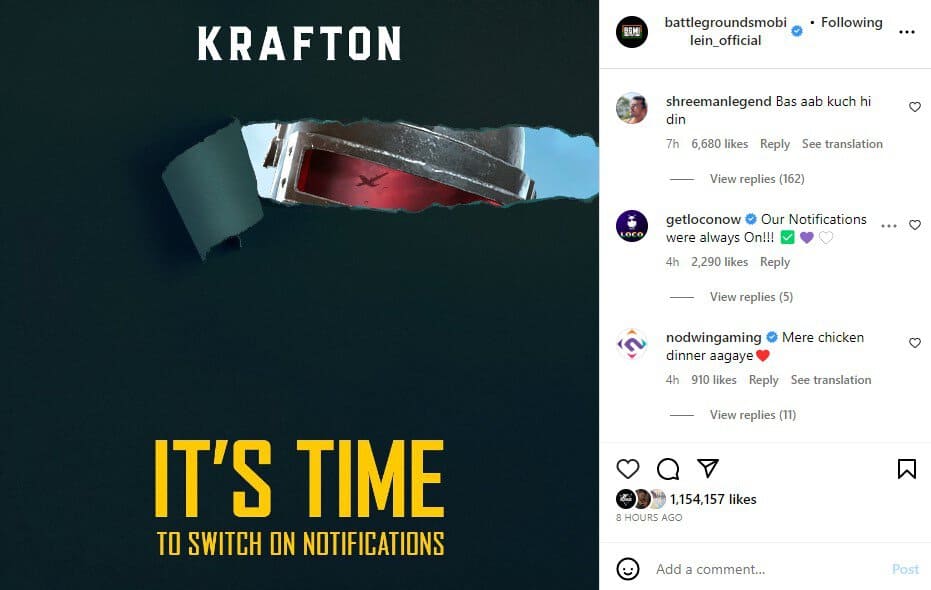 The confirmation of the BGMI unban and its return to the Indian market has expectedly met with excitement and enthusiasm from the gaming community.
Must Read: How to unban BGMI account after getting 10 years?
When will BGMI launch date in India 2023 happen?
BGMI launch date 2023 is not yet official except it is coming soon, While there may not be a specific launch date announced yet, the official statement and teaser indicate that BGMI will be available in India soon. This news is certainly exciting for fans eagerly awaiting the game's return.
As for the changes and modifications to BGMI with its comeback in India, it is understandable that Krafton has not provided specific details at this time. Earlier reports suggesting a temporary lift of the ban for three months indicate that the initial return of BGMI will serve as a testbed. This means that the game will likely undergo analysis, monitoring, and potential adjustments during this period to address any concerns or requirements imposed by the Indian government.
It's common for games and platforms to make adjustments and updates based on regulatory requirements and feedback from the community. The temporary period of analysis and monitoring can help ensure that BGMI complies with local regulations and meets the expectations of Indian players.
BGMI 2023 release date leaks
While the makers of BGMI have confirmed the 3 months' unban, it's understandable that they haven't provided a specific BGMI launch date 2023 yet.
Leaks can sometimes provide insights into upcoming events, but it's important to note that they may not always be accurate. Leaks should be taken with caution until officially confirmed by the game developers or official sources.
If the leaks suggesting that BGMI will be available to download on Saturday, May 27, 5:30 pm from the Apple App Store and Google Play Store are accurate, it's an exciting development for fans eagerly awaiting the BGMI launch date.
BGMI server down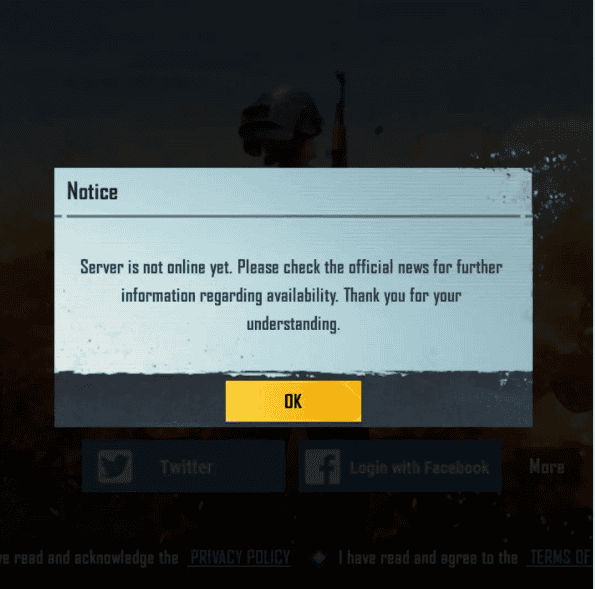 Multiple users have experienced BGMI server down issues from today morning and it could indeed indicate that preparations are underway for the game's imminent re-launch in India.
Developers often make server adjustments and upgrades in preparation for a game's launch or re-launch to ensure a smooth and improved user experience. By addressing server-related issues, the developers aim to provide better connectivity, reduced latency, and overall stability for Indian players once the game becomes available again.
What to expect from the BGMI 2023?
Here are five key takeaways to know about BGMI launch date in India 2023.
Modified Version of BGMI
BGMI will be released as a modified version tailored specifically for Indian players. The game will undergo certain changes to comply with local regulations and address concerns related to data security and user privacy.
Monitoring and Evaluation
During the initial phase of the relaunch, the game will be closely monitored and evaluated by government authorities to ensure adherence to India's rules and regulations. This monitoring period will last for a specified duration of 3 months only.
NEWS18 report suggests that BGMI will make a comeback for a limited duration with specific rules and regulations in place. During this period, government officials will closely monitor the app to ensure compliance with India's rules and regulations.
Potential Gameplay Changes
It is anticipated that BGMI may undergo alterations to make the gameplay less violent. News18 report mentions that certain changes may be implemented to make the game less violent, such as altering the depiction of blood to a different color. Additionally, cosmetic changes may also be introduced during this testing period.
No blood for the upcoming BGMI version will be an interesting observation. It's possible that Krafton may take a similar approach in the Indian version of BGMI to modify the depiction of blood in the gameplay. Just like in the Chinese version, where green dots are used to represent blood and red blood is replaced with bright green bubbles, a similar implementation could be considered for BGMI in India to remove the graphic depiction of blood.
Restrictions on Playing Hours
According to the report by News18, it suggests that the Indian government has requested Krafton to impose strict time limits and restrictions on the hours of gameplay in the upcoming BGMI game. The aim of these measures is to prevent players from engaging with the game continuously, ensuring a healthier gaming experience.
While earlier versions of the game showed warnings if a user played for several hours, the latest version of BGMI may introduce stricter norms. It's possible that the developers might implement a mechanism to lock the game once the time limit is exceeded, encouraging players to take breaks and maintain a balanced approach to gaming.
Measures to Avoid Addiction
As per reports, the upcoming version of BGMI in India may feature a tweaked user interface to help players avoid addiction. The developers, Krafton, are reportedly working on implementing changes to the game's interface that promote a healthier gaming experience and discourage excessive gameplay.
While specific details about the tweaked user interface are not available, it is likely that the changes will aim to provide reminders and prompts to take breaks, encourage responsible gaming habits, and help players manage their time effectively. The intention is to strike a balance between enjoyable gameplay and preventing addiction or excessive gaming.
These adjustments align with efforts by game developers and regulators worldwide to address concerns related to gaming addiction and promote responsible gaming practices. By incorporating these changes, Krafton aims to provide a more balanced and mindful gaming experience for BGMI players in India.
To stay up to date with the latest developments and official announcements regarding BGMI launch date 2023, it's advisable to follow Krafton's official sources, such as their website and social media channels. These platforms will provide accurate and reliable information about the game's availability, release date, and any other relevant updates.