Dead By Daylight Anniversary 2023 is around the corner. Dead by Daylight Year 7 Anniversary 2023 is only a month away but the leaks are here. In the meantime, BeHaviour Interactive has revealed the LiveStream starting today.
The Dead by Daylight anniversary typically takes place in June each year, as the game was released on June 14, 2016. During the anniversary, the developers usually celebrate with special events, in-game rewards, and discounts on the game and its DLCs. These events often include limited-time cosmetics, bonus Bloodpoint events, and various community activities.
Dead By Daylight Chapter 27 is right now released for play with the latest killer being the foremost antagonist Skull Merchant. Two new survivors have also been introduced in this chapter.
Though the year 2023 has been a noneventful year, but it's great to hear that you're excited about the upcoming Dead by Daylight Year 7 anniversary in 2023 and the potential for an amazing celebration.
When will the Dead by Daylight Anniversary 2023 livestream start?
The livestreaming date and time for Dead by Daylight anniversary 2023 will kick off from 08:30 PDT/1:30 EST/16:30 BST on Friday, 19th May. It can be streamed on the game's official Twitch and YouTube channels.
BeHaviour Interactive has also confirmed that the countdown to live stream of the event will be kicked off 30 minutes earlier than the scheduled time. The duration of the event is yet not confirmed. Usually, it lasts from 30 minutes to 1 hour.
When is Dead by Daylight Anniversary 2023 release date?
According to leaks from the reliable DBDNews Discord channel, the DBD anniversary 2023 event is rumored to be scheduled for Tuesday, June 13th.
Additionally, Dead by Daylight Chapter 28 is speculated to be released around the same time, with the PTB (Public Test Build) possibly launching on Tuesday, May 23rd.
Please note that these dates and details are not officially confirmed by Behavior Interactive, the developers of Dead by Daylight, at the time of writing. Leaked information should be treated with caution, as it may not accurately reflect the final plans or announcements.
It's worth mentioning that the PTB is typically available on PC via Steam, while the full release of Chapter 28 is expected to be available on platforms such as PlayStation, Xbox, and others in June.
Are there any Dead by Daylight 2023 leaks?
It's indeed exciting to hear about the leaked details surrounding the Dead by Daylight Year 7 anniversary in 2023. According to the leaks from sources such as @dvveet, it seems there are collaborations and in-game events to look forward to.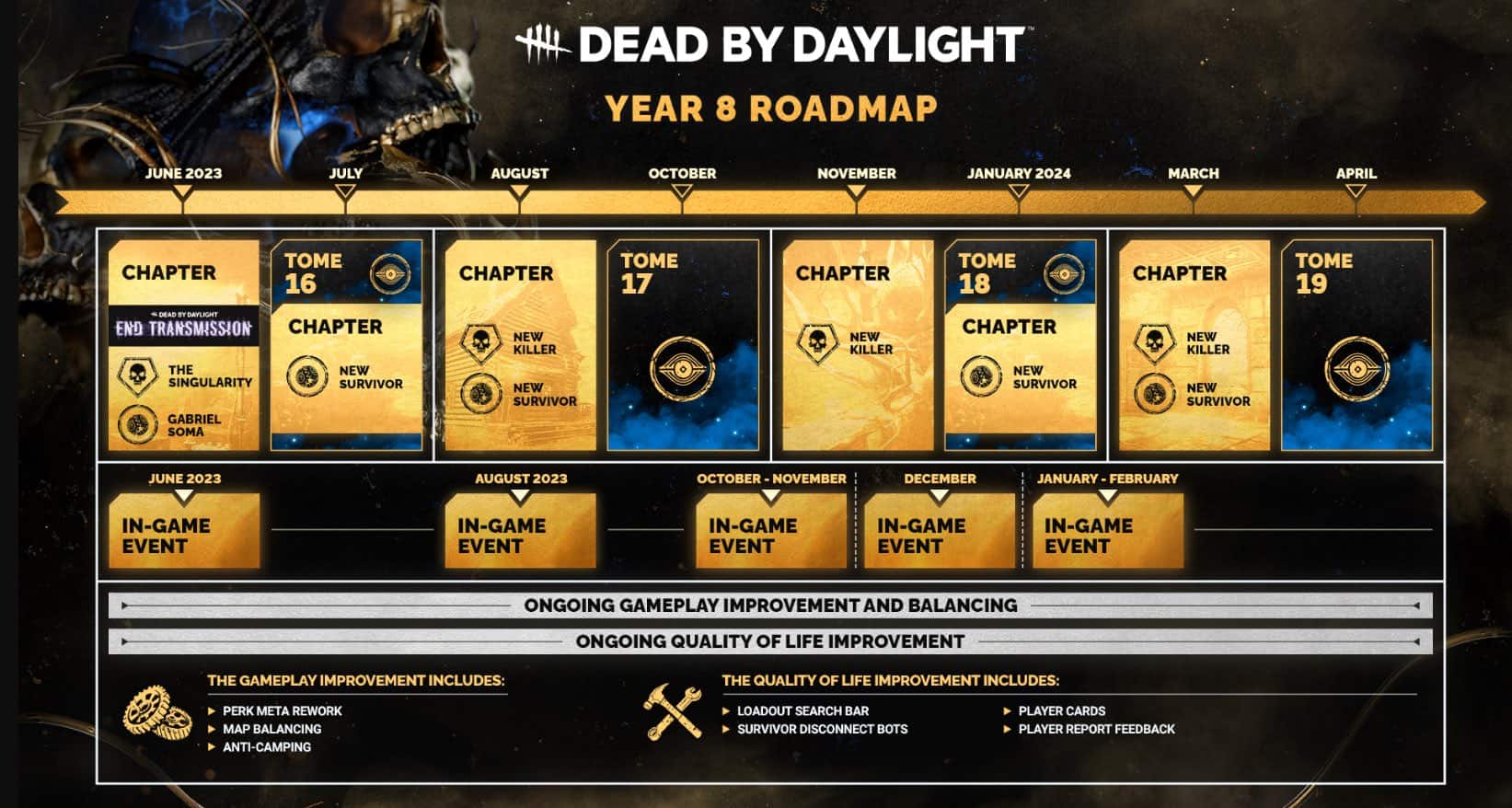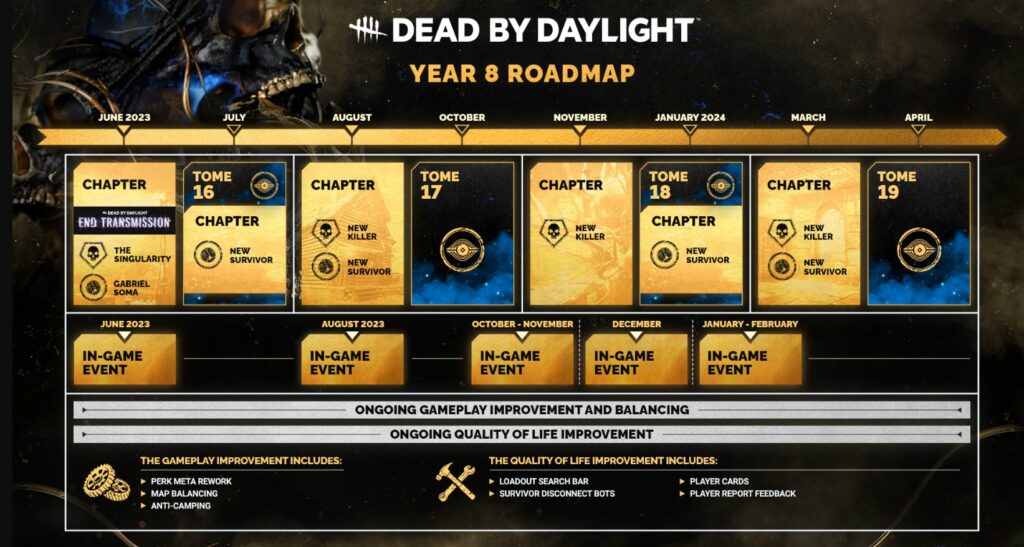 One of the notable highlights is the return of the Twisted Masquerade event, which was well-received in the past. Concept art has also leaked, showcasing new cosmetics for the Huntress and the Twins.
In the leaked image one can also see 3 skulls speculated to be from previous anniversaries and have been united into one – skull merchant 2.0.
For fans of metal music, the inclusion of Slipknot and Iron Maiden cosmetics is said to be in the works. These store cosmetics are rumored to involve characters such as Ghostface, Yun-Jin Lee, Jeff Johansen, and potentially more.
Additionally, the leaked information suggests that the Year 8 roadmap will be revealed, teasing upcoming content for August and November, including new killers and survivors.
It's important to note that these leaks have not been officially confirmed by Behavior Interactive, the developers of Dead by Daylight, at the time of writing. However, it is worth mentioning that DBDNews and dvveet have previously relayed accurate leaks about Chapter 28's killer and survivor before their official announcement.
To stay updated on the latest news and official announcements regarding Dead by Daylight events, collaborations, cosmetics, and future content, it is advisable to follow official sources such as the Dead by Daylight website and their official social media channels.