iOS 15 offers a monumental upgrade on many aspects including when it comes to giving more options on home screen widgets. In comparison to its predecessors, iOS 15 enables the user to customize home screen designs. Undoubtedly, wallpapers occupy a centre stage for most of us when it comes to designing the home screen. Here are some of the best apps from where Live Wallpapers for iPhone can be added to the library for free.
Will my iPhone support Live Wallpaper?
It was in 2015, Apple launched Live wallpapers on two models namely, iPhone 6s and 6s Plus. It was the Haptic Touch technology introduced in iPhone XR that revolutionized the older 3D technology by bringing in animation effects. If you are in search of eligible iPhones to download Live Wallpapers, then they must have either 3D Touch or haptic-touch supported models. The two different categorizations include the following iPhone models:
iPhones With 3D Touch Support
iPhone 6s, 6s Plus,
iPhone 7, 7 Plus,
iPhone 8, 8 Plus,
iPhone X, iPhone Xs, and Xs Max
iPhones With Haptic Touch Support
iPhone XR,
iPhone 11, 11 Pro, 11 Pro Max,
iPhone SE
iPhone 12, 12 mini, 12 Pro, and 12 Pro Max
Before we start to check on the best apps available in the market, let us first understand how one can download COOL Live Wallpapers for your iPhone.
How to download Free Live Wallpapers on iPhone?
With iPhone, you have the option of default Live Wallpapers or pre-installed on the iPhone. But you are not limited to the pre-configured option only. In fact, you can download the best and free live wallpapers on your iPhone and start enjoying it.
Choose Live Wallpaper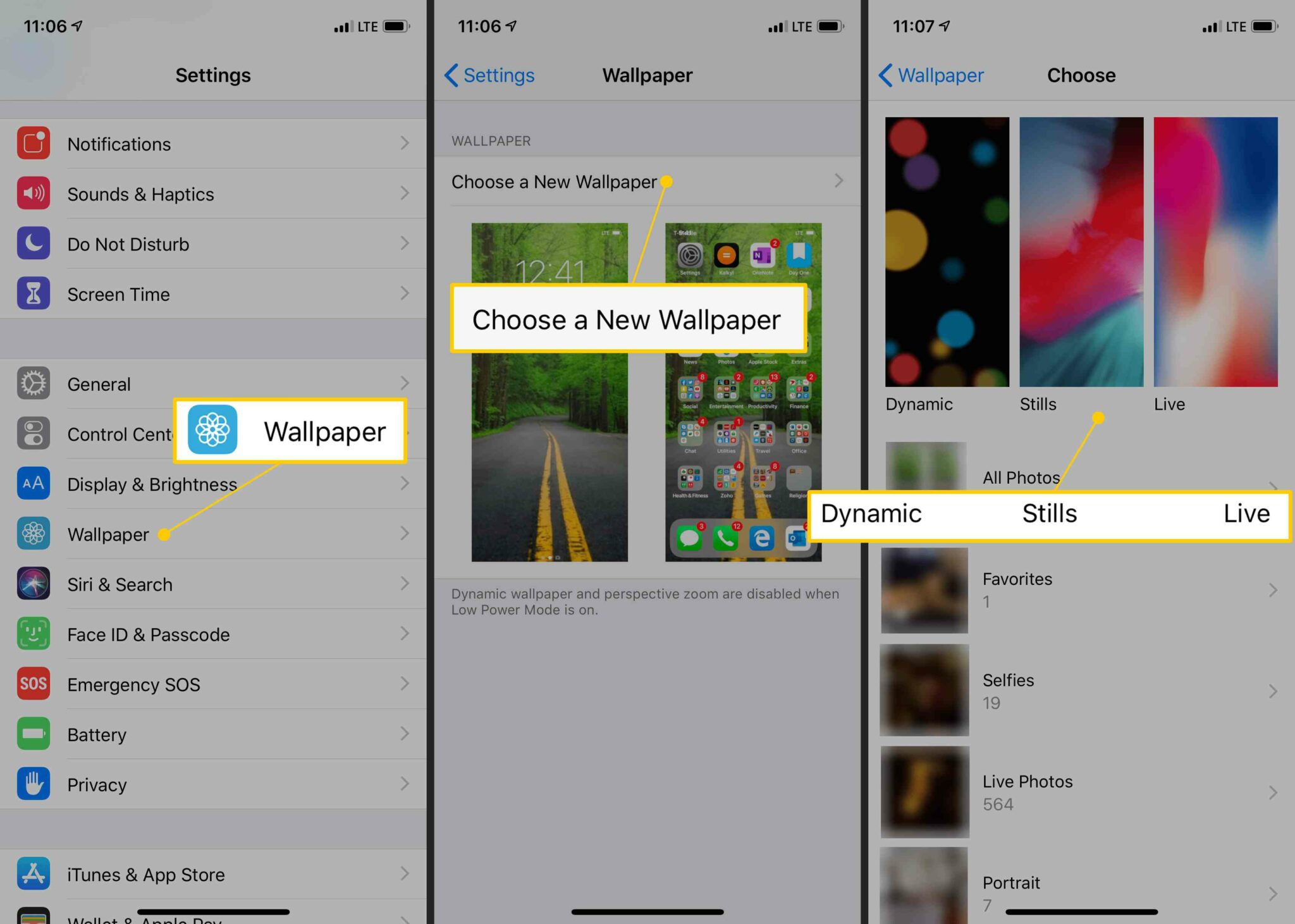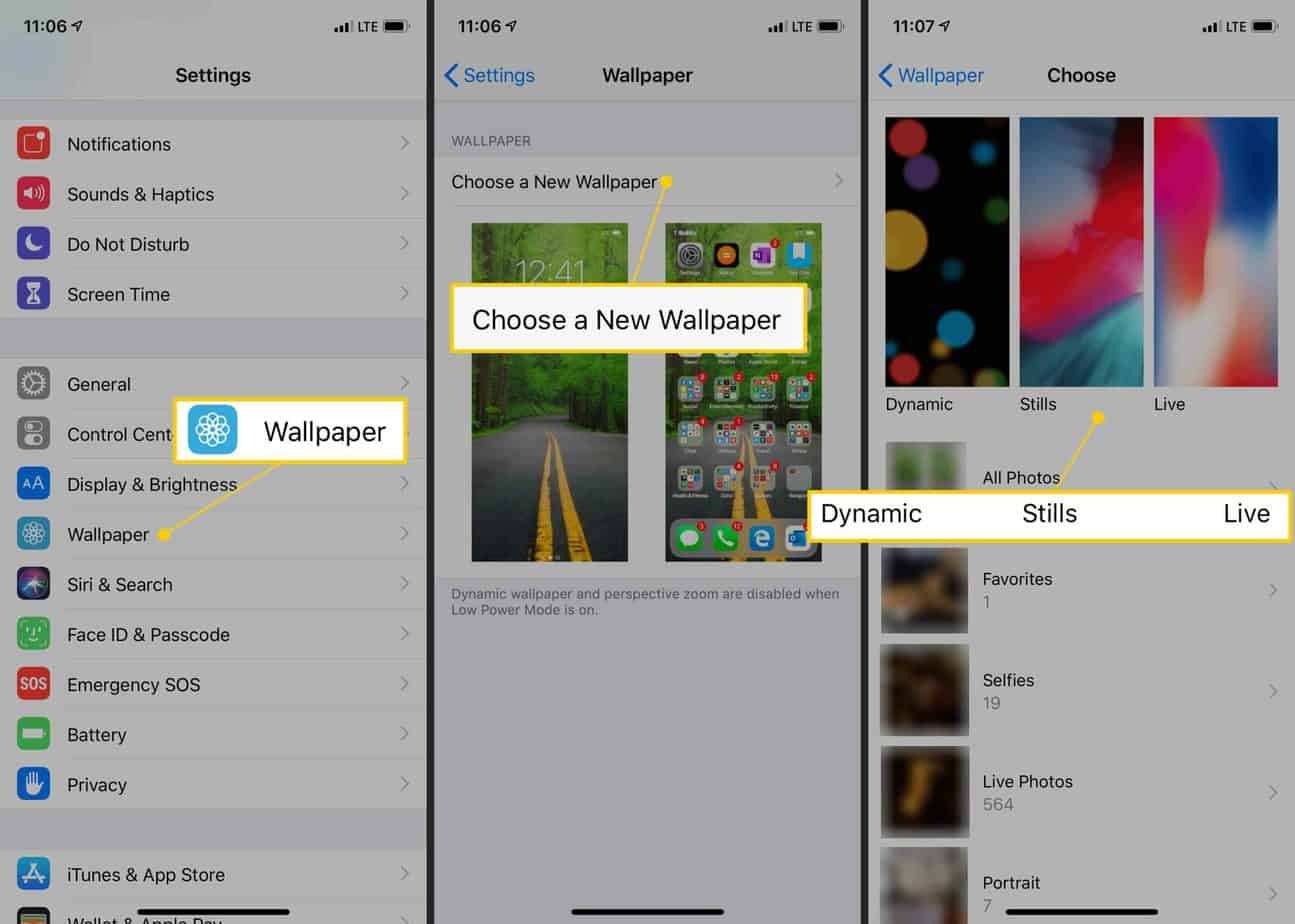 Head to Settings > Wallpaper > Choose a New Wallpaper
Select type of Wallpaper
Select either of Dynamic, Stills or Live Wallpaper option.
Preview the Live Wallpaper before download
Choose option "Live" and select the live wallpaper for iPhone free download. Tap and hold on the screen to see the live animation effects.
If you have finalized a live wallpaper for your iPhone over a Photos app then select it, hit the Share button and choose Use as Wallpaper. Follow the last step as it is after selection
Set and Lock the screen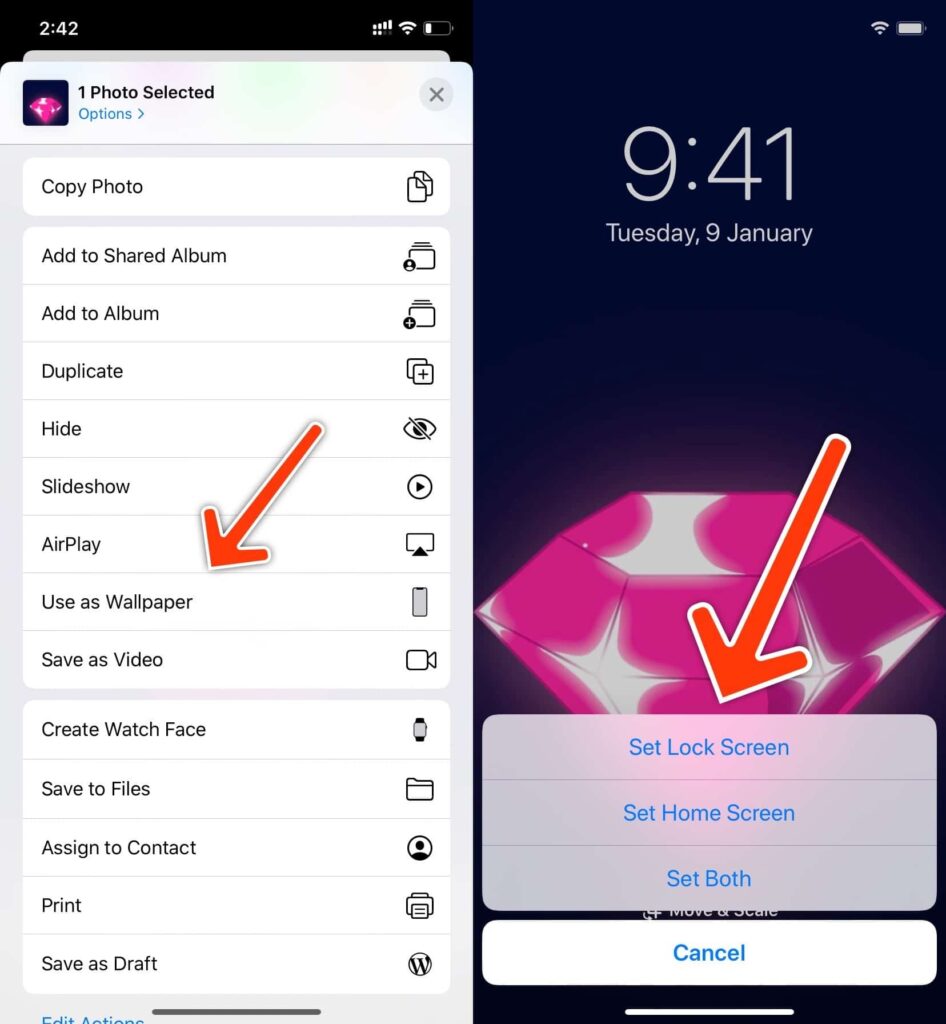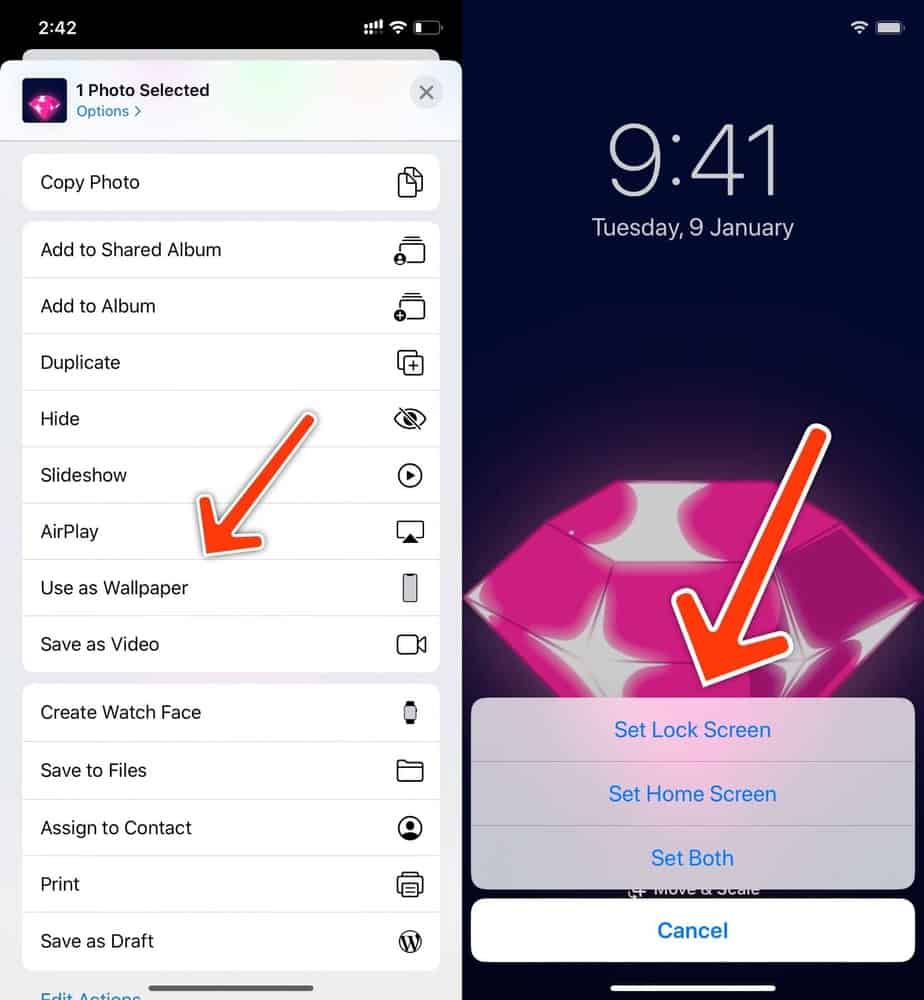 Once the wallpaper is finalized, head to "Set" > "Set Lock Screen" from the menu. You have the option to Set Lock Screen, Set Home Screen, or Set Both.
Best Free Live Wallpapers for eligible iPhones in 2022
When Apple ditched 3D Touch in favour of Haptic Touch or long-press in 2018, it was assumed that Live Wallpapers will slowly become part of a legacy. Though wallpapers are traditionally supported by 3D Touch technology but they have been seamlessly adopted by the latest Haptic tech. The long-press touch on models iPhone XR, iPhone 11, iPhone 12 Series continue to keep the demand for live wallpapers alive.
If you are always on the lookout for new Live and Dynamic Wallpapers to race your screen then there are many options available apart from the pre-loaded ones available on the iPhone.
Google: Search by "iPhone live wallpapers". Search results fetch host of sites as well the play store lists them out
Apps: Tons of apps in the App Store with free wallpapers. Check out them below!
Top 10 Live Wallpaper Apps for iPhone for free
Live Wallpapers Plus HD 4K
Paid Version- $29.99/year, $12.99/month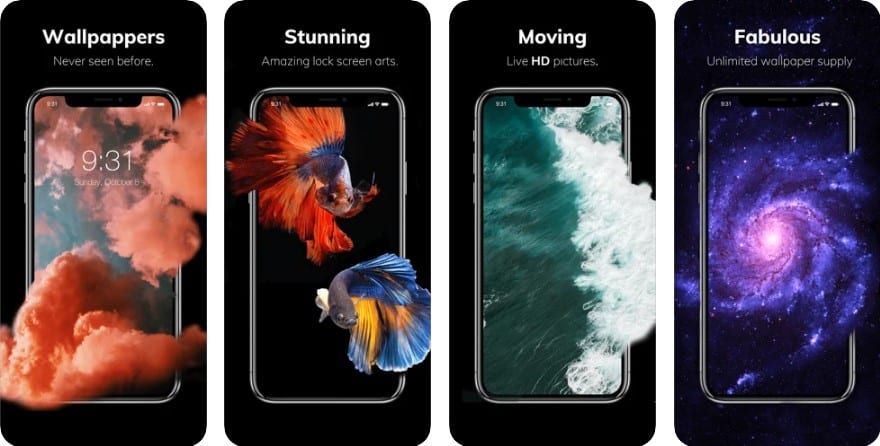 Having a rating of 4.7/5, Live Wallpapers Plus HD is one of the best apps. It offers more than 600 awesome amazing wallpapers in 4K background themes. The theme characters are picked from anime, manga, nature and adorable animal wallpapers. The catalogue is continuously updated.
It is available for free and there is an in-app purchase as well. The free version pops up ads in between. The premium paid Live Wallpapers Plus HD 4k is available at a charge of $12.99/month or $29.99/year. It will not be a bad choice if you can afford to spend a few dollars for 4K and HD wallpapers that describe your personality.
Everpix Cool Live Wallpaper 4‪K
In-app purchase- $2.99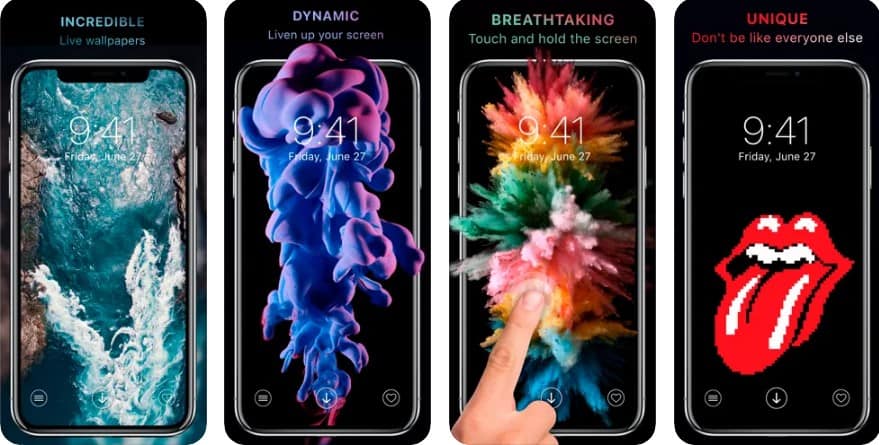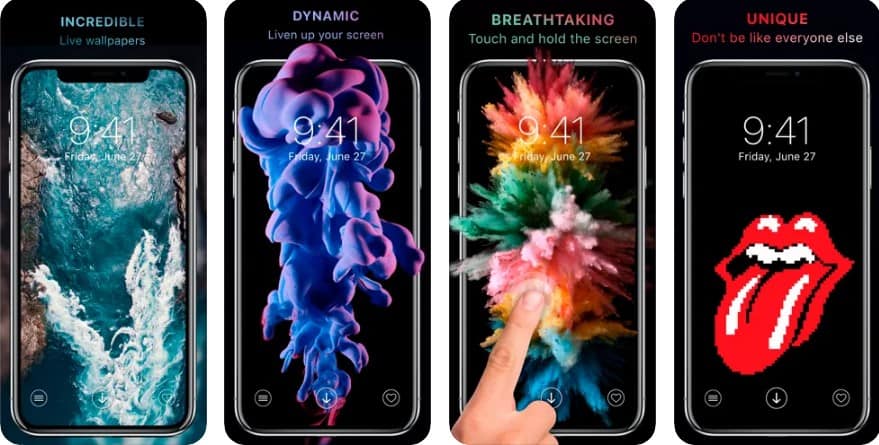 Securing a rating of 4.5/5, Everpix is considered one of the favourites, breathtaking and vibrant wallpaper apps. It has in its catalogue 1000s of free 4k wallpapers that is updated at frequent intervals. One can also see a preview of the shortlisted cool animated wallpaper on the lock screen and home screen. The best part about the Everpix app is it doesn't force one to watch its ads on its free version. But mind you, one gets a limited amount of downloads per day unless you opt to pay for the premium.
Kappboom
Paid Version- $49.99/year, $7.99/month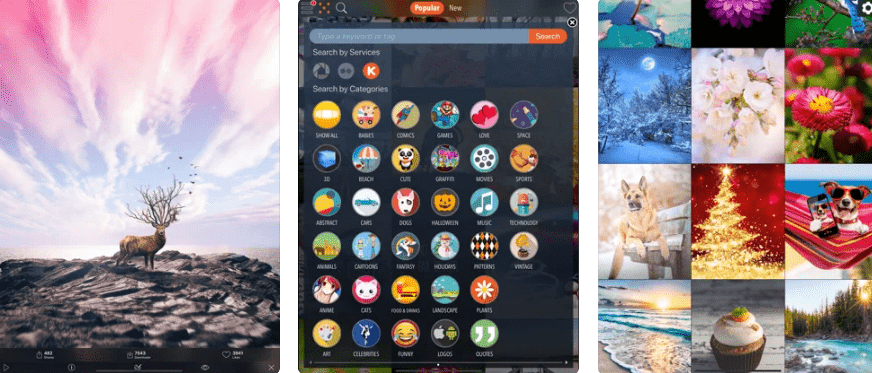 Kappboom app is one of the best live wallpaper apps for iPhone that one should not miss out. It has free as well as paid versions offering 200,000 beautiful and cool wallpapers at your fingertips. The app brings a variety of cool live wallpapers, cityscape wallpapers, animals or anything you can imagine. The Kappboom app promises quality and quantity of choice among the best, if not the best for backgrounds. The resolution of the images is outstanding, with over 200,000 to choose from, with very frequent new content. It can be given a try.
Patternator Video Wallpapers
In-app purchase- $2.99
Patternator Video Wallpaper‪s app is free to use. If you have a personal choice for animated hilarious wallpapers on your iPhone then Patternator is the go-to app. It provides the feature of customizing the existing inventory of the cool stickers or from your one's photos. The customized wallpapers can be used as aesthetic background images, wallpapers, and lockscreens and save them in HD as a live photo, video or GIF.
Live Wallpapers for Me
Paid Version- $14.99/year, $9.99/month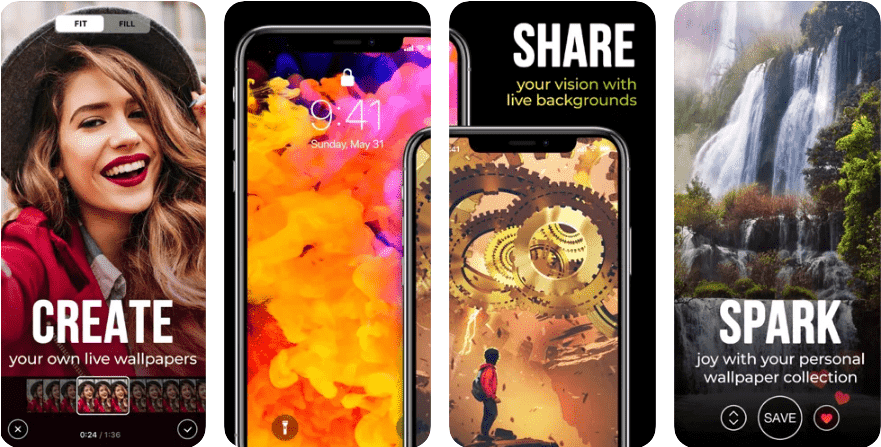 Rated 4.5/5, Live Wallpapers for Me app from Apalon Apps offers the best and the most extensive catalog of wallpapers. One can keep the wallpaper new every time with great animations and dynamic themes adding up weekly on the fly. The app also offers a Live Wallpaper Maker tool. It aids in decorating wallpapers or lock screen with happy memories by turning videos into live wallpapers.
One can opt for the premium version in case you want to get unlock all premium wallpapers, get regular content updates and remove ads and watermarks.
Wallcraft – Wallpapers Live・4K
Paid Version- $8.99/year, $0.99/month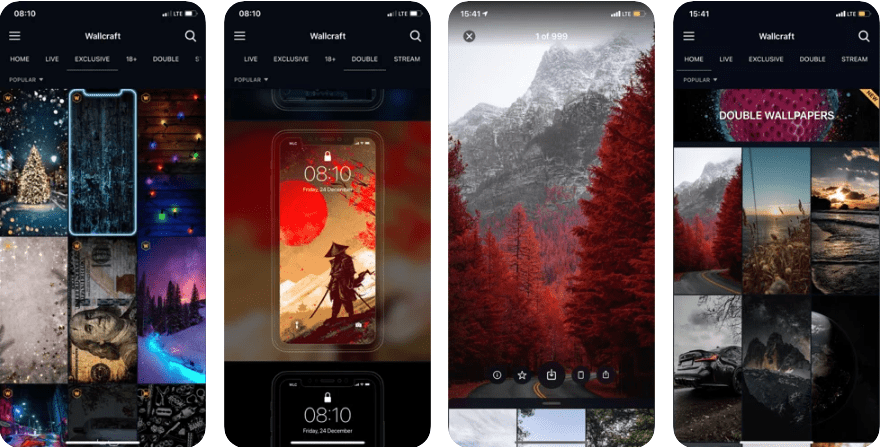 With a library of more than 25 categories, Wallcraft – Wallpapers Live offers stunning 4K and HD quality wallpapers for iPhone that fit the parallax size and follow an innovative approach. The inventory gets updated on a daily basis with exclusive, double, live and video wallpapers. But to access their catalog, one has to subscribe.
Black Lite – Live Wallpapers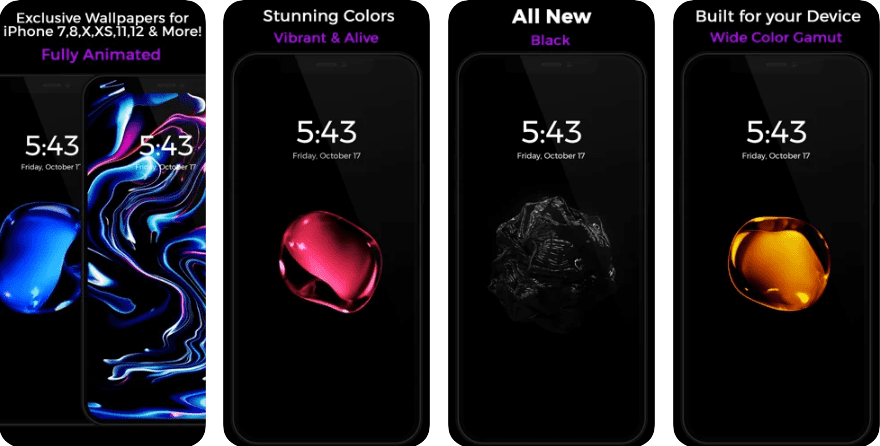 The best and free live wallpaper app for the recent models that have AMOLED screens and 3D Touch function. For iPhone X/XS/XS Max, iPhone 11 Pro, or the latest iPhone 12 is undoubtedly Black Lite – Live Wallpapers. AMOLED screen bring life to pixels and the usual black fully animated wallpaper looks really stunning. A whole gamut of wallpapers lit up the lock screen of the iPhone.
WOW Pixel
Paid Version- $19.99/year, $9.99/month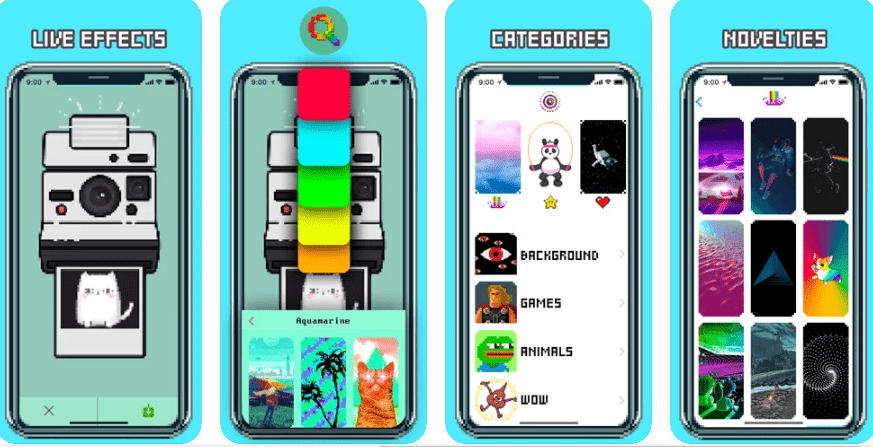 Wow Live Pixel Wallpapers takes you into the world of Pixel where one can enter into colorful world of 8-bit adventures. These particular live wallpapers for iPhone is meant for people who have a personal taste in retro images. The app has created different heroes with short animated stories around them. It captures them in funny, cute, love or angry and sad emotions. One can load up the live wallpaper on the lock screen depending on the mood one is in.
Zedge Wallpapers
Paid Version- $9.99/5000 credits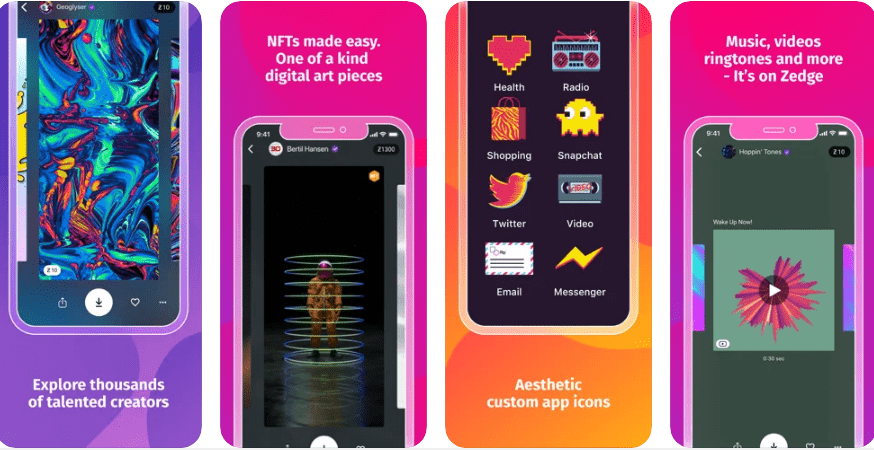 Apart from beautiful, aesthetic wallpapers, live wallpapers, Zedge also has ringtones, notification sounds, icons, and special premium content. These live wallpapers don't drain the battery of your iPhone making the personalized ones apart from the crowd. There are plenty of free stunning live wallpapers but you need Zedge credits to download them. The credits are not expensive.
intoLive Wallpapers
Paid Version- $4.99/year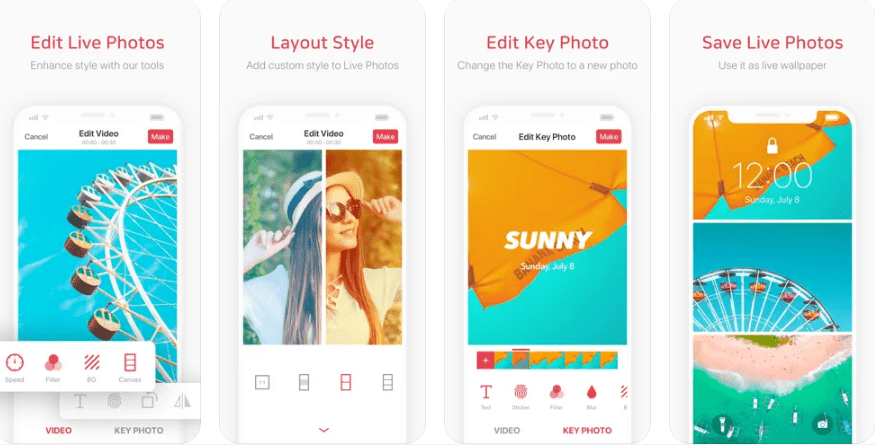 intoLive app is for iPhone users who wish to create their own wallpapers from GIFs and videos in a few seconds. One can turn one's memories captured as photos, videos or gifs into Live Photos and use them as wallpapers on iPhone. It also offers edit functionality on existing Live Photos.
The official unveils of HD wallpapers on iOS 15 supported devices will happen at the time Apple launches its next-gen flagship phones. iOS 15 will be supported on iPhone 7 and later versions going by the leaks. They will follow the trend of ios 14 wallpaper 4k coming in both the dark and light modes. Till the time the official launch happens, enjoy and download these concept images in HD.
Are you excited about iOS 15? You can also share your choice of iOS 15 wallpaper. Share your thoughts in the comments below!
You can also check How to do iPhone Photo Edit Hack?