Most giant corporations capitalize on public anticipation by providing a competent offering. However, Apple has mastered the art of minting cash in exchange for an unreliable product. Despite sounding sceptical, the new iPhone 13 comes with a roster of annoying bugs.
As such, forums across several platforms took to picketing on the internet, though the reported iPhone 13 issues may vary in nature. As a result, we decided to compile a list of some of the commonly found bugs (along with a few honourable mentions) which you might encounter. Read along and find out.
iPhone 13 issue of varying display refresh rate
Apple's iPhone 13 comes shipped with the brand-new (read-problematic) iOS 15. However, the display refresh rates programmed to run at 120Hz often revert to the 60Hz setting while doing a horizontal swipe. The effect is somewhat jarring and a source of irritation to the overall user experience.
User Christian Selig, suggests developing a workaround on Metal by rewriting UIViews on the said platform. Moreover, using UIViewPropertyAnimator he managed to establish proof of varying refresh rates. Another Reddit user, u/iamthatis suggests adding a key into your app's info list. Moreover, the solution also found use in Apple's developer forums as well. However, the recommended demographic (of Apps) is mostly restricted to video games.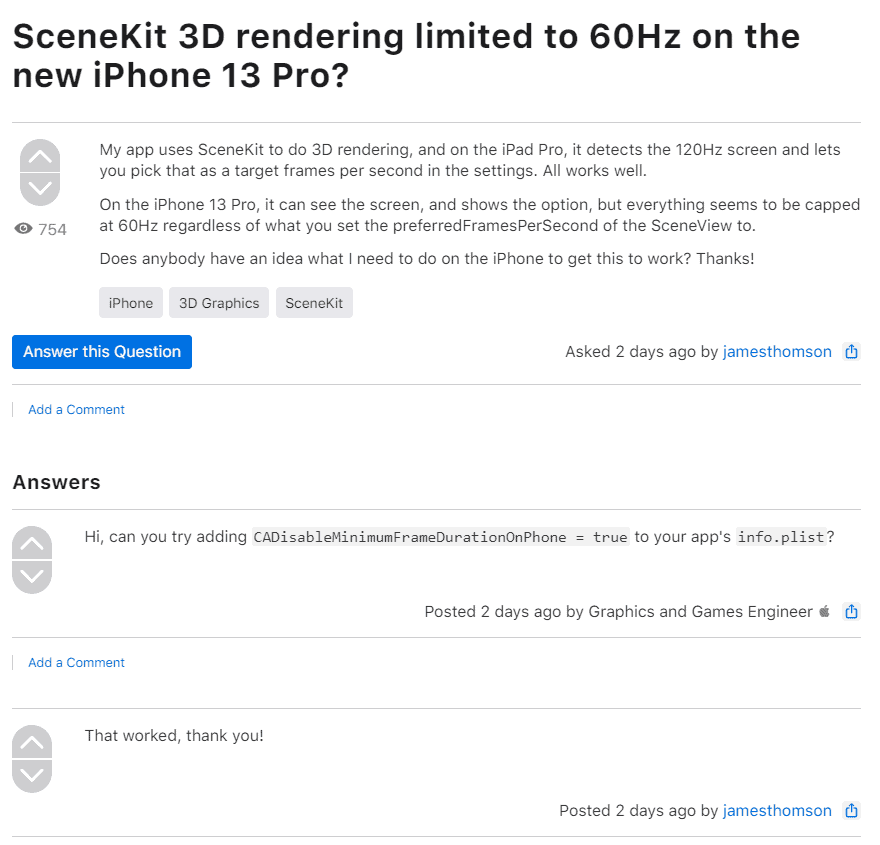 In yet another post attached to the original one, he declares that the issue is likely a case of improving battery life on the device. A battery life optimization option meant solely for iPhones. A further reason to consider this an iOS bug is because of its incidence even on the iPhone's native apps like Messages, the App Store, Contacts and many others.
Apple has issued a statement mentioning the possibility of a bug fix for the 120Hz Promotion display. This move is expected to include third-party apps as well. Furthermore, app developers have to clear up any details for 120Hz support by adding an entry to the app's list. The required documentation for the said procedure will be duly provided as well.
ProMotion has to deal with variable refresh rates when viewing static or moving images on the display. Thus, it remains to be seen, how Apple plans to handle the said issue.
iPhone 13 connectivity issues- 5G/Wi-Fi
More than once, users claim that the Wi-Fi connectivity drops of mid-usage, despite having all the bars on the Wi-Fi indicator. Similarly, 5G connectivity has failed to respond on several occasions even though the device was being used in places with stable connectivity. Trying to update the iOS was often meet with difficulty given the unpredictable nature of the device's connectivity.
The connectivity bug is found on several other devices as well, including Apple's iPad Mini and iPad Air. In some cases, it even extends to Apple's CarPlay, where the device often fails to recognize the paired vehicle. Some comments suggest doing a full factory reset, however, the probability of success is mostly 50-50.
Google Fi eSIM feature not activated on iPhone 13 Pro
Another issue being reported by iPhone 13 Pro users is setting up Google Fi eSIM function. To reiterate, iPhone 13 series have been provisioned to support functions of dual eSIM alongside the usual nano-SIM. However, users are reporting problems with activating Google Fi on the supported E-SIM. This happens when they are making a switch from existing Google Fi eSIM plans to their iPhone 13.
Activation with E-SIM appeared to be non-functional on iPhone 13 due to which one cannot make and receive calls. There is no ETA to it and neither Google is of any help
In the absence of a permanent solution from Google, there is a workaround. One such is "I went to https://fi.google.com/ios/quicksetup to grab a QR code and entered it in settings -> cellular -> add cellular plan."
Another is given in the tweet below from a user
iPhone 13 unable to "Unlock with Apple Watch"
Earlier we have reported the Apple Watch series' backlight bleed issues. With no latest update on the fix, there is another connectivity issue with iPhone 13 reported by iWatch users.
Both devices were updated with the latest iOS and failed to connect despite several attempts. An error pop-up saying "Unable to communicate with Apple Watch" was seen often.
Resetting the passcode for both phone and watch were suggested as a solution, but results often proved otherwise. However, doing a full factory reset might do the trick. Another user suggest turning off/disabling the previously connected smartphone with the Apple Watch, implying interference from the former device.
The "Unlock with Apple Watch" issue was promptly met with assurance from Apple's staff. For the time being, they have recommended toggling off the "Unlock with Apple Watch" feature. Instead, iPhone 13 users should opt passcode to unlock the phone. Till the time fix doesn't arrive in future updates, disable Unlock with the Apple Watch feature. It can be done by visiting Settings > Face ID & Passcode. Apple has confirmed that "this issue will be fixed in an upcoming software update."
Tap-to-Wake, Face ID – Interactive Features Falling Apart
Face ID users often find the iPhone 13 not up to the mark. In several instances, the device either took too long to recognize the user or failed to register at all. It has been reported that when the display comes to life, it unlocks but the touchscreen is completely unresponsive unless one hits the power button to make it sleep again and then wake it up.
Other features like the Tap-to-Wake feature doesn't activate sometimes. The issue has cropped up after upgrading to the latest iOS 15.1 dev beta. But there are few non iOS 15 beta users also reporting the same. On prima facie, it appears to be a software-related issue. It is hoped that it will be addressed in stable iOS 15 updates.
Trying to upload the user information/ID to the cloud also has been rejected. Among iPhone 13 issues, the lack of retrieval of user's files appears to be the most annoying.
It is natural for bugs to find their way into a new launch of the magnitude of iPhones. With time the devs will be able to attend to them. Don't forget to report them. You can share with us the iPhone 13 issues you are coming across in the comments.
You Can Also check iPhone 13 Screen Brightness issue