The announcement of the iOS 15 Beta for devs has drawn the attention of us writers like moths to a flame. I use a rather macabre tone given that most of my optimistic expectations are dashed to the ground (akin to the toasty moth). Regardless, the hype train beckons me to dream on. As a result, here's a collusive list of changes expected in the iOS 15 update due to be rolled out in a 3 to 4 months timeframe.
Fix abnormal Battery Drain issue
The longstanding issue of battery drain is almost synonymous with the concept of a nation's brain drain. It has been debated on, vehemently argued upon, and at last, gained the status of a flogged equine corpse. Even so, having dealt with the stability issues of iOS 14.5, the 14.6 update presents itself with the battery drain issue.
The last iOS 15 beta 2 update has users coming back with battery drain and overheating issues getting resolved. It is hoped that iOS 15 will resolve the long pending abnormal battery drain issue along with the rumored 38 security patches.
Improve Voice-over Compatibilty
Some iOS 14.6 users have claimed that the voice-over feature often comes up short when dealing with text-to-speech actions. In some cases, they fail to register the text on-screen while in other cases the voice-over leaves out certain parts of the text.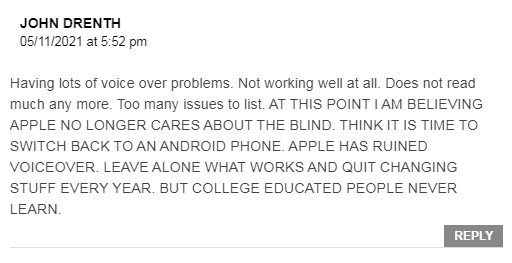 However, Apple has already included updates for the Voice-over feature in the iOS 15 Beta. You could have voice-over descriptions for images on Markup. Image descriptions persist even when shared and can be read in a range of supported apps on iPhone, iPad, and Mac. Users can also explore people, objects, text, and tables within images in more detail with Voice-over.
Fix Network Accessibility and Consistency Issues
Frequent network drops are yet another problem across the iOS 14.4-14.6 ecosystem. Some people claim to have dropped internet and mobile connections while others have poor Wi-Fi connectivity. While some thought it to be an issue with the service provider further research proves otherwise.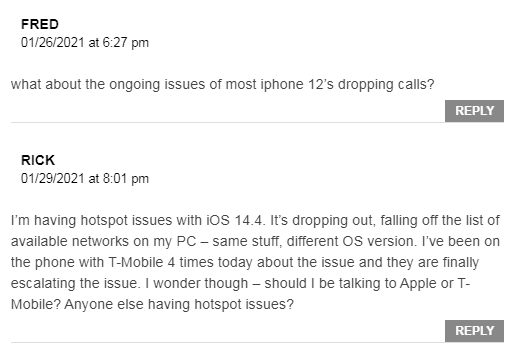 There have been a couple of workarounds on the matter, even so, it is quite an inconvenience for those who are slightly less tech-savvy.
Improve 5G Connectivity
More app and system experiences are improved by using the faster 5G bandwidth, which includes support to back up to iCloud and restore from an iCloud backup. Streaming audio and video on Apple and third-party apps, downloading higher-quality Apple TV+ content, sync photos to iCloud Photos, and many more.
The iPhone 12 series is also programmed to prioritize a 5G network over Wi-Fi connectivity, especially if the latter is much slower or a captive/insecure network.
Backward Compatibility Feature
iOS 14.6 did bring with it a share of bugs and a bunch of annoyed Apple users. Many tried to re-install older versions of iOS 14.6, only to discover that Apple had disabled Signing-Up for older iOS 14 versions. Those who'd like to switch to iOS 14.3 or 14.2 found themselves unable to access said version.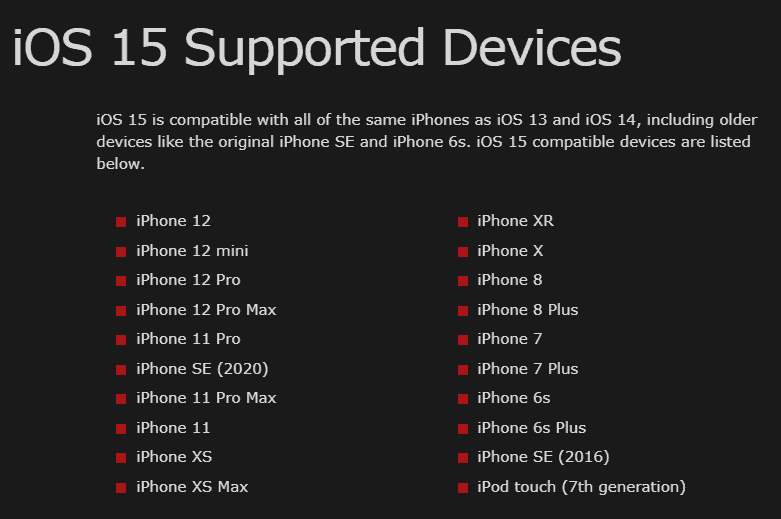 That being said I'd like to end this statement on an elated note. Backward compatibility till the iPhone 6s is assured in the new iOS 15 release. The original iPhone SE(2016) is also included in the update package.
Security Updates for Apple iOS 15
Apple has bumped up the security of the iPhone with the iOS 15 updates. A speculated total of 38 security patches are expected to be rolled out after the iOS 15 Beta testing. While most of the patches are aimed at resolving minor imperfections, Apple has specifically focused on improving its Privacy features.
Mail Privacy Protection stops senders from knowing if an email has been opened or detecting a recipient's IP address. Moreover, App Privacy Report shows how often apps use the permissions they have been granted. Temporary location sharing is also possible with the built-in button in each app.
Segregating photos and albums using the "smart functionality" of the Photos library lets you request limited access to specific photo folders and albums.
Apple iOS 15 Wishlist
Apart from few troubling issues, users demand few features to stay ahead of the race!
Curated App-Settings- Customize the display, text, and image size for each app.
Background Sounds(White Noise)- Play balanced, bright, ocean, rain, and stream sounds continuously in the background to mask unwanted environmental or external noise and help you focus or stay calm.
One-Time-Password Authenticator- One can create verification codes needed for additional sign-in security as an alternative for apps like Google Authenticator. Once set up, verification codes auto-fill when you sign in to a site.
iCloud+ Custom E-mail Domain- Personalize the iCloud Mail address with a custom domain name, and invite family members to use the same domain with their iCloud Mail accounts.
Improved Wallet System- Wallet app extends support to car keys as well. It makes use of Ultra Wideband to unlock, lock and start your car without having to do it yourself. The app also uses Spatial Awareness to prevent locking you outside your car while the phone remains inside.
State IDs and Licenses can be added to the Wallet app as well. A digital copy of the ID is generated which can be used when required. This feature extends to Credit Cards as well.
Apple's iOS 15 has a plethora of promises lining up, but, will it deliver? Let us know your opinions as well as what you are looking forward to in the comments below. For more similar information, visit our website here.