WhatsApp, a free mobile messaging platform for messages, photos, music, and videos has gained immense popularity during the COVID period. It has penetrated the school system now. There are a few reasons behind its wide acceptability and becoming part of our lives.
The service is quite identical to text messaging systems. But because WhatsApp uses the internet to deliver texts, it is substantially less expensive than texting. It is not restricted to a mobile-only version. It can also be downloaded for Mac or Windows platforms. Teenagers prefer it because of functions like group chatting, audio messaging, and GPS tracking.
What the end-users will be most excited to hear about a new feature rolling out in Version 22.8.80 is the option to allow them to add up to 32 individuals to an audio conversation. The latest WhatsApp update lets you add up to 32 participants on a call.
Teachers, in particular, will benefit from it. They are hoping that soon the facility extends to more participants for the school students and online classes so less mishappening on zoom happens.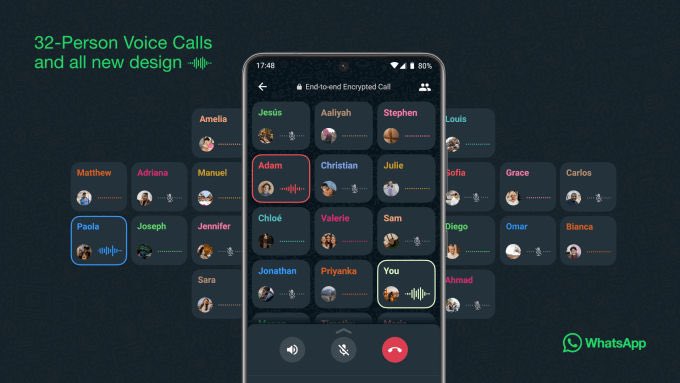 Whatsapp version rollout also includes a completely new call design. The update also enhances the UI by including a social audio design, speaker spotlight, and waveforms. The feature is also quite similar to that of Twitter space. 
WhatsApp has also added another slew of new capabilities to the app. These characteristics are:
It added a plethora of new capabilities to the app's voice messaging experience. New features include out-of-chat playback, and the option to pause and restart voice message records.
WhatsApp for iOS has been updated with a new beta version that has a darker style to properly suit iOS 15. Furthermore, WhatsApp has published a new desktop beta edition that addresses the display of profile photographs.
WhatsApp for iOS has been updated to allow users to listen to voice mails in the background. The new functionality allows users to listen to audio conversations from one conversation while browsing WhatsApp or sending messages in another.
It has also included some new emojis that may be considered fascinating.
Whatsapp group voice call feature extension feature to 32 participants is right now in beta mode and open for beta testers.
In addition, the business is developing a premium option that would allow customers to connect several devices to a specific account. Whatsapp currently does not enable users to link over one cellphone to a specific account; however, users may link their accounts to a tablet, laptop, or desktop.