Google's monthly security patch for Pixels has been arriving late for two months in a row, causing frustration among Pixel users who have come to expect it on the first Monday of each month. Recently, the company's track record has been poor, with Pixel 6 users waiting an extra week on top of the delay. This has led to concerns that the regular security patch updates may no longer be reliable. Despite a one-week delay, Google has finally released the Pixel 6 April update for supported Pixel devices (Pixel 4a and later). However, this delay is part of an ongoing trend that is worrying for the company's hardware.
All the eligible Pixel devices running on Android 13 received the software and April 2023 update starting on Monday, 10th April. The Security Bulletin highlighted the usual list of patch notes and fixes that will impact your day-to-day usage. However, due to the delay, there wasn't much new this month. The patch notes included a fix for "instability" issues when using USB accessories on Tensor-powered phones, improvements to Macro mode's autofocus for Pixel 7 Pro users, and a fix for Bluetooth devices that randomly unpair without warning on all devices.
In essence, April patch notes consisted of only these three fixes, presented in a slightly different order. It's fair to say that it's a relatively weak month for updates. These updates are important for ensuring the smooth operation of the device and protecting against security vulnerabilities.
However, Google Pixel 6, Pixel 6a, and Pixel 6 Pro users who purchased their devices from Verizon were left disappointed since their devices missed the April 2023 patch.
This has not happened the first time. Earlier Google Pixel 6 series including Pixels 6, 6 Pro, and 6a missed out on the security and March 2023 feature drop that did not go well with the users.
Finally!! Verizon Google Pixel 6 April update released
The latest Android 13 update for the Verizon Pixel 6, Pixel 6 Pro, and Pixel 6a is being released as build TQ2A.230405.003.G1. This update should also apply to related MVNOs like Visible. More information about the April Pixel update can be found on Google's website, including a list of all bug fixes included in the update.
Google is expected to start rolling out these updates soon over-the-air (OTA), which can be accessed by going to Settings > System > System update on your device. However, if you prefer to manually update your device to Pixel 6 April update and don't want to wait for Google's OTA, you can download each factory image or OTA file from the links provided.
The images and OTA April Update has finally been made available for Verizon's Pixel 6 and 6 Pro devices. The image IS DIFFERENT than the generic one released earlier this month.
Links:
There is no official explanation for the delay to Pixel 6 April update but this is two months in a row that the Verizon-specific update has been deferred for all of the Pixel 6 owners.
Will Verizon Google Pixel 6 April update ruin your phones?
It has been almost 2 weeks since other Pixel owners have updated to the latest April 2023 patch. However, they are not happy with it. Some of the common issues being reported are screen freeze and becoming unresponsive, which can be frustrating. Some found that the notifications won't go away until swipe gestures are done left or right on the lock screen.
Pixel devices post the April update has become too much glitchy and sometimes stop functioning normally until one restarts them.
Many are complaining about the battery life, smart lock and the camera function experience almost ruined. A few Pixel 5 users reported performance issues with Chrome and a few more apps became unresponsive.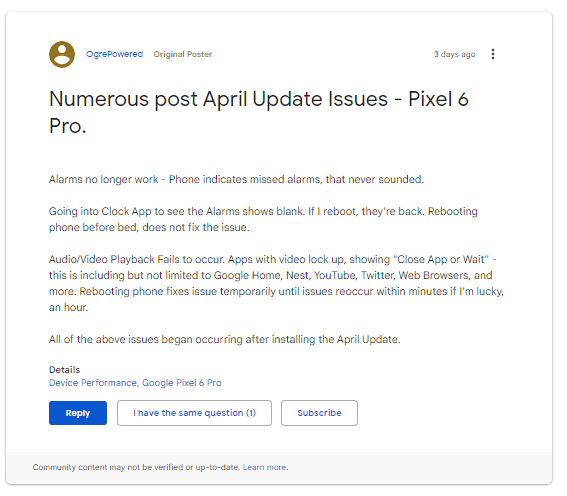 There are a few workarounds suggested by users for the April update but they are not official. Due to these frustrating bugs users are demanding another rollout that addresses their pain areas. However, the glitches reported are not by a large section of users. Hence, it cannot be said with certainty whether Verizon Google Pixel 6 April update will ruin your phones or not.
The next significant patch for Pixel devices will be the Pixel June 2023 update, which will introduce several new features to Pixel phones. This will be followed by the official release of Android 14 in the fall. Currently, both the Pixel Feature Drop and Android 14 are undergoing public preview testing, and you can install the beta and developer preview on your device if you wish to try them out.