Many users face an issue signing in to their Google account already synchronized to their Samsung devices after resetting their phones. It is very problematic, especially when you forgot your login credentials after the reset. So now, the question arises what one should do? This guide has described different easy ways to bypass Google account on Samsung devices. Let us get started.
Part 1: Bypass Google Account Verification With OTG
OTG is an external cable used to connect your phone with other devices. It's easily available and can help you to bypass Google account verification to regain access to your Samsung phone. OTG helps to bypass Google account verification. It is a pretty easy way to remove FRP and unlock your Samsung phone without a computer. However, this method only works in lollipop devices. So, do not try it out for phones with other versions. Here are the steps to use this method for Android lock screen removal:
Step 1: First, you need an OTG connector for keeping the FRP bypass file.
Step 2: Download the FRP bypass file and put it on your pendrive.
Step 3: Connect the pendrive with your locked Samsung device using the OTG cable.
Step 4: Install the downloaded file to your phone using pendrive.
Step 5: Now, launch the installed application. It will open like your Samsung phone settings.
Step 6: Go to factory reset and Reset the device to remove all your files and other content from your Samsung phone.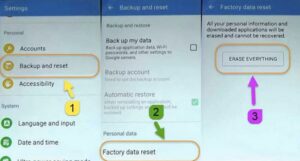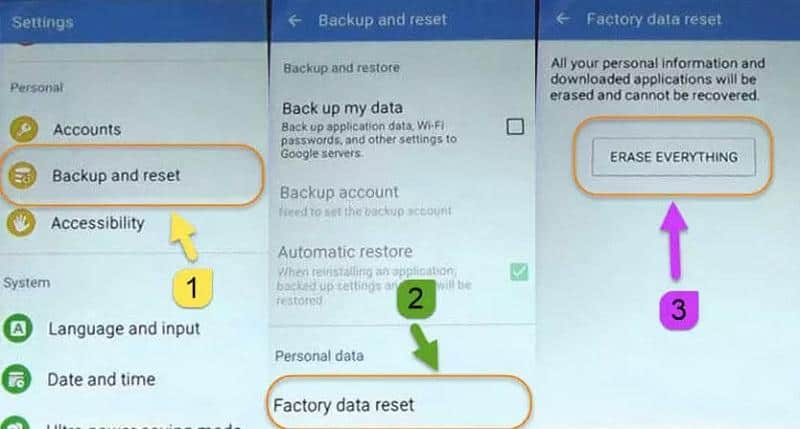 Part 2: Bypass Google Account Verification Without OTG.
Before using this method, make sure you have a working internet connection because you will not use an OTG cable. Here is the step by step guide to bypassing FRP without OTG:
Step 1: Connect your Samsung phone and system to an internet connection.
Step 2: Once you see the FRP tool screen, press the "Settings" icon on your keyboard.
Step 3: Tap the "Menu" button and press the "help and feedback" button.
Step 4: Enter whatever word you want and click on the "Share" option.
Step 5: Select the "Messaging" option. Then, go to "New Message" and enter any number "To" section.
Step 6: Click on the "Contacts" icon.
Step 7: Click on the Call icon and go to new call options. It will open the dial pad. Press #*#4636#*#.
Step 8: Press the usage statistics option and click on the back button. You will see the "Settings" menu.
Step 9: Click on the "backup and reset" option.
Step 10. Tap the "Factory data reset." Now you have successfully bypassed Google account verification on the Samsung phone.
Part 3: Bypass FRP Using Dr.Fone – Screen Unlock
Dr.Fone is a leading brand that develops software solutions for all kinds of phones. Dr.Fone – Screen Unlock is a reliable and most popular FRP bypass tool to unlock an Android phone lock. Using this tool, you can easily unlock mobile phones from leading brands like Huawei, Samsung, Sony, Xiaomi, or HTC.
Here are the steps to use Dr.Fone – Screen Unlock (Android) to bypass FRP on a Samsung phone.
Steps to FRP Bypass Google Account on Samsung Device Without Knowledge of OS Version:
Step 1: Install and open Dr.Fone on your computer and connect the Samsung phone (Switched Off) to the system with a cable.
Step 2: Press and hold the "Volume Up", "Bixby", and "Power" buttons simultaneously.
Step 3: Leave all the buttons as soon as the Samsung logo appears on the phone.
Step 4: Now, your device is in Recovery Mode. Tap the "Next" button on the computer screen.
Step 5: The Screen unlock will display the OS version. Now, you can move further with the process to bypass your Google account.
FRP Bypass for Android 6,9 and 10:
If you are aware of the OS version of your Samsung phone, you can opt-out of the above guide. For Android 6/9/10 users, users can use the reset your PIN code method to bypass Google FRP.
Here are the steps:
Step 1: Click on "Screen Unlock" on the Dr. Fone home page and connect your Samsung phone to Wi-Fi.
Step 2: Select "Unlock Android Screen/FRP" and continue.
Step 4: Choose the "Remove Google FRP" Lock to bypass the Google account on your device.
Step 5: Now, Choose your Android version, which can be 6,9, or 10.
Step 6: Now, connect your phone with a USB cable.
Step 7: A pop-up notification will appear on the computer. Click on "Confirm."
Step 8: Tap "View" on the Samsung phone to go ahead. The Samsung App store will open. Next, install the Samsung Internet Browser. Open, the URL "drfonetoolkit.com" in the browser.
Step 9: Click the option "Android6/9/10." Tap on "Open> Settings" option.
Step 10: Select "Do not require by default" and tap on the "Continue."
Step 11: Set the new PIN and remember it.
Step 12: Tap the "<" button on the device until you return to the Wi-Fi connect page. Then click the Next button to continue.
Step 13: Enter the new PIN. Then, tap "Continue."
Step 14: ON Google Account Sign-In page, Tap "Skip."
Congrats! Google FRP lock has been removed on your Samsung device.
Bypass Google Account on Android 7 and 8
Note: The steps for Samsung Android 6,9, 10, 7, and 8 are the same till Step 6, where you connect your phone to the computer with a USB.
After that, for Android 7 and 8, follow:
Step 1: Select the "Android 7 and 8" option, check the notification on your locked Samsung device and redirect to "drfonetoolkit.com."
Step 2: Click the "Download APK" button. Tap on the "Open" button to install it.
Note: If any pop-up appears, permit it in the "Settings" to allow it.
Step 3: On the installed apk page, tap "Next" and "Done"
Step 4: Go back to the apk download page, and tap the "Open Settings" button. Now, tap on "Lock screen and security" or "Biometrics and security" and go to "Other security settings" at the bottom.
Step 5: Disable the "Android Device Manager"; "Find My device" services on this page. Click the "Deactivate" button to confirm.
Step 6: Also, select "Settings" and then "Apps." Go for "Google Play Services" and "Google Play Store," and finally disable "Google Play services."
Step 7: When you go back to the apk download page, tap on the "Open Settings."
Step 8: Sign in with existing Google accounts or create a new one directly. Click "I agree" to go ahead.
Step 9: Again, there will be a Settings page to restore Find my device, Android device manager, Google play service, and Google play store services. Finally, Go to Settings and navigate the Lock screen and security or Biometrics and security options. Then go to "Other security settings" > "Device Administrators/Device admin apps," enable the "Android Device Manager" and "Find My device services."
Step 10: Now, please restart your Samsung device. The Google FRP has been bypassed.
Final Thoughts
Google has added FRP to Android devices to keep mobile phones away from unwanted access. It is a security feature that gets activated on your smartphones when you set up a Gmail account. So now the question arises how to bypass google account verification after reset? Well, use an effective and reliable solution known as Dr.Fone – Screen Unlock. It will work smoothly to unlock your Google account.