If you are bored after staying at home for so long, you might want to go through your old photographs. Self Quarantine is an excellent time to recollect all your memories. Everyone clicks pictures, so if you find a quality collection of images, you might want to share them online by making a collage.
To help you, here are some top-rated photo collage making applications for your iOS devices.
Layout By Instagram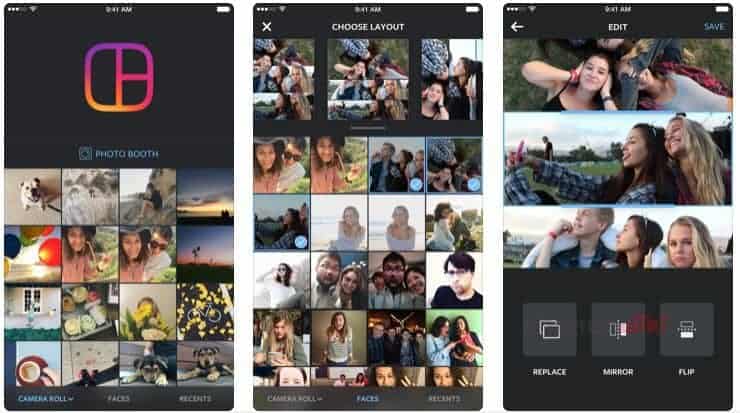 Layout is an app that is offered by Instagram. Instagram is a leading social media site, with more than 500 million active users. Layout is an elegant application with a straightforward and accessible User Interface (UI). The Application only lets you make collages, but you can't edit the images a lot.
You could just resize, rearrange, or mirror your photos, but can't edit them. It has an option called 'Photo Booth.' With it, you can click four photographs and make a collage out of them at once. After selecting photos, it offers you about ten different layouts for your collages. Thus, if you are looking for a simple collage making app, which is easy to use, Layout could be a good option.
Adobe Spark Post
Whenever you may think of a photo or video editing software, one name that is sure to cross your mind is Adobe. Adobe offers an excellent editing experience for iOS, Windows, and Android. If you want to make a collage with Adobe quality on your iOS, you can download Adobe Spark Post. It is free to download the application.
To start editing, you will have to sign up first. It has a dedicated collage section. You can choose from a large number of ready-made templates. You can add images from your device or pictures that the app offers. Further, you can change the color scheme of the model, add animated texts, and resize the photos as well.
PicCollage Video & Grid Editor
This app gives you a distinct collage making experience, because, with PicCollage, you can't just make simple collages, but make them one of a kind by adding cutouts. Yes, with this app, you can create cut-outs of your photos and add them to your collage. This makes your grids pop up more.
Further, you can also access many templates and can also make them on your own. You may also add doodles. Like many other applications, it also lets you add texts to the images. PicCollage
Adobe also offers a premium subscription, which lets you remove watermark, and access to premium content like unique templates and more. For that, you have to pay $9.99 per month.
PicsArt Photo Editor + Collage
PicsArt has gained a lot of popularity in recent times. It is free to download the app. Although it is a photo editing app, it also allows you to make stunning collages. You can use it to edit, highlight, and even improve the lighting conditions of the photographs. It offers plenty of filters and layouts to make the collages unique. It also has a social tab, with which you can flaunt your editing skills.
PhotoGrid Video Collage Maker
PhotoGrid has a 4.7 rating on the App Store. It is free to download the app, which is primarily based on making collages. You can make grids (collages) for photos, videos, or both together.
The application offers hundreds of layouts to choose your favorite one and lets you add stickers to your photos. You can also access many filters that the app offers to edit your photos. Further, you can make scrapbooks and upload them directly on Social Media.
Picjointer Photo Collage Maker
Another free to download app, PicJointer has 4.6 stars on App Store. It offers a significant number of collage designs and layouts. You can easily access every option available and choose the ones that suit you.
Further, you can slightly edit the images before making a collage. It also enables you to add text/stickers to your photos. Although the app is free to use, you can also purchase some additional filters or layouts, etc.
MOLDIV
Offering up to 180 filters and 300+ frames, MOLDIV has a 4.7 rating on the Apple App Store. This is free to download app. It has a lot of distinct features. First, you get a beauty camera, which lets you click images with real-time filters and smoothes your skin, largens your eyes, and more. Further, you get tonnes of layouts in which you want to arrange your images. Thus, MOLDIV can give you a promising experience.
So this is a list of the best collage making applications that we found for your iPhone and iPad. Have you tried any of them yet? Do let us know in the comments section.