In recent days, social media has always been inundated with peculiar rumors. A recent one 'Cuando Se Cierra' claims that TikTok shut down for new users starting July 28, 2023.
TikTok, the Chinese app owned by ByteDance, has experienced exponential growth compared to its counterparts, such as Meta-owned Facebook and Instagram. Its vast collection of content across various categories keeps millions of users engaged for hours daily.
However, it's crucial to approach these rumors with skepticism, as there have been no credible reports or official statements confirming TikTok shut down to new users on July 28, 2023, or any other specific date.
@desi.galarza_ofc #greenscreen #fypppppppppppppppppppppppp #paratii #problema #Tiktok #tiktokespaña♬ original sound – ✨Desi✨
False information and hoaxes about social media platforms are common, often spreading rapidly and causing confusion among users. To ensure accuracy, verifying such claims through reliable news sources or official announcements from TikTok is essential.
Remember to exercise caution when encountering rumors and to avoid sharing unverified information, especially when it concerns popular platforms like TikTok. Always seek credible sources to confirm any changes or developments related to social media platforms.
About the TikTok shut down aka Cuando Se Cierra' rumor
In recent days, a bizarre rumor has been circulating among Spanish-speaking users of TikTok. The rumor, known as 'cuando se cierra' or 'When it closes,' claims that TikTok is planning to shut its doors to new users on July 28, 2023, due to overcrowding issues. The rumor has gained traction through a social media post in Spanish, which has been circulating on Twitter and TikTok.
The translated version of the Spanish post reads: "Dear users, TikTok has to close its doors on July 28, 2023, because it is overcrowded."
The post alleges that existing members have complained about the platform becoming too slow, suggesting that the increased activity from both active and new users is causing conflicts.
The message further urges users to share it with 15 other TikTok users, creating a chain effect that perpetuates the rumor. Although the origin of the post is unclear, it gives the impression of being an official statement from TikTok authorities, leading some users to believe it.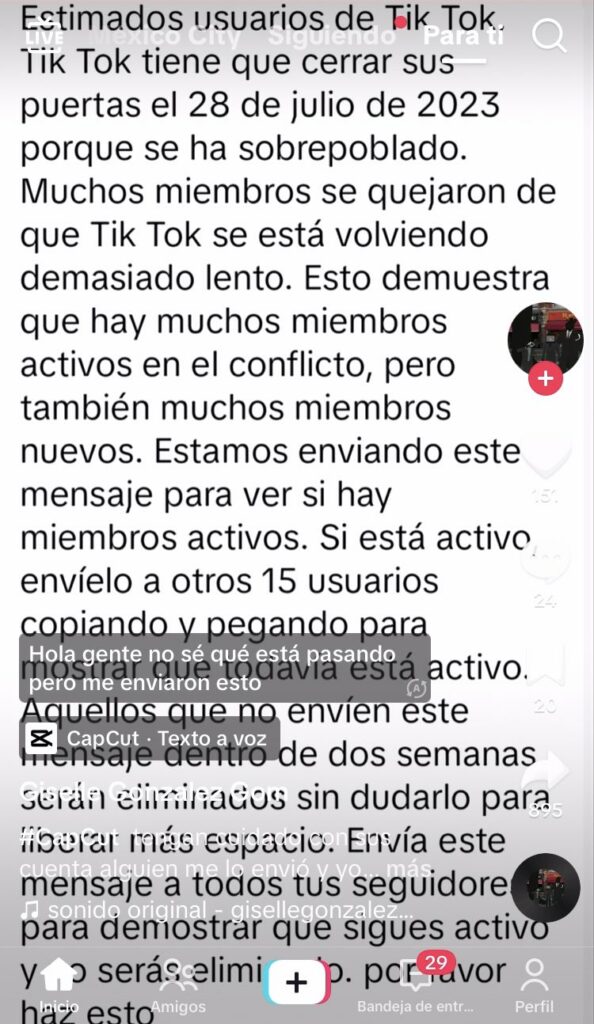 The rumor gained momentum when some TikTok users experienced technical difficulties while recording their videos, such as slowness, connection errors, or problems with content recording. These issues sparked speculations and searches for explanations, eventually aligning with the 'cuando se cierra' rumor.
As the rumor spread, it was reinforced by a statement supposedly announcing the platform's closure, which quickly gained traction among TikTok followers. The primary reasons cited in the statement for this decision were the overpopulation and saturation of users on the platform.
It is essential to note that as of now, there have been no credible reports or official statements from TikTok confirming the platform's closure to new users on the specified date. Users should exercise caution and verify information from reliable sources before sharing such rumors.
Will TikTok shut down on July 28 for new users?
There is no official confirmation from ByteDance, the Chinese company that owns TikTok, regarding the alleged closure of the platform to new users on July 28, 2023, or any other specific date. No credible sources have announced this on TikTok's official social media accounts or website.
The circulating claim about TikTok's closure seems to be a baseless rumor, resembling chain messages commonly seen on other platforms like WhatsApp, with the potential to create confusion and concern among users.
Without any official communication from ByteDance, it is best to treat the information about TikTok shutting down for new users on July 28, 2023, as unverified and likely inaccurate.
TikTok Ban Globally
While TikTok has not faced a widespread closure, its presence and operations have indeed been scrutinized by various governments globally. This heightened scrutiny is driven by the platform's significant user base, which reached 814.5 million users, and the potential implications of data privacy and national security issues.
Several countries have taken measures to prohibit or limit the use of TikTok, especially among government employees and on official work phones or devices. These decisions have been driven by concerns related to data privacy and cybersecurity, particularly regarding the access to user data by the Chinese government.
State workers from several countries, including Canada, the USA, Denmark, Belgium, the United Kingdom, New Zealand, Norway, the Netherlands, France, and Poland, were prohibited from installing TikTok on their official work phones or devices due to cybersecurity concerns. These countries have taken these measures to address the potential risks associated with data privacy and the possibility of unauthorized access to user information by the Chinese government.
United States: The Trump administration raised concerns about TikTok's data handling practices and alleged ties to the Chinese government, leading to discussions of a potential ban on government devices. While legal challenges and negotiations with potential buyers delayed any immediate action, the issue remained contentious.
India: In June 2020, India imposed a nationwide ban on TikTok, including on government devices, due to data privacy and national security concerns.
Indonesia: In 2018, the Indonesian government briefly banned TikTok and several other apps for their content and privacy issues. While the ban was later lifted, restrictions may still apply to government devices.
Bangladesh: In 2018, the Bangladesh Telecommunication Regulatory Commission (BTRC) temporarily blocked TikTok, citing concerns over inappropriate content and cybersecurity risks.
Pakistan: In October 2020, the Pakistan Telecommunication Authority (PTA) issued a temporary ban on TikTok, expressing concerns about the platform's content moderation. The ban was lifted after TikTok promised to improve its content filtering.
Governments continually reassess the cybersecurity risks posed by various applications and platforms, which can lead to updated policies and restrictions.
TikTok's popularity and extensive user base have attracted attention from various countries, leading to concerns about data privacy and cybersecurity. As a result, several governments, including Canada, the USA, Denmark, Belgium, the United Kingdom, New Zealand, Norway, the Netherlands, France, and Poland, have taken measures to restrict the use of TikTok on official work phones or devices.
Despite these limitations at the official level, TikTok has not faced a widespread closure, and its services continue to operate normally for its millions of users worldwide. As of now, there is no confirmation of TikTok shutting down on July 28 or any specific date.
Meanwhile, the social media landscape is continually evolving, with other platforms undergoing significant changes and rebranding efforts. For example, this week, Twitter rebranded itself as X, marking a visual and identity makeover for one of the oldest social networks.