Is Your Tiktok Account banned? Multiple reports have been coming up showing that their Tiktok account has been banned. but the question is how to unban TikTok account.
We will guide you on how you can unban your TikTok account or simply "Tiktok account unban"
According to TikTok user statistics, the app had over 1 billion active users globally at the end of 2021, indicating a 45 percent increase over the previous year. It was launched in September 2016 by the Chinese startup business ByteDance. Its rapid growth in popularity began in late 2017, when it acquired a rival app, Musically, and transferred its 200 million account list to TikTok.
Why Was My TikTok Account Banned?
A TikTok account is generally banned only after several reports are filed against it and TikTok determines that the content violates the community guidelines. This usually happens when another user reports your content.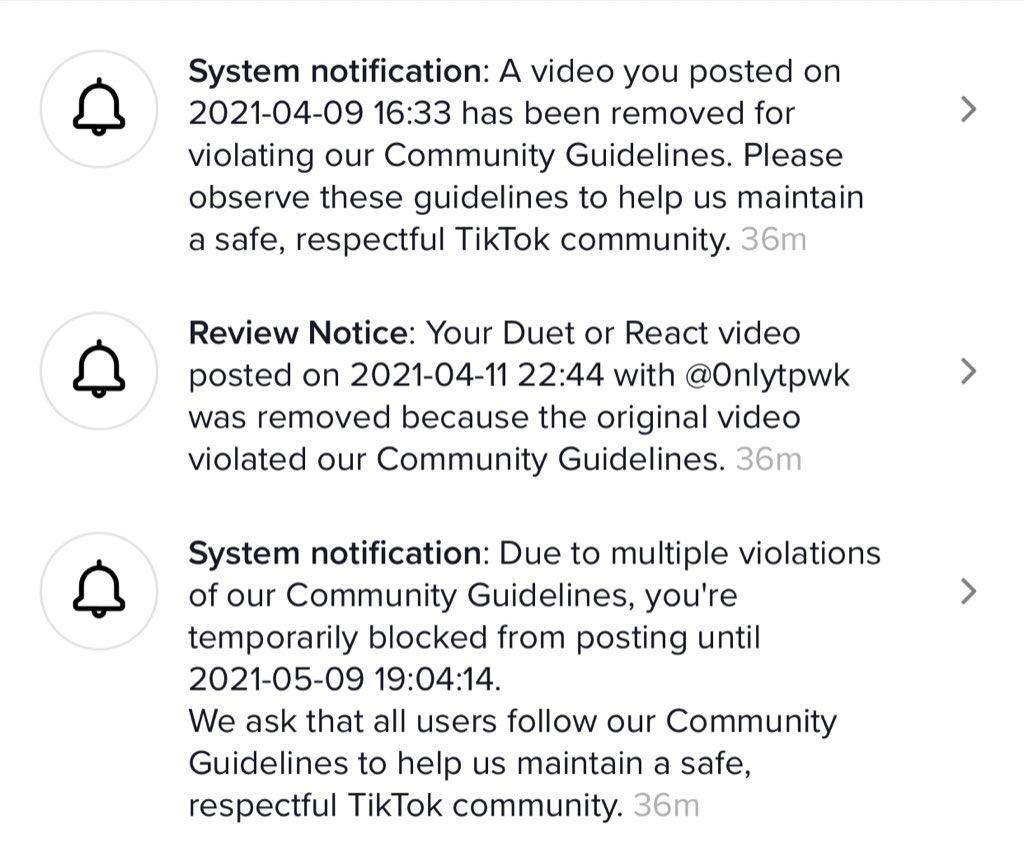 Your videos or account may be reported for a variety of reasons, including harassment, bullying, false information, illegal actions, fraud, hate speech, animal cruelty, graphic content, minor safety, intellectual property infringement, NSFW content, or displaying otherwise harmful acts.
When another user reports your video or accounts for all of this content, TikTok generally reviews it, however, it does not always find it in violation. If a certain video appears to be the issue, TikTok will most likely remove it before banning your account. Additional action may be taken if multiple videos on your page are reported.
How to Unban Tiktok Account 2022?
If your account gets too many strikes, TikTok has the option of either permanently banning your account or temporarily banning you from posting. If you are banned from posting, you can still use the app, comment, like, and share other videos, but you will be unable to add new content until the temporary ban is lifted.
After several violations, your Tiktok account may be permanently banned. When you log into the app, you will see a banner notification if this occurs.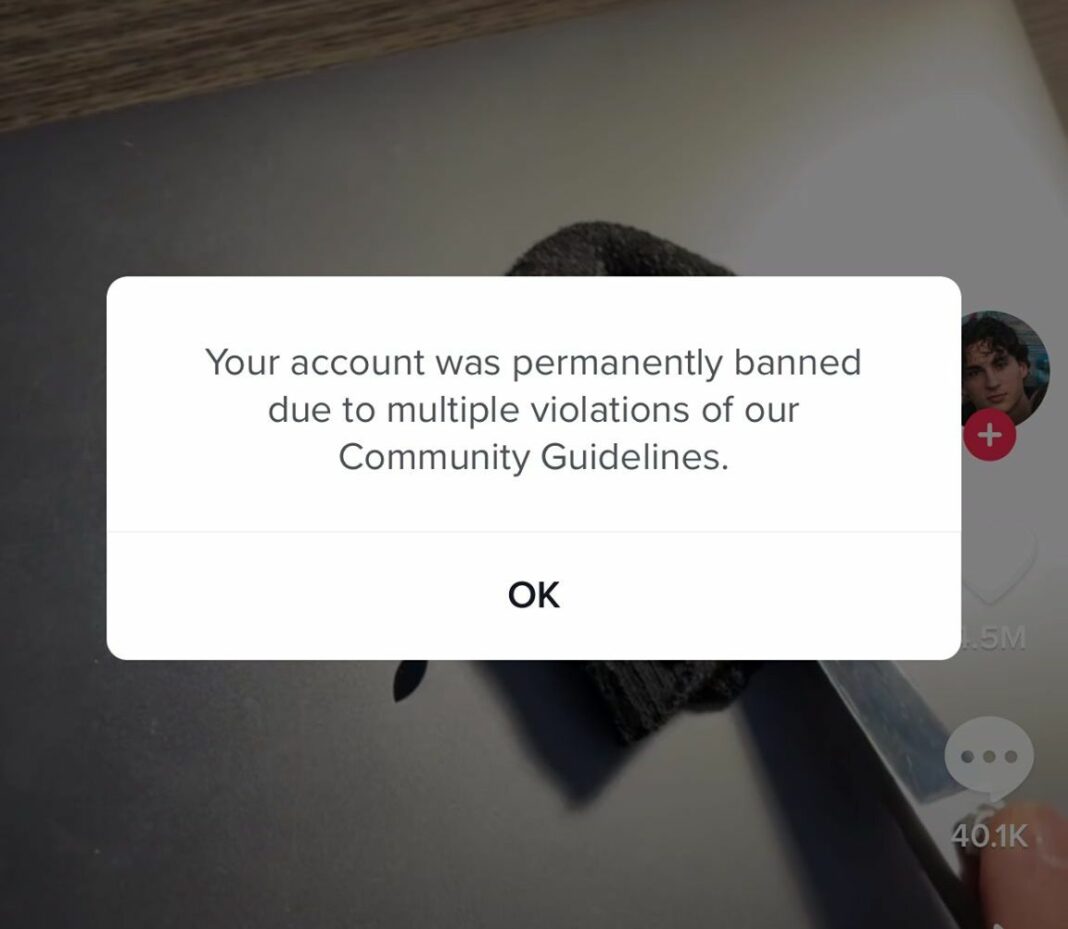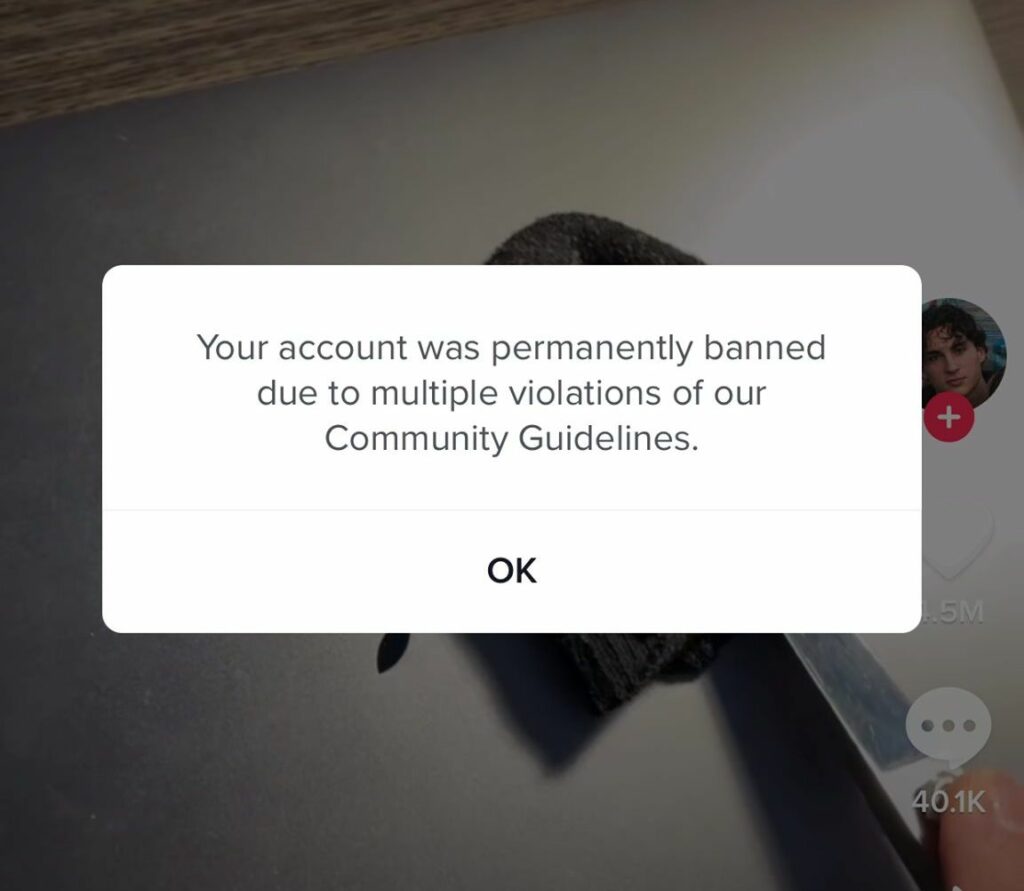 Method 1: Unban Tiktok Account by Filling out appeal forms
In this method, we will guide you on how you can contact Tiktok's support team using the app. However, if Tiktok your account got permanently banned, you should skip this method and follow the second one because you won't be able to contact them through the app.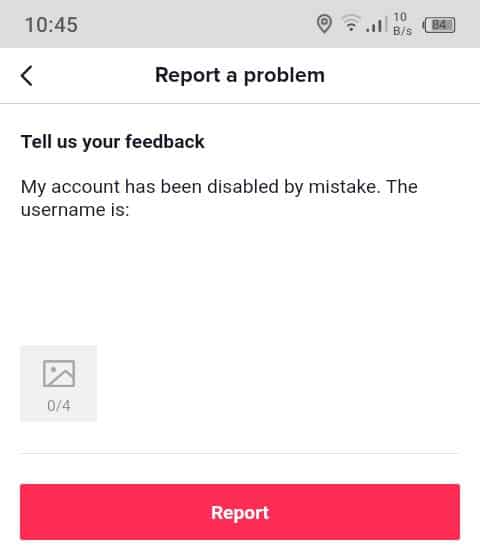 Send an appeal to Tiktok Support in these easy steps:

Step 1: Launch the Tiktok App and go to the Profile section
Step 2: Tap on the three dots at the top right of your profile to open Settings and Privacy
Step 3: Go to the Support section and tap on Report a Problem
Step 4: Tap on Account and Profile
Step 5: Select Profile Page and then tap on Other
Step 6: Tap on the Still have problem option and start typing why you think your account has been disabled by mistake, and then tap on Report to submit your appeal.
It takes a few days for the TikTok team to respond. Don't be discouraged if you don't hear from them right away.
Method 2: Unban Tiktok Account by Reaching out to the Support Team using Email
In case, the first method did not work for you. Do not worry we've got you! There's always another way.
In this method, we suggest you reach out to the support team using your email address. This method is highly useful for those who got permanently banned from TikTok or simply can't log in to their Tiktok account. To contact TikTok support, you'll need Tiktok support's email. We have listed a few emails and you can choose one from these, we have also listed them according to their regions:
Global: business-servicesupport@tiktok.com
United States: creator-marketplace-support@tiktok.com
Canada: creator-marketplace-support@tiktok.com
Europe: eu-creator-marketplace@tiktok.com
India: tcm_in@tiktok.com
Japan: tcm-jp@tiktok.com
Outbound: tcmsupportoutbound@tiktok.com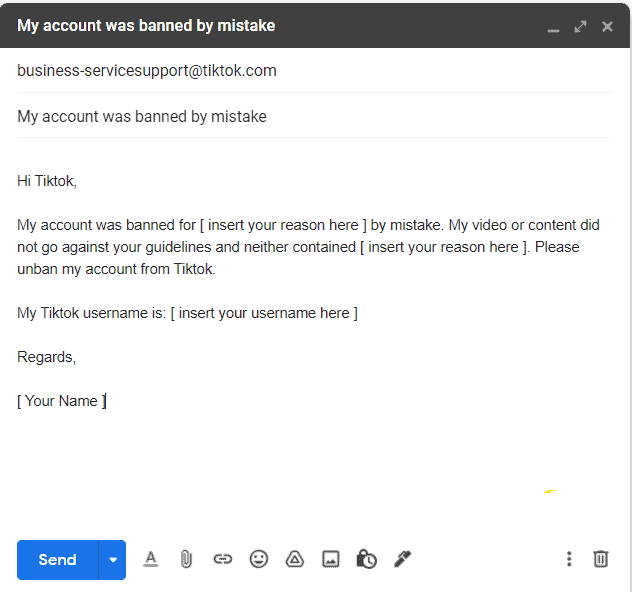 Before submitting your email, think of what you will write. You'll need to explain that there was a mistake regarding your account or maybe apologize.
Support Team Email Sample
Hi Tiktok,
My account was banned for [ insert your reason here ] by mistake. My video or content did not go against your guidelines and neither contained [ insert your reason here ]. Please unban my account from Tiktok.
My Tiktok username is: [ insert your username here ]
Regards,
[ Your Name ]
Method 3: Unban Tiktok Account by Making an appeal through App
When your Tiktok account is temporarily banned, you will be alerted in your Inbox.
Step 1: Open TikTok.
Step 2: Tap on Inbox to view notifications.
Step 3: You will notice a system notification informing you of the Tiktok account ban. To request account recovery, tap on Appeal.
Method 4: Unban Tiktok Account by going through "Report a Problem"
The Support Tickets function on TikTok is a simple and straightforward way to unban Tiktok account.
Step 1: Launch Tiktok app.
Step 2: Tap on the profile icon
Step 3: Tap on the three-line menu in the top right corner
Step 4: Tap on Settings and Privacy
Step 5: Under the Support section, tap on Report a Problem
Step 6: Tap on the writing board icon in the top right corner
Step 7: Now you will be directed to the "Your feedback" page. In the top right corner of the page, tap on the compose icon
Enter your message in the text box. Make sure to write it with a personal touch that clearly explains your situation and appeal. If you have media to support a reasonable cause for your account to be reinstated, hit the photo and video icons to attach it.
It normally takes 1 to 3 days to receive a response from the support desk; however, it may take longer (like really long) to receive a response or any type of recognition. So, keep going! As long as you have sufficient reasons to claim your account back, assistance should be on the way. This method has a high potential to unban the Tiktok account.
The "Share your feedback" form lets you notify the TikTok staff of any issues or problems with your account or user experience. It provides a direct method to contact TikTok Help about your banned Tiktok account.
Step 1: Navigate to the Share your feedback page
Tap on this to open the Share your Feedback form
Step 2: Enter your email address in the box given below.
It can be clearly seen that filling out the Username is not mandatory and completely optional.
Step 3: Tap on dropbox and select Account ban/suspension
Step 4: You will find the following choices in the dropbox under Tell us more: Livestream, banned account (not age-related), banned account (age-related), and Other. Choose one based on your situation.
Step 5: In the text box, write a detailed message alerting them about the problem. Suggestion: Make it sound personal. If you have photos or videos to support your argument or request, tap on Upload.
Step 6: Make sure to tick both the checkboxes to agree with the Declaration statements.
Finally, you can tap on Submit and wait for a response from the team. It might take a few days to receive a response, but amidst all that hassle, it's worth a shot!
If You know any new method to unban TikTok account, Let us know in the comment below.
How long does it take to get my TikTok account unbanned?
There is no ETA set by the TikTok support team. It depends on the nature of the ban imposed and the volume of requests to be handled. Majorly resolution time has been observed to happen between 1 to 5 working days.
What types of the ban can a Tiktok account have?
There are four types of Tiktok bans. However, three of them are temporary and one leads to a permanent ban of the account. You will receive a notification for each of the bans, except for Shadowban. Because shadowban is considered a "secret" ban.
Shadowban: A shadowban limits the reach of an account resulting in comparatively a lesser exposure after you publish new content.
Temporary ban: This occurs when you make a minor violation. In that case, one is restricted to view only rights ranging from 72 hours or up to one week. In other words, no content can be posted during that time.
Permanent ban: This occurs when you make multiple violations.
Banned from commenting and live streaming: While this ban doesn't have a proper name, it snatches away the ability to comment on other posts and go live on Tiktok from you.
After your account has been banned, you need to wait a couple of days to use the app fully. The duration of the TikTok ban depends on the offence.
How to avoid the Tiktok account Ban notice?
TikTok's Community Guidelines make it quite clear what is and is not permitted on the platform. Most people, however, ignored them. Here's a fast overview of all of them:
Don't post violent content or incite violence.
Don't promote eating disorders.
Don't threaten a minor safety.
Don't promote illegal activities.
Don't promote self-harm.
Don't encourage hate speech.
Don't promote harassment.
While TikTok's policies make it extremely clear about what you and other users can and cannot do on the platform, you need to be extra careful to avoid posting sensitive or offensive stuff.
Summing It Up
Tiktok bans are not so usual or a repeated occurrence, however, if it has happened to you please make sure to not go against the app's community guidelines. Although, temporary bans are easy to recover, however, it's important to give importance to the community goes because as the saying goes prevention is better than cure.
The first method will most likely unban your Tiktok account, however, if the problem persists, you may use the other method and reach out to them. However, when your TikTok account gets banned, you must appeal the ban within a few days to avoid any future hassles.
That's pretty much all there is on our end. Please let us know if there is another option that works for you to get unbanned from TikTok, in the comment section! For more similar content visit the website. Also, do not forget to check out "[UPDATED] Yes, TikTok unban is happening in India soon!"