The quest to find the ideal music companion is an arduous journey for many. It requires checking up on detailed technicalities while drawing up conclusions from personal experience. Moreover, there exists a figurative Cold War between the patrons of each source. In this instance, it would be the comparison between Spotify and Apple Music. Both Spotify and Apple Music have gained a sort of cult following, each for their own reasons.
However, the title does suggest the likelihood of a possible leaning towards Spotify for many Mac users. Does sound a bit sacrilegious, doesn't it? An Apple consumer relying on third-party software? Alright, alright don't get your pants in a twist. Here's our take on the matter along with some comments referenced from you, the opinionated users.
A post on Reddit's r/mac carries the suggestion of Spotify being a much better alternative to AM. As always, the comments that entail it engage in back and forth banter, either in support of Apple Music or in praise of Spotify.
The general premise of the debate seems to be that while Apple Music does have a slightly bigger digital library with their paid services, Spotify's social media features seem to give it much credit coupled with the fact that it's a free-to-use app by default.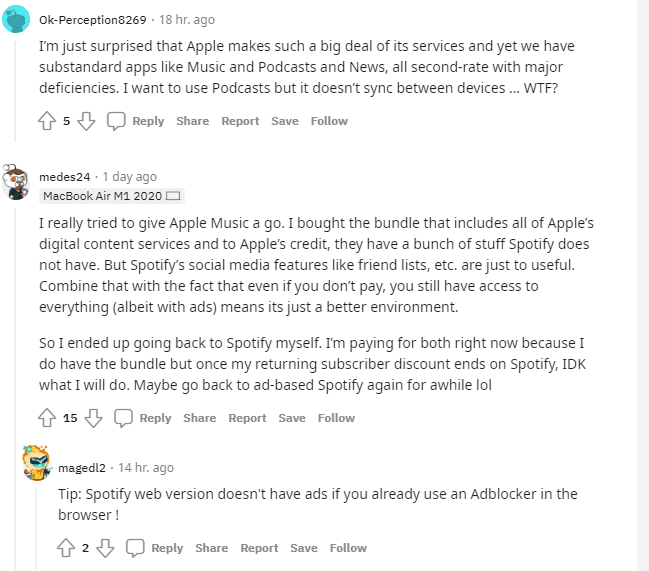 Issues with Apple Music
According to the users, the media keys for AM tend to be slightly buggy and unresponsive, although others suggest that the use of an external keyboard might be the root of the issue. The UI and the overall look is somewhat dated when compared to Spotify which receives regular updates. AM is still king when it comes to the quality of audio. Spotify does have an ace up its sleeve which will likely be revealed as the premium feature of Spotify Hi-Fi.
Many of the claims are mostly nitpicking by fanboys of either source with any substantial argument hardly being given. Some claim the dark scheme of Spotify is a design oversight while others back the third-party software by saying the dark theme was a given even before the option for light and dark themes emerged. I guess you kinda get the idea.
Instead of delving deeper into the mess, we decided to compare the two and provide salient features that may or may not be a deal-breaker.
Apple Music vs Spotify
As of now, AM is the only option out there with an audiophile-grade listening experience. While Spotify Hi-Fi did receive a few mentions here and there much remains to be seen with the actual results. Apple also gains the upper hand when it comes to the content of their digital music libraries, not to mention their exclusive content from several artists which is accessible on the paid option. Spotify does come a close second with the additional caveat of being free-to-use. The consistent addition of new content to the platform along with its podcast offerings make it a competitive option to consider.
Spotify does retaliate against AM when it comes to its recommendations. The well-curated list of songs based on each individual's personal listening library along with hand-picked playlists which feature the latest hits gives it the necessary edge over AM. AM did take a leaf from Spotify's book by replacing their initial "For-You" page with a scroll-down list that is similar to the former.
The two contenders are tied when it comes to search functionality. Songs can be accessed easily by merely typing in the lyrics that you might remember. Google does have a song by tune feature though, where you can find out the song whose tune seems to be stuck in your head by humming the tune into your speaker. Convenient much?
Spotify does gain a marginal victory when it comes to design with user preferences being shown first before moving into the suggested options. Their intuitive UI with sober tones is almost neck and neck with Apple's, a worthy compliment indeed.
Apple's Lossless and Spatial Dolby Atmos audio is certainly worth considering if you'd like to go all in. The initial payments for the premium option on both sources start at ₹49/month (for the student option) when including Spatial audio. A pretty sound bargain. However, if you're a casual listener who isn't overly eager to cash in, Spotify will do the trick just fine.
How does Apple Music stack?
To be honest, there isn't much of a problem like the kind mentioned in the post. There are a few bugs here and there but several solutions have been offered in place as well. AM could improve on its recommending game besides the extensive social offerings that Spotify offers.
Having Spotify on the Mac is a suitable replacement if you'd like to avoid any unnecessary payments and a casual listening experience.
That's pretty much all there is on our end. Do consider leaving a comment down below if you think the content in the post needs changing. For more info head over to our website here.