One of the games that created the most impact on the genre of mobile gaming was 'Player Unknown's BattleGrounds' or as we all call it in a cute way as PUBG. It had brought such a revolution that even the tech giants like Asus and Xiaomi have manufactured gaming-exclusive phones, providing an immersive experience into the games with hyper-realistic graphics.
One of the most downloaded and super successful games, Tencent launched the PUBG Mobile Season 17 on January 19, with exciting rewards and weapons. It is still not been 2 months, yet fans are already speculating about the PUBG Mobile Season 18 release date.
In the meantime, if you are excited about playing the new season and you have not downloaded it yet, head straight to App Store and Google Play. The devs have doled out rewards exclusive to Prime players on Android only. Prime subscribers are entitled to 300 or 900 RP vouchers every month and perks of Prime-exclusive Airplane Ranking display.
Scroll below to get details about the upcoming rewards for the next PUBG Mobile 18 Royale Pass, weapons, avatars, leaks, and whatever we know so far. Once the devs release the beta version for public testing, more details will be revealed.
PUBG Mobile Season 18 Release Date
When will Pubg Mobile Season 18 start?
The standard lifetime of any season is 2 months approximately, PUBG Mobile Season 18 can land anytime around 21st March. The current ongoing PUBG Mobile Season 17 is likely to come to an end on 17th March. RP section will take another 24 hours after the closure of Season 17 closure for rewards or events.
In all likelihood, if all goes well with the build, PUBG Mobile Season 18 release might hit on March 19-20, only 45 days away from the day. Will keep you updated with the PUBG Mobile news. Till then stay tuned!
PUBG Mobile 1.3 Beta Update was released in February and its stable rollout is expected to coincide with PUBG Mobile Season 18 launch.
PUBG Mobile Season 18 RP rewards
As per the sheer amount of requests from fans across the globe, we have found some leaks on the internet. Like every other time before, the leaks of the Royale Pass seasons were turned out to be true and made the fans around the world happy.
Thus, we curated a list of anticipated arrivals in the PUBG Mobile Season 18 rewards. Check out the list below, maybe some of them you have been wishing for long!
Player Avatars
The Season 18 Royale Pass might be bringing 2 sets of outfits for players to equip for their characters. A few leaked ones are given below:
1st Outfit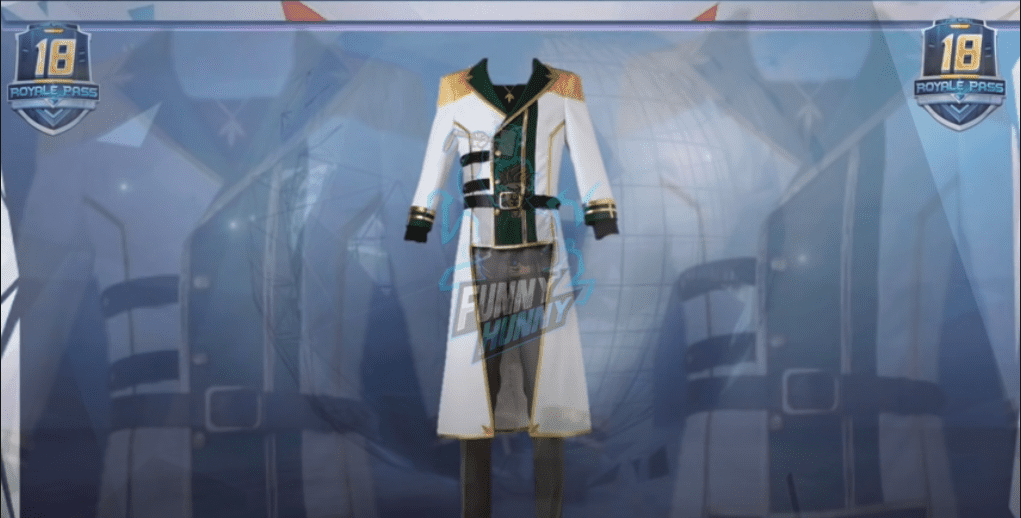 A simple-looking modern assassin type outfit with a touch of green and yellow can be launched in the PUBG Mobile Season 18. It is supposed to be available at Level 1 of the Season 18 Royale Pass. The plain white outfit with a dash of green and yellow is simply charming to one's eyes.
2nd Outfit
This futuristic-looking outfit is rumored to be available from Level 50 of the Royale Pass. Although this outfit is exciting to watch, it is not yet confirmed. It can be in the RP or in the RP crate. We will get more information once the season gets released. Needless to say, this outfit gives us some serious Cyberpunk 2077 vibes.
PUBG Mobile Season 18 Weapon Skins
The designers of PUBG Mobile might be bringing unique and fun themed skins for PUBG Mobile S18 Royale Pass. The weapon skins given below are speculated to arrive in the next season.
SCAR-L Skin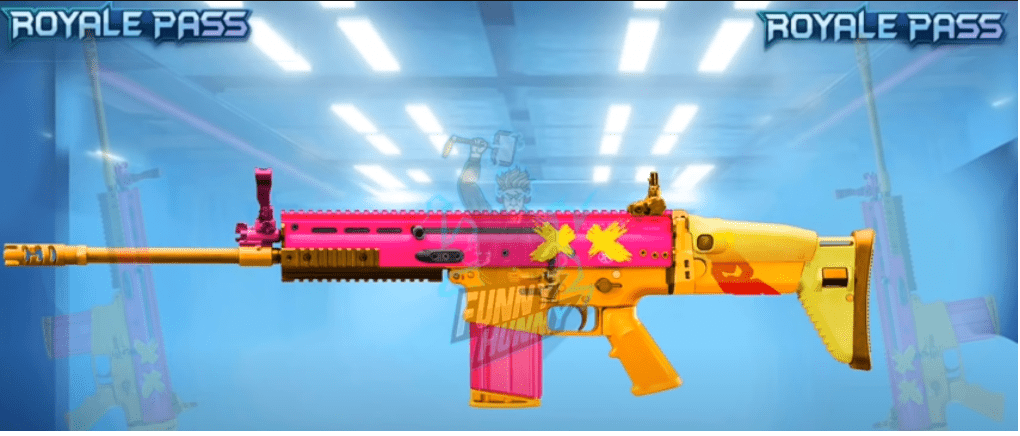 The beautiful pink and yellow SCAR-L skin is said to be launched in Royale Pass Season 18. It is expected to be available in the Level 90 of the Royale Pass. We are not sure if the level is true or not, but we are sure that this new skin of SCAR-L is looking beautiful with a fun toy-themed color combo.
UZI Skin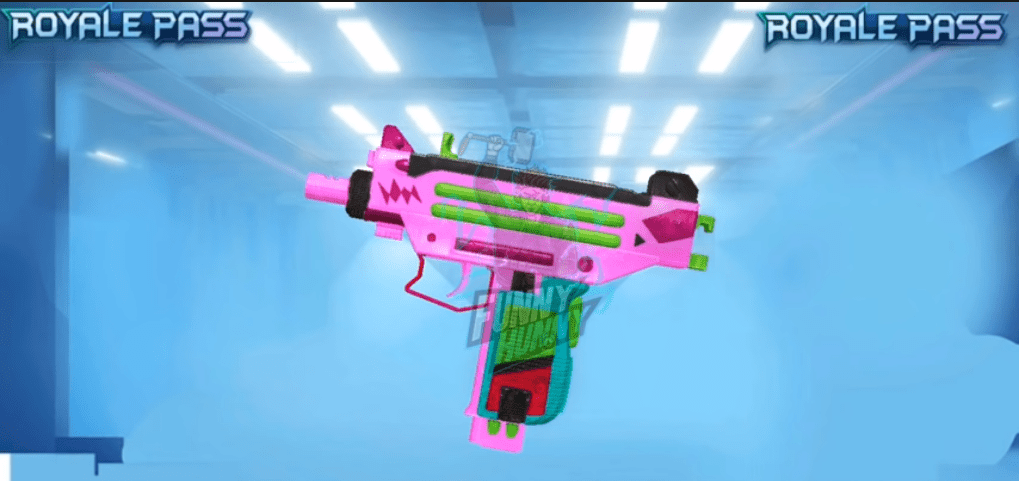 One such skin we got from the toy-themed Season 18 RP skins was the fun Uzi skin. It has a mixture of multiple colors containing pink as the dominating color.
Smoke Grenade Skin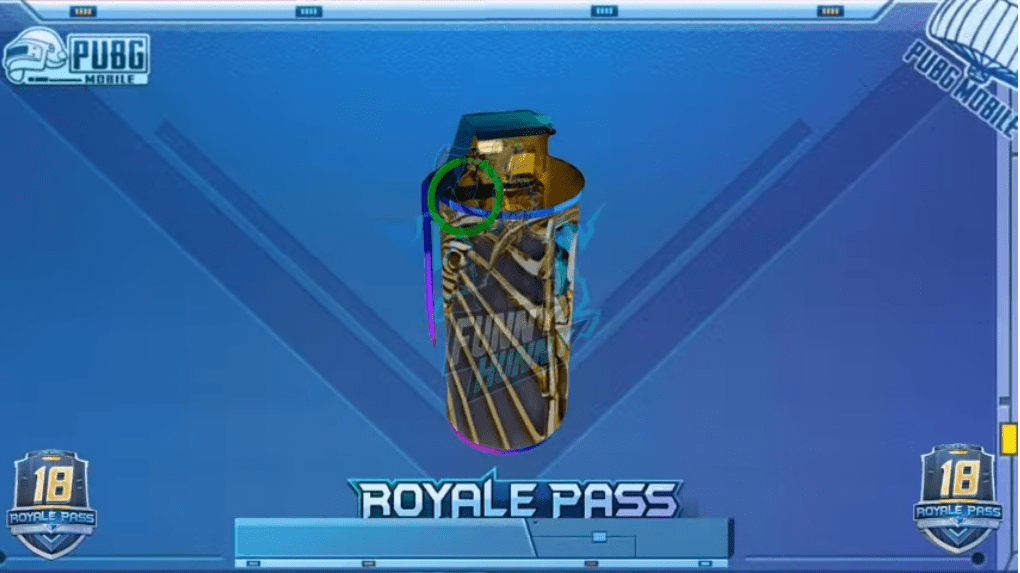 This time in PUBG Mobile Season 18 tier rewards, Tencent Gaming is including a fun and exciting skin for a smoke grenade. This skin for the smoke grenade looks really cool and exciting, wish it turns out to be true.
PUBG Mobile Season 18 Tier Rewards – Equipment Skins
As PUBG Mobile Season 17 RP brought changes in skins for cars and parachutes, this time the PUBG Mobile S18 tier rewards are speculated to bring out the following changes in the equipment that the player uses.
Helmet Skin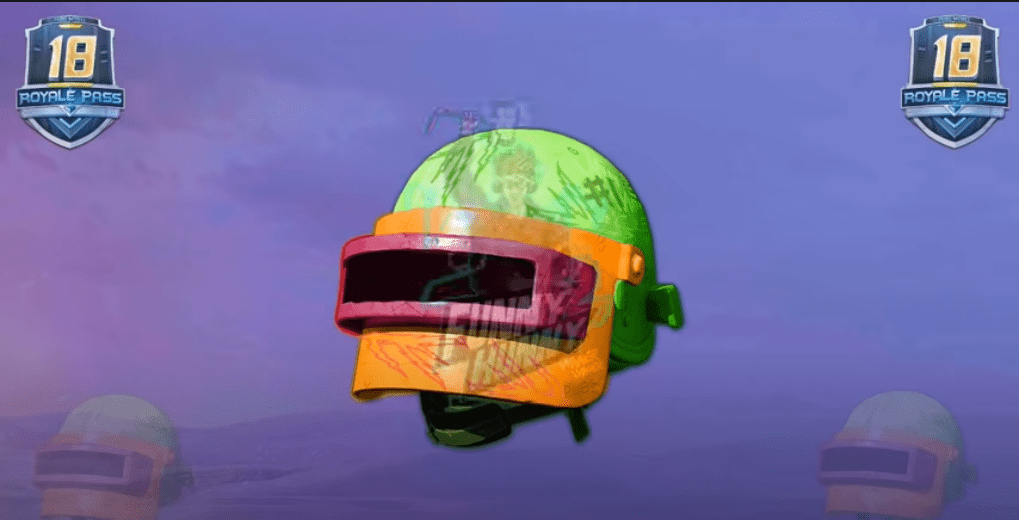 One of the exciting skins that we can expect from Season 18 Royale Pass is a toy-themed Level 3 helmet skin. It has attractive green, pink, and yellow color scheme that is both fun to watch and to equip our character.
Parachute Skin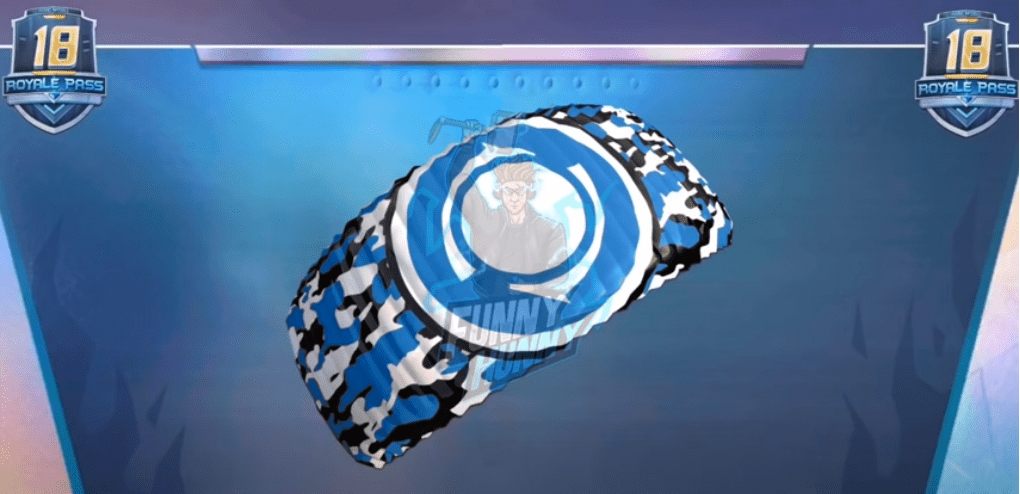 The PUBG Mobile Season 18 RP is offering a blue camouflage themed parachute skin to flaunt to other players. Donning this parachute and jumping out of the airplane is a difference that a player could experience.
The new Royale Pass is supposed to be a great one and might contain excitingly epic rewards. It was tested in the beta version of the game, but when the stable version gets released, we can see some major changes in the rewards. Let us see what the new season has in shop for us!
What will PUBG Mobile Season 18 Royale Pass cost?
A full RP will be charged at 600 UC ($9.99 / £9.99/ Rs 700). In full RP players will have complete access to all rewards and speed up progression via Elite Missions.
On the other hand, if you are opting for Elite Pass Plus, it will cost 1800 UC ($29.99 /£29.99 / Rs 2100). On purchasing Elite Pass, the rank will jump up to 25 and be a party to individual rewards.
This was all about the upcoming Season 18 Royale Pass leaks. Do keep in mind that these details are not official.
In the meantime, few pundits say that PUBG Mobile India may never see the light of day. While few are keeping their fingers crossed hoping to hear good news.
Share with us what you look forward to in Season 18! Which one of the above-listed items do you like the most? If you have any more leaks regarding the new season, let us know in the comments below.
Image credits [via The Funny Hunny]