The next season of PUBG Mobile might be over a month away, and fans are speculating what changes would it bring to the popular mobile game. As always, some people are able to figure out the content and PUBG Mobile Season 16 leaks before its official release. One such person is the YouTuber The Funny Hunny, who has shared a video regarding PUBG Mobile Season 16 Rewards season. 
In his latest video, the YouTuber has shared the content for Royal Pass. In his video, he mentions new outfits, vehicle skins, weapon skins, key chains, and emotes that we might see in the upcoming PUBG Mobile Season 16 update.
However, as all gamers know that once RP PUBG Mobile Season 15 is locked, one cannot enter until devs make the Season 16 Royale Pass go live. RP in PUBG will get unlocked with installation of a new season.
As it is too early to comment and we have no confirmation from the devs, there is a possibility that these things might not make it to the final release. However, The Funny Hunny has predicted the content for previous seasons with accuracy, so there is a possibility that his current predictions might be true as well.
So, without any further delay let us take a look at what RP PUBG has to offer.
PUBG Mobile Season 16 Rewards – Vehicle Skin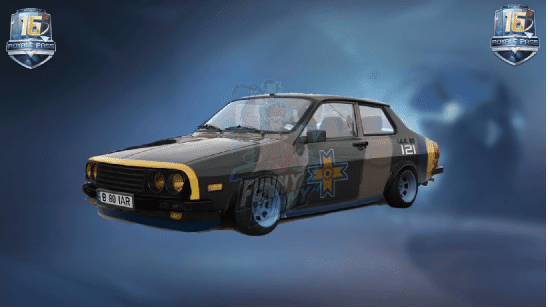 The developers haven't offered any new vehicle skin since PUBG Mobile Season 13. It is about time the developers come up with a new skin for the latest update. As per the leaks, PUBG Mobile Season 16 rewards will bring a new Dacia skin for the players to unlock. This new vehicle skin might be available at RP level 40. 
RP PUBG Emotes and Costumes


As with every season, PUBG Mobile Season 16 will add some exciting new emotes to the game. As per the leaks, the latest update will feature at least three new emotes. You will be able to unlock these emotes at 20 RP level, 60 RP level, and 90 RP level.
On reaching RP 1, players will get access to a cool looking blue-red outfit. The players will also get a cool-looking keychain.
There is another cool costume for players who reach level 50 or 100 (yet to be confirmed). It will also have a matching headgear which is still a secret.
New Weapon Skins in Season 16 rewards

In the upcoming PUBG Mobile Season, we will see a new skin for the smoke grenade. It features a red and black livery with a gas mask in the middle portion. This smoke grenade skin will be available at 40 RP level.
We saw how underwhelming the AKM skin for season 15 was, and as a result, PUBG Mobile will get a cool blue-black M416 skin. According to speculations, this skin will be available at 90 RP level. For free tier, PUBG Mobile developers are offering a new AKM skin (which look unimpressive) at 50 RP level
PUBG Mobile Season 16 Royale Pass Leaks
The upcoming season 16 will overhaul the look of the airdrop crate. It will get bright orange smoke instead of the usual red. Another exciting new feature that might make its way to the game would be the ability to throw a melee weapon at your opponents. 
The developers are also planning to add spike strips to disable vehicles. This new tool will come in handy if you plan to camp on a bridge.
Conclusion
There are lots of cool things coming to PUBG Mobile next month. The expected release date for PUBG Mobile Season 16 is 17th November whereas the devs will roll out the 1.1 updates before Season 15 ends.
The content featured in this article was seen in the Chinese release of the game. It is a well-known fact that most of the components of PUBG Mobile are first introduced in China, and then they get a global release.
However, some of these components aren't released immediately. So, we might see some different elements in the global release of PUBG Mobile Season 16 or might not see the changes at all.
As mentioned before, the skins and changes of PUBG Mobile Season 16 rewards mentioned here are not confirmed by the developers, You are advised to take them with a pinch of salt.
For more news and details about PUBG Mobile and other popular games keep visiting Phoneswiki.