Mattel has taken a bold step by releasing a new edition of their popular UNO Dare game, and this time it's all about spicing things up with the UNO Dare Adults only version. If you're curious about where to purchase this intriguing twist on the classic card game and how the new rules work, keep reading.
Amid the Barbie frenzy with items like the "I am Kenough" hoodie and the quirky Weird Barbie doll, Mattel continues to innovate across its product range, and UNO Dare is no exception.
In this latest release, UNO Dare takes a daring turn, offering an Adults Only version that promises to make game nights more adventurous and chaotic. However, it's worth noting that this version is meant strictly for adults, so the kids will have to sit this one out.
UNO Dare Adults Only introduces a captivating blend of challenge and humor to the traditional card game by reimagining the classic "+2" and "Wild" cards. With a focus on daring dares, this version is sure to bring a new level of excitement to your gatherings. The dares range from "mild" to "feugo," with examples such as "bark like a chihuahua" and "Do a Supermodel Runway walk across the room" on the milder end, while the spicier prompts include "hump the couch" and "let another player spank you." To ensure an enjoyable and hassle-free experience, the cards in UNO Dare: Adults Only come equipped with slip-proof features, adding a layer of practicality to the game.
Gameplay in UNO Dare: Adults Only retains the fundamental mechanics of the classic UNO game. However, the introduction of Dare and Wild Dare cards injects a new element of surprise. These cards present players with a range of daring prompts to incorporate into the game. While Uno Dare usually involves utilizing one Dare list per deck, the Adults Only version may offer an option to opt out of certain prompts for safety reasons.
It's important to note that UNO Dare: Adults Only is just one of the innovative variants that Mattel has introduced for the UNO franchise. Beyond this version, you'll find an array of licensed editions, including the newly launched Uno Ultimate game that features beloved DC and Marvel superheroes. Another exciting variant is Uno Quattro, a game that merges the classic Uno rules with a Connect 4-style mechanic using tiles and a game board, enabling players to move entire rows strategically.
In conclusion, Mattel's release of UNO Dare: Adults Only showcases their commitment to reimagining classic games for a mature audience. With daring dares and a fresh twist on gameplay, this edition is bound to take game nights to a whole new level of excitement and unpredictability.
What are the UNO Dare Adults rules?
The latest twist on the classic game, UNO Dare: Adults Only, introduces an engaging blend of dares to the gameplay, but brace yourselves for some up-close and personal challenges.
Staying true to the traditional UNO rules, the objective remains to discard all cards during each round and accumulate points based on the cards opponents are left holding. Cards can only be played if they match the color or number of the previously placed card.
However, with the inclusion of Dare Cards, players face a new layer of decision-making. When a Dare Card is played, the player must choose between completing the dare or drawing two penalty cards. A roll of the provided die determines the dare's level, ranging from mild (level 1) to spicy (level 4). From the tamer end, where players might be prompted to "bark like a chihuahua," to the saucier side, with challenges like "hump the couch," the game ensures a mix of laughter and unpredictability.
Earning points for cards left in opponents' hands, the first player to reach 500 points emerges victorious. If no player achieves this, the cards are reshuffled for another round.
In UNO Dare Adults Only, the game's scoring and mechanics follow a simple yet engaging structure:
The primary goal is for players to empty their hand of cards during each round.
Points are awarded based on the cards left in opponents' hands at the end of each round.
The first player to accumulate 500 points wins the entire game.
If no player reaches 500 points, the cards are reshuffled, and a new round begins.
Card Values for Scoring:
All number cards (0-9): Face Value (e.g., a "7" card is worth 7 points)
Reverse card: 20 Points
Skip card: 20 Points
Dare card: 20 Points
UNO Dare Adults Only decks feature cards made from durable, waterproof plastic. These cards are designed to withstand potential spills and accidents. Additionally, the cards are conveniently presented on keyrings, making them easy to handle and carry. This thoughtful design ensures that messy spills won't disrupt the game, allowing players to focus on the fun and challenges at hand.
Overall, the game's scoring and card values contribute to the strategic and competitive nature of UNO Dare Adults Only, making for an exciting and entertaining experience for players aged 18 and up.
For those intrigued to experience this daring take on UNO, Walmart is offering UNO Dare: Adults Only for $19.97. Keep in mind that this version is intended for ages 18 and up, catering to a mature audience ready for some unconventional fun.
Must Read: How to get Unlimited Free TikTok coins in 2023!
UNO Dare offers
UNO, the iconic card game, is on the hunt for its inaugural Chief UNO Player to champion their latest offering, UNO Quatro. This innovative game combines the classic Connect 4 concept with the strategic challenge of matching colors or numbers.
The selected Chief UNO Player will immerse themselves in the world of UNO Quatro, dedicating four days per week for a span of four weeks. The engagement period commences on September 13, 2023, and wraps up on October 7, 2023.
The role entails a range of exciting activities, including producing engaging social content on TikTok, collaborating in live streams alongside brand creators, and captivating strangers to partake in the game with fervor.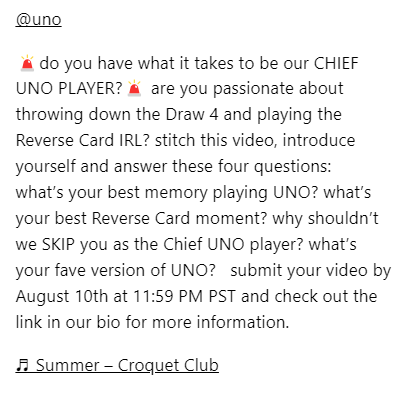 The appointed Chief UNO Player will be stationed at Pier 17, The Seaport, in the vibrant city of New York. This is a paid position with a compensation of $4,444.44 per week, amounting to a total of approximately $17,777 for the duration of the engagement.
For those eager to take on this thrilling role, the application process involves stitching the TikTok announcement video to your own video, adhering to the following criteria: [specific application criteria may be provided in the original announcement video].
This remarkable opportunity beckons UNO enthusiasts to showcase their passion for the game, social media prowess, and creative flair, all while enjoying a unique, paid experience as the Chief UNO Player.