A brand new PUBG mobile game has been announced. PUBG: New State is a modern version of the Battle Royale shooter set in the futuristic year 2051. As the new game launched, fans across India are filled with new hope to play their long-lost, favorite Battle Royale Game, PUBG.
PUBG Studio, the original creator of PUBG (available on PC and consoles) is developing a new mobile game. The game is currently listed on the Google Play Store for pre-registration. It has been released for the Android platform. iOS is on its way.
Krafton Inc. announced the launch of the new Battle Royale game with a video teaser on YouTube. Catch hold of the breathtaking teaser with magnum opus graphics. The initial reactions pouring in from gamers are in line with the reputation of the game. However, they are quick to point that graphics of NEW STATE appear to be lifted from Call of Duty.
How to play PUBG New State in India?
Though PUBG: New State has been developed by Krafton Inc. and not Tencent, the game was not available to pre-register in India. The Google Play Store listing used to pop up an error for India, China, and Vietnam locations. The error reads "This item isn't available in your country" at the moment. However, there seems to be good news in store.
Krafton Inc. has recently launched registration for the PUBG New State Mobile Alpha test in the United States. With PUBG Mobile India making comeback as Battlegrounds Mobiel India likely in June, there are a lot of speculations around PUBG New State Mobile in India.
The devs are yet to release an official statement on the pre-registration in India.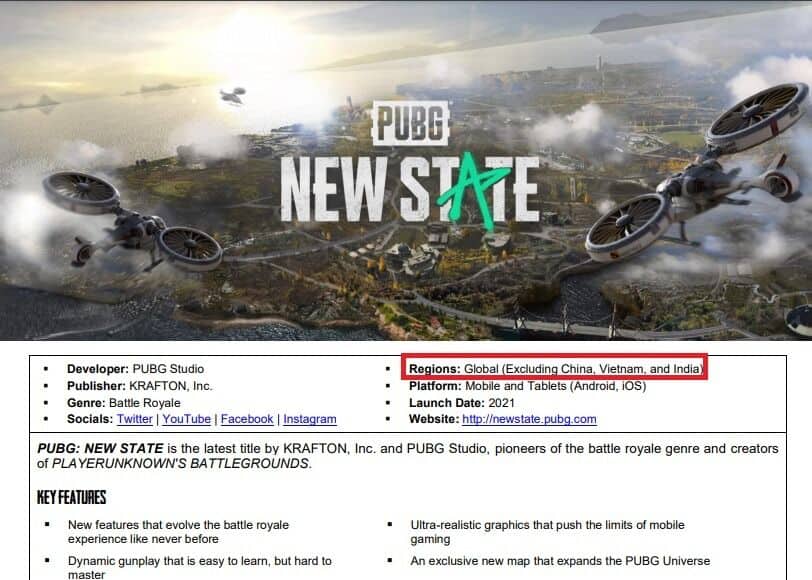 However, few PUBG enthusiasts have been successful in pre-registering. They have downloaded the TapTap app from Play Store. Check details here on the TapTap app. Many have opted for a VPN connection.
These are all unofficial means. If you want to pre-register PUBG: New State game in India officially, you will have to wait. As it is known, this game is not currently available in India. The game will be launched in India when the Ministry of Electronics and Information Technology lifts the ban from PUBG Mobile.
How to Pre-Register PUBG New State Mobile?
Gamers across the globe minus India, China and Vietnam can open the pre-registration link on Google Play Store. On click of "Pre-register", confirm registration. On completion, the app gives an option to the users to install the game when available. Click on "Install when available" button, if agree. Else, a notification for download will be sent when game is launched.
Krafton has also announced the perks of pre-registering. It is permanent Limited Vehicle Skin.
Having said that, there appears to be no involvement of any major Chinese bodies in making this new game, so there is a probability that we might see the game launch in India, maybe sometime in the near future.
There is always a way to bypass things. You can use VPN settings to change your location to pre-register for the event. But there is also another way to pre-register without using VPN.
Go to the Google Play Store and open settings.
Navigate to the account settings.
Open the country settings and change the country.
Choose any country other than India, China, and Vietnam.
That's it! You can pre-register for the game in the store.
PUBG New State Mobile Features
PUBG New State is all about unseen before gaming graphics. In their words, the USP is
PUBG New State Mobile version is set in the year 2051, with a brand new "Troi" 8×8 map. Here are some features of the game New State
Ultra-Realistic Graphics that push the limits of mobile gaming further
Realistic and Dynamic Gunplay
Next Generation Survival mode
Expansion of the PUBG Universe
New map
Drones
Cross-platform(PlayStation/Xbox/PC) compatibility
For now, enjoy the thrilling trailer of PUBG New State and get ready for the explosive year 2021.