PUBG Mobile is making a come back to India after 2 months of ban on fresh downloads and a complete ban from November 1st. Recently it was rumored that the devs are going to make a big reveal in the coming days. Possibly a Diwali Dhamaka for PUBG fans. Luckily the leaks and rumors of PUBG Mobile India Unban have come true.
Designed especially for the India region, devs have announced that a customized version of PUBG Mobile India will be coming soon. Addressing the government of India concerns around data security and user data privacy, the PUBG Mobile India game has been "created specifically for the Indian market." The PUBG Corp has assured that they will comply with regular audits on players' data breaches.
The publishers have plans to invest with a focus on "vocal for local" culture by "cultivate the local video game, e-sports, entertainment, and IT industries." The devs have not confirmed any official date of release of PUBG Mobile in India. However, there is some development on the front of pre-registrations on Tap Tap app PUBG Mobile India. The news will certainly raise the adrenaline levels of gamers who were unable to find out PUBG Mobile alternatives.
Apparently, PUBG Mobile India pre-registrations have begun on Tap Tap Store. This is only for the Android version and not for iOS as of now. It has become a hit with more than 278427 Pre-registrations reported on its page and is highly rated at rated 9.8 out of 10.
How to do pre-registration on PUBG Mobile India version on TapTap Store: Step-by-step guide
PUBG Mobile India version is yet not available for download on Google Play Store and Apple App Store. However, the pre-registration option for PUBG Mobile India is open now on the Tap Tap App Store. The steps are simple to follow, listed below
Step 1: Open the TapTap app from its official website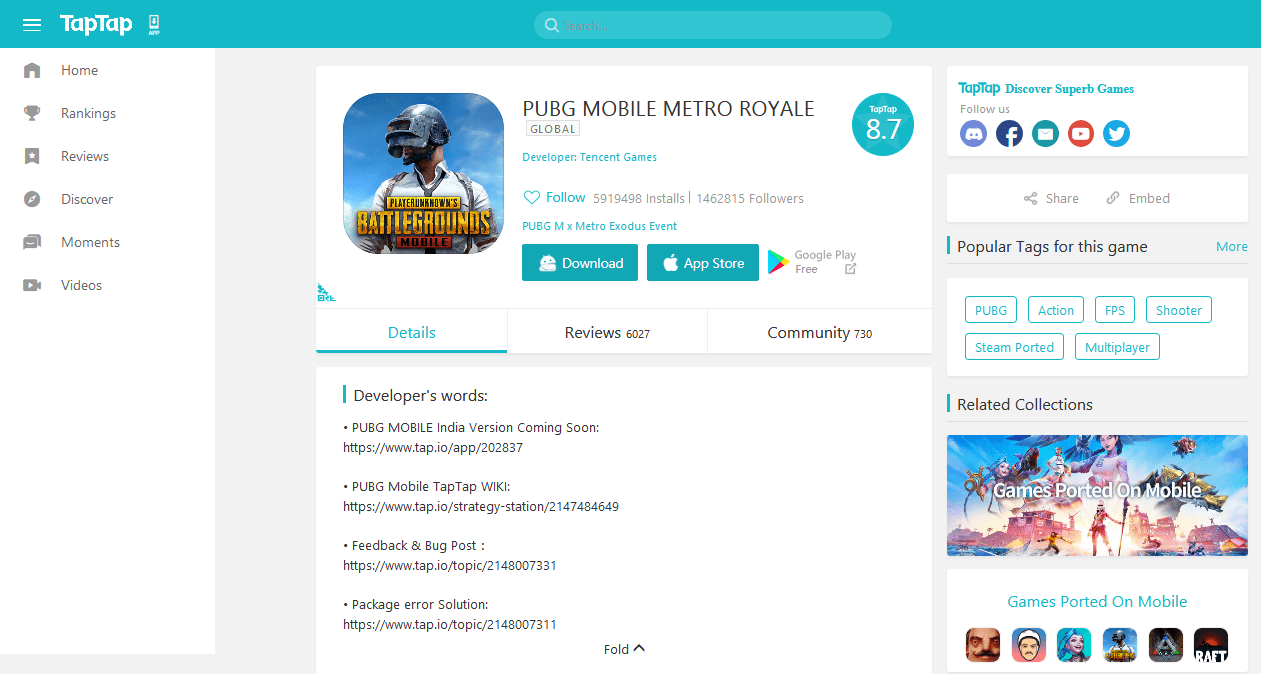 Step 2: PUBG MOBILE METRO ROYALE Global page opens up
Click on the link below PUBG MOBILE India Version Coming Soon or the one given here
https://www.tap.io/app/202837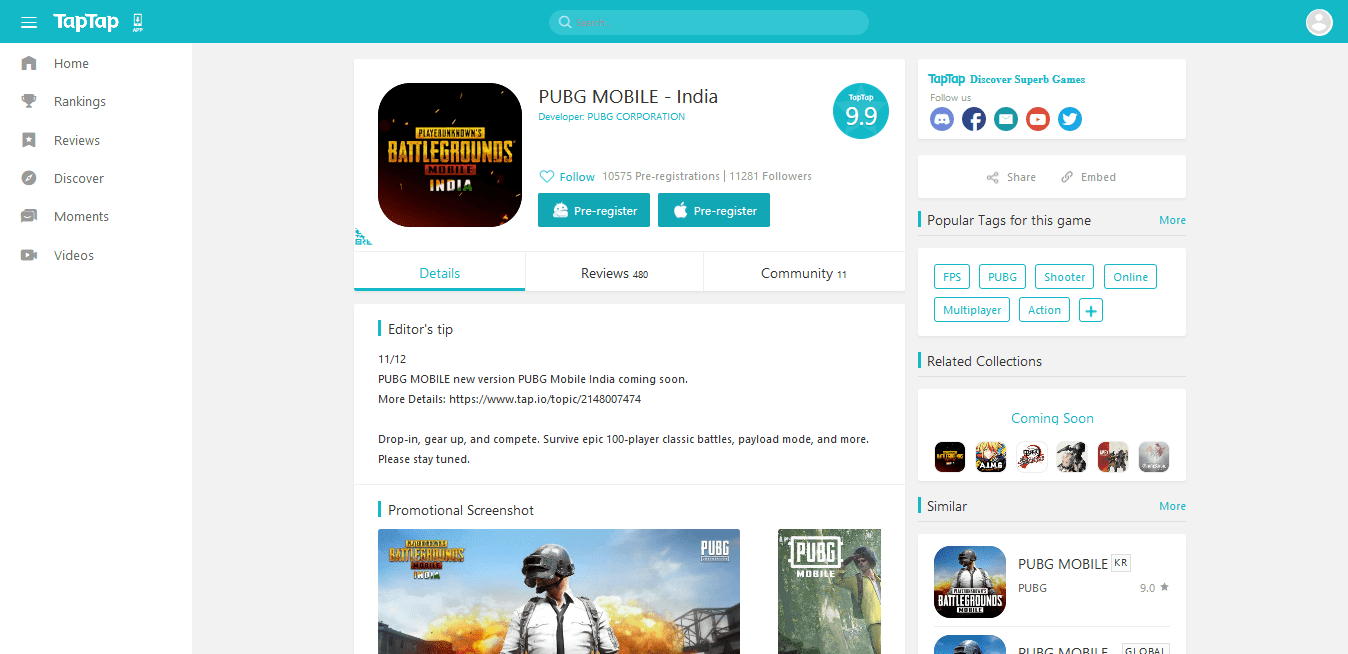 You will be taken to login. First time user on TapTap app store need to Register using Email Id or Phone number. Unregistered user will get automatically registered and can log in after authentication
Step 4: Enter the code and get pre-registered on Tap Tap PUBG Mobile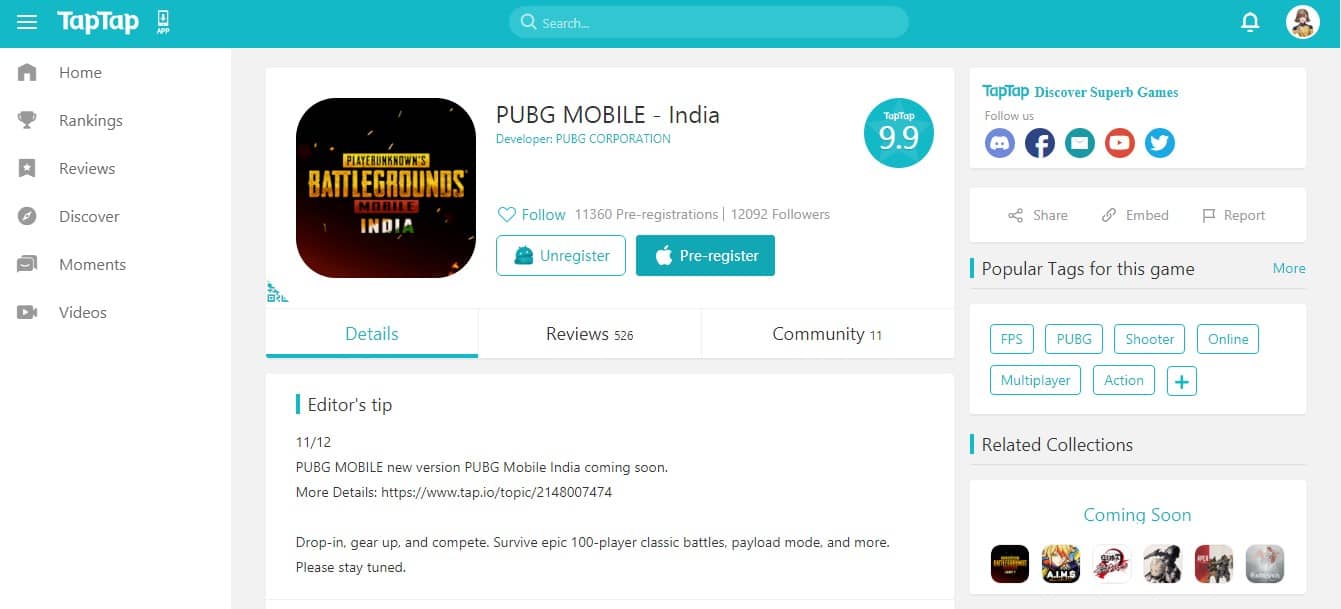 Social media handles have also come alive with the announcement. A Facebook page and YouTube channel dedicated to PUBG Mobile India has also been made live.
Is PUBG Mobile Pre-Registration on TapTap Store official?
The Indian government has yet not given a go-ahead for the PUBG Mobile India re-launch. Going by the recent reports, "the ministry is yet to give green signal, the PUBG Corporation is reluctant to make any official statement on the comeback other than the initial announcement". On prima facie, this appears to be the reason why TapTap is yet not official.
Though the news about pre-registration on TapTap is not official, yet it has received a massive response from the gaming community. It can be judged by the number of downloads. More than 278427 pre-registrations have already taken place on Tap Tap PUBG Mobile India in a span of 4 days. It also lists the dedicated Facebook and YouTube pages also.
Share with us what is going through your mind while reading the PUBG Mobile India update. Stay tuned and help us stay updated!