In October 2022, Google released its first-ever smartwatch, the Google Pixel Watch, after years of rumors and leaks. However, upon its release, the Pixel watch was met with mixed reviews and criticisms for several shortcomings. However, just a few months later, there are speculations that Google is already working on improving its first wearable and coming up with its successor in Pixel Watch 2.
Though there are no such genuine leaks on the Gen 2 watch yet and at this point with IO around the corner and Google leaks are practically press releases. However, that does not stop people from making a wishlist of improvements and new features for the Pixel Watch 2.
Gen 1 Google smartwatch was praised for its unique features, such as Fitbit integration and a minimalist design, but many users were disappointed with the watch's battery life, which was reported to be much shorter than that of other popular smartwatches on the market. Additionally, the watch's display size was smaller than expected, which may have made it difficult for some users to read text or view images.
Despite these issues, the Pixel Watch did receive praise for its minimalist design and integration with Fitbit, as well as its user-friendly interface. However, it's clear that Google still has some work to do in order to compete with other established smartwatch brands.
That being said, there is some hope for the Pixel Watch's future, as reports suggest that Google is already working on a successor to address some of these issues and offer new features and improvements. We'll have to wait and see how the Pixel Watch 2 measures up when it eventually hits the market.
Certainly, there is a lot of anticipation and speculation surrounding the Google Pixel Watch 2. Stay tuned here for the latest updates on Pixel Watch 2 release, leaks, price, and features.
Is there going to be a Google Pixel Watch 2?
Although official information is scarce, there are strong indications that a Google Pixel Watch 2 is on the horizon. The first Pixel Watch was notable for its user-friendly interface and seamless integration with Fitbit technology. Despite some flaws, it has already become a popular choice in the wearable market. Furthermore, recent developments in the Fitbit ecosystem suggest that Google may be focusing more heavily on the Pixel Watch line. With third-party app support being phased out for Fitbit smartwatches in March, a Pixel Watch 2 with robust smartwatch capabilities and advanced tracking features could become even more attractive to consumers.
When will Google Pixel Watch 2 release?
As of now, there is no official release date for the Google Pixel Watch 2. However, rumors suggest that it could be released in late 2023 or 2024.
It's possible that Google will follow a similar pattern with the release of the Pixel Watch 2, launching it in October 2023, one year after the initial launch of the Pixel Watch 2022. Given that the original watch debuted alongside the Pixel 7 series, it's likely that the Pixel Watch 2 will be paired with the upcoming Pixel 8 series, expected to be released in the Fall of 2023.
A few theories doing rounds say that there are practically no conclusive Pixel Watch 2 leaks and it will be a 2-year cadence with the Pixel Watch. There are leaks and confirmations around 7a, Foldable, Tablet, and the Pixel 8 series with absolutely no sign of a Pixel watch 2. With IO also around the corner and practically speaking Google leaks are only press releases and nothing heard about the next-gen Pixel watch.
I suspect a two-year refresh cycle and that is acceptable if the wait is worth it. Looking at Samsung and Apple and how iterative their generations sometimes are I much rather would like to see Google going for serious hardware upgrades and in the meantime further optimizing the software to work flawlessly on the older hardware. There is a high probability that Pixel Watch 2 release might happen in 2024.
What will be Pixel Watch 2 price?
The initial cost of the Pixel Watch is speculated to be $350 / £340 / AU$550 / Rs. 35,999 for a basic Bluetooth/Wi-Fi model and an additional $50 for the LTE version, putting it in direct competition with other leading wearables of the year, such as the Apple Watch Series 8 and Galaxy Watch 5. Although Google's pricing strategy was bold, it was met with some criticism due to the perceived limitations of the first-generation device.
Will there be a Google Pixel Watch 2 software change?
It is highly likely that any new features introduced on the second-generation Pixel Watch running Wear OS 3 will eventually be made available on the original Pixel Watch. Google has already demonstrated its willingness to add features to the original watch, such as fall detection, after its initial release to keep up with competitors like Samsung and Apple.
However, if the new watch comes with a more powerful CPU, Google may have to reserve some features exclusively for the newer model. Additionally, if the new watch has enhanced health tracking sensors, it could give it an advantage over the original model. At this point, however, everything is still in the rumor stage and subject to change.
What is Google Pixel Watch 2 features wish list?
Bigger Screen and size options
The 41mm screen on the Pixel Watch may appear too small for larger wrists, but it is a good fit for smaller ones. Therefore, Google shouldn't simply increase the size of the watch for the 2023 version without offering a second, larger screen option, as Apple and Samsung have done. Providing customers with the choice of screen size will allow them to select the one that suits them best and may also make it feasible to accommodate a bigger battery (as discussed below).
If offering a larger screen option means charging more, then so be it. Apple's 45mm Watch Series 8 has a £40 premium over the 41mm version, but it hasn't seemed to have impacted Apple's sales figures.
Bezel Less Display
As admirers of circular smartwatches, we appreciate the glass dome face of the Pixel Watch. However, the thickness of its bezel detracts from its appearance. While the black ring is usually concealed by the WearOS interface's predominantly black backgrounds and the OLED screen's excellent color matching, it diminishes the premium appearance of the device. Therefore, Google needs to reduce the bezel thickness significantly if it wants to compete with Apple and Samsung in terms of design.
Battery Life
The Pixel Watch's most significant drawback is its limited battery life. It struggles to last a full day on a single charge, especially when using exercise tracking and enabling the always-on display may require charging twice to make it through the night. In comparison, the Apple Watch has a much longer battery life, and the Samsung Galaxy Watch 5 can go for two to three days without much trouble. Google needs to improve the battery life significantly for the next-generation Pixel Watch.
To achieve this, Google could use a more efficient processor (the current one is several years old and behind the latest Qualcomm 4100, which is also due for an upgrade in the next year or so) or increase the battery size. Ultimately, customers don't care how it's accomplished, as long as they don't have to tether the watch to a power socket at least once a day. That would be considered a victory.
Wireless charging
One of the significant issues with wearables is the lack of standardization in charging solutions. Each wearable has its own proprietary charger, which can be frustrating for users who own multiple smartwatches or wearable devices. While legislation has been established to make USB-C the standard for smartphones and larger devices, there are no such rules for smartwatches.
Although some smartwatches, such as Samsung's Galaxy Watch series, have some form of wireless charging, they do not support Qi charging, which has become the standard for smartphones and is even compatible with many wireless earbuds. Fossil has stated that it did not include Qi charging on its Gen 6 smartwatch because it would make the device thicker, and it's slower. However, the convenience of wireless charging may outweigh those concerns, especially if users want a relatively quick top-up and don't have access to their watch charger.
Band Options
One of the major concerns with the Google Pixel Watch is the difficulty in changing bands. Google has implemented a proprietary system, limiting the selection of compatible straps.
While proprietary systems can sometimes make the process of swapping bands easier, the opposite is true with the DSLR camera lens-inspired mechanism used on the Pixel Watch. Although the system became less cumbersome once we became accustomed to it, there is undoubtedly a learning curve. Therefore, we hope that Google will refine this aspect for the Pixel Watch 2.
Improved Fitbit integration
Integration with Fitbit is a crucial feature for many fitness enthusiasts who use wearable technology to monitor their health and activity levels. While Google recently acquired Fitbit, there is still a disconnect between the two companies' wearable offerings.
Users have expressed their desire for better integration between the Pixel Watch and Fitbit, such as the ability to sync data seamlessly between the two devices or to access Fitbit's premium features directly from the Pixel Watch. This would be a significant improvement for those who rely on Fitbit's data analysis and tracking capabilities but prefer to use the Pixel Watch as their primary wearable device.
If Google can incorporate more robust Fitbit integration into the Pixel Watch 2, it could be a game-changer for fitness enthusiasts and help to solidify its position as a top contender in the wearable market.
Last year, there was much discussion about wireless charging on the Pixel Watch, which isn't officially supported. Nonetheless, it's a feature that users would appreciate on the next version, even if it means a slightly thicker device.
Google is also reportedly working on improving the watch's performance and optimizing its software to offer a smoother and more intuitive user experience. Additionally, the Pixel Watch 2 may offer more customization options and a wider range of compatible apps.
Google Pixel Watch 2 News Updates
The Goggle app Version 14.24 update has given some hints about the Google Pixel Watch 2. According to 9to5Google, the watch's code name "Eos" has appeared in the app's code. There is a second model also documented with the code name "Aurora". The major difference between the two will be the integration of an LTE modem.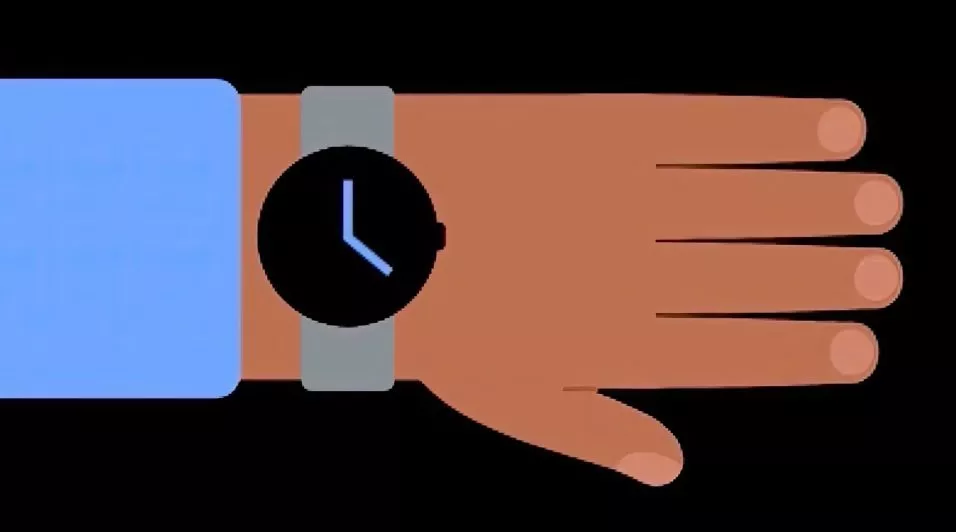 A video graphics has also been shared that shows how the setup of Google Assistant will be done on the Pixel Watch 2. From the graphics, one can make out there is not much change in design when compared to its predecessor.
Overall, the Pixel Watch 2 2023 is expected to be a significant upgrade from its predecessor, and it will be interesting to see how it stacks up against other popular wearables on the market.