Data storage, loss and recovery have become quite the fundamental rule of any workplace or domestic environment. Be it precious files of a life-saving drug or your kid's 2nd birthday party, the possibility of losing such invaluable data continues to persist. Keeping that in mind we turn to several other alternatives with the objective of recovering lost data, if, hypothetically speaking our pre-arranged storage devices are to go up in smoke. Stellar Photo Recovery claims to have "advanced software" that helps recover image or video files of any size or format ranging from well-known JPEGs to obscure BMPs. If you like what you've read till now consider taking a look at the rest.
Instances where Stellar Photo Recovery might come in handy
Say you're a professional photographer who routinely backs up their data. If you were to accidentally format one of your drives or memory cards before transferring them, the result wouldn't really seem appealing, would it? Or you accidentally clear a flash drive that carried your important presentation images? Such mistakes are inevitable and even the best succumb to them. Stellar's Photo Recovery software has you covered.
The website has given a curated list of files it can recover, check them out and see if any tickle your fancy.
Photos and Pictures: JPEG, JPG, TIFF, BMP, GIF, PNG, PSD, Adobe EPS, etc.
Videos: MOV, MXF, AVI, MPEG, ASF, WMV, MP4, 3GP, etc.
Audio: OGG, ACC MP3, RPS, AU, WAV, WMA, etc.
RAW Image: CR2, ERF, RAF, DNG, PEF, NRW, K25, NEF, ORF, SR2, etc.
Music and Movies: Recover deleted songs, playlists,
Karaoke, and podcasts, or recover deleted movies of any format from PC and Mac drives.
Features of the Stellar Photo Recovery System
SMART
Stellar Photo Recovery also works on both Windows and Mac allowing the usage of their SMART option which partitions drives and records storage as per the user's preferences. It also determines the overall health of the storage medium, be it an internal HDD/SSD or an external HDD.
Deep Scan
Moreover, an additional element called Deep Scan does a thorough check of each storage device to recover the minute amounts of data that would've gone unnoticed. You can even opt for a direct deep scan instead of going through the initial quick scan. If by any means, the scan period eats up into your schedule, you can temporarily pause the scan and later resume it at a much more appropriate occasion.
Drive Image
Those of you tech geeks who are already familiar with the plethora of storage options might be familiar with the RAID 0/1 process. The options of being able to use storage devices in unison or as cloned entities are certainly worth looking into. However, should a device be corrupted Stellar Photo Recovery's "Drive Image" option lets you take a sector by sector copy of the entire drive? The corrupt data can later be resolved as well and the necessary media files can be extracted successfully.
Process involved in Media Recovery
Much of Stellar's UI is somewhat self-explanatory. An average user with some degree of experience would be familiar with the interface. For those of you who are absolute novices, here are the basics:
Open Stellar Photo Recovery, the homepage displays the current storage devices that have been detected.
Select the drive where the files have been deleted/corrupted. Press Scan.
The scanning process usually takes a while. If you'd like to focus on a select group of files, head over to Advanced Settings.
You can select the types of files you wish to recover in Advanced Settings
The recovered files are then displayed and the app lets you choose the files you wish to restore. Press "Recover".
The recovered files are then sent to a specified folder on your device.
Even so, I admit that the steps listed above are pretty bare-bones. If you'd like to find a guide tailored to your specific requirements, do check out their YouTube channel. They have a curated playlist dedicated to data recovery too.
Stellar Data Recovery Guide – YouTube
User Reviews and Required Specifications
Stellar Photo Recovery does have a pretty decent stack of testimonials as well. Most reviews are in the bracket of 4.5/5.0+.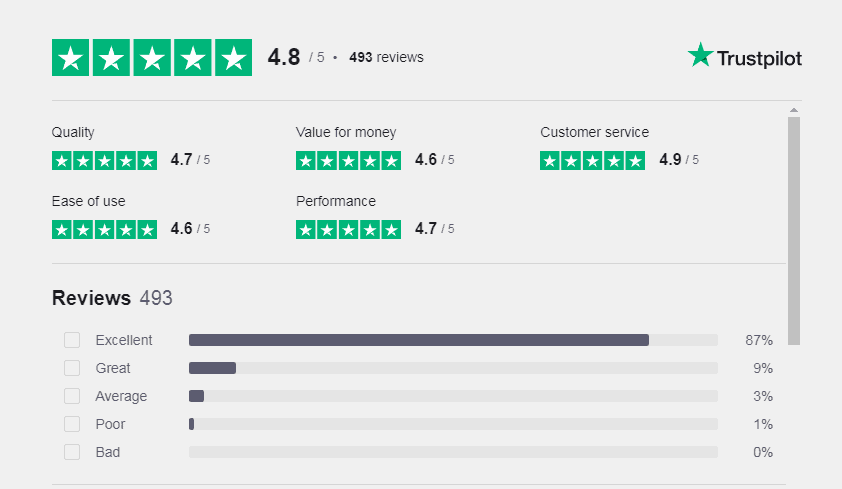 As for required specifications, they are listed below. The specs listed are for Version 11.0 of the software.
Intel Compatible (x86, x64)
Windows 11, 10, 8.1, 8, 7 / macOS Monterey 12, Big Sur 11, Catalina 10.15, 10.14, 10.13, 10.12, 10.11
4GB Minimum RAM (8GB Recommended)
License- Single User
Supported Languages: English, German, French, Italian, Spanish, Japanese, Korean
Available Editions: Standard, Professional, Premium, & Technician
Pricing of the Product
The Standard Edition for a period of 1 year goes for $49 while the Professional and Premium versions go for $59 and $69 respectively.
| | | |
| --- | --- | --- |
| Standard | Professional | Premium |
| Photo recovery | Photo Recovery | Photo Recovery |
| X | Photo Repair | Photo Repair |
| X | X | Video Repair |
| Buy Here | Buy Here | Buy Here |
Stellar Photo Recovery Catalog
Frequently Asked Questions to the Seller
1. Can the photo recovery software recover files from a formatted memory card?
Yes, the software can recover photos and videos from a formatted memory card.
2. Can I recover permanently deleted photos and videos from my computer?
Yes, you can restore permanently deleted photos and videos on your computer. The software efficiently works in cases of emptied Recycle Bin, Trash, deletion using Shift + Delete key, system cleaner app, etc.
3. Can I recover photos and videos from an encrypted SD card?
Yes, you can recover photos and videos from BitLocker-encrypted drives, volumes, or partitions using Stellar Photo Recovery software. Simply enter the encryption password, when the software asks for it before scanning the encrypted SD card.
4. How many photos I can recover from the free edition of Photo Recovery?
Stellar Photo Recovery Free Edition can recover deleted, corrupted, formatted photos from all types of storage devices. And you can recover up to 10 photos for free.
Check out 10 Best Free Photo Recovery Software in 2022.
That's pretty much all there is on our end. What do you think about Stellar Photo Recovery? Do let us know in the comments below. For more similar content visit us at our website.