You may have faced problems while transferring data between phones. What can be the solution to data transferring issues? Let us answer your question about how to transfer messages from Android to iPhone in this article.
What are the tools that can transfer messages from Android to iPhone? People change phones often, but the problem that occurs is the transfer of data. The data that one has on their device are essential in the age of computing and the internet. People even operate their entire businesses from their cell phones.
An intelligent device is a gift for the advanced world. The transfer of data is the reason why people don't change their devices even after they are outdated. The phone to phone transfer has been made easy by Wondershare MobileTrans and other tools that we are about to discuss.
Part 1: Free and Friendly Mobile Apps to do Phone to Phone Transfer
There can be many tools that can be used for transferring data from phone to phone. We are discussing the top 5 tools that can be used to do the required task of transferring messages from Android to iPhone free.
Wondershare has developed 'MobileTrans' for its users, one of the fastest phone data transfer tools. It can also transfer the data from WhatsApp and WhatsApp Business data with ease. There are multiple supported formats and media files. You can share all the data, including contacts, documents, pictures, and much more.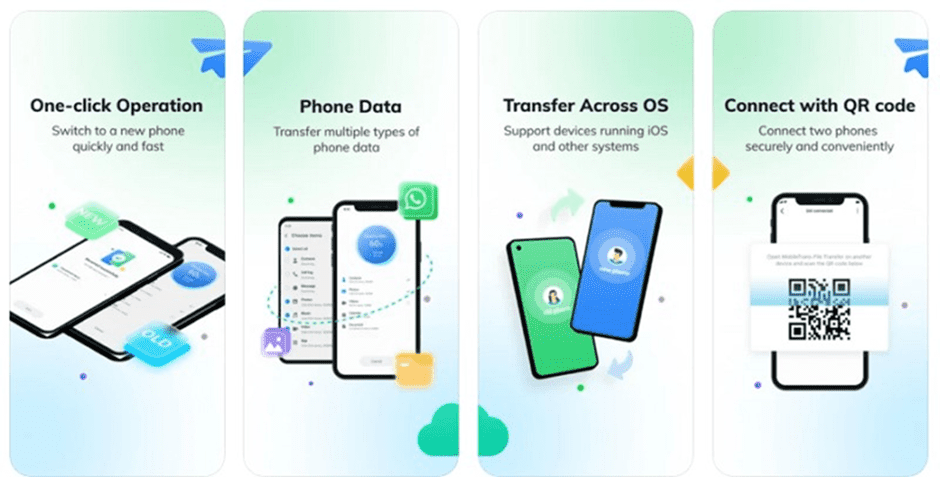 Key Features
It is capable of doing QR code scanning. It makes the work easy for the users of the Wondershare MobileTrans.
Wondershare MobileTrans requires no internet for the transfer of data. No tool does the task without using the internet.
iCloud syncing to Android has been made feasible by this tool. It has never been introduced by another service provider.
2. Smart Transfer: File Sharing App (Android/iOS)
Smart Transfer is widely used for phone data transfer. It is capable of transferring data on cellular networks. Smart Transfer has no restrictions on the file limit that can be transferred. It is a cross-platform tool. This means that it can be used on both iPhone devices and Android devices. Smart Transfer needs the support of a Wi-Fi network irrespective of the platform used.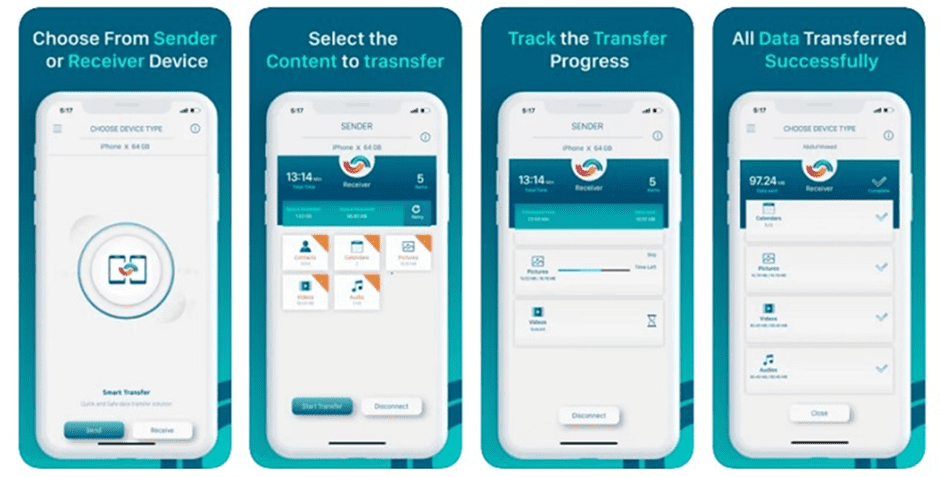 Main Features
Smart Transfer is a one-of-a-kind phone replicator that can replicate your whole phone of yours. Even the most minor things are replicated.
It supports multiple languages for the ease of the users. The languages offered are German, Spanish, Japanese, and Korean.
Smart Transfer can transfer data from multiple devices into one single device. This makes the transfer from old devices easy.
SHAREit is one of the fastest tools that can be used. It allows the transfer of data over speed 200 times faster than Bluetooth. SHAREit also has a built-in audio player that you can listen to music for free. It has a free trial for 3 days. Afterward, you have to pay the subscription fee.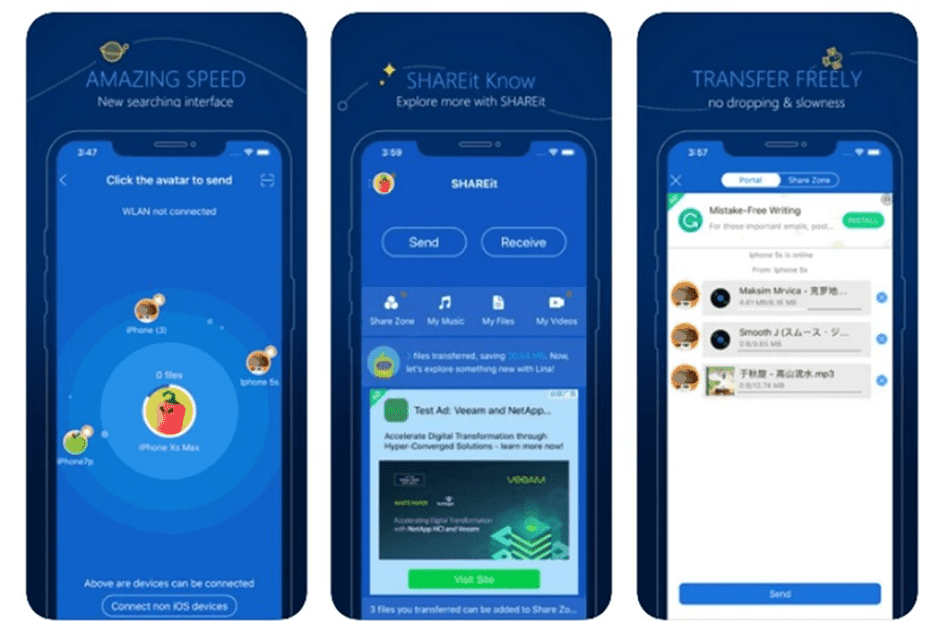 Key Characteristics
It has offered a built-in phone cleaner. This makes the phone perform better in multiple conditions for the betterment of usage.
SHAREit offers a File Manager for the ease of its users. You can easily manage the file that is on your phone and get better management.
It can do a large file transfer because you can even transfer huge files like games. Games have huge sizes as compared to other files.
EasyShare has a massive usage with 200,000,000+ user downloads. It is one of the most used phone data transfer tools available because of the speed it offers without charging a single penny. It is a tool that can be used on multiple platforms for operating systems. EasyShare can be used at any time or at any location. It is a fast tool that can solve your problem, such as cloning your phone.
Main Characteristics
It allows the user a lightning-fast speed of up to 40MB/per second. It can transfer the files that you need to transfer efficiently.
EasyShare is a tool that allows you to use it ad-free. Not every tool enables the usage of it for free. It has created this for the ease of the users.
You can transfer multiple formats like JPEG APK, AVI MP4, and more, making it a good cross-platform tool for any user.
Zapya shares the files that are available on your respective device, irrespective of how old the device is. It transfers the entire small and large files, including the application. It can transfer files at a rate of 10MB per second or 260 pictures per minute. It also allows you to do chatting with your friends.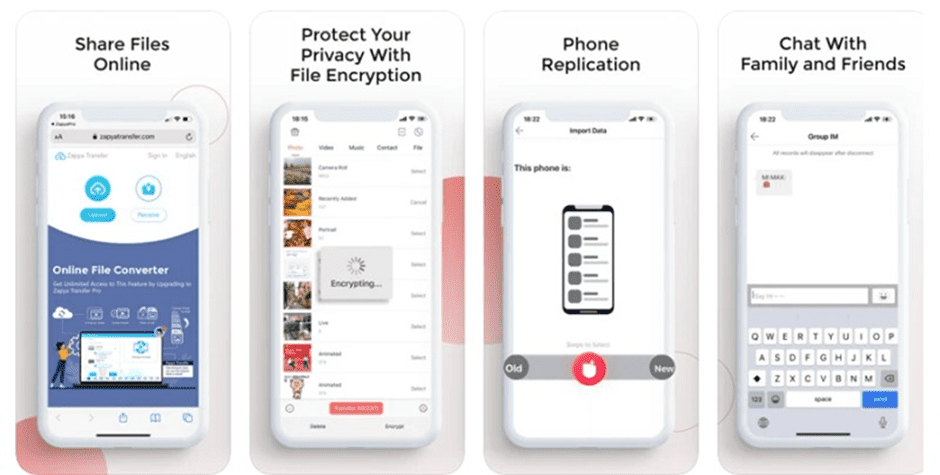 Key Features
It allows the user to do bulk data transfer. You can transfer as many files as you want to move. They can be large files or folders.
Zapya transfers application files that you can install instantly. This gives a considerable advantage to the users and does time-saving.
It has huge support for Android users. The Android users are a huge part of the Zapya file transfer application.
Bonus Tip: Powerful and User-Friendly Desktop Tool to Transfer Phone Data
Wondershare MobileTrans is a widely used phone-to-phone transfer platform which is available on both Windows and Mac OS. You know that Android, Windows Phone, and iOS are entirely different, and data cannot be transferred between these platforms. MobileTrans can be used on Android, iOS, and Windows Phone without issues. It makes a bridge between platforms and transfers data without a hiccup.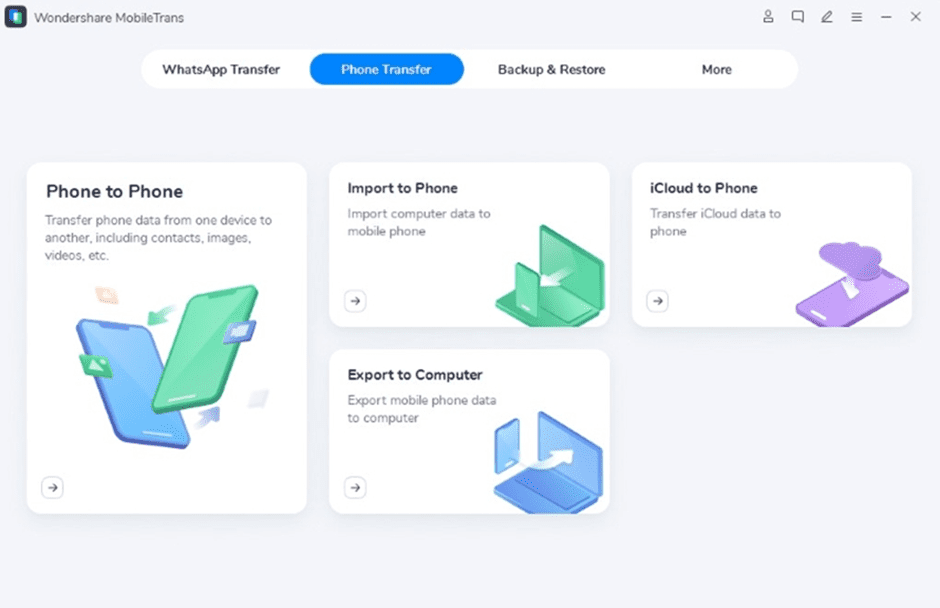 MobileTrans is easy to use and has a one-click data transfer feature that allows you to initiate phone data transfer within seconds. It allows you to connect to as many devices as you want; no limitations are there. The tool does not overwrite the original data, which means the device doesn't need to be cleaned before using MobileTrans. It is a fast tool that protects your data while transferring.
Last Words
Wondershare MobileTrans was discussed along with multiple other options: EasyShare, Zapya, Smart Transfer, and Shareit. All the features of all the tools were discussed, and what the tools are famous for phone-to-phone transfer also discussed.
The article also discussed how these tools have made the world of data transfer easy with their features. It is all about how you can use it and the benefits from its features. The above-written article has summed up all the information you need about these tools.