An efficient PC for gaming and streaming can increase frame rates with all tips and tricks. Still, the speed of internet connection influences multiplayer games and digital streaming deeply. Maybe you need not spend an expensive gaming router or have a long Ethernet cable run throughout your house to reduce ping. Instead, all you need is a VPN service so you can take your streaming and gaming to the next level.
The best VPN service for such heavy activities you can get is iTop VPN. Let us find out why and how!
iTop VPN is the best VPN service for users who want to maximize internet connections while avoiding slowness and ISP restrictions. When you turn it on, you forget it is there; all you enjoy is excellent speeds and unmatched reliability.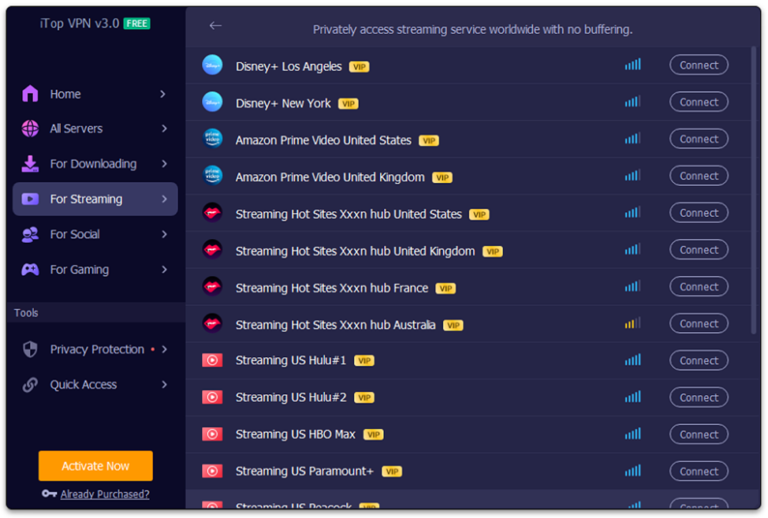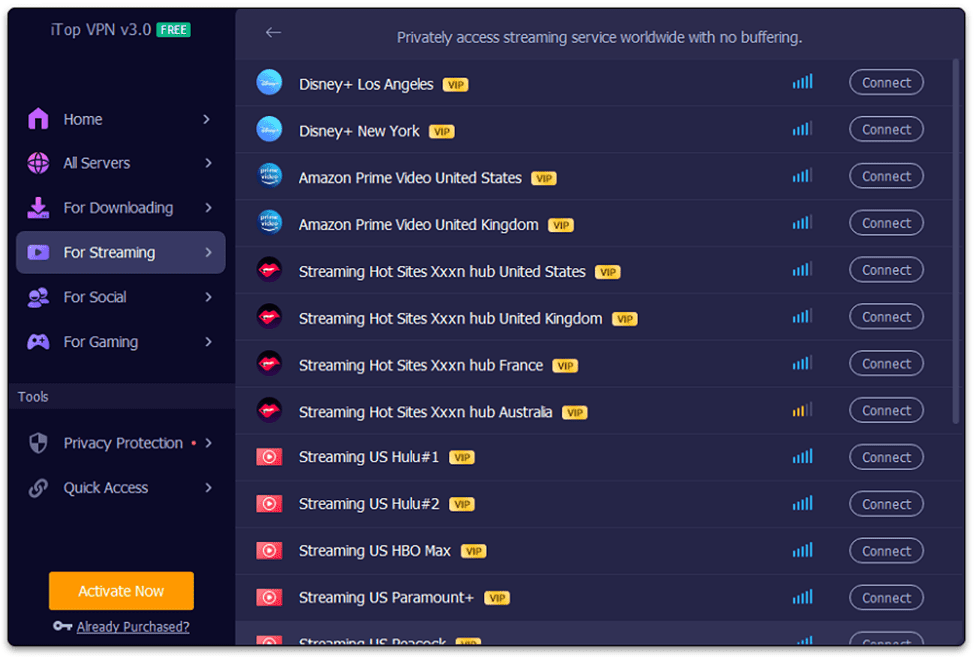 Enjoy Ultra-Fast Streaming & Gaming Experience:
UDP is the protocol of choice for those apps that require a high level of speed, such as gaming, video streaming, and heavy document sharing. iTop VPN will use this protocol to get the network connection that does not interrupt with slowdowns, bandwidth restrictions, and buffering. The UDP mode is for you if you use iTop VPN to play games online and live stream, watch movies, or do other heavy online activities.
Hunt Better Subscription Deals:
Online streamers usually have to subscribe to many platforms to know what is happening to upgrade their work game. iTop VPN can save you a lot of money on your subscriptions by offering you better offers on platforms that are expensive in your geographical area but cheaper in other countries. If you have many subscriptions, you will receive more value for your money since yearly subscriptions are more affordable than monthly ones.
Ease Access with Reliable Connection:
Speed and security are two critical factors for gaming and streaming, and iTop VPN offers you both. It ensures that your internet connection is fast and keeps your browsing secretive. The iTop VPN auto protocol has the best solution for you and the server. With this mode, you will no longer need to worry about unblocking limitations on the internet. It is safe, fast, and stable.
How to Use iTop VPN?
Here is the procedure for how to use iTop VPN:
Step 1.
Firstly, download, install, and then launch iTop VPN on your device. You have different locations to connect.
Step 2.
Now, you need to press the "For Games" tab from the left side menu. You will get many options.
Step 3.
Lastly, click "Connect" In front of the game you want to play. Now, enjoy it from a different location. That's all!
The Bottom Line:
iTop VPN is better than many VPN services available, especially when it comes to gaming and streaming. It delivers the fastest internet speeds, restricts slowdowns and throttling.
iTop VPN is a safe and fast service with an extensive network. It unblocks banned content, supports torrents, and comes lag-free. In a nutshell, this is a good VPN for Windows and mobile that performs admirably in almost all areas, from security to fast internet speed.