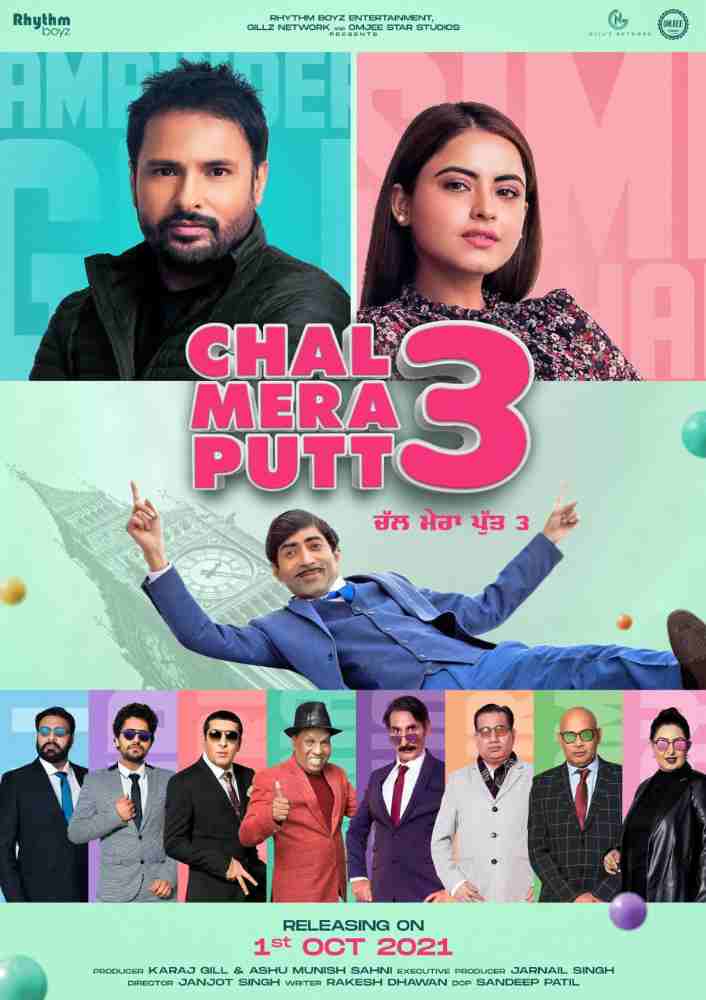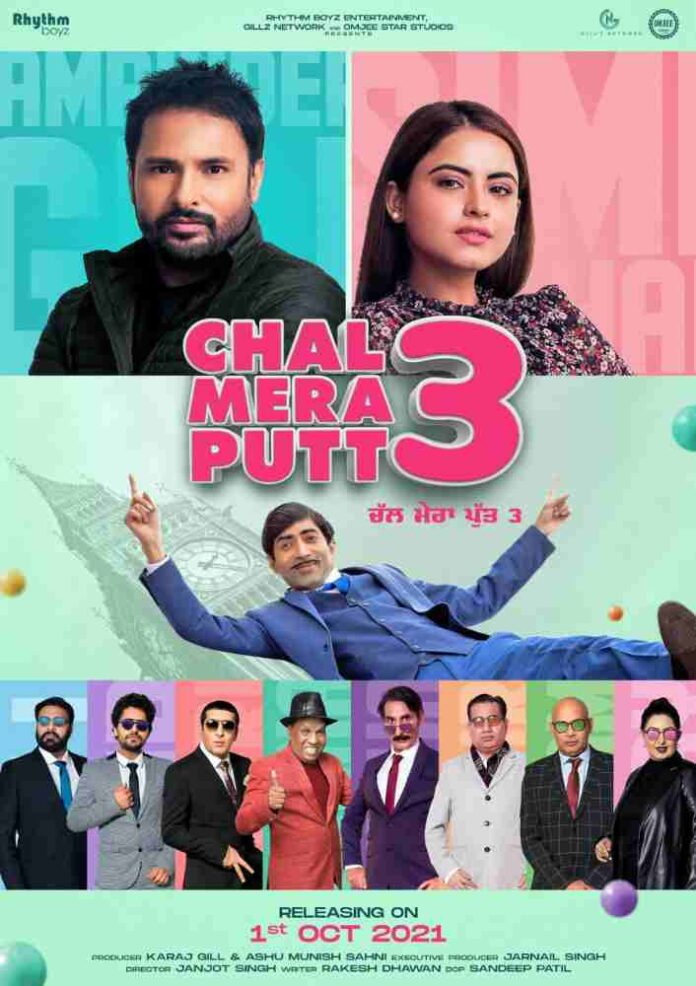 Chal Mera Putt 3 is a Punjabi comedy movie with a run time of 2 hours and 10 minutes. Its plot revolves around the struggles of the younger generation who leave their country to work for livelihood in foreign countries. It is a light-hearted comedy drama in the Punjabi language. Chal Mera Putt 3 was released on 1st Oct 2021 globally and has secured a rating of 8.4/10 on IMDb. The movie is directed by Janjot Singh and has renewed Amrinder Gill, Simi Chahal, Hardeep Gill, and Garry Sandhu as lead characters from its earlier installments of Chal Mera Putt 1 and Chal Mera Putt 2.
Chal Mera Putt 1 was initially released on 13th March 2020 and had a decent IMDb rating of 7.8 stars. Pollywood – the Punjabi Cinema, is gradually spreading its roots in the OTT division and is also being appreciated a lot. The movie found the platform of Amazon Prime video where one can stream the first installment. Such was the popularity of Chal Mera Putt 1 that it got dubbed in foreign languages like Filipino, Indonesian, Bahasa Melayu, and Portuguese in addition to the standard ones of English, and Hindi.
Chal Mera Putt 3 plot is all about a group of Punjabi youngsters, who have moved to England illegally but want to settle in. They work as daily wagers and want to repay all the debts of their parents. It centers around the lives of illegal immigrants in the UK, their friendship, and their endless grind to find a home away from home. The easiest way to become a citizen is to get married to a local resident. So, in this hope, they shoot their shots to hook up with someone.
Amrinder Gill, Garry Sandhu, and Simi Chahal load this movie up with sarcasm, humor, and laughter punches. Music is by Dr. Zeus, who is a renowned musician. Chal Mera Putt 3 also portrays the plight of migrants, their struggle at work, and how society treats them. How they manage themselves in such hard times, drowned in the thoughts of repaying debts to their parents, how they miss their hometowns, and everybody else. It is also a reality check for all those people who want to settle up abroad.
Watch Chal Mera Putt 3 trailer
Since Part 1 of Chal Mera Putt is added to the catalog of Prime Video and looking at the popularity, it was assumed that Chal Mera Putt 2 will also be part of the Amazon Prime Video library. However, the franchise has not tied up with any OTT platform. Though the movie can be downloaded from illegal sites.
The film's director Janjot Singh retained most of the cast of its 2 prequels. Lead roles have been played by Amrinder Gill, Garry Sandhu, and Simi Chahal. They have been supported by Iftikhar Thakur, Nasir Chinyoti, Akram Udas, Zafri Khan, Hardeep Gill, Gurshabad, Ruby Anum, and Nirmal Rishi.
Where can I watch Chal Mera Putt 3 online?
Chal Mera Putt 1 is streaming on Amazon Prime but the makers have yet not sold the rights to any of the digital platforms like Amazon Prime or Netflix or Zee5.
There is no official word yet from the Chal Mera Putt franchise on their future plans to release onto any OTT platform. It is however likely that both Chal Mera Putt 2 and Clhal Mera Putt 3 will release online on Amazon Prime Video.
Share this news with Punjabi News fans, and make sure to follow us. Share with us how much excited you are for Chal Mera Putt 3. For more such news and updates, stay tuned to us.