We all agree that 2020 has been a year of unpleasant surprises, unheard by anyone. It all started with the COVID-19 pandemic followed by its impact, touching every sphere of life on earth. The anime genre from the entertainment industry took a massive beating. Several of its 2020 planned titles got postponed. Some even had to split their chapters. But Winter 2021 Anime schedule promises to be the most stacked season at least in recent memory.
Winter 2021 Anime release calendar extending from January till March has been released. It is different with really too many good anime. It will bring a mix of new episodes and even a split of most awaited chapters. From January 2021, almost 50 anime series will be streamed on Japanese channels. The calendar has a high-level hyped high quality produced anime sequels but little as far as originals are concerned.
I bet as you scroll below, you will find it insane to manage the conventional vs winter 2021 anime watch schedule. Imagine treated with new episodes of Attack on Titan, Re Zero, QQ, Seven Deadly Sins, and Dr. Stone on the same week. What a time to be alive!
Here, I am bringing to you the most anticipated upcoming Anime 2021 list. Scroll below the Anime Winter 2021 Calendar and earmark the dates and times!
What anime are coming out in Winter 2021?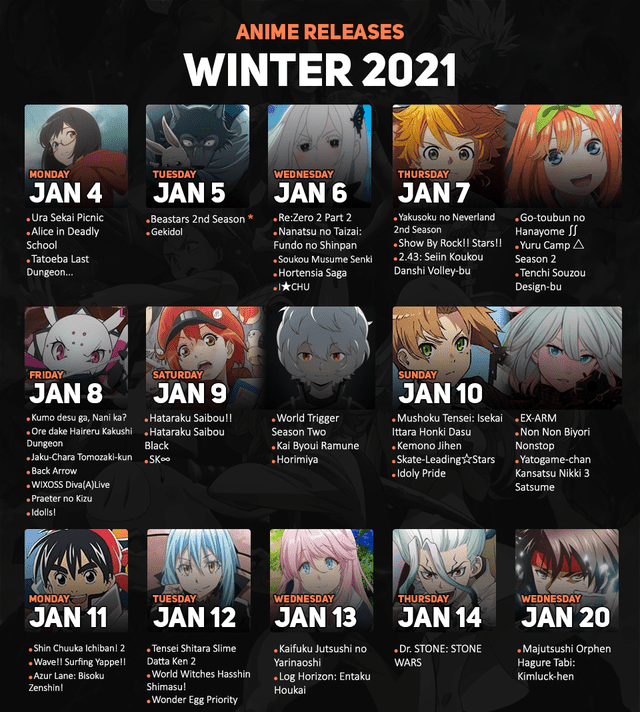 Re:Zero Kara Hajimeru Isekai Seikatsu 2nd Season Part 2
Part 2, Season 2 makes a comeback on 6th January 2021, at @10:30pm JST. Directed by talented Masaharu Watanabe, the title is an adaptation of Tappei Nagatsuki's light novels. The adversities, inner demons, and travails of protagonist Subaru Natsuki will continue in 11 episodes of the second part of Re: ZERO. It is considered the longest story arc to date. Crunchyroll viewers can also view simulcast on 6th January.
Shingeki no Kyojin: The Final Season
The final season of Shingeki no Kyojin picks rank 12 in the Highest Rated All Time category. It is airing on 7th January 2021, at 00:10 JST. It comprises 16 Episodes of 24 minutes duration each. The English version of Attack on Titan Final Season had got a release on 7th December.
Yakusoku no Neverland 2nd Season
The second week of January will be power-packed for anime lovers with no breathers. On 8th January, at 1:25 (JST), Yakusoku no Neverland 2nd Season, will be airing. Directed by Mamoru Kanbe, one of the most sought after manga is written by Kaiu Shirai and illustrated by Posuka Demizu. It will be available on Netflix, Hulu, Crunchyroll, HIDIVE, and Funimation in Mexico and Brazil. The new episodes will simulcast on Funimation.
5-toubun no Hanayome ∬
Second season of 5-toubun no Hanayome is also premiering on 8th January, at 1:28 (JST). Rated #7 most popular Winter 2021 Anime, it falls in the genre of comedy and romance. The season is directed by Kaori and composed by Keiichirou Oochi.
Horimiya
Horimiya, a light-hearted comedy cum romance, will have its first adaptation in animated format. Airing on 10th January, at 12:30 am JST, it promises to be "a sweet "aww"-inspiring tale of school life." The fans hope that manga justice is done to it because it is one of the best SOL/Romance/Comedy mangas out there.
Tensei shitara Slime Datta Ken Season 2, Part 1
Part 1 of Tensei shitara Slime Datta Ken 2nd Season will premiere on TV on 12th January 2021 at 11:00 pm JST. Part 2 of Season 2 will be released in Spring 2021. The summary reads as below
Kaifuku Jutsushi no Yarinaoshi
Kaifuku Jutsushi no Yarinaoshi, Redo of Healer finally got an anime adaptation of a light novel. It will be released on TV on Jan 13, 2021. Apart from the TV version, the Redo of Healer is getting 2 more versions. The 2nd one is the Streaming version which is slightly less censored than TV and the final is the fully uncensored AT-X version. It would be similar to Peter Grill with AT-X being the full uncensored one. The TV version will have to be toned down from the original because 60% of the plot has rape and torture that are used freely.
Log Horizon: Entaku Houkai
Third season of Log Horizon will also be coming on TV on Jan 13, 2021, 19:25 (JST). It will be of 12 episodes. Log Horizon will be directed by Ishihira Shinji (石平信司) and the series is composed by Nemoto Toshizou. The summary reads:
Dr. Stone: Stone Wars
Dr. Stone's 2nd Season will be premiered on Jan 14, 2021, at 22:30 (JST). One of the most awaited Manga, it is directed by Shinya Iino and written by Yuichiro Kido. The earlier season had Spansi dubbing and a simuldub cannot be ruled out this time.
Note: The titles shared are in order of the scheduled airing dates of their first episodes.
In addition to the handpicked ones, there are many more like Yuru Camp△ 2nd Season, Beastars 2nd Season, Nanatsu no Taizai: Fundo no Shinpan, and Non Non Biyori Nonstop which have lots of fans and they are good anime for sure.
There are couple of good anime movies that can be added to watchlist. Gintama and Princess Principal and maybe even a 3rd Uchuu Senkan Yamato 2205: Aratanaru Tabidachi.
I can vouch Winter 2021 Anime will be a criminally overstacked season, not that I'm complaining. Just my thoughts on the upcoming season, this may the best season of anime in a while giving the much-needed push. However, there are too many good/hype anime in one season, does that mean the rest of the year will likely be boring. Stay tuned and hope 2021 will be as good as this list!