Genshin Impact update 3.7 live stream has ended and Hoyoverse has revealed three new Genshin Impact May 2023 promo codes to be redeemed. During these livestream events, developers may introduce new playable characters and story missions, as well as limited-time events that players can participate in for unique rewards. It is a common practice for game developers to offer promo codes during events or live streams, which can be redeemed for various rewards such as in-game currency, items, or characters. Players can typically redeem these codes through the game's official website or in-game interface by following the provided instructions.
Genshin Impact is undoubtedly one of the most popular games globally, and players are always eagerly anticipating upcoming updates and events. Many fans are especially excited about the rumored Fontaine region and new characters that may be introduced during the summer. It's always exciting to see what new content the game developers will add to keep players engaged and entertained.
As for the anticipated Fontaine region and characters, players will have to wait for official announcements from the game developer to confirm any new updates or content. It's important to note that leaked information may not always be accurate or reflect the final product released by the game developer.
These rumors are still far-fetched and Fontaine isn't anticipated to release until July. In the meantime, Hoyoverse will release Genshin Impact 3.7 at the end of May and players can expect to see new features, improvements, and possibly new content added to the game. The exact details of the update will likely be announced by the game developer closer to the release date.
Genshin Impact May 2023 promo codes
During the Genshin Impact 3.7 live stream event promo codes were revealed that players can redeem for various in-game rewards, such as leveling materials and Primogems. Genshin Impact May 2023 promo codes have been shared on Genshin Impact's official Twitch channel using which players can gather a respectable amount of Primogems and considerable stuff to enhance characters and weapons in the game.
By redeeming promo codes and obtaining 300 extra Primogems, players can increase their chances of obtaining Fates, which can be crucial in reaching the pity system. The pity system is a feature in Genshin Impact where players are guaranteed a 5-star item, character, or weapon after a certain number of unsuccessful attempts to obtain one through the wish system.
Primogems are a valuable in-game currency used to obtain new characters through Genshin Impact's wish system. By redeeming promo codes, players can improve their chances of obtaining the characters they want from specific banners in the game. This can be particularly helpful before the end of version 3.6 or to save for Genshin Impact 3.7's release.
The active Genshin Impact May 2023 livestream promo codes are as follows:
XT82F8JZS4TR – 100 Primogems, 10 Mystic Enhancement Ore
2SRKFQ2YSMVV – 100 Primogems, 5 Hero's Wit
5A92W9JZBLCH – 100 Primogems, 50,000 Mora
YouTube video of the livestream event can be accessed at 06:00 PDT, 09:00 EST, and 14:00 BST.
It's important to note that promo codes may have a limited redemption period and may not always be available. Players should stay informed about upcoming events or promotions through official Genshin Impact social media accounts or the game's website to make sure they don't miss out on any opportunities to get in-game rewards. Make sure to redeem the codes as soon as possible as they will expire on May 14th ie within 24 hours.
How to redeem Genshin Impact May 2023 rewards for free?
Players can redeem Genshin Impact promo codes for in-game rewards through miHoYo's redemption website, which can be accessed on both PC and mobile devices.
To redeem promo codes, players will need a Hoyoverse account and will be asked to select their server and character nickname before entering the promo key to receive rewards.
For PlayStation players, promo codes can be redeemed in-game by opening Settings, proceeding to the Account tab, and selecting the Redeem Codes option.
It's important to note that promo codes for Genshin Impact are time-sensitive and have a limited redemption period. Players are advised to redeem these codes without delay to ensure that they receive the rewards, including free Primogems, before the codes become invalid. It's important to keep an eye on the expiration date or redemption period of the codes to avoid missing out on valuable rewards.
How to redeem Genshin Impact promo codes for free?
There are 2 methods for players to claim redeem codes in Genshin Impact, depending on the platform they are playing on.
1) Official miHoYo's redemption website
2) In-game "redeem" feature
The process to redeem is similar in both methods!
Method 1 – How to Redeem using the Genshin Impact Redemption website?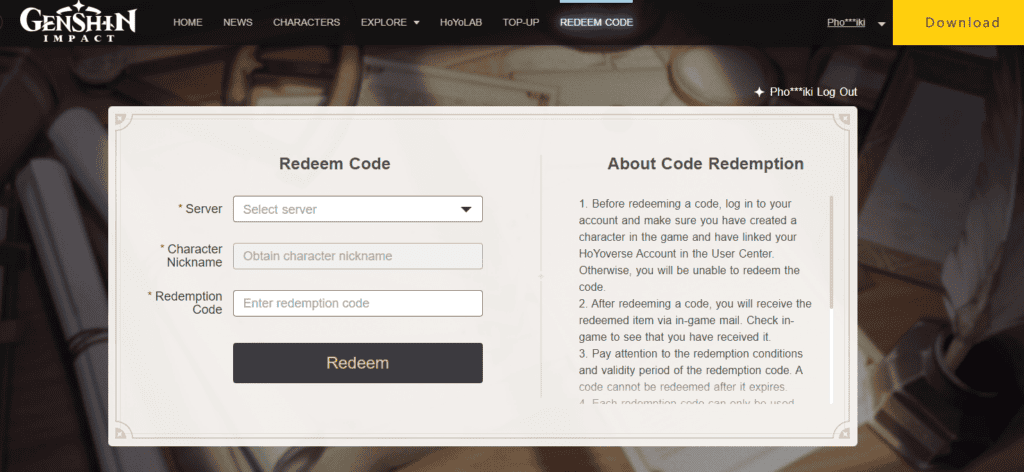 If you already have an account for Genshin Impact, you can use that to log in to the website.
If you haven't already done so, please launch Genshin Impact, navigate to the Account tab, and create a miHoYo account. To effectively link your game to the account, you must create it in-game rather than on the internet initially.
After you have signed in, launch Genshin Impact, and then head to the program's settings page.
The Settings tab is where you'll be able to enter a Genshin Impact redeem code to receive a discount.

Go to the bottom of the list of options in the left sidebar and click on Settings.

Then, after selecting Account, pick Redeem Code.
Genshin Impact's "Redeem Code" option in the "Account" menu.
The "Redeem Code" button must be clicked.
Simply enter the code you wish to use and click "Redeem" to use it.
A confirmation message will appear if the code you entered is valid, and your rewards will be delivered to your inbox shortly after that.
Input your in-game alias for your character and the server you play on before entering the code.

The rewards will be waiting for you in your Mailbox the next time you connect to Genshin.
Method 2: How to Redeem codes using the Genshin Impact in-game?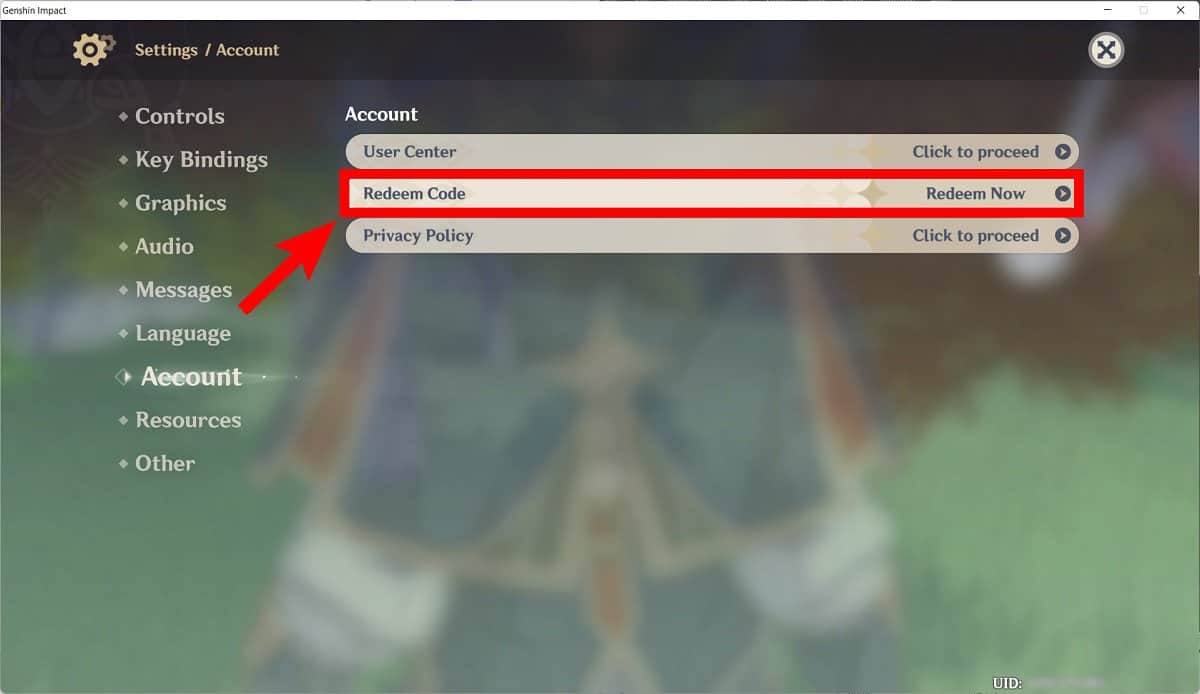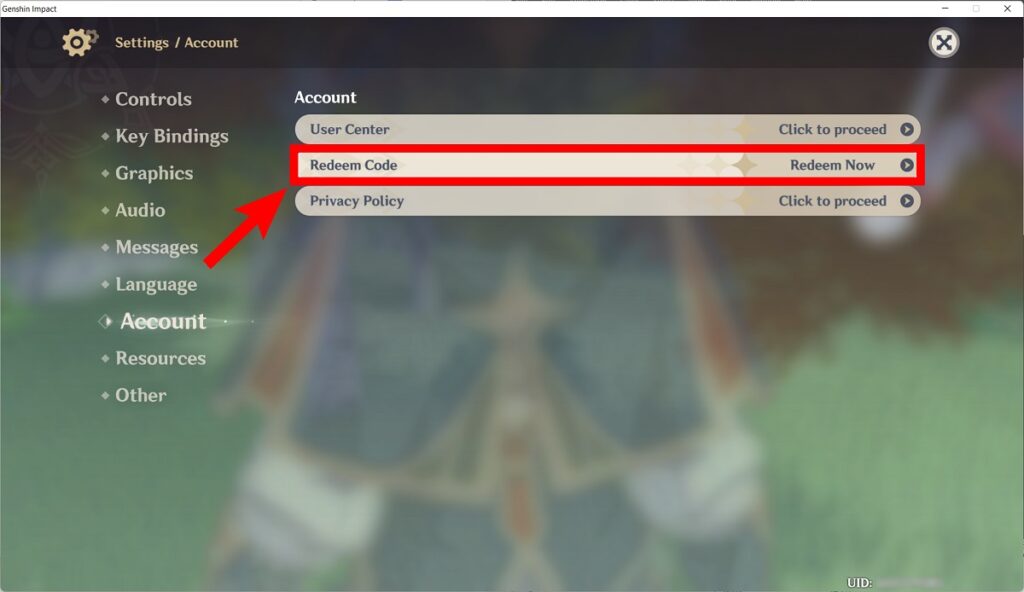 Proceed to the Genshin Impact Redeem Code page.
Verify that you are signed in using the menu in the top right corner of the screen.
After you log in, the server region and your username will be filled up for you automatically. In that case, you'll have to enter them manually.
To redeem, simply enter the code in the box provided and press "Redeem."
You should get a success message after entering Genshin Impact codes if everything goes as planned. If your redemption attempt fails, make sure the code is valid.
There are a large number of currencies and rewards in Genshin Impact. Most of them are attainable through regular gameplay, although redeeming codes greatly simplifies the process.
The developer of Genshin Impact, miHoYo, regularly distributes codes for free in-game currency and stuff. Here's where you may enter those codes and search for more.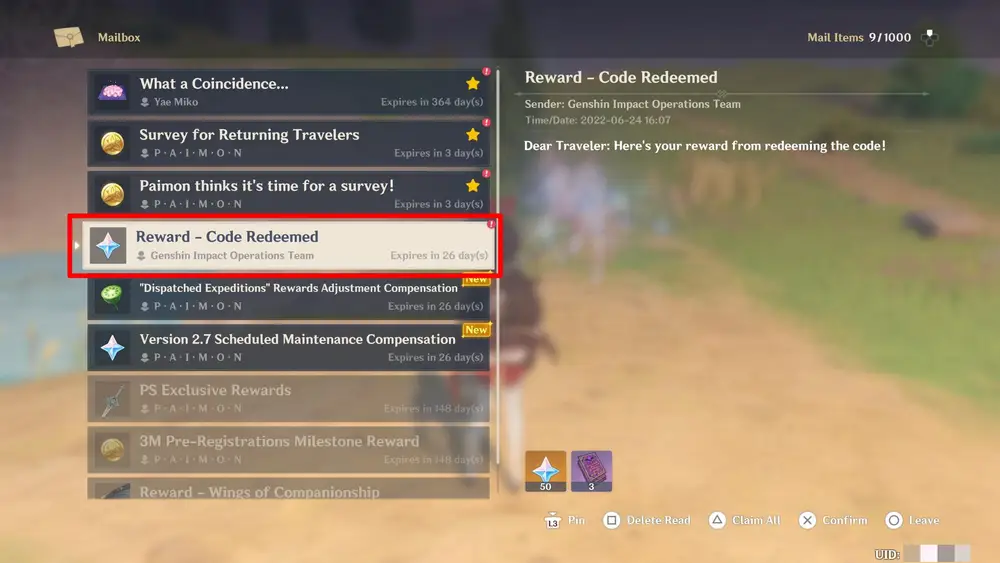 In the meantime, if you want to take a break from Genshin Impact, there are options for a few more popular games like Roblox and Free Fire that can be played and codes redeemed
For now, we recommend you check PhonesWiki regularly for regular updates on Genshin Impact Codes as and when we find any new information.