In this guide, We will be providing you with the working way to install the Cinema HD app on Roku TV. This tutorial also works with all Roku devices like Roku Express/4K, Roku Streaming Stick/4K, and Streambar.
Before going into the steps, learn what is Cinema HD and its features. Basically, Cinema HD App is a streaming provider with a huge collection of movie titles and popular shows. The great thing about this service is offering content for absolutely FREE. Not even a subscription or registration is required.
The sad thing about this app is – It's not available for Roku devices. But technically, It is possible to stream its content on Roku without a downloader or any third-party app.
Features of Cinema HD App
It has got highest downloads and active installs across all platform devices in the digital streaming category. Here are the amazing features of Cinema HD also known as Cinema APK.
With Cinema HD on Roku can able to get these features.
Unlock your Roku device for free movies and tv shows without premium services.
Luckily, No signup is needed to use the app.
You can make any video offline and cast them to Roku anytime, no Internet require.
Moreover, Real-Debrid users can access bulk links with 4K content.
No lagging or buffering issues were found as of the latest version.
Great search options to find your favorite content. Almost, it features the best movies and tv shows on the homepage – cool recommendations as per users' intend.
You can sort content by filter like rating, trending, popular, latest added, year, language, etc.
It supports any Android-based device, it may be a mobile or TV.
Partially, Cinema HD is Ad-free for VIP members only.
VLC and MX Player are available for better playback options.
Pre-Requirements
If you decided to have a Cinema HD on your Roku, you must meet these prerequisites. Please remember that this method is not like going into the Play store and installing with just a click. So, you have to follow our instructions to make this possible. But, it's easy with this guide.
Make sure to download Cinema HD APK for your Android phone or tablet. Install it like any APK file.
Also, install the All Screen Cast app on your Android device from Play Store.
Connect your smart TV with your ROKU device properly.
Enable Screen Mirroring Mode on your Roku by going to Settings> System > Screen Mirroring.
Both Roku and Android devices should be connected to the same Wi-Fi.
Cast Cinema HD from Android to Roku
1. On your Android device, open the Cinema HD app.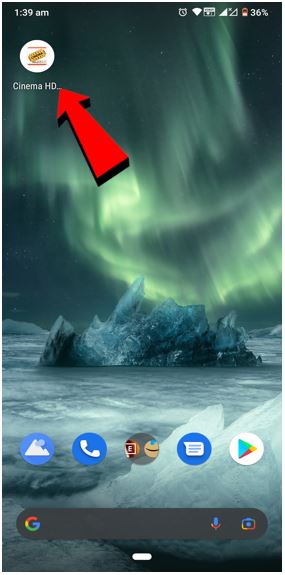 2. Choose your desired content from the movies or shows section.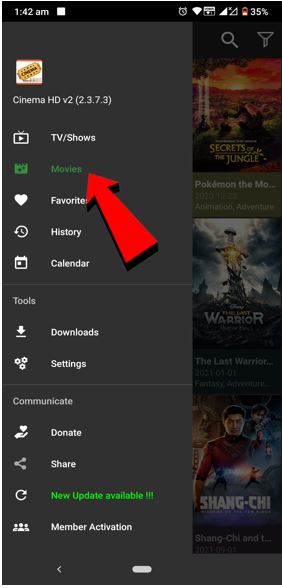 3. Tap on the Play button.
4. Select any streaming link from the list. Tap on it.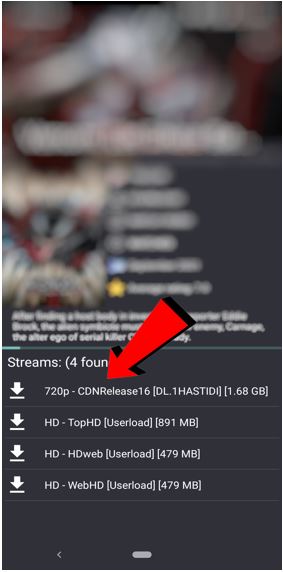 5. Click on the "Open with" option.
6. At the bottom, click on "All Screen Cast".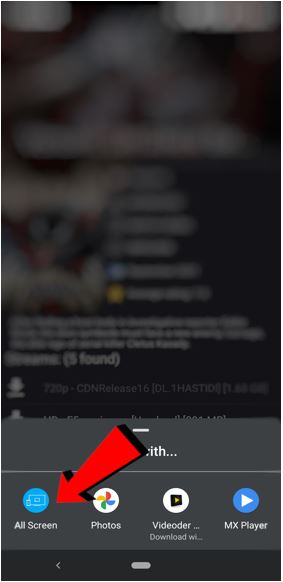 7. Now, select your Roku from the available devices.
8. Immediately, It starts playing on your Roku via Cast/Mirroring feature.
Like that, you can deliver unlimited entertainment content to your Roku from any Android device.
Frequently Asked Questions
1. Can I use an iOS device instead of an Android?
No, Cinema HD App is not available for iPhones, iPad, or iPods. So, it is not possible.
2. Is this Cinema HD app available on the Roku store?
Unfortunately, the Cinema HD app is not available on the Roku store.
3. How to fix disconnecting in the middle while casting Cinema HD?
There are many factors to include to resolve this issue. It may be because of a network problem, media player issues, or security problems. So, kindly check these problems and restart the Cinema HD app.
4. Is there any alternate method, if this method won't work?
Sometimes, missing a single step causes Cinema HD to not screen mirror your Roku TV. Before quitting, double-check that you've followed our step-by-step guide properly.
If you still encounter any issues please share your issue in the comment section our technical users might help you.
Sadly, there are no alternative methods that exist. But, you can replace Cinema HD with other alternatives present in the Roku store. Hulu is the only free streaming service available on Roku with fewer commercials.
Conclusion
That's it for this guide folks. Hopefully, you've learned how to stream Cinema HD on your Roku. This guide is helpful for anyone who has a piece of basic technical knowledge.
Most of the users have no idea how to use these kinds of apps on incompatible devices at the same time. With Cast/Screen Mirror options, we can make this possible to experience videos on bigger screens.