Spotify Stats is a direct reflection of a user's listening habits, the artists they listen to, and their other preferences in music on the application. Originating from the concept of 'Spotify Wrapped', people no longer now need to wait until December to get a peek at their listening habits. Spotify's new feature – Spotify Stats – effectively compiles the data of your listening habits, your Top 50 Artists, Top Songs of all time, and more. If you're looking for easy ways to view your Spotify stats, we've got you covered.
Major social media platforms like Instagram and Twitter have recently recorded a global trend of people posting about their Top Artists, their top songs at different points in time, and similar insights. Doing this is no herculean task at all.
Today, we have compiled the five easiest ways which you can use to check your Spotify Stats in 2022. Make sure to read to the end of the article as we will also reveal the best third-party apps and sites to view your Spotify Stats. Without further ado, let's see how you can check your Spotify Stats and share with the world your taste in music.
How to check your Spotify Stats?
You can use many ways to check your Spotify Stats. Although your Spotify stats might not reveal actual numbers of listening time and such, it still curates a list of your top artists and favorite tracks.
Method 1: Check Spotify Stats on PC and Mac (Desktop and Web Player)
Spotify Stats are easily accessible via computers and the official web player of Spotify. To do this, follow these steps below carefully:
1. First, open the Spotify app on your PC or Mac device. You can also use the official Spotify Web Player.
2. Click on your username present at the top right corner and tap on "Profile" from the dropdown menu that appears.
3. Your Spotify Profile Page will reveal your Top 10 Artists as also the Top 50 Tracks of the ongoing month.
4. You can now check these easily by simply clicking the "See All" button present next to the "Top Tracks this month" section.
Method 2: Check Spotify Stats on Android and iOS
Although it is possible to view your Spotify Stats on mobile devices, your stat viewing options get a lot thinner when compared to a PC or web player. But you can still get access to all your Recently Played Artists and songs.
1. First, open the Spotify app from your Android or iOS phone and click on the "Settings" icon situated at the top right corner.
2. Scroll down and enable the "Recently Played Artists" toggle present under the "Social" settings option.
3. After enabling the toggle, go back to your profile page and you're done! A dedicated section showing you your "Recently Played Artists" will now be visible.
4. Now just tap on the "See All" option and you can access a complete list of all your Recently Played Artists on Spotify.
Do note that checking your Spotify Stats by enabling the Recently Played Artists toggle would make that information public. We recommend that you turn the toggle off after using the app in case you want to keep your music preferences private.
Method 3: Check your Spotify Stats using 'Stats for Spotify'
'Stats for Spotify' is one of the most basic and simple-to-use sites which you can use to have an insight into your taste in music. After visiting the official site, follow the steps below.
1. Log in to your Spotify account on Stats for Spotify.
2. After logging in, you will see three buttons – Top Tracks, Top Artists, and Top Genres.
3. Tap on the option you want to get the stats for and that's all!
Checking your Spotify stats using Stats for Spotify is also beneficial since it also lets you create playlists out of your top tracks. You can do this by simply clicking on the "Create Playlist" button.
Method 4: Using Volt.fm to view your Spotify stats
Many third-party sites offer you detailed insights regarding your Spotify listening habits. Volt.fm is one of the popular platforms that users choose to check their Spotify stats easily. Just visit the official Volt.fm website and do the following.
1. Sign in to your Spotify account and give Volt.fm permission to access your Spotify data.
2. Tap on "Agree" and wait for the site to ready your Spotify stats. This should hardly take a few seconds.
3. Once your profile is ready, click on the "See Your profile" option.
4. This will open the home screen of Volt.fm where you can see the song you're currently playing and your favorite genres.
5. You can now scroll down to take a look at your Top Songs for the past 4 weeks, 6 months, and even all-time! Tap on the "Save as playlist" option if you want to create a playlist out of your favorite listens.
6. Scroll down more and you'll now find an "Analysis" section where you can take a detailed look at the general moods of the songs you listen to. You also get access to Spotify stats like the length of your Spotify library, release dates and average popularity using Volt.fm.
Method 5: Using Obscurify to view Spotify stats
Obscurify is a great third-party site that has recently garnered a lot of popularity. Along with checking your usual Spotify stats like top tracks, artists, and genres, you can also now see how "obscure" your music taste is.
Using Obscurify is simple. Just visit the site and log in to your Spotify account to get detailed insights into your music taste. You can also scroll down to the "Moods" section which measures how happy, sad, danceable, energetic, acoustic, or electronic your tastes in music are.
Concluding Words
The ability to check your Spotify stats has started to attract more and more users since you get a deeper understanding of what you listen to. This access to the extensive information about your listening habits can be used in varied ways. It can reflect someone's personality, while an artist can use this feature to plan his music strategically. At the end of the day, your taste in music speaks a lot about you as a person.
Frequently Asked Questions
1. Is Stats for Spotify safe?
The developer API of Stats for Spotify reveals that their sign-in page is part of their OAUTH2.0. This means that the site only uses your Spotify account information to gather and analyze your listening tendencies and is completely safe.
2. How do I see artist stats on Spotify?
If you're an artist trying to check your Spotify stats, you can simply use the app and go to your Artist Profile to see play counts. You can also use the official "Spotify for Artists" application or website to have a super-detailed look at the various stats for all your tracks.
3. Can I download songs on Spotify?
Yes! Using Spotify, you can use its "Download" feature to save any song you like for listening to it later offline.
4. What is Audio Aura in Spotify?
Spotify launched a brand-new feature as part of their 2021 Wrapped called "Audio Aura". Audio Aura reveals the kind of listening habits you have, with results such as 'Confident and bold', 'Wistful and comforting', etc. There are countless combinations of adjectives and you also get your own personalized aura!
5. How can I use Spotify Wrapped to revisit songs of 2021?
Along with all the methods discussed below, your yearly Spotify Wrapped is undoubtedly the best compilation of your Spotify stats. Spotify Wrapped is the platform's official personalized summary of the annual listening activity of Spotify users.
Music artists with their music on Spotify can find details of the total number of streams, the number of listeners, hours their music was listened to, and similar kinds through Spotify Wrapped. Normal users on the other hand also get a detailed insight into their Top Songs, Top Podcast, Top Artists, Audio Aura, Minutes Listened to, etc.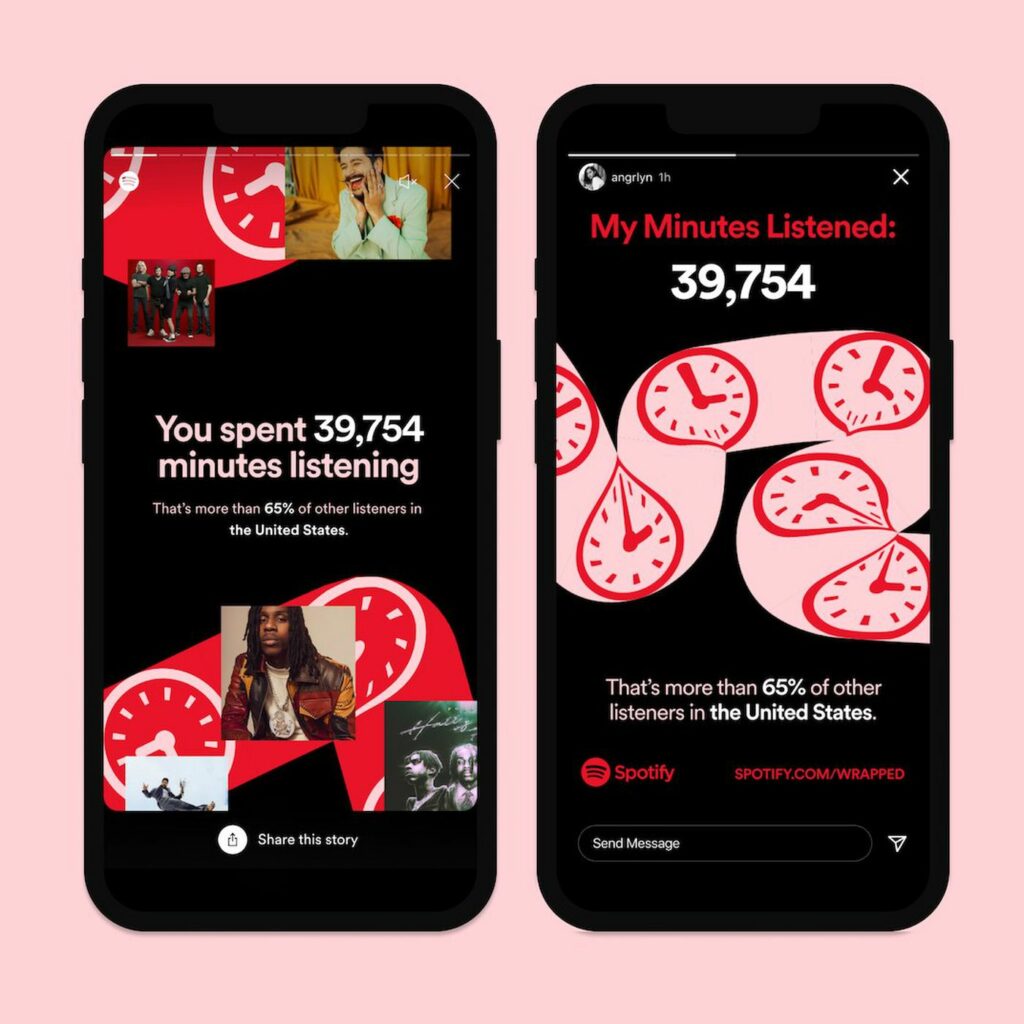 If you want to visit your 2021 top Spotify songs, access your Wrapped. The steps are pretty simple.
Open the Spotify Wrapped link from the link and tap on "Your Top Songs 2021". It has the playlist of all your top songs from 2021. In case you want to save any to listen to later, choose them and download them to your library.
As the years pass by, the Wrapped slideshows are not available but the playlists from every year can be downloaded and enjoyed.
Spotify is a digital music streaming platform that has millions of songs, podcasts, and videos from artists based around the world. The major success of Spotify lies in its ability to provide you with all these contents for free. You can simply use an e-mail address or your Facebook account to sign up for Spotify and start listening to your favorite music artists.
The platform constantly collects data like which artists you listen to, the genres you like, the songs in your playlists, your most played songs, etc. Now we all know how someone's music preferences show a lot about their personality. Instead of waiting for the end of the year for Spotify Wrapped, now you can simply rely on the latest official site of Spotify Stats to check your statistics.