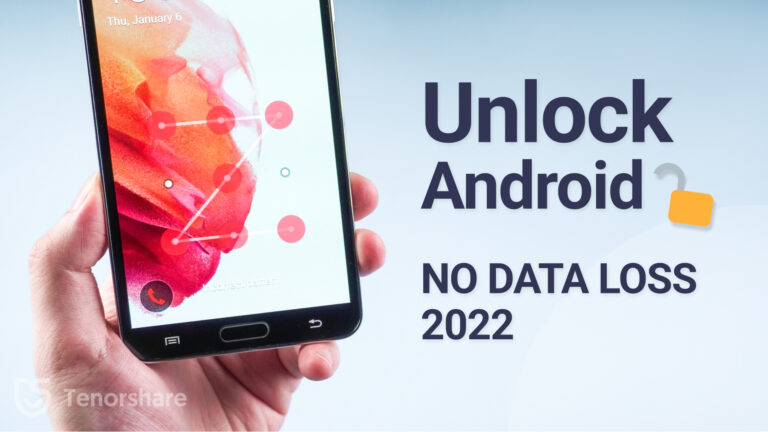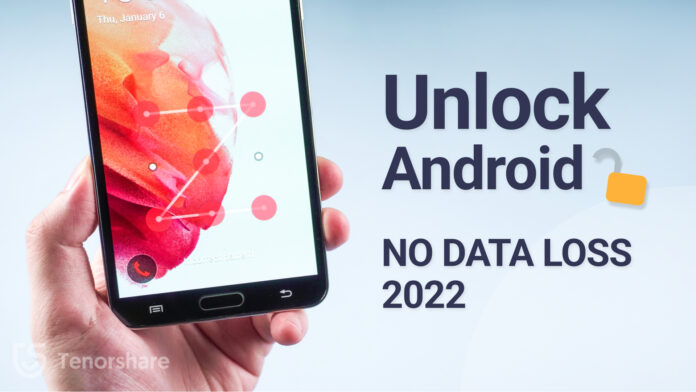 Can't remember the lock screen pattern of your Samsung phone? Well, it can happen to us many times. Samsung provides a way to secure your Samsung phones by unlocking them with a pattern. If this happens, you may browse the internet and type queries about "how to bypass pattern lock if I can't remember my pattern password" or "what to do now if I forgot my pattern password." The good news is that it's possible to unlock your Android phone if you forgot it with the five methods with a useful Android lock Samsung lock screen removal mentioned below. Check them out to see which one works best for your phone.
Part 1: How do I open my Samsung phone if forgot the pattern?
If you forgot screen lock pattern of your Samsung mobile, there are several ways to Android unlock pattern. To some extent, all the below methods will unlock Android pattern lock. But there are limitations between them.
Like some methods require you to have a Google account, while others will work only on a Samsung device.
The methods are different for each brand and version of the Android phone. Some will only work on Android versions 4.4 or less, while others will work on version 6.0 or above.
In addition, the factory reset method will cause data loss.
Method 1: Using Find My Device Function
To use this feature, you must have a Google account. So, you can log in to the account and erase the data and settings from your phone to reset the pattern lock again. Follow the step to bypass Android pattern lock when you forgot the pattern with Find my Device.
Steps: Open Google My Find My Device→Log into your Google account→Select the "ERASE DEVICE" option→Tap "Erase" to reset your device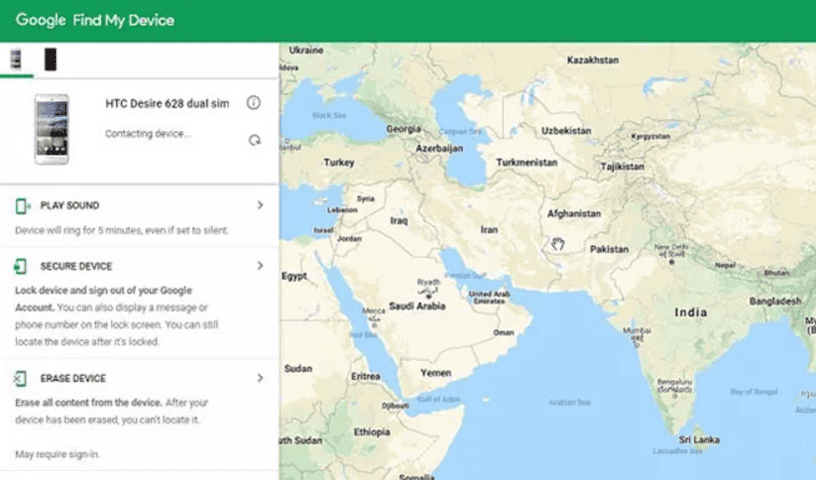 Method 2: Using Screen Unlock Tool to Bypass Android Screen Lock
And are you panicking to know what is the easiest way to unlock forgotten patterns on Samsung without losing data? With the help of Tenorshare Samsung Screen Unlock tool, you can unlock forgotten pattern lock when you can't remember lock screen pattern on your Samsung. Watch this video tutorial, and follow the steps one by one.
Method 3: Using Find My Mobile
If you forgot screen lock pattern and want to know bypass pattern lock on Samsung, don't miss out Samsung Find My Mobile feature. Here's how to unlock the Android pattern lock by using Find My Mobile: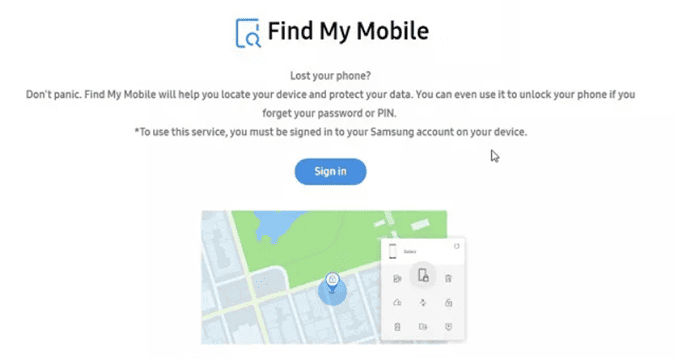 Steps: Open Samsung "Find My Mobile" on your browser→Log into your Samsung account.→Choose the "Unlock" option→Press "Unlock" and enter the password for your Samsung account for confirmation.
That's how to unlock forgotten pattern on your Samsung mobile using Samsung Find My Mobile.
Method 4: Using Google ID and Password
If your Samsung phone is locked and it is urgent to bypass forgotten pattern lock, use the forgot pattern feature in Android. Especially if you have a phone running on Android 4.4 version or less, this method is ideal for you. You can simply use your Google account ID and password to unlock your Android phone pattern.
Here's how to bypass forgotten pattern lock using the forgot pattern feature: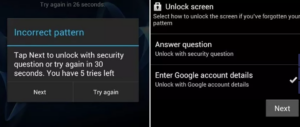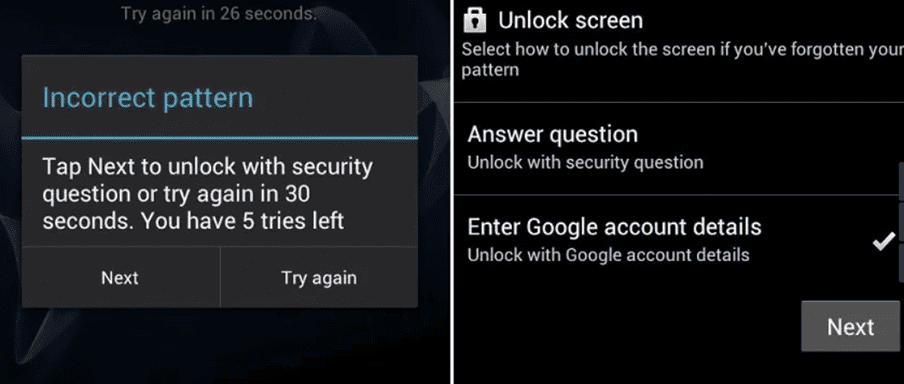 If you've entered the wrong lock pattern five times in a row, a forgot pattern option will appear on your mobile screen.
Tap the Next button to navigate to another screen where you'll be prompted to choose a Security question or your Google account to unlock your phone.
Choose Enter Google account details and enter your credentials.
A prompt will ask you to reset the lock pattern. You can set the new pattern and get access to your device.
Method 5: By Factory Reset
Another method to unlock the forgotten pattern lock is to factory reset it. Although resetting your device will restore it to its factory-bought original position, it will erase all the phone data in the process. So, make sure that you have a Google backup for your device. Here's how to unlock pattern lock using a factory reset:
Switch off your phone and hold the Power and Volume Down buttons together to switch on the phone.
Next, hold the Power button down to enter "Recovery Mode."
Use the Volume buttons to navigate options. Tap on the "Factory Reset/ Wipe Data" option. Hit the Power button.
Next, choose "Factory data reset" or "Yes" based on your phone's model.
The resetting process will start. Once it is finished, you can restart your phone. Your lock pattern should be removed.
That's how to unlock Android phone pattern using factory reset.
Part 2: Why should we use Screen Unlocker to Bypass Android Screen Lock?
Have you known the limitation of the above conventional methods? Using an untethered Android Lock Screen Removal, named Tenorshare 4uKey for Android, is a great way to bypass screen pattern lock without erasing data. Your device can be unlocked in a few minutes. Furthermore, it is rich in solving Android Screen Lock.
It has a user-friendly interface and a secure unlocking process.
It can bypass any Android forgot screen lock including Pattern, PIN, Fingerprint lock, Face lock, and Password
It will detect the system automatically before unlocking the phone.
It is able to bypass the Samsung Google Account without entering a password.
It also supports almost all Android versions from 2.0 to 11 and above.
Let's see how magic to bypass the forgotten pattern using Tenorshare 4uKey for Android:
Download and install the 4uKey for Android software on your computer. Tap on the option "Remove Screen Lock."
Select "Remove Screen Lock without Data Loss." Then tap the "Start" button.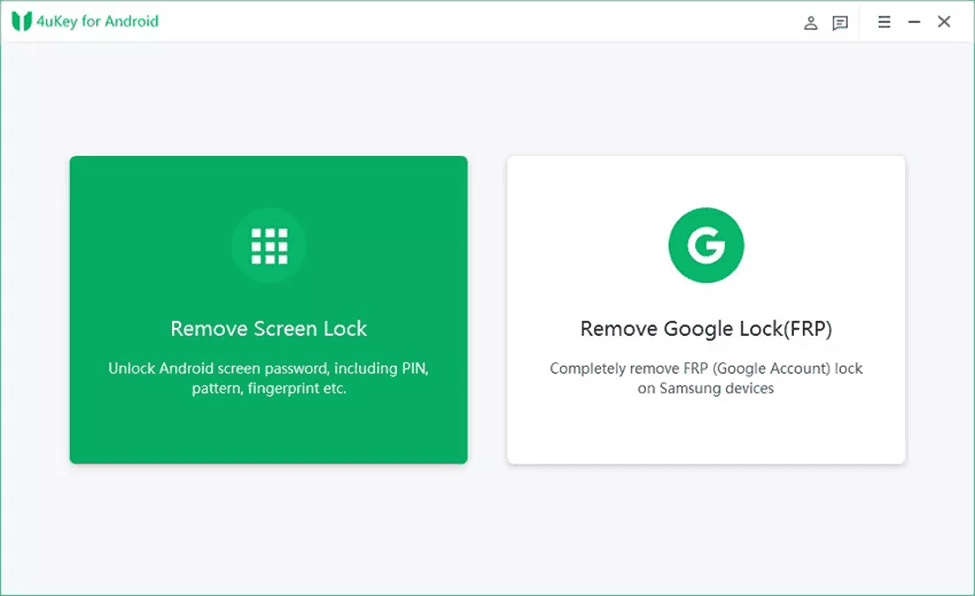 From the drop-down list, Select your device information and press "Next" to continue the removal process.
A prompt will ask you to confirm if your selected information is correct. Press the "Confirm" button.
Please connect your phone to your system and wait for the software to detect the phone. And your Android pattern will be unlocked in a few minutes.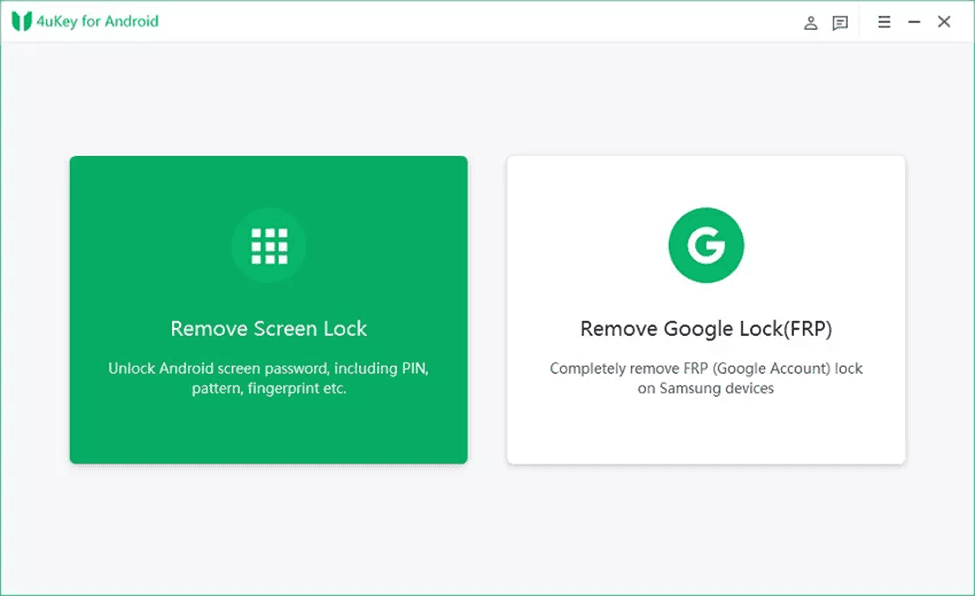 Wrapping Up
If you forgot pattern lock on Android, the above post answers your query perfectly by giving you five methods to choose from. However, they come with certain limitations. Some won't work on all Android versions, while others will even cause data loss. Luckily, Tenorshare 4uKey for Android can be chosen to bypass Android phone pattern lock if forgotten since it will offer a simple and quick way to remove lock pattern from all versions of Android without losing data.