Part 1: What will you learn?
Several features contribute to the security of Android OS Version 5.1 Lollipop, such as Google Account Verification, also known as Factory Reset Protection (short for FRP). When you add a Google account, the FRP is automatically activated on the Android phone. This feature prevents you from worrying about unreliable access to your Android phone once it has been re-factorized.
When you factory reset a Samsung phone with an FRP lock, you will be asked to sign in to the Google account that was used to set up the phone after the factory reset. Follow this step to unlock the FRP lock to use the phone. This article will discuss ways to bypass the FRP lock after factory resetting your phone. So, if you want to use your phone without signing in with a Google account, read on.
Part 2: Can FRP be unlocked?
If you use the correct method, it is possible to unlock the FPR lock. This article aims to introduce you to three leading ways that can assist you with it. To offer the easiest way for anyone who is urgent to get access to their Android phones, let's try a professional Android Unlocker, named 4uKey for Android to easily bypass FRP lock in just a few simple steps. There are several other methods also that we will discuss so make sure you sit tight and read the article till the end.
Part 3: How To Bypass Google Account Verification On Android
Way One: Bypass FRP Lock in 4 steps
Tenorshare 4uKey for Android is the best way to bypass FRP lock on Android devices. It is software that can help unlock any Android screen locks and bypass Samsung devices protected by Factory Reset Protection (FRP). It is an easy-to-use application that doesn't require technical skills or special settings. All you need to do is follow 4 simple steps, and you will have your phone unlocked.
Using 4uKey for Android to Remove Google Account Verification?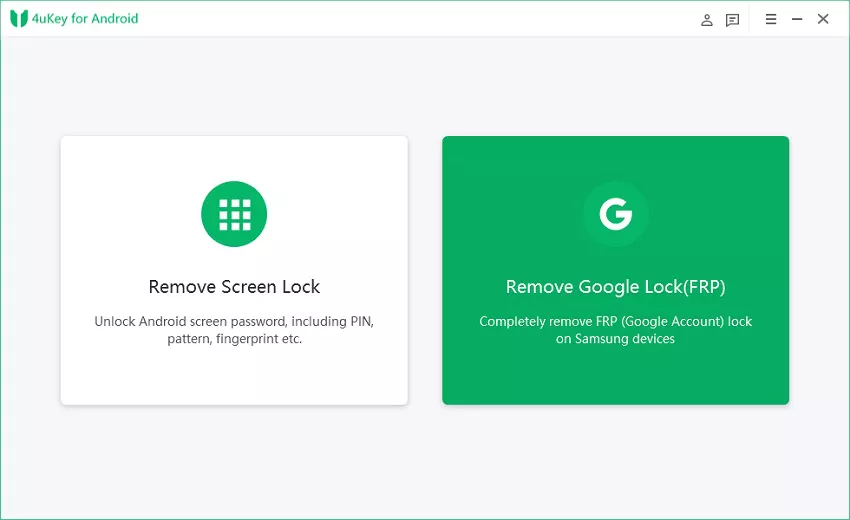 Step1. On your computer, download and install the 4uKey for Android app. In the main interface, click "Remove Google Lock (FRP)" after launching the program and connecting the locked Samsung mobile to the computer.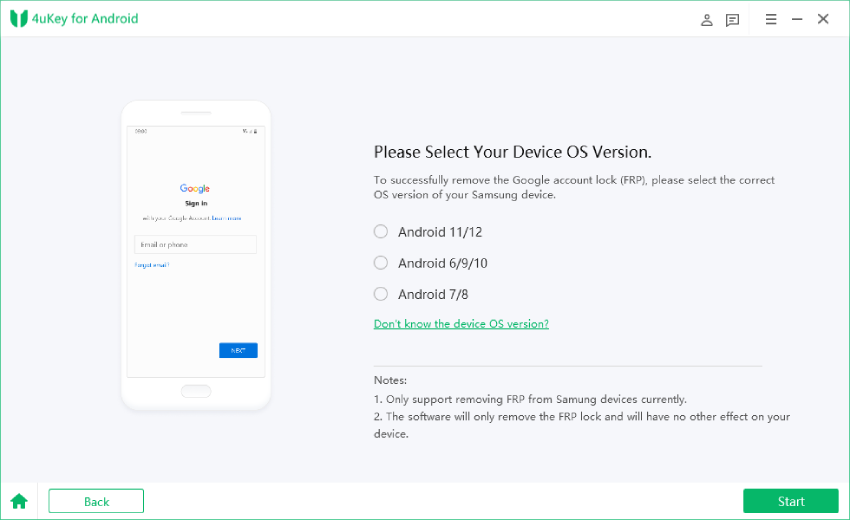 Step2. The next page requires you to select your Samsung OS version and click "Start." And please confirm the information you selected and ensure that the device is connected to the internet, then click "Send Notification" to proceed.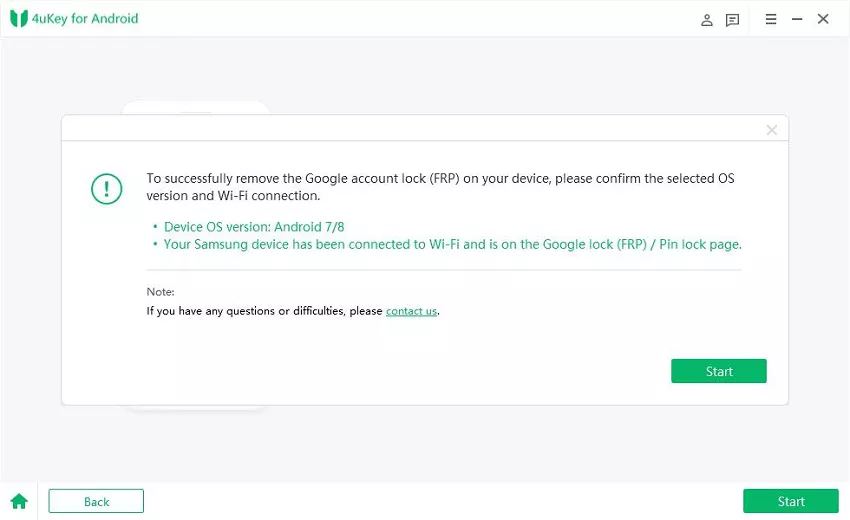 Step3. Once you receive the notification successfully, click "View" and go to the browser to set up your Samsung device. Complete the program by setting a new pin and completing all steps.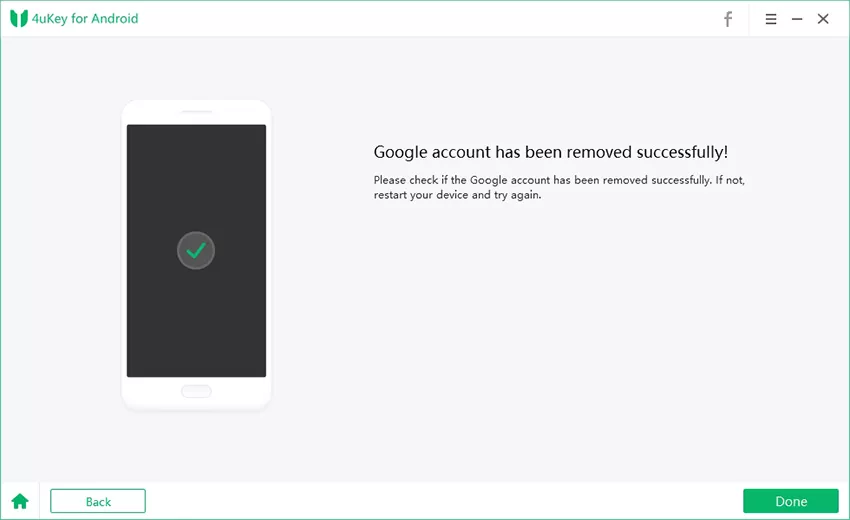 Step4. According to your operation, the entire procedure should take about five minutes. After restarting your phone, you can successfully remove the Google account from your Samsung mobile.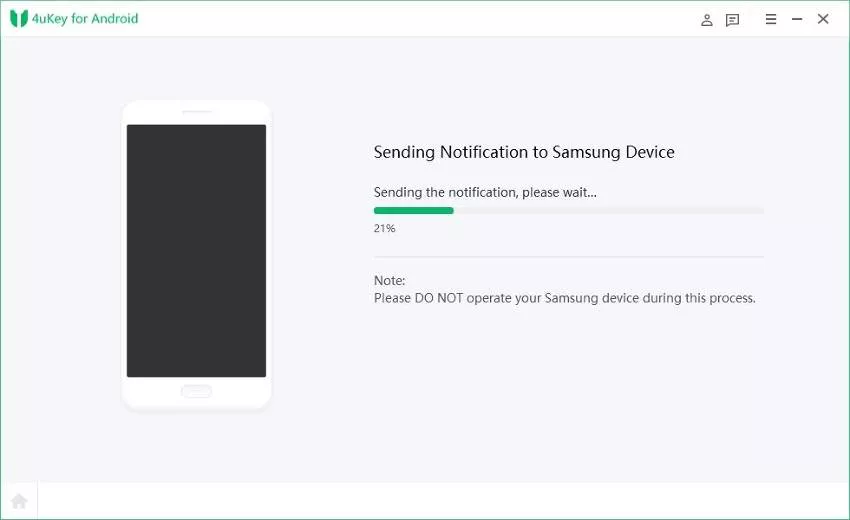 In addition to bypassing Samsung FRP lock, it can also remove fingerprints, patterns, and pins from Android lock screens. What's more, numerous Samsung mobile models are compatible with the app, including Samsung Galaxy S21, S20, S10+, and J7 (Android 6-11). You can use it on either a Mac or Windows computer. Either of the limitations appears on your smartphone.
Way Two: Get Help from the Former Owner or the Merchant
If you need to learn how to remove the Google lock from your Samsung device, you can try contacting the merchant or former owner for help. There are a few ways to try and get help from the merchant or former owner.
You can go through their social media account and contact them directly.
You can reach out to online support forums that may have relevant information.
If you cannot find any assistance on the web, consider reaching out to a professional removal service provider. Removal services offer more advanced solutions than just trying manual methods, as they specialize in rooting and unlocking different Android devices. The most reputable removal services typically offer a money-back satisfaction guarantee, so you can be sure that if the service does not work as expected, you will receive your money back.
Way Three: Bypass Google Account with APK & OTG
Want to bypass your Google account with an OTG cable? We use the FRP Bypass APK and files to bypass the FRP lock. In addition, using the APK does not require registration; simply follow the steps below.
Step 1. Download FRP bypass APK and files
Begin by downloading FRP, bypassing APK, and connecting the USB.
An OTG cable should be used to connect the USB.
Turn on your Android device.
Make sure you have a strong Wi-Fi connection.
Step 2. Install FRP bypass APK
Originally introduced in late 2001, USB-OTG stands for on-the-go or on-the-go. This ticket allows you to connect your Android device to a USB port.
You'll need to click the Home button three times to start Talkback.
Then your screen will display a new menu. Go to Talkback Settings and click on it.
The Talkback button should be tapped three times.
Click on Help & Feedback.
Go to Voice Access to get started.
When the YouTube video appears, tap on the Play button to begin playing it.
The following video demonstrates how to get started using a voice. You will be redirected to YouTube.
The User icon appears as soon as Youtube opens.
Select Terms & Privacy Policy from the menu.
Once you've tapped the cancel button, click Bookmarks.
Click on Download History to view the history of your downloads.
You can open your USB drive by clicking the My files option.
You can install the APK from your Android phone using a USB cable.
Whenever you see an "unknown source" error on your screen, you should go to the Settings section of your phone and allow unknown sources.
Your Android device must be reset after the APK has been installed.
You bypassed FRP on Android using an OTG cable. You can now set up your phone without verifying your old account.
Part 4: Wrap-up
Above are 3 leading ways to guide you to bypass Google Account Verification on your phone successfully. As mentioned before, 4uKey for Android is the best software to unlock Samsung FRP lock without any risks. Hence, if you want not to waste your time on something that will not work, going for 4uKey for Android can get fast results in no time. If you have other solutions to bypass Samsung FRP easily, welcome to list them in the comments.