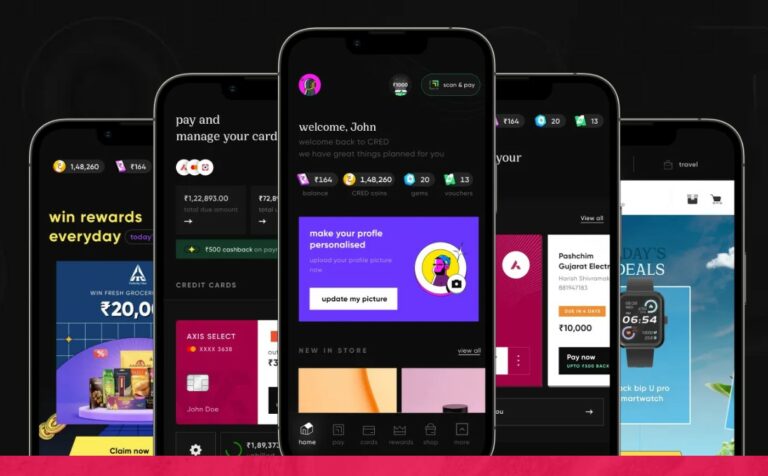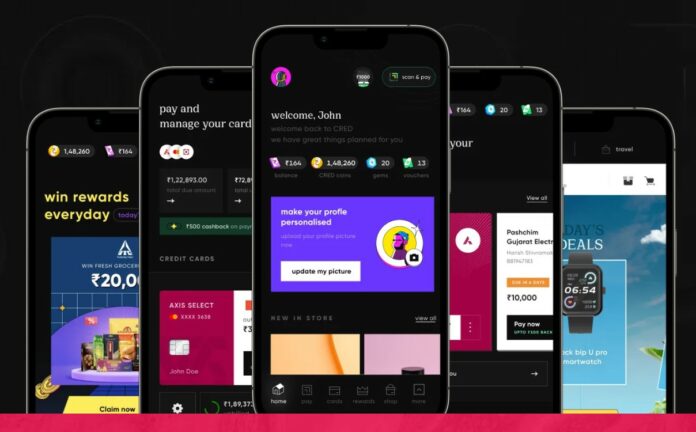 If you use the CRED app regularly, you must have noticed the CRED coins. But, do you know how to make use of it or simply put how to burn cred coins? Most people don't pay much attention to how to use it. But, it comes with additional perks and a couple of useful things. The coins can be used to play the daily lottery, help you buy items from the CRED store, and more.
CRED is said to associate itself with the finest, however – it also means it hand-picks the best customers. As a result, CRED is not available to everyone. They handpick their clients. To join CRED, you must have an Experian score of 750 or higher. Once you're on the app, it helps you keep a strong credit score; nevertheless, it's up to you to keep your credit in good enough shape to be able to join CRED.
Further, the app has recently introduced the Scan and Pay feature and a daily coin generator that gives you free coins up to 18,000. Read the article till the end to find out more. We also have a dedicated Business/Forex section on Phoneswiki. Make sure to check it out as well.
What is CRED?
CRED is an online payments app, available for both iPhone and Android in the respective app stores. It comes free as an app. As per the company, it aims to make using credit cards earlier and more automated. Another highlight of the app, as it claims, is that not everyone is eligible to use the CRED app as the app only accepts users who have a credit score above 750.
Now, how to fetch your credit score? There is a bunch of apps and website to help you fetch your credit score with ease. But, you don't need to go places fetching credit scores when CRED itself will help you with it. We have added how much to sign up on CRED and fetch the credit score below.
How to sign up on CRED?
To sign up on CRED, users should have a credit score of 750 and above, as per the company. However, it should be noted that there are several credit bureaus in fetching credit scores ie CRIF, CIBIL, Experian, and more.
To create an account on CRED, follow these steps:
Step 1: Install the app from App Store or Play Store on iPhone or Android respectively.
Step 2: Launch the app and verify your phone number using OTP.
Step 3: Now, if your credit score is 750 or above, you can easily become a member.
Step 4: And, you would be seeing all your credit cards on the screen as the app has integrated with Experian.
Step 5: Enter the hidden numbers of your card to verify them.
Step 6: Done.
Bonus Tip: You can earn up to Rs 250 on making your first credit card payment of Rs 1000 or more using this link.
In case, the signup process fails or the request to become a member is rejected, these are the steps you can try:
Step 1: If you have multiple mobile numbers attached to credit cards, try updating the contact numbers to a single phone number.
Step 2: If they denied you for no apparent reason, contact their customer service.
Step 3: If your credit score is below 750, wait a few days and try again.
Note: Prepaid cards are not credit cards. Therefore, you won't be able to add those.
How to earn money using CRED?
There are numerous apps in the market which come with a referral program and like others, CRED also rewards you when you bring someone on board but there are certain conditions: They must join the app using your link which you can get by simply clicking on a banner in the app. When you refer someone and they join, you earn a fair amount between Rs 500 to Rs 1,000.
Moreover, there's no such joining bonus however if you join the app using this link and pay a bill of more than Rs 1000 on your credit card; you receive an assured cashback of Rs 250.
Another hack that you can rely on you is Cred's Scan and Pay feature which is the company's latest attempt to align UPI in the app and that's – because of its early phase, it is giving decent rewards. The rewards are in most cases – Cred Cash and sometimes, Cred Coins. The Cred Cash can be used while purchasing something from the CRED store or paying bills.
How to collect CRED coins?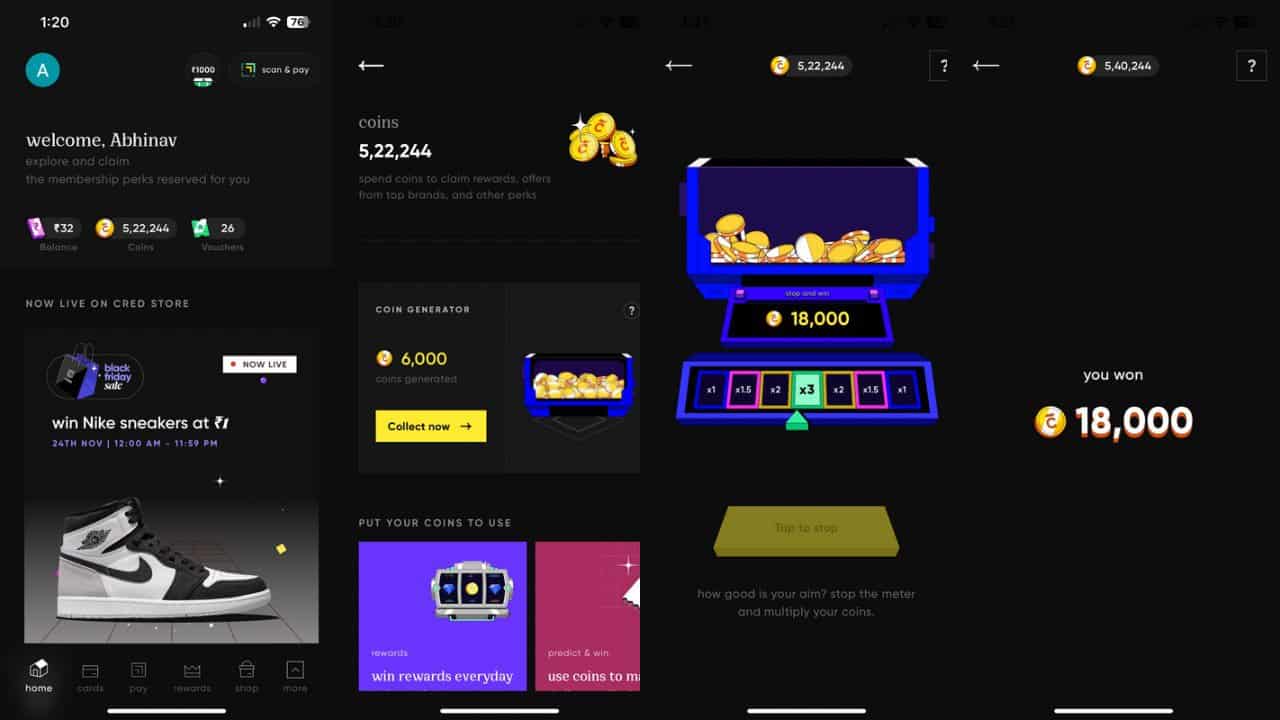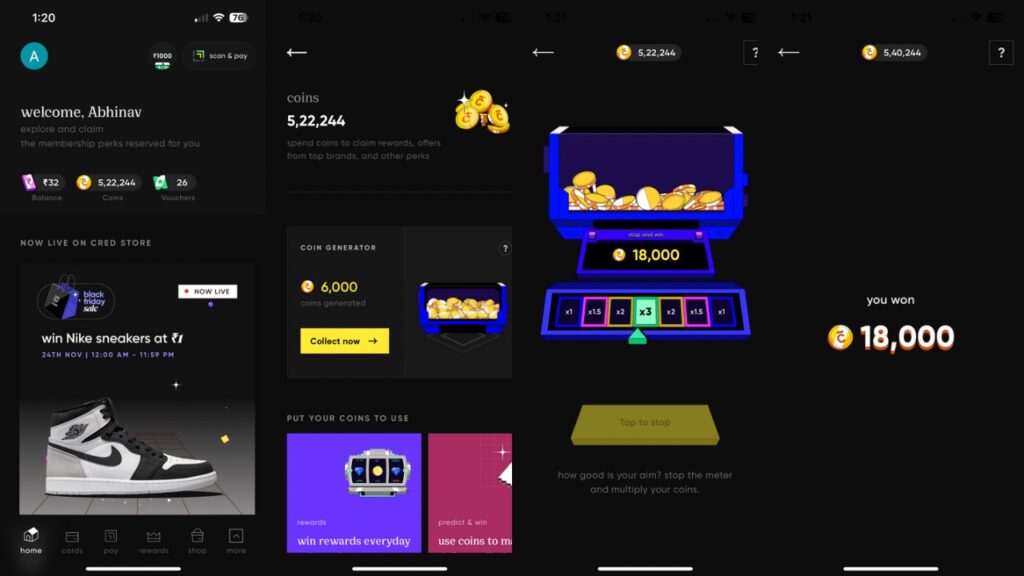 Whenever you pay a bill, you earn CRED coins. For example, if you pay a bill of Rs 15,990. You get 15,990 cred coins as a reward which you can use in the app for a bunch of things. Did you know you can collect up to 72,000 coins a day – but it doesn't work that way in other words, it's not simple and sometimes also involves luck. Here's how you can claim your daily coin bonus every 6 hours.
Step 1: Launch the CRED app.
Step 2: In the Balance, Coins, and Vouchers section, tap on coins.
Step 3: You will be redirected to the coins page. Tap on Collect Now in the Coin Generator.
Step 4: There will be a spinner so try your luck; it isn't all about luck. It involves skill too.
Note: It takes 6 hours to refill the box with 6,000 coins in it. Later on, the spinner lets you get up to 3x the value of stored coins ie up to 18,000.
How to burn CRED coins to cash?
There's no direct way to turn CRED coins completely into cash. But, there's possibly something you can do with them and convert them into cash. The CRED coin-to-cash feature is an underappreciated CRED feature. You may be wondering how to convert CRED coins to cash. Don't worry, we've got that covered as well.
Who wouldn't want their in-app currency converted to actual money? That is why CRED allows you to convert your coins to cash using the Burn option. When you burn your CRED coins, they are transferred to your credit card and connected as cash. By making payments through the app, a user can acquire CRED coins, which they can then burn in exchange for cash.
For example: When you make a payment or pay bills, you earn a reward that gives actual cash as reward by burning the existing CRED coins.
How to pay credit card bills through the CRED app?
It's a simple and neat process to pay credit card bills using CRED. Follow these steps to pay the credit card bill.
Step 1: Launch the app
Step 2: Go to the Cards section
Step 3: There would be one or more than one credit card on your screen; Simply tap on Pay now.
Step 4: Enter the amount and pay.
Note: CRED claims to support credit card bill payments for American Express, Standard Chartered, Citibank, HSBC, HDFC, ICICI, SBI, AXIS, RBL, PNB, and other Indian banks as well. We tried adding SBM OneCard and it was working too. Further, CRED adds that it supports VISA, MasterCard, American Express & RuPay cards.
One can also pay rent, education fees, insurance premiums, and phone bills using the CRED app.
Must Read | What is the Google Play Redeem Code for free today?
What are some features of CRED?
CRED has several other features beyond being a credit card payment app and telling you about your credit score. You can use this app to do the following:
When you use the CRED app, you will enjoy benefits from CRED's partner brands.
The app notifies you when it is time to pay your dues. This, in turn, helps to boost your credit score.
The app accepts quick payments and has a statement analysis tool that allows you to trace where your money goes.
CRED protection alerts you to any hidden charges that may be imposed on you and display your credit limit in real time.
Using the CRED app earns you CRED points, which you can redeem for cashback and special goodies by participating in games and raffles.
You also have access to the CRED store as a user, which contains exclusive goods and exclusive rates available only to you.
CRED RentPay offers a 45-day credit-free period as well as reward points.
Every transaction made is encrypted and hence safe and private to you.
You can also use the SIP calculator that comes with CRED.
CRED app also comes with an inbuilt EMI calculator.
You can use the PPF calculator to calculate your PPF.
CRED includes calculators for home loans, auto loans, fixed deposits, recurring deposits, basic loans, and compound loans.
The latest Scan to Pay feature rewards you with great cashback in comparison to other similar apps.
Summing It Up
CRED app features go beyond credit card rewards and cashback. There's no need to pass up the extra cashback and benefits that come with simply paying bills using the app. If you're likely to use net banking to pay your credit card bills anyhow, why not double the benefits?
However, now the Credit Card bills payment system is extended to several top-tier companies like Amazon, PayTM, PhonePe, and several others but CRED was the first one to do so. Share your experience with PhonesWiki's team; we are all ears.