In the fast-paced world of mobile technology, encountering issues with your iOS devices is all too common. From annoying glitches to full-blown system failures, these problems can disrupt your daily life. This is where AimerLab FixMate comes to the rescue. In this in-depth article, we will provide a comprehensive overview of AimerLab FixMate, explaining how it works, what it fixes, and its cost, and addressing some frequently asked questions to help you make an informed decision.
1. A brief overview of AimerLab FixMate
AimerLab FixMate is a leading iOS system repair tool developed by AimerLab, a trusted name in the software industry. FixMate is renowned for its simplicity, user-friendliness, and high success rate in resolving 150+ iOS-related system issues. Whether your iPhone is stuck in recovery mode, displaying the Apple logo endlessly, or suffering from other common iOS problems, FixMate promises to be the solution.
2. What Does AimerLab FixMate Fix?
AimerLab FixMate is a versatile tool that can address a wide range of iOS-related problems, including:
Stuck in Recovery Mode: If your device gets stuck in recovery mode after an update or restore, FixMate can get it out without data loss.
Endless Apple Logo Loop: FixMate can break the cycle of the Apple logo repeatedly appearing and help your device boot up normally.
Black Screen: A black screen can be caused by various issues, and FixMate can often revive your device and restore functionality.
Frozen Screen: When your touchscreen becomes unresponsive or your device freezes, FixMate can unfreeze it and get it working again.
White Screen of Death: FixMate can fix the "White Screen of Death" issue where your device displays a blank white screen.
Boot Loop: If your device is stuck in a continuous boot loop, FixMate can intervene and bring it back to normal operation.
iTunes Errors: Many users encounter iTunes errors while trying to update or restore their iOS devices. FixMate can bypass these errors, allowing you to complete the process.
iPhone Won't Turn On: When your iPhone refuses to turn on, FixMate can often revive it, getting it to power up as usual.
3. How does AimerLab FixMate work?
AimerLab FixMate is a user-friendly iOS system repair tool that can help you fix various issues with your iPhone, iPad, or iPod Touch. Here's a step-by-step guide on how to use FixMate to address common iOS problems:
Step 1: Download and install AimerLab FixMate software on your computer from its official site.
Step 2: Use a USB cable to connect your problematic iOS device to your computer. Make sure the device is recognized by FixMate.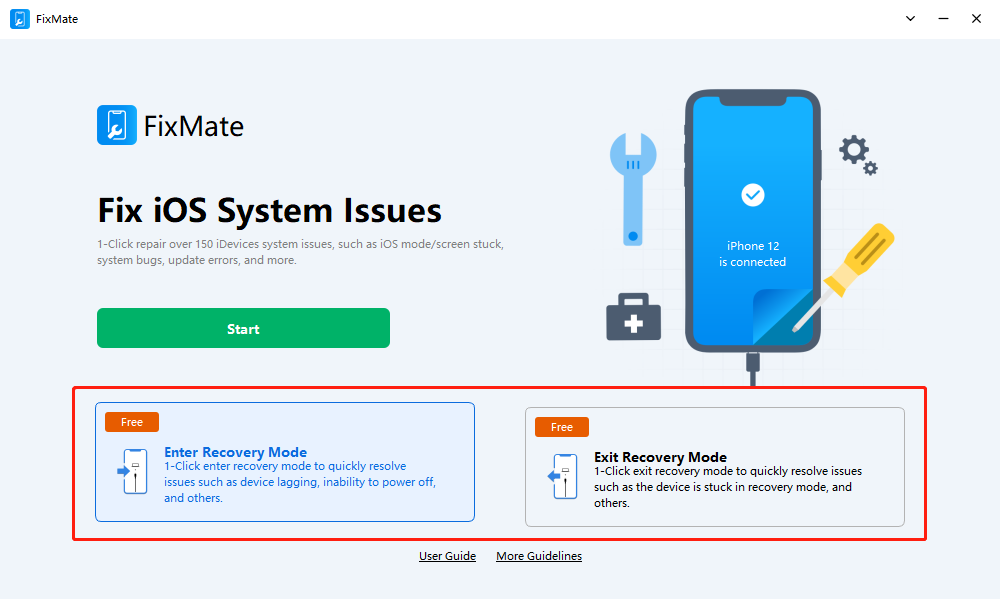 Step 3: If you need to access recovery mode for troubleshooting or exit it to return your device to normal operation, you can directly click the Enter/Exit Recovery Mode button to do this.
Step 4: FixMate offers two repair modes: Standard Repair and Deep Repair. Here's how to choose the appropriate mode: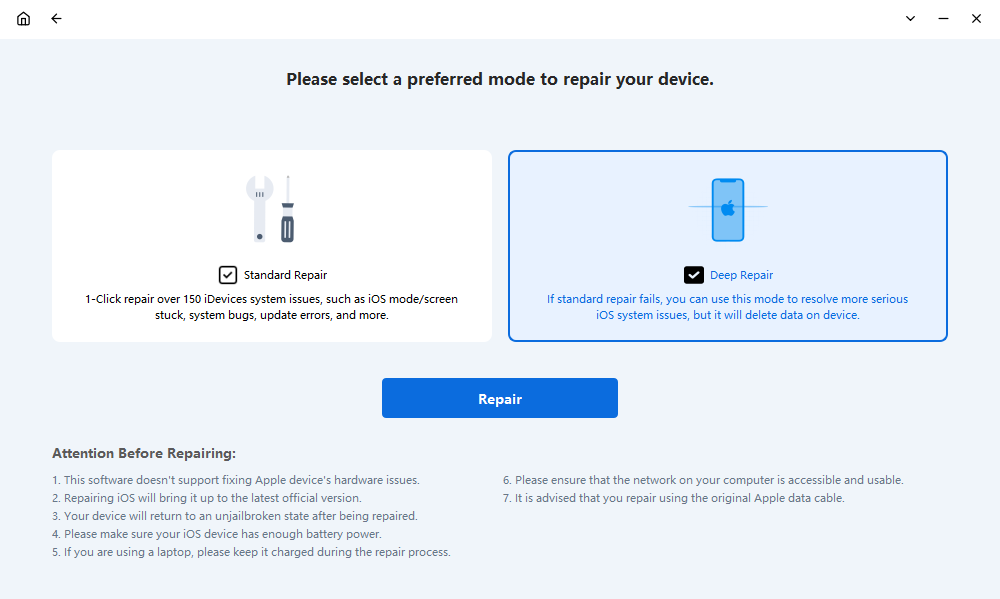 Standard Repair: Use this mode for most common iOS issues like being stuck in recovery mode, black screen, frozen screen, and more. This mode will not result in data loss.
Deep Repair: Choose this mode as a last resort if the standard mode doesn't work, or if your device has a severe issue. Be aware that using Deep Repair may erase your data, so it's crucial to have a backup if you opt for this mode.
Step 5: After selecting the repair mode, click on the "Repair" button to initiate the repair process. FixMate will promote you to download the appropriate firmware version on your PC.
Step 6: When the firmware package download is finished, FixMate will begin fixing issues on your iOS device.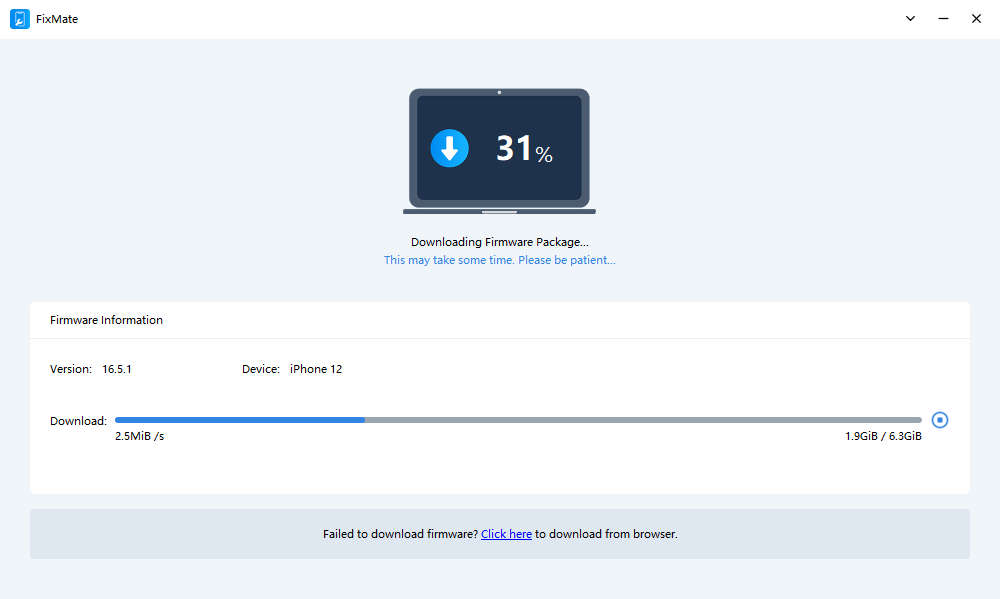 Step 7: When the repair process is complete, FixMate will instruct your device to restart. After the reboot, check to see if the issue has been resolved. Your device should now be functioning correctly.
4. How Much Does AimerLab FixMate Cost?
FixMate offers both free and pro versions for its users, here are the details:
Free Trial: FixMate offers a free trial version with limited functionality. You can use it to enter and exit recovery mode for free.
FixMate Pro: If you require deeper repair options and advanced features, you need to upgrade your version to Pro. It's suitable for fixing 150+ common and serious iOS issues.
If you prepare to upgrade, you can directly purchase a plan from FixMate's official site. Besides, you can also get extra fixmate 25% off on apphut.io.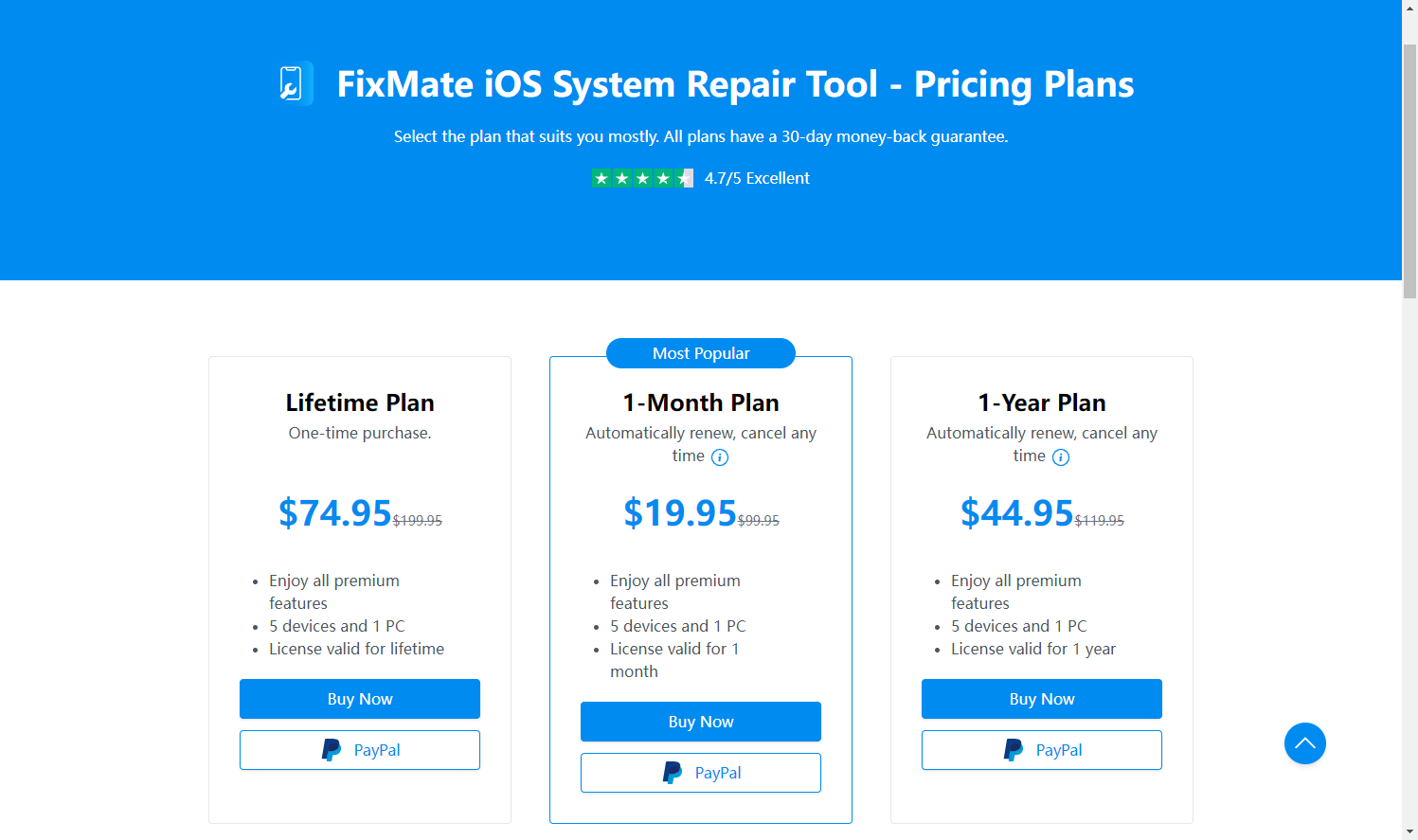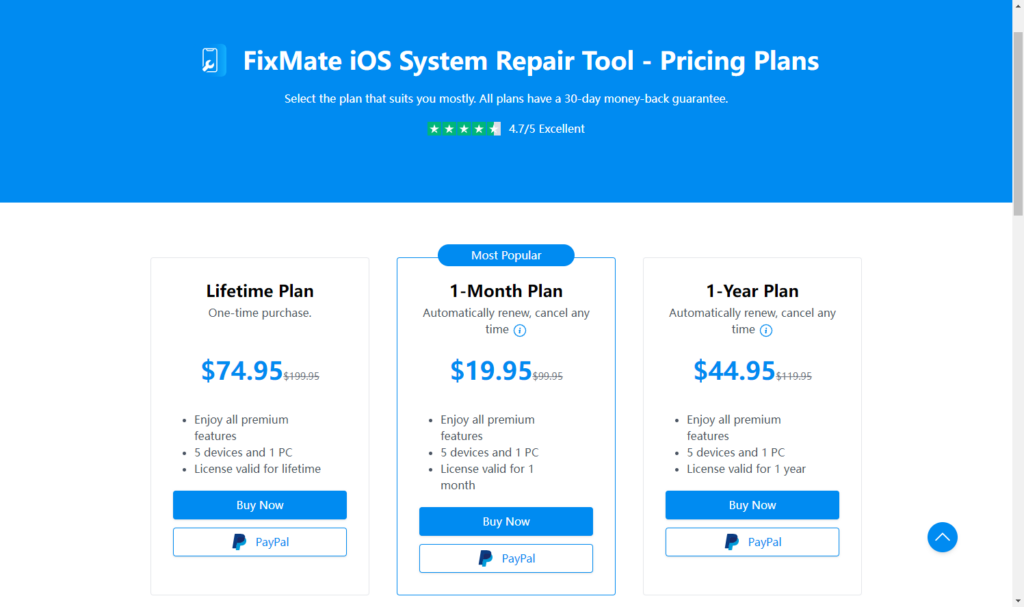 5. FAQs about AimerLab FixMate
1) Is FixMate safe to use?
Yes, FixMate is a safe and reputable software developed by AimerLab. It is widely used by individuals and professionals to fix iOS problems.
2) Does FixMate work on the latest iOS versions?
Yes, AimerLab regularly updates FixMate to ensure compatibility with the latest iOS versions and devices.
3) Will using FixMate erase my data?
In most cases, using FixMate's Standard Repair Mode will not erase your data. However, if you need to use Deep Repair, it may result in data loss, so always back up your device before using it.
4) How long does the repair process take with FixMate?
The repair time varies depending on the specific issue and the mode you choose. In many cases, FixMate can resolve problems within a few minutes.
6. Verdict
In conclusion, AimerLab FixMate is a reliable and user-friendly iOS system repair tool that can effectively tackle a wide range of common issues. It offers a free trial for diagnosis, affordable pricing options for various needs, and the assurance of data preservation in most cases. It's a valuable tool to have in your arsenal for troubleshooting and fixing iPhone and iPad system issues without the need for expert technical skills. With regular updates and a strong track record, FixMate has earned its reputation as a go-to solution for iOS repair. Give it a try and experience the convenience of resolving iOS issues with ease.