With the Android 12 undergoing plenty of work behind the scenes, the possibility of confronting a multitude of bugs has become inevitable. As of now, the devices that have access to the Android 12 ecosystem are strictly restricted to the Google Pixel lineup besides select models from OEM's.
Pixel 3 onwards have the green light to access the Android 12. While the offer does seem tempting there are several caveats involved in installing the OS update. It would be wiser to acquaint yourself with some of the more common Android 12 issues getting reported and if Google has fixed or marked a work in progress.
Google Pixel 4 Android 12 Issues
With regards to the Google Pixel 4 issues, the flow of opinion is more or less quantified. After the final Beta 5 update which promised to handle only app compatibility, there still seems to be a profusion of problems regarding the user experience. A post on Reddit manages to capture a decent chunk of what was going on.
Lack of interactive UI besides a few minor issues of notifications not being featured on the AOD or long unlock times seem to be some of the commonly featured complaints.
For some Face Unlock has entirely ceased to function and many of the usual solutions of soft-rebooting and re-installation has refused to work. Although, one of the users who posted their complaint in the Pixel forum managed to resolve the issue by booting into safe mode.
In the face of so many waves of Android 12 issues, it might seem the inclusion of their nifty little animations have been forced to side-step as mere party tricks. At the end of the day, functionality is all that truly matters.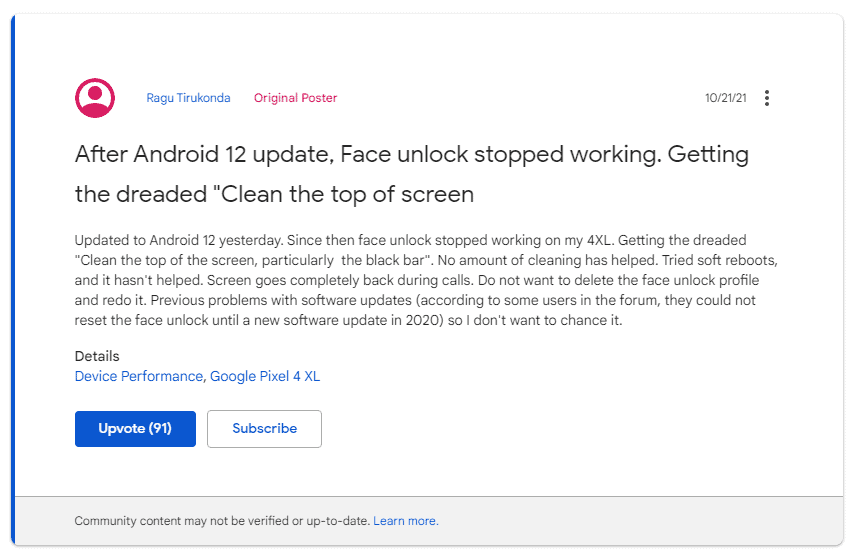 Third-party apps have often witnessed incompatibility of frequent crashes throughout their use. In heavy-duty apps such as games or VR simulators freezing and crashing has become all too common. As a result, Safe Mode seems to be the go-to for many users.
Lack of Proper Problem Solving in Beta 4/4.1/5
Both Beta 4 and 5 moved onto the final stages of development for third party app stability. Yet, user opinions and reviews show many loopholes left unchecked when running through the basic UI of the device.
Post the Beta 4.1 update, users claim that volume controls for device casting were clunky at best. Further reviews and claims on forums suggest that the issue is yet to be resolved. Beta 5 has problems with UI and Google's proprietary apps. The glance-on option failed to show any actual notifications while attempts to remedy it from the Settings menu failed to work. The broken search bar was addressed and the Device Controls feature was reinstated.
Commonly noticed issues after Android 12 Release (and Fixes)
Security vulnerabilities were the most common kind of problems faced after Android 12's release. Google released a statement covering over 162 of such issues. The distribution of the security fixes is as given below.
Android TV – 2
Android runtime – 4
Android Framework – 70
Library – 2
Media Framework – 21
System – 63
If you'd like to read more into the matter do visit their Security Release Notes here. As part of the AOSP Android 12 release, the vulnerabilities were promptly quietened down.
The clunky At a Glance feature has been resolved as well. the Weather widget along with the updated notifications. At this point (late October) Google finally rolled out a "stable" Android 12 update. Shortly after though, many Pixel users began complaining about Play Store apps freezing or crashing. Screenshots can no longer be toggled to activate the scrolling screenshot feature. For some, the screenshot can only be activated by using the shortcut method with the physical buttons. Touch recognition issues with the upper half of the screen were also noticed.
Besides the Security details on Android TV, chrome-casting has run into the problem of being unable to control the amount of volume that was required. According to a Twitter thread the problem persisted throughout the Beta release as well.
List of Updates and Solutions to patch the bugs
Android 12 planned roll-out for November 2021 featured a number of Pixel devices with their corresponding installation packages.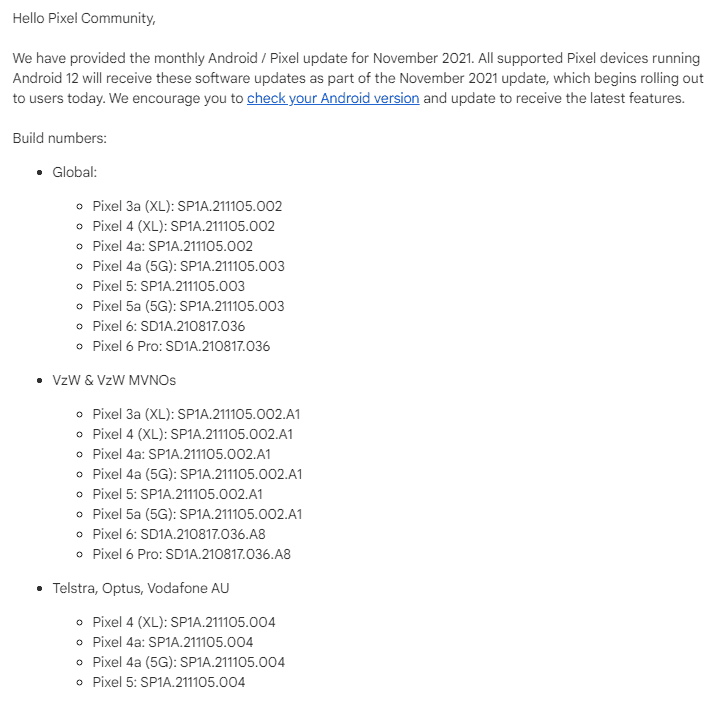 Abnormal battery drain was also being looked into after a number of users posted their comments on Pixel Phone Help at Google Support. Bluetooth and Audio/Casting to other devices are also set to receive updates that'll resolve any problems of lag or latency in delivery.
Fixes for the status bar are also expected to be given. Moreover, being the earlier problem of pulling down the status bar leaves a permanent shade on the screen. The latter issue seems to be resolved though. Google Pixel 4 issues were discussed over the disabled FingerPrint scanner. A solution was given in a Reddit forum.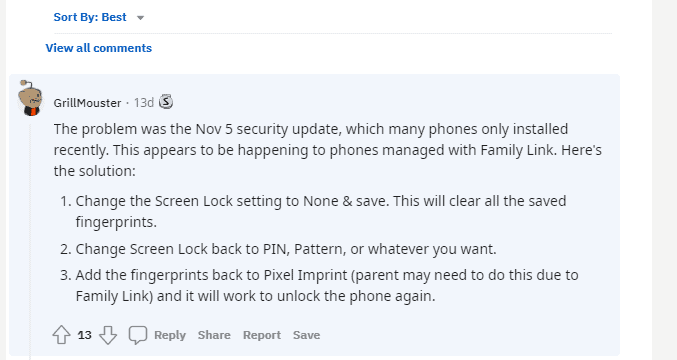 Android 12 users having automatic wallpapers in the background can result in the crash of a game. The Amazon store bug that does not display any downloaded apps on Android 12 devices has been acknowledged as well. The app now displays a message when opened highlighting the said problem.
Some of the bug reports are still coming in while solutions are being developed for others. While it seems like a bunch of resolved updates may feature only in the next Android 12L update, it remains to be seen what Google will have to actually offer in terms of a smooth and stable Android experience.
That's pretty much all there is on the Android 12 front. What do you think about the expected updates? Is it a yeah or nay? Do let us know in the comments below. For more similar content visit us at our website.