The long-awaited sequel to the very successful Forza Horizon 4 is finally a few days away from its debut. Forza Horizon 5 trailer was uploaded on YouTube a few months ago which caused a flurry of excitement. Forza Horizon is the open-world counterpart to the legendary Forza Motorsport franchise. There is no doubt that it will again raise the bar for the best arcade racing games on Xbox and PC for years to come.
The game isn't even out yet and is in the race for the game of 2021. It is a testament to how good the game is speculated to be and how the folks at Playground Games have just hit it out of the park again.
In this article, we will tell you everything you need to know about Forza Horizon 5 from its leaks, and launch date to how to pre-order it, and its download size.
Forza Horizon 5 Release Date
Forza Horizon 5 release date has been confirmed for Friday, 5th November 2021. This is for preordering Forza Horizon 5 Premium Edition or the Premium Add-Ons Bundle.
For Xbox Series X, Xbox Series S, Xbox One, PC, Xbox Game Pass, and Xbox Cloud Gaming, the title will launch 4 days later on Tuesday, Nov. 9, 2021.
Xbox Game Studios title, Forza Horizon 5 will be the latest one to find a launch on Xbox Series X/S, Xbox One and PC. Mobile players can download and get started from Xbox Cloud Gaming from day one.
Not very far away!
Will Forza Horizon 5 be released on PS5/PS4?
Titles published on XBOX usually do not find their way to Playstation. They follow the rule of gameplay on PC and Xbox platforms only. Neither Playground has announced any plans to bring out Forza Horizon 5 for either PS5 or PS4.
However, Bethesda's signing an exclusivity deal with Microsoft has launched Deathloop on Sony. It has given some hope to PS players of Forza Horizon 5 falling into the exception rule.
Forza Horizon 5 Launch Time in The UK And Beyond
The release date for Forza Horizon 5 was decided for Tuesday, November 9, 2021. Its launch time across the United Kingdom and beyond is 12:00 AM, as per the local time zones. Hence, in this region, you can play it from 12:01 AM (BST) on November 9, 2021.
To discover exactly when the Forza Horizon 5 launches on Steam in your area, you must convert at 12:01 AM ET to your local timing zone. Forza Horizon 5's Steam release will be available in the United Kingdom starting at 5:00 AM GMT on November 9, 2021.
Forza Horizon 5 Beta Demo Release Date
Forza Horizon 5 won't have an official beta or demo. However, there were chances for playing the entire gameplay a few days ahead of the launch.
Forza Horizon 5 Steam Unlock Time
The Forza Horizon 5's Steam version is just a variant of the gameplay having a scheduled launch time in a single location compared to a midnight premiere in every location. It's scheduled to go live at 12:01 AM North American Eastern Time.
How to Pre-order Forza Horizon 5?
Forza Horizon 5 pre-order can be done on the official Microsoft Store for INR 3999 for the standard edition going up to INR 6599 for the Premium edition, yikes.
The standard edition comes out as the value-for-money package. However, if you are a hardcore gamer, maybe you can justify the purchase and treat yourself to the Premium edition.
Xbox Game Pass subscribers will be able to play Forza Horizon 5 Standard Edition on its release date 9th November 2021. The Xbox Game Pass version will have the base game playable on Windows PC, Xbox One, and Xbox Series X. It does not come with any extra bonuses. If you are planning to play the game but are not a subscriber to Xbox Game Pass, it is available for $1 for the first month.
Forza Horizon 5 Deluxe Edition subscribers will be entitled to the base game plus the Forza Horizon 5 Car Pass. An additional 42 cars get added to the inventory of the game. The Car Pass benefits with 8 more cars to your garage with a new car getting added to the list spread across 34 weeks.
The Forza Horizon 5 Premium Edition users will add numerous add-ons to their kitty. The Premium Edition includes the following:
Early access to Forza Horizon 5
The Welcome Pack
The Car Pass
Two expansions
A VIP membership
Premium edition subscribers find cars raining everywhere. Car Pass adds 42 additional cars spread across many weeks. The Welcome Pack adds 5 special pre-tuned cars to the garage, a unique house, accessories for driver, plus the choice to add a car from the game's collection. Apart from these, there is an expansion pass. It will facilitate new locations, more vehicles, and a gaming experience to the base game.
Forza Horizon 5 Trailer
Forza Horizon 5 GamePlay Demo
Get the taste of what the game has in store for you in 8 minutes 48-sec long trailer.
Presenting the first eight minutes of Forza Horizon 5, exploring our expansive version of Mexico. Featuring Forza Horizon 5's cover cars, the Mercedes-AMG ONE and the 2021 Ford Bronco Badlands, and landscapes such as the active, snow-capped Gran Caldera volcano, a dust storm in the Mexican farmland, and dense jungle tree canopy.
Forza Horizon 5 System Requirements
I bet you all must be excited to try on this new masterpiece of a game. But wait, go through the official system requirements released by the developers themselves to make sure you can run it. Do keep in mind that you need at least 110GB of free space on your PC to run it. The minimum and recommended system requirements are as follows:
Operating system– 64-bit Windows 10 15063.0 version or above
Processor– Intel i7-3820 @ 3.6 GHz
DirectX– Version twelve
Graphics– AMD RX 470 or AMD R9 290x or NVidia GTX 1060 3GB or NVidia GTX 970
Memory– Minimum 8 GB RAM and recommended 12 GB RAM
Storage– Minimum 80 GB and recommended 100GB available space
Network requirement– Broadband internet connection
What is The Forza Horizon 5 File Size?
The file size of the downloadable Forza Horizon 5 is approximately 100 GB. Besides, the gameplay has frequent new content and updates.
What New to Expect From Forza Horizon 5?
Forza Horizon 5 Location
See ya UK, Hola Mexico!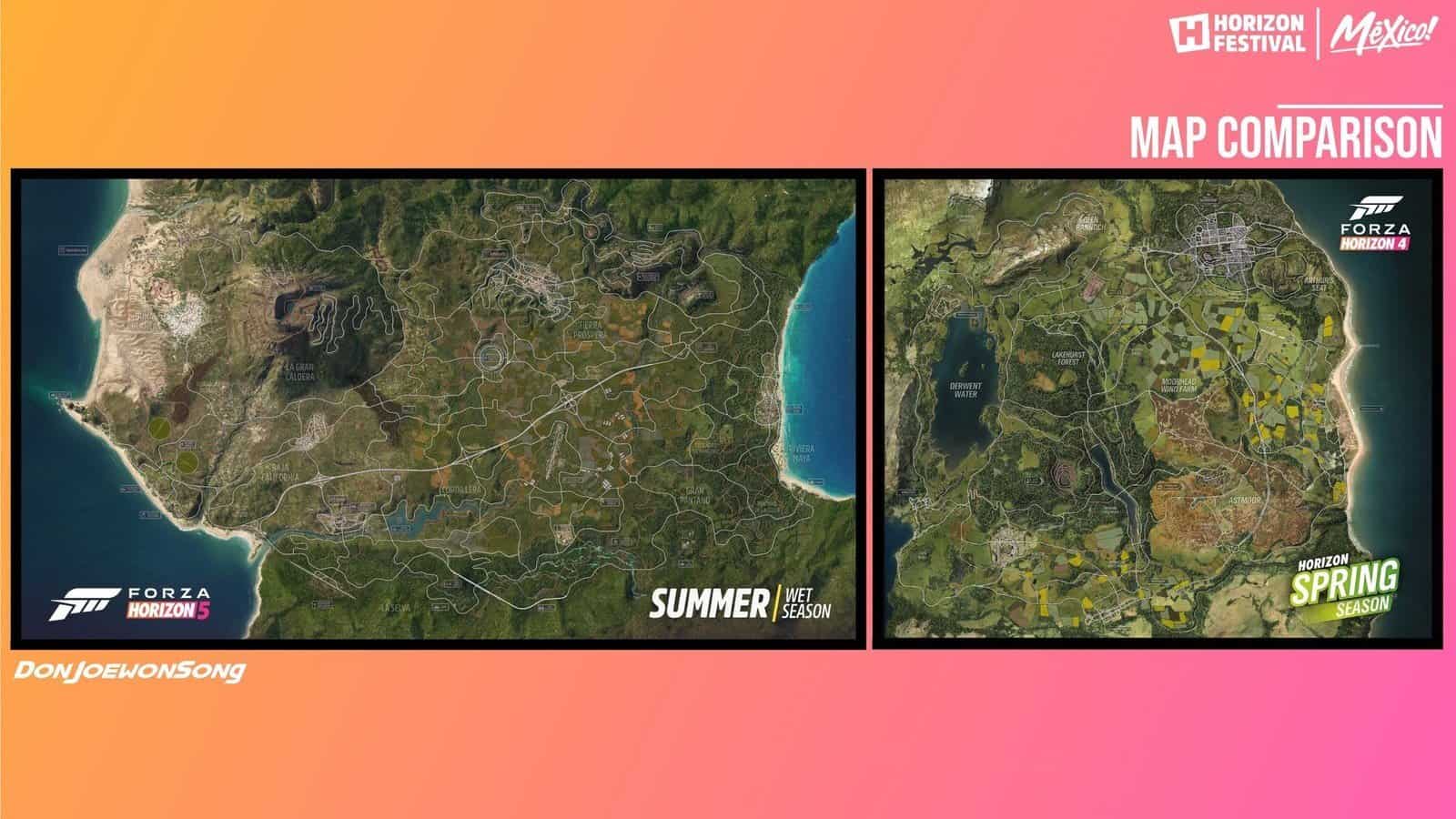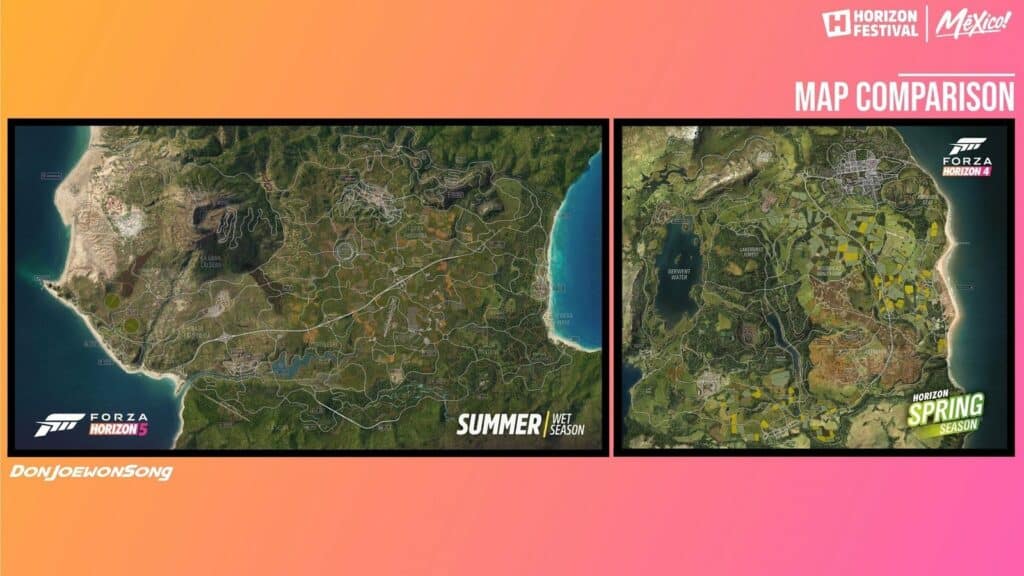 Yes, the Forza Horizon 5 map is in Mexico. It got leaked in May and turned out to be real! Forza Horizon festival has said bye to the UK and has made its way to Mexico. The new map is almost 50% larger than the map from the UK. And those who have played Forza Horizon 4 know that the UK wasn't a small map, to begin with.
The new map will have 11 unique biomes. To name a few, like the Mexican city of Guanajuato with beautiful architecture, deserts with huge sand dunes, coasts with beautiful beaches, and a lot more. One of the main reasons that Mexico has been chosen is because of the ecological diversity found in the country. Have a look for yourself just how huge the map is.
Forza Horizon 5 Car List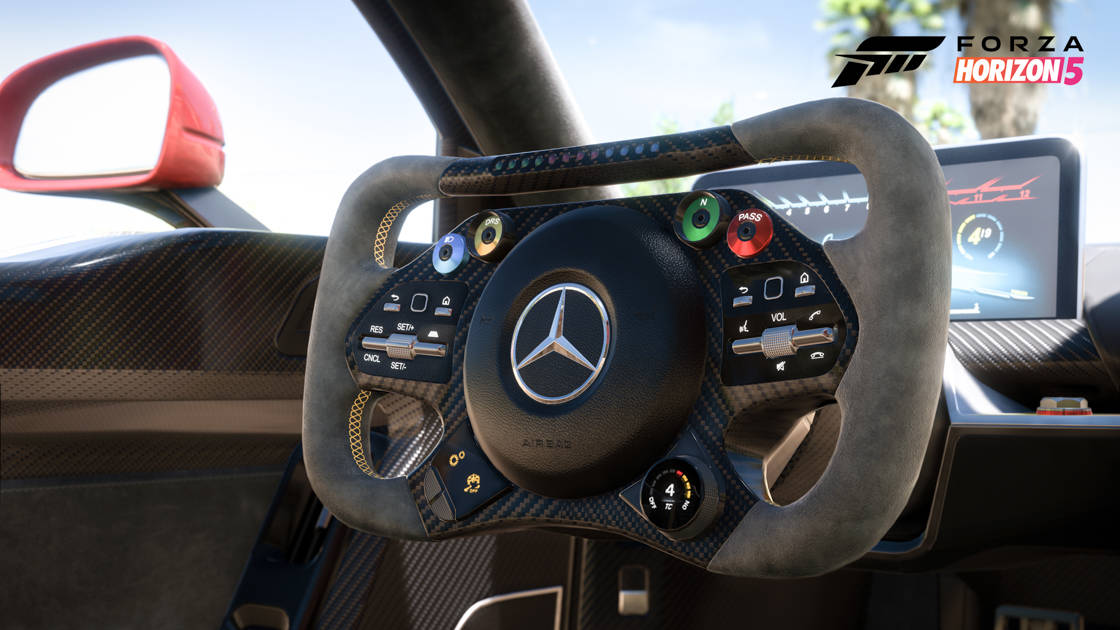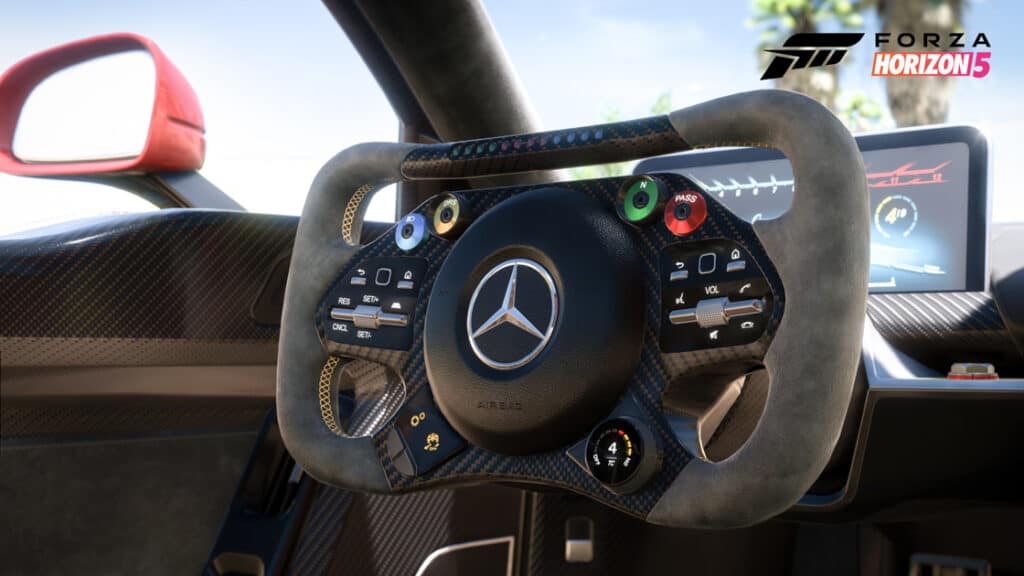 The one thing that the Forza Horizon series is known for the most is the wide collection of cars available in the game. Forza Horizon 4 launched with 450+ cars and this number has grown to over 750!
As of now, Playground Games have confirmed 460+ cars in the official Forza Horizon 5 Cars released by the developers, which is growing almost every day. The developers have also hinted that Forza Horizon 5 will have new in-depth customization for cars. The pre-orders will also receive new Forza edition cars, which will be slightly upgraded versions of the existing cars in the game.
Improved Weather Engine
One of the biggest let-downs of Forza Horizon 4 was how its weather worked. The game server would pick the weather every week and the players had no choice in it. However, things will be different now. Now, each part of the map has its unique weather.
Different areas will have different weather means when you drive from one end of the map to the other, you will experience blizzards in the mountains, heavy rain in the tropical region, sandstorms in the desert, heavy fog in the forest and a lot more as you make your way through the different terrains.
Enhanced Physics Engine
Forza Horizon 4 has one of the most advanced physics engines of its time. And just when we thought our expectations couldn't be topped as they already set the bar too high, Playground games just did that.
Improved Audio & Visuals
Playground Games has deployed NVidia's ray tracing technology, which means audio and as well as graphics will improve drastically. The ray-tracing AI will calculate how the car's engine sound would bounce off from different surfaces, like buildings, trees, other cars, etc. Light bounce off from different objects in real life will also be factored in. Hence, an overall improvement in graphics and audio, therefore producing a more immersive experience.
Better Driving Experience
The developers have confirmed that the new version of cars will have the best-built brakes and suspension physics from scratch. The inspiration has been drawn from Forza Motorsport 7, Forza Horizon's more realistic counterpart to give the user a more realistic feel of the car.
More Interactive Environment
One of the biggest complaints of the Forza Horizon 4 players was majorly cars shared the same engine sound and one couldn't take the roof off convertible cars. Playground Games has addressed the issue by now allowing roofs of convertibles to be taken off and giving each car its unique engine note in Forza Horizon 5.
They also made up to the fans by adding a new sound dynamic which changes how the car will sound depending on the upgrades you make to it and giving certain cars different driving modes like sport, race, etc.
New Expeditions
The devs promise new characters in the gameplay that will decide the result of Horizon Story missions. Players will take on expeditions across the map, battling the elements in hundreds of the world's greatest cars.
More Festivals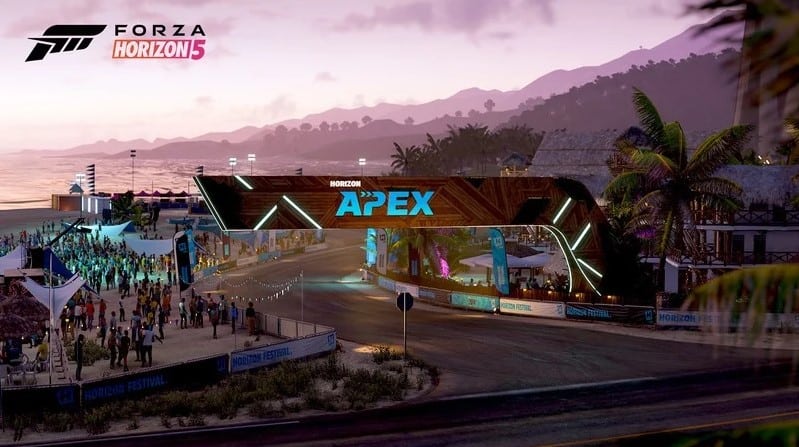 Forza Horizon 5 will have 6 festivals compared to one of Forza Horizon 4. Each festival will have its unique theme and races. All players will start at the Horizon Mexico festival. After that, they can pick the direction they advance in from a variety of other festivals that will cover street racing in high-performance cars to cross-country races in rally cars.
More Freedom For Players
The ultimate goal in the game is to reach the Hall of Fame. However, Playground Games said they want to give freedom to players so they can choose how to progress. One will be able to get more in-game events instead of being forced to missions just for the sake of leveling up.
And you must be thinking that this game couldn't get any crazier, but hold your horses. Animals in Forza Horizon 5 react to their surroundings! This means if you are going through roads with your roaring supercar, all the wildlife will run away from you. However, if you're driving through the beautiful canyons of Mexico in your quiet electric car, you will notice the animals won't go away. And if you stop for a while, they just may approach your car to examine it.
By introducing these new and welcomed by all changes, Playground games has struck the perfect balance of arcade and realistic with Forza Horizon 5.
Everything that you do in the game, which includes playing online to doing races, buying cars, etc. will give you accolades which you can further spend to unlock more chapters and bonus content.
Forza Horizon 5 Screenshots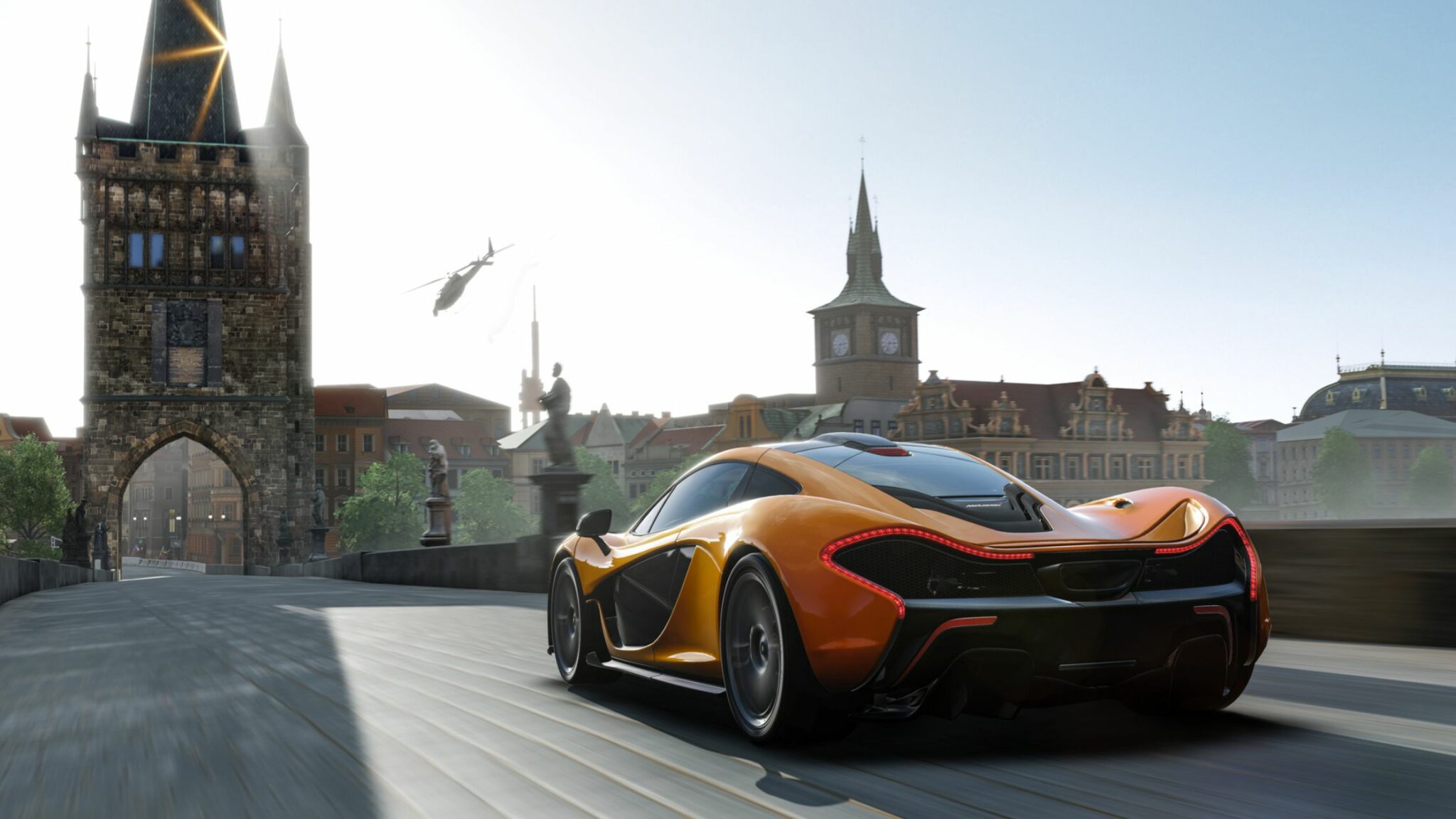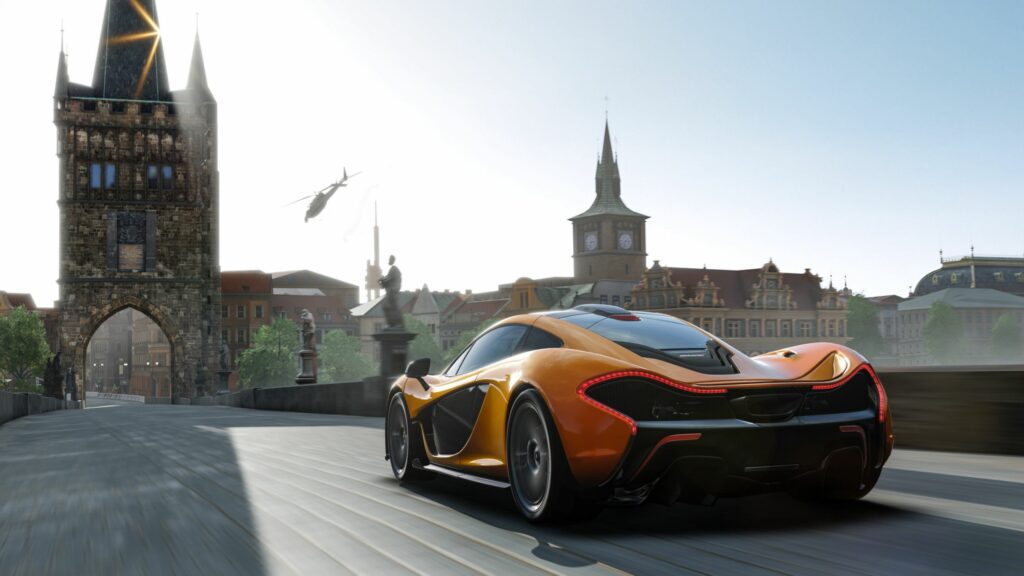 Forza Horizon 5 SoundTrack
Although no official customized soundtrack or music choice is available in Forza Horizon 5, Microsoft has released a useful Spotify playlist with 22 tracks from the soundtracks, which you may check here:
Afrika– CLUBZ
All I Want– LUXXURY, Kid Moxie
All Of The Time– Jungle
Cool Up– De Lux
El Punto Final– Centavrvs
Everything At Your Feet (feat. The Chamanas)- The Chamanas, ODESZA
Full Heart Fancy– Lucky Chops
Heat Waves: Shakur Ahmad Remix- Shakur Ahmad, Glass Animals
Hello Hello Hello– Remi Wolf
Levitating– Dua Lipa
Look at the Sky– Porter Robinson
Midnight Sun– Ukiyo, OTR
New Heartbreak– sad alex
Ohh My Ghosts– Young and Sick
Preach– Saint Motel
Quema– Sotomayor
Straight To The Morning– Jarvis Cocker, Hot Chip
Sueltame, Bogota– Diamante Electrico
Sunshine (with The Knocks)– The Knocks, Whethan
The Valley of the Pagans– Beck, Gorillaz
Weekends– Local Natives, Classixx
Where We Started– PRXZM