Each Fall season of a year, Apple follows a tradition of releasing new software updates for its flagship products. This year, the spotlight was on iOS 17 and iPadOS 17 for iPhones and iPads, alongside tvOS 17 for Apple TV, and watchOS 10 for Apple Watch.
However, there's a hitch. Some Apple Watch users, regardless of their specific model, have reported a significant Apple Watch battery drain after installing the watchOS 10 update.
Despite the promising update, which brings a fresh visual design to nearly all apps and introduces improved capabilities for cycling workouts, hiking, and navigation, it appears that this recent WatchOS 10 software upgrade has inadvertently introduced some glitches, causing this undesirable Apple Watch battery drain.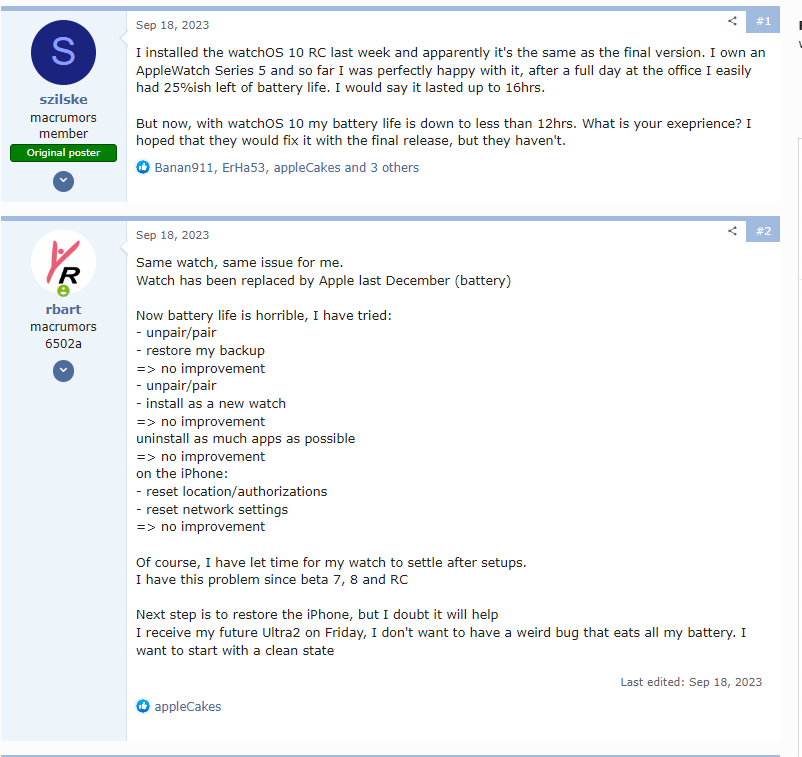 The big question: Is Apple Watch battery drain a genuine issue with the update? Let's delve into this concern and see if we can shed some light on the matter.
How much should be the standard Battery Life from Apple Watch?
Apple maintains that the Apple Watch can deliver a maximum of 18 hours of battery life, a consistent standard across all Apple Watch Series, spanning from the earliest releases to the current models.
The most recent models adhere to this all-day battery life expectation of 18 hours. This estimate is based on a typical usage scenario involving:
90-time checks
90 notifications
45 minutes of app usage
60 minutes of music playback via Bluetooth from the Apple Watch
These activities are distributed over the 18-hour period. Under normal circumstances, users can engage in various interactions with their Apple Watch and still achieve the advertised 18 hours of usage. However, considering less efficient settings, power-hungry apps, and additional features, daily battery life results can vary widely.
It's worth noting that substantial battery drain caused by hardware malfunctions is exceedingly uncommon. In almost 99% of cases, issues pertaining to battery life stem from software-related problems.
What is the Apple Watch battery drain issue?
The much-anticipated watchOS 10 update was unveiled at the Worldwide Developers Conference (WWDC 2023), sparking excitement among Apple Watch enthusiasts. This update stands as a significant software overhaul, introducing a range of new and improved features. Notable enhancements include the Smart Stack, an endearing Snoopy watch face, advanced tools for hiking, and an emphasis on mental health monitoring. Naturally, users were keen to promptly update their Apple Watches to leverage these exciting updates.
However, in line with the common experience during major updates, some early adopters encountered unexpected battery issues with their Apple Watches after transitioning to watchOS 10. Various platforms, including MacRumors, Reddit, and Apple discussion groups, were abuzz with users sharing similar concerns regarding unusual battery behavior post-update.
Apple Watch users are expressing grave concerns about their device's battery life post the watchOS 10 update. The complaints range from the watch not lasting a full day with minimal usage to experiencing a significant battery drain overnight even when the watch is not actively in use.
Some users have reported an astonishing 84 percent drop in battery charge within just four hours, even when the watch is on their wrist and being used for basic tasks like controlling music playback or viewing notifications. This rapid battery depletion has left users feeling uneasy, often requiring them to charge their watches up to five times a day.
Interestingly, users recall that prior to the update, the battery level rarely dipped below 30 or 40 percent, underscoring the impact of the software update on battery performance.
Attempts to address the problem, such as clearing app caches, power cycling the device, and frequent recharging, have proven futile, leading to growing frustration among users. Many have taken to social media, directly reaching out to Apple and urging them to halt updates that severely affect battery life.
Comparisons with previous models highlight the extent of the issue. Apple Watch Ultra owners, who once enjoyed a remarkable three days of usage on a single charge, now find their battery life significantly diminished after the WatchOS 10 update. Series 4 owners report their battery charge dropping to 10 percent by dinner time, showcasing a noticeable decline in battery performance.
Some have reported battery drain issues due to weather complications. It was frying not only the watch but also the phone.
To caution fellow users, those who have already updated are advising against doing so until a bug fix is released. While some users note a partial improvement with the latest WatchOS 10.0.1 update, they maintain that the performance is still not on par with pre-WatchOS 10 levels. Furthermore, there are reports from users stating that the v10.0.1 patch did not bring the expected enhancement in battery life.
While users expressed their worries, Apple has not issued an official response regarding the reported battery problems. It's essential to acknowledge that multiple factors can influence a device's battery life, and not all of them may be directly tied to the software update.
What is the reason behind the abnormal Apple Watch Battery Drain?
The possible reason could be a prevalent bug concerning systemwide location services for apps and complications that rely on location data. This issue leads to a feedback loop, ultimately draining the battery for users who are affected by it.
Tips to fix Apple Watch Battery Drain after watchOS 10 update
But all problems come with solutions. While Apple hasn't addressed the sudden battery drain issue yet, some users have come up with a few solutions. We can't claim that they work 100% or will work for all. But if you are experiencing battery drainage issues, there's no harm in trying them out. Just know that these solutions are personalized so don't worry too much if they don't work. Before you start, check the condition of the battery. Head straight to Settings > Battery > Battery Health on iWatch.
Workaround #1 – Force restart
To do it, force restart iPhone by opting for a method your version calls for.  Once the Apple logo appears on iPhone, force restart the iWatch by holding in the crown and side button for 10 seconds till the Apple logo comes up. Release the button. Log into iPhone and wait for the iWatch to boot, then log into it. Do this a couple of times about an hour apart and it has found to work.
Workaround #2 – Unpair/repair shut down/ restart
In other words, unpair the watch first and re-pair it again. Leave the watch on charging to 100% battery. Shut down both iPhone and iWatch. The battery gets back to normal on restarting both devices as close to the same time as possible. The battery drain rate has renormalized with only 18% drain reported after 12 hours of idle time.
Workaround #3 – Reset Apple Watch
For some the option of resetting their iWatch worked. Though it is tedious but it has been found to work in software updates of phones or wearables. It is always advisable to back up before opting for this.
Head straight to Settings -> General -> Reset -> Erase all Content and Settings. After the watch is reset, pair it again and restore the backup. The iWatch battery life was back to normal.
Workaround #4 – Disable map or weather complications

As a temporary measure, it's advisable to disable map or weather complications that are actively using location data until Apple addresses and fixes this issue.
Workaround #5 – Delete all widgets

After conducting a test, it appears that removing all widgets from my Apple Watch has resolved the issue. The battery life was back to its normal performance.
Workaround #6 – Delete all installed apps
Few users have been successful in reversing the battery drain issue. Ensure that the screen is off most of the time of usage. For this remove all the installed apps on the iWatch, turn off all notifications, and turn on theater mode. Also disable a bunch of background apps not in use, and uninstall apps that are not practically used. It was found that the battery had stabilized and back to normal. Maybe some Apple service or app was causing the issue that had a fix applied in the past update.
Workaround #6 – Turn off the environmental sound
This is the new and latest one discovered by a user after several hits and trials. Turn off the environmental sound measurements functionality in Privacy. It looks like the functionality is constantly running in the background taking too much power resulting in battery drain at a constant pace. Till the time, Apple fixes the bug you can give this a try.
Apple hasn't officially addressed this issue, so there's no point in calling Apple Customer support. Till the company resolves this issue via upcoming updates, you can try the aforementioned solutions.
It's important to highlight that beta software versions are often associated with draining the device's battery at a faster rate. However, before you decide to give up on your Apple Watch due to battery issues, it's crucial to understand that even the initial public release of watchOS 10 can occasionally lead to temporary disruptions, despite being technically stable.
This means that even if you're not using a beta version and you're experiencing battery problems, it could be a short-term issue that stabilizes within a few days. In the event the problem persists, Apple is highly likely to release an updated version, such as watchOS 10.0.2, which should effectively address and resolve the battery drain issue.