Apple watchOS saw a total revamp after the new watchOS 7 update. It enhanced a lot of features and fixed a lot of bugs. It also improved the overall experience of using the Apple iWatch. But after the latest Apple watchOS 7.5 updates, several owners have taken to different forums to report a spurt in faster battery drain. Seems like the new watchOS update has taken a strong hit on the watch's average battery life.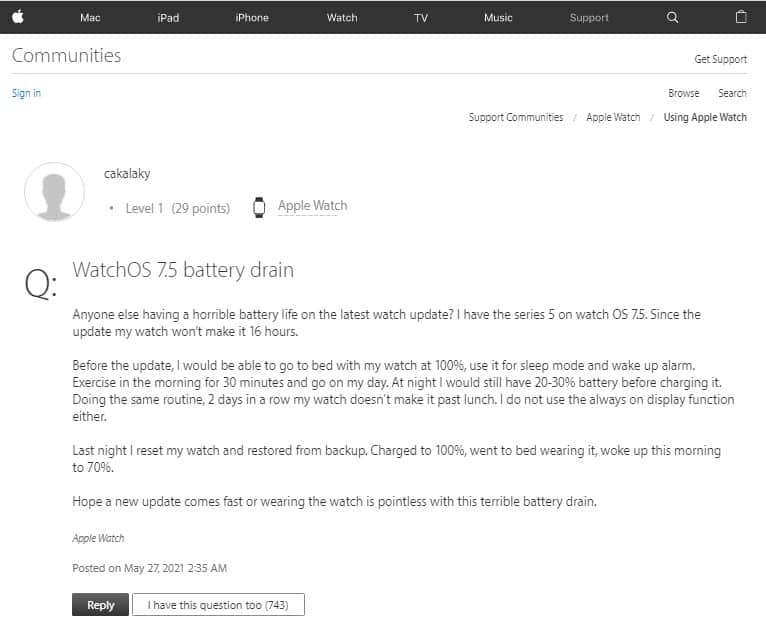 Apple released watchOS 7.5 on the 24th of May, claiming it to be an improvement over the watchOS 7.4 update. But it seems their latest update isn't without bugs too.
Users criticized that earlier their battery used to last for 24 hours or more. But after the latest watchOS update, the battery time on their iWatch has declined to 12-14 hours only. It's a cause for major concern. This happened even though their watch usage remained the same.
A major reason behind this could be that since the power consumption has gone up, it's affecting the battery time. The issue isn't restricted to one particular Apple Watch model. From Apple Watch series 3 to series 6, every model with the watchOS 7.5 update has had an impact.
But iWatch battery drain issues aren't new. Surprisingly Apple updates have always brought along abnormal battery complaints with it. It happened with the watchOS 7.4 and the 7.4.1 updates too. Users have always complained of diminishing battery time after installing the latest OS updates.
With the rollout of the latest watchOS 7.6.2, the issue of battery drain continues to persist. In fact, users who did not have any issues earlier started experiencing in the latest patch.
This stands true for almost all Apple devices. But this time it's surprising since Apple promoted the latest watchOS update as the most optimized watch OS ever. Apple even went ahead and promised that it had fixed all the previous bugs too. Therefore for users to again have battery drainage issues is highly irresponsible on part of Apple.
Potential solutions to watchOS 7.5 Battery Drain
But all problems come with solutions. While Apple hasn't addressed the sudden battery drain issue yet, some users have come up with a few solutions. We can't claim that they work 100% or will work for all. But if you are experiencing battery drainage issues, there's no harm in trying them out. Just know that these solutions are personalized so don't worry too much if they don't work. Before you start, check the condition of the battery. Head straight to Settings > Battery > Battery Health on iWatch.
Workaround #1
Another user wrote that he fixed the issue by force restarting his device. First, he forced restarted his iPhone. As soon as the Apple logo appeared, he force restarted his iWatch. Then he logged into his iPhone till his watch was rebooting. Afterward, he logged into his Apple Watch, and the battery drainage issue was resolved.
Workaround #2
Another workaround is unpair/repair shut down/ restart. In other words, unpair the watch first and re-pair it again. Leave the watch on charging to 100% battery. Shut down both iPhone and iWatch. The battery was back to normal on restarting both the devices as close to the same time as possible. The battery drain rate has renormalized with only 18% drain reported after 12 hours of idle time.
Workaround #3
For some the option of resetting their iWatch worked. Though it is tedious but it has found to work in software updates of phones or wearables. It is always advisable to backup before opting for this.
Head straight to Settings -> General -> Reset -> Erase all Content and Settings. After the watch is reset, pair it again and restore the backup. The iWatch battery life was back to normal.
Workaround #4
This option has worked for many. After any IOS or OS update, it is advisable to force restart both iPhone and iWatch.
To do it, force restart iPhone by opting for a method your version calls for. Once the Apple logo appears on iPhone, force restart the iWatch by holding in the crown and side button for 10 seconds till the Apple logo comes up. Release the button. Log into iPhone and wait for the iWatch to boot, then log into it. Do this a couple of times about an hour apart and it has found to work.
Workaround #5
Few users have been successful in reversing the battery drain issue. Ensure that the screen was off most of the time of usage. For this remove all the installed apps on the iWatch, turn off all notifications, and turn on theater mode. Also disable a bunch of background apps not in use, and uninstall apps that are not practically used. It was found that the battery had stabilized and back to normal. Maybe some Apple service or app was causing the issue that had a fix applied in the past update.
Workaround #6
This is the new and latest one discovered by a user after several hits and trials. Turn off the environmental sound measurements functionality in Privacy. It looks like the functionality is constantly running in the background taking too much power resulting in battery drain at a constant pace. Till the time, Apple fixes the bug you can give this too a try.
Apple hasn't officially addressed this issue, so there's no point in calling Apple Customer support. Till the company resolves this issue via upcoming updates, you can try the aforementioned solutions.
Maybe the next watchOS 7.6 update will resolve the battery drain issue. The fourth beta watchOS 7.6 release a couple of days ago and promises to resolve much of the bugs in the previous beta version.
We will surely keep a tab on this so keep coming back to remain updated on this. Don't forget to share with the readers the issue and if any solution you found.