The eligible Pixel series started receiving the May 2023 security update on 1st May 2023. Undoubtedly the excitement runs high with the expectations that devs would be fixing the nagging issues. However, any stable software rollout is not defect-proof or a "0" defect delivery. There are some known issues released, however, the stable rollout of May 2023 update has brought some niggling issues that have limited tolerance. According to many Reddit threads as well as reports on the Community forum, many are reporting that they are getting terrible Pixel battery drain and overheating issues. Battery life is noticeably worse on the Pixel 6, 6 Pro, 6a, Pixel 7, and 7 Pro devices with the battery draining like 10% in 20-30 minutes.
After the May 2023 update, the battery has conked off almost from 6-8 hours SOT to 3-4 SOT. Some are reporting a battery drop of 2% at idle per 30 min in the pocket.
User reports suggest that the Pixel battery drain and overheating issues surfaced shortly after the update was released and have persisted since then.
When widespread reports from users indicate consistent issues after an update, it's important for the device manufacturer to investigate and address the problems promptly. It's possible that the reported issues are indeed related to the May 2023 security patch.
Users are finding a horrible battery life even when the phone is idle. The mobile network has also compounded battery drain like crazy. Some are reporting the mobile network as the root cause of the drain in the battery post installing the update.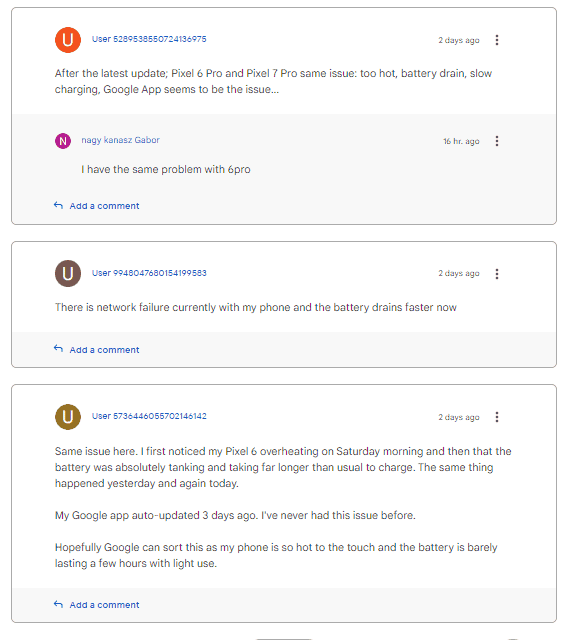 Many users are experiencing battery drain, overheating, and high system resource usage caused by the Google app, as reported on Reddit and other platforms. This information is valuable in understanding the scope and impact of the problem.
When specific apps, such as the Google app, consume excessive system resources and impact battery life, it's crucial for the app developer to address the issue promptly. These types of problems can often be addressed through subsequent updates or bug fixes from the app developer.
Many are of the opinion that the update has reset the battery stats on some devices, causing a lot of batteries to have their levels misread by the OS. Some have discovered that it's losing power while connected to a charger. The Pixel phone has been found to get too hot to be kept in your pocket, especially since it gets unbearable when you go out in the sun. Few have found that their Pixel Stand isn't fully charging their phones overnight which it used to do earlier reliably. The stats of battery charge on Pixel stand is dismal with around 58% battery when going to bed and after 8 hours it charged up to %68% battery only.
Some Pixel owners are experiencing random shutdowns after the most recent OS update. It's happened once the phone battery hits about 45% with the phone shutting off randomly when the battery tanks below 40% or even when the phone is on standby.
If users are experiencing significant issues with battery life and overheating after installing the May 2023 security patch, it may indicate a software-related problem or a bug specific to that update. In such cases, it's generally advisable to hold off on updating until further information or a potential fix is released.
If you are one of those people who are facing the Android 13 update caused battery drain issue, here are a few tried and tested fixes that might work on your phone.
Has Google acknowledged the Pixel Battery drain issue?
Yes, it has. The issue regarding overheating and battery drainage on Android devices has been fixed. The root cause has been identified and it was due to a recent Google app backend change that unintentionally resulted in these issues.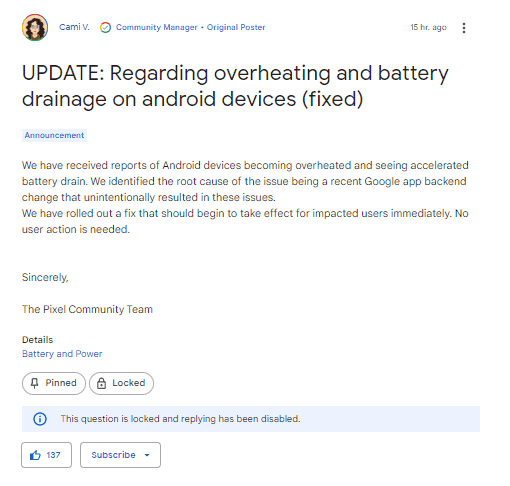 How to fix the Google Pixel Battery Drain issue temporarily?
Also, yes, phones can take a day or so after a major update to settle down. A new OS has a bunch to do initially. And it can help to just use LTE instead of 5G.
If this doesn't resolve itself after a day or so, you can go through your settings and turn stuff off that might have gotten turned on that takes an extra battery. Like "lift to wake", etc. Turning on "data saver" can also help, since using less data in the background can keep apps from running as much. And disable/uninstall apps that you're not using.
Google has responded to the battery drain issue with the following response on the Community Forum page.
Users are reporting that the battery life was exceptional in the 2nd to the last beta of Android 13 and it appears to be a software issue. Till the time Google releases an official confirmation or a software path, let's have a look at some alternate workarounds that might fix the excessive battery drain. Although do note that they reportedly might not work in some cases. I would appreciate it if you could tell me in the comments box which one worked for you.
Here are a few steps by which you can speed up the process for Google to release a fix as early as possible:
Go to Settings -> Tips & support -> Send feedback. "Write in detail about the Battery drain issue after the Android 13 update". Attach video or screenshots to make the devs reach the root cause.
Or
Go to Settings -> Tips & support -> Contact us -> Request a phone call to make the process faster
Disclaimer
Before you apply any of these fixes, don't forget to take a backup of your important data. As this fix is not official, you need to understand that you are taking a risk, and I will not be responsible if you are unable to fix the phone.
Now that we are through with the disclaimer, let us take a look at the first fix.
Tips to improve Pixel series battery life post update
Tip 1: Disable auto update of Apps
By default auto-download of Apps and apps updates is enabled. The feature saps up the battery leading to an unexpected drain. It is advisable to head to the settings and make necessary changes till a permanent solution is rolled out by Google devs.
Disable auto-sync data that is enabled by default and which backs up your app data on the cloud. This process consumes battery and system resources. As a result, you will notice that your phone is heating up and not lasting as long as it should.
To disable auto-sync, go to "Settings" and select "Accounts and Sync" from the menu.
Tip 2: Revisit Background Apps
Apps that behave irregularly can also eat into the battery life of the phone. Regulating these apps can improve battery life. Check Battery Intensive Apps.
Android 13 update has not optimized all the rogue apps constantly working in the background. It is better to revoke permissions for as many apps as you can and see if it fixes it and then add them back 1 by 1 until you find which is to blame.
Head to Settings and open Device Maintenance
Tap Battery > Battery Usage
Screen, Android System, and Device would be at the top. Having third-party apps up there points to an increased consumption of battery life.
Tip 3: Remove Infrequently Used Apps
Apps that exist without much use are another source that whittles away battery life. They remain as background apps that start functioning the moment device gets restarted.
The best you can do is either uninstall them or temporarily disable them in the Settings Menu.
Tip 4: Clear Cache
In many cases, phone manufacturers release an update to fix such issues. At the time of writing this article, Google hasn't released any such update. However, it would be helpful if you check for an update before trying any serious fixes. You might also want to try clearing the cached data for the PlayStore. To do so, long tap on the PlayStore icon, select the App Info option and select the Clear Cache Data option followed by the Clear Data option.
Reboot your phone, and open the PlayStore. Tap the four horizontal bars on the left top section to access the menu. Go to "My Apps and Games" and ensure that you don't have any pending updates.
Tip 5: Factory Reset Your Phone
If you still haven't managed to fix the battery drain issue on your Pixel phone, try the factory reset option on your phone. At times, merely removing the app or profile doesn't guarantee success. In such scenarios, making a backup of essential files and doing a factory reset becomes a viable option. It might take some time, but there is a high possibility that it turns out to be the best Android 13 battery drain solution.
To perform a factory reset, follow these steps:
Turn off your phone and restart it by holding the volume down and power button.
By performing the above step, you will start the phone in recovery mode. Use the instructions mentioned on the screen to wipe the data on your phone.
The process would take a few minutes, but it will remove all the apps and data from the phone, which aren't present on it by default.
Once the process is complete, the phone will reboot, and you will be asked to set it up again. Follow the instructions to set up your phone for use.
Doing a factory reset would solve your battery draining and heating issues most of the time.
Tip 6: Calibrate Battery on Pixel Phone
Another Android 13 battery drain fix that you might want to try is battery re-calibration. To recalibrate the battery, you need to charge your phone to its full capacity. In the next step, use your phone without any further charging until it gets completely discharged and turns off.
You need to discharge your phone so that it doesn't boot again. Once you have reached that stage, use the official Mi adaptor and cable to charge your phone. Don't turn on the phone until it has been charged to its full capacity.
Once the battery gets charged to a hundred percent, it gets calibrated. Turn on your phone now, and you can use it.
This step might help you solve the Pixel battery drain issue.
Tip 7: Enable Battery Saving mode
If you were one of the few people who think battery-saving modes are redundant on the shiny device, think again.
From the Home screen, swipe up on an empty spot to open the Apps tray.
Press Settings > Device Care> Battery.
Click on Power saving mode, you'll see the following options:

High performance
Optimized
Medium power saving
Maximum power saving

Choose accordingly, by which I mean choose "Optimized" or "Medium Power Settings".
Or use Adaptive power saving if you can't figure out what's best for you.
Tip 8: Disable the Always-On Display
Always-On Display feature lets you check notifications along with other info at a glance. It requires the phone to keep its display as the name suggests, switched on. Turning it off can save a bit more battery juice, making it last a little more in the workday.
Go to Settings
Tap Lock Screen > Disable the Always-on Display
Tip 9: Turn off 5G
5G does consume a lot of power so going back to 4G(LTE) might be the change you need.
Go to Settings >Connection > Mobile Network > Network Mode
Click on the 4G (LTE) Auto Connect option
This should help in avoiding the Pixel series battery drain and overheating.
Tip 10: Night/Dark Mode themes
Night mode isn't just the go-to for Redditors, but it's also one other hack that helps resolve the battery life problem. According to some users, it can boost up another hour of battery life. Here's how to access it:
Go to Settings
Tap Display
The 4th option is the Night mode
Tap on the toggle to enable it and tap on the text to dive into Night mode scheduling settings
Tip 11: Disable location permission for unwanted apps
Many apps ask you to let them access your location. These apps use GPS to access your location even when not in use. This process of accessing your location is not only a threat to your privacy but also drains the phone battery.
To deny unwanted apps, the ability to access your location, open "Settings," go to the "Location" option, and tap the "App Permission" option. Here you can see which apps are allowed to access your location. You can deny permission to selected apps or turn off location access for all the apps with a single tap.
It would be better if you deny location access to all your apps. It would improve your battery performance without affecting the apps. The apps would ask you to allow them to access the location when you open them next time.
Tip 12: Uninstall and Reinstall Spotify and Samsung Health
If you have Spotify and/or Samsung Health apps installed, many people are reporting draining battery like hell after the Android 13 update.
Samsung Health app has been reported to cause abnormal battery drain after the Pixel phones connected to Samsung Galaxy Watch have been upgraded to Android 13.
It is advised to uninstall these two and reinstall them.
Tip 13: Update Play Store and Soft restart
Here's a tested one from a user
Tip 14: Disable adaptive battery and connectivity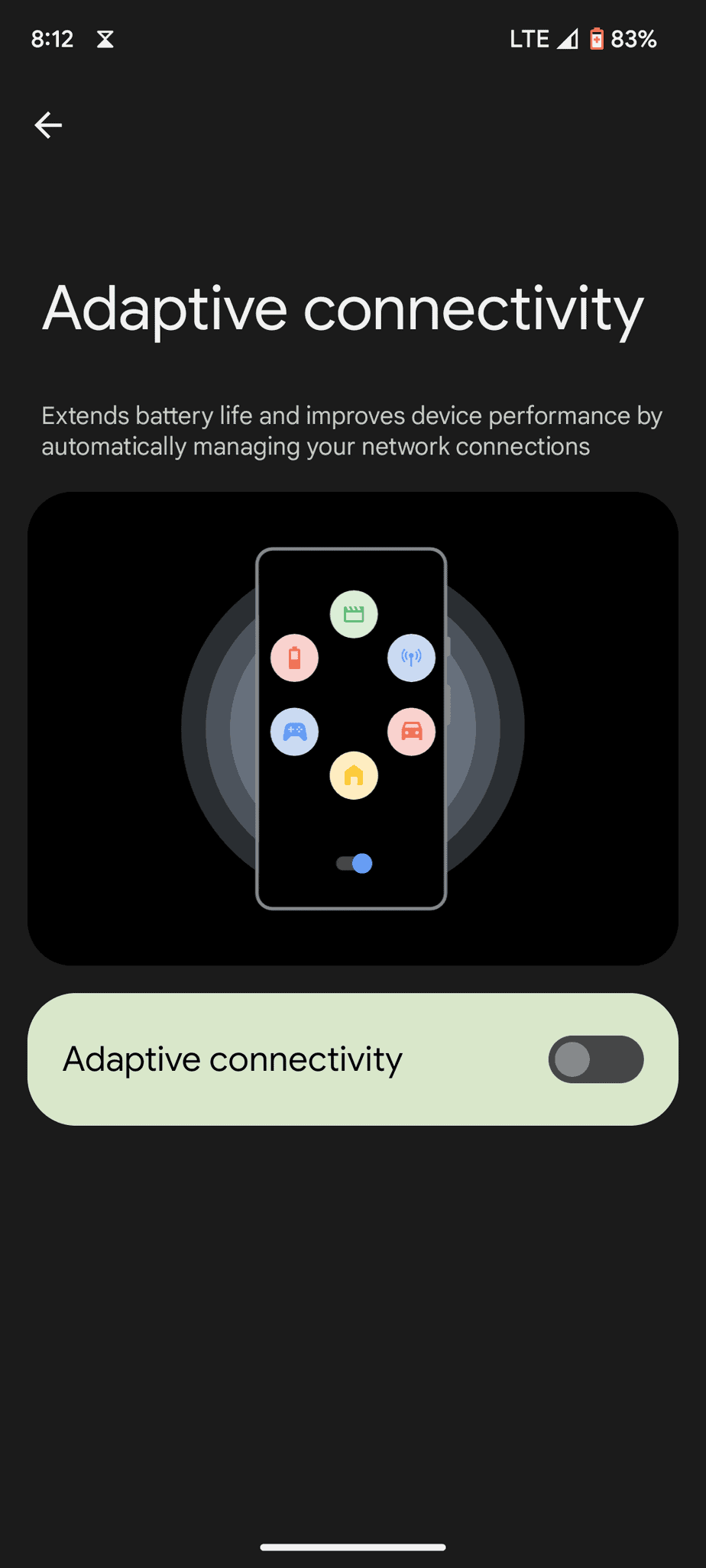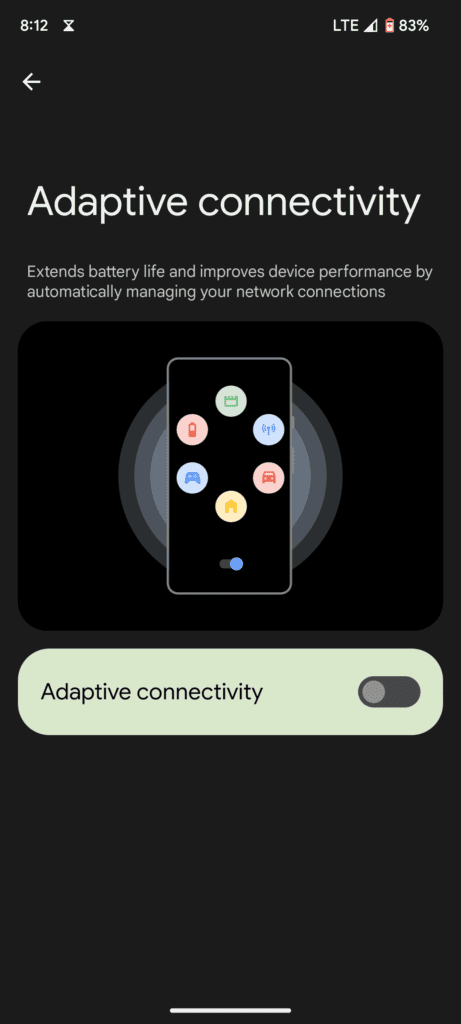 People are reporting about turning the adaptive battery off has fixed the charging slow problem. But then again the person reporting has been using the official 30w Google charging brick so it could be different depending on what you're using.
Conclusion
These are some tips and tricks that might help you resolve the May update-related Pixel battery drain issue. However, these fixes are not official and might not work in your case. They might also cause some other issues with your phone. So, try them at your own risk. 
It's always a good practice to weigh the benefits of a security patch against the potential risks or issues it may introduce. If you haven't installed the update yet and are concerned about the reported problems, it may be prudent to delay the installation until more information becomes available or an updated patch is released.
That's pretty much on our end. We hope our guide proved to be useful to you guys. Do leave a comment below about your experience or if you think that we've missed out on something. Keep on visiting us for more info like this.