Of late the creative team at Epic Games is working on emotes and skins based on popular dance moves. In fact, the team is provisioning to let the players enact and win in-game avatars in Fortnite. Epic's upcoming "Freewheelin" emote has landed them in a soup. TikTok actress and dancer Ana Coto has accused Epic of lifting the dance moves from her viral video for the new emote. She has not been given any recognition by Epic Games for the concept.
Check out the new Fortnite Freewheelin Dance emote yourself!
The new "Freewheelin Dance" built-in emote has ripped off Ana Coto dance moves. It replicates midriff-show off the skin, glasses, and steps of roller-skate dance. Fortnite's latest dance sure looks like Ana Coto's viral TikTok roller-skating video.
Fortnite has attempted a roller skate dance emote for the first time. Check out yourself how much it resembles Ana Coto's moves!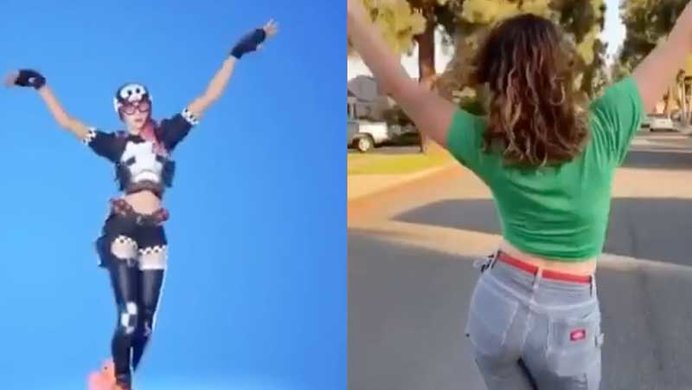 Ana Coto's dance video on TikTok had become a craze at the time of its release in April. Its popularity can be gauged by its views which have crossed more than 15.7 million mark. Her video was the sole factor in reigniting the hobby of roller skating resulting in a sharp jump in demand of roller skates. The Rollerskate Shortage of 2020 fad doesn't show signs of subsiding in the near future.
As of now, it is not clear whether Epic picked up from Coto's video or whether she herself made a video out of existing roller skates' dance form. In case Fortnite lifted the idea, it is hard to imagine with Epic not giving due credits. Gamers feel that Fortnite has started profiteering off stolen viral dances. It is secondary whether or not it's legal, but it appears to be absolutely shameful opportunism. On the first hand, it appears Epic Games has stolen an idea that someone else made famous and then it is charging money.
If plagiarism stands true, Epic has still time to mend with Coto. The new Freewheelin' emote has not been out for the players. Logically, Coto can still be given credit for the moves picked from her video. But she has yet not been contacted and neither Epic has confirmed.