Anime aficionados unite! The next big hype train is soon approaching. Keep your arms and legs tucked inside to avoid being sucked away into the vortex of expectation. Funny isn't it? With manga being adapted left and right into anime the expectations keep soaring high. Thus, following Jujutsu Kaisen's footsteps, we have our latest combatant, the Chainsaw Man anime adaptation.
On 27th June, on its 10th anniversary, MAPPA STAGE 2021 began with the announcement of the following projects:
Chainsaw Man
Jujutsu Kaisen 0
Attack on Titan: Final Season
Re: Main – Idaten Deities
Zombieland Saga
And 2 New Projects Announcements!
There are few Chainsawman Anime leaked PV images here that might interest you.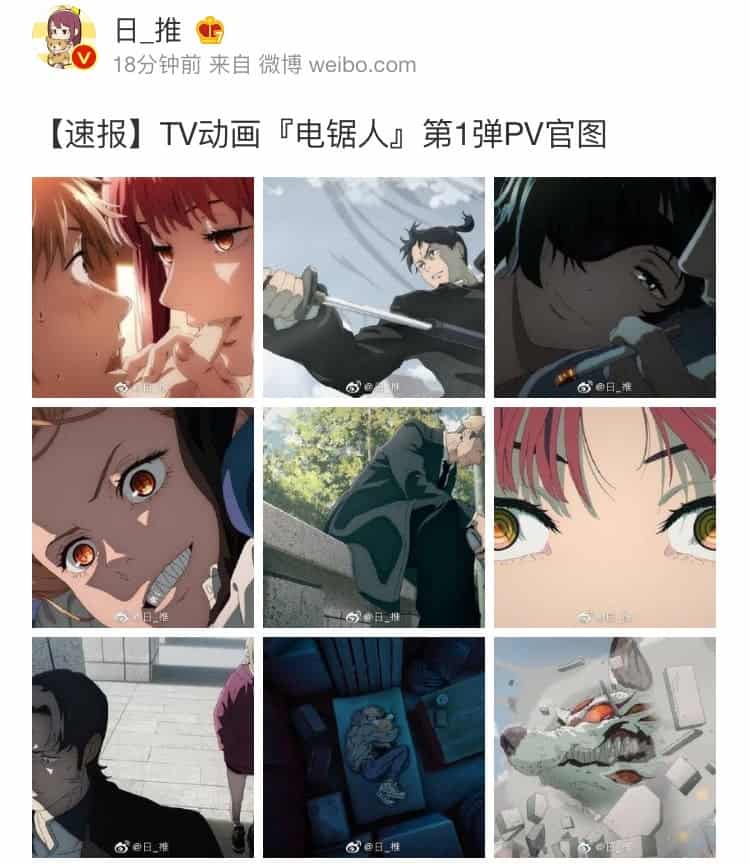 Chainsawman certainly takes some of its cues from off the beaten track. This probably adds to its -oomph factor something we intend to highlight.
Is Chainsaw Man getting an Anime Adaptation?
TLDR: Yes, Chainsaw Man is getting an Anime adaptation. Here is the official news on it!
As of now, MAPPA is the studio to whom the reins of animating have been handed over. Considering the rather phenomenal approval it has received for Jujutsu Kaisen and AoT Season 4, one could expect nothing less.
Internet approval on the tie-up has been somewhat mixed. But I would like to give MAPPA the benefit of the doubt and hope for a wonderfully presented anime regardless of whether it's CG or 2D. To further affirm this opinion here's a screenshot of MAPPA's personal comment to the manga's author.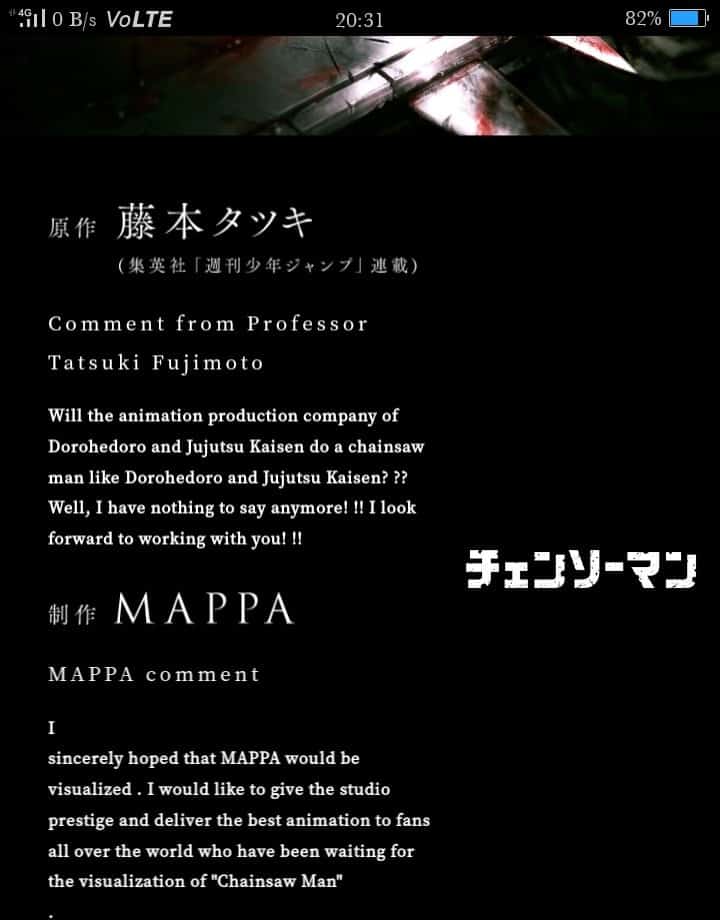 When is Chainsaw Man anime coming out?
Well, I could speculate a bit and offer a plausible answer. Regardless of what I say the eventual release of the anime could be sometime towards the end of 2021. There is no official confirmation on the release date of the Chainsaw Man anime, but it is speculated to premiere in November 2021, part of the Winter anime calendar 2021.
Chainsawman is a direct manga adaptation similar to Jujutsu Kaisen from Mappa studios. One can expect a similar production schedule pattern from the studios. The Jujutsu Kaisen anime adaptation was revealed on 25th November 2019 and took almost a year to premiere which happened on 3rd October 2020.
Chainsawman anime adaptation was announced to the world on 13th December 2020. It was assumed that as per Chainsaw Man adaptation experiences a similar production schedule under MAPPA, the series could premiere in November 2021.
However, there is some news on the release date of Tatsuki Fujimoto's anime adaptation of Chainsaw Man. In an official tweet, the franchise announced that is coming to you in 2022. Also, ChainsawMan Part 2 of the manga will be available from early summer 2022 on Shonen Jump. Apart from the dates, we also get to see a short teaser.
In 2022, the bloody circular saw devil finally begins to move! ]
#チェンソーマン Project PV lifted!
At the end, Makima is also …! !!
The second part of the manga will be serialized in "Shonen Jump +" in early summer 2022! TV animation will be broadcast in 2022!
Chainsaw Man was one of the most successful manga in recent years. Many are anxiously waiting to see in an animated version the clashes between Denji and the other members of the Public Security devil hunter department, a version that will be produced by the Mappa studio.
Chainsaw Man Anime Trailer
If one could fast forward to June 27th, one could see the Chainsaw Man Anime trailer release date.
MAPPA does have stage events commemorating their 10th Year Anniversary. Accordingly, their website does specify the possibility of a "talk" about their plans for the Chainsaw Man series. The event airs on the 27th of June so be sure to check it out. An official trailer release also might be in the offing.
In the meantime enjoy the Official Manga Trailer of Chainsaw Man, Vol. 1 via VIZ
Where can I watch Chainsaw Man?
The only official announcement was that it is greenlit and will be made by Mappa studios. With no clarity on a release date yet it is difficult to conclude which websites will stream it. However, it should make its way on the popular Funimation and Crunchyroll.
About the Chainsawman Manga and Storyline
Chainsaw Man is a manga series written and illustrated by Tatsuki Fujimoto. It's currently featured on the Weekly Shonen Jump as a serialized package. The story denies the usage of the ubiquitous anime tropes. Hence, there isn't the usual bonanzas of overpowered MC's, damsels in distress and battles of "friendship".
Crude humor and somewhat unsettling gore make up much of the action scenes. Denji, the protagonist isn't the only highlighted individual in the series. Denji, tries to pay off his father's exorbitant Yakuza debt, but ends up getting involved with some Devils.
After being killed by one, Denji fuses with his dog Pochita, who is actually a Devil but takes the look of a chainsaw (dunno how that works?). After getting a second lease of life, Denji joins a group of Devil Hunters, hoping to avoid being killed now that he is part Devil. The story gives each character has their own fleshed-out backstories with individual concerns driving them to be a part of the Devil Hunters organization.
The Chainsaw man manga's success till now (9.3 million copies sold) is a testament to the skyrocketing achievement that it would attain in its anime form. Fingers crossed I guess.
Chainsawman anime will turn out to be a bit of an unusual phenomenon. It is way gorier and also weirder than the usual popular shonen manga. But its insane numbers in terms of sales and how popular it already is all across the world makes me think that it can absolutely reach Jujutsu Kaisen levels of popularity if it's adapted properly.
That's pretty much all there is on our end. Are you as hyped as we are for the best anime adaptation? Let us know in the comments below. For more similar content visit us here.