Battlegrounds Mobile India (BGMI) has recently introduced an exciting update in collaboration with Dragon Ball Super, offering players a new mode along with purchasable items in the in-game store. This update includes various cosmetics like character outfits, weapon skins, and more, catering to different player preferences. However, many of these new skins and items need BGMI UC purchase mode.
UC, short for Unknown Cash, serves as the primary in-game currency in Battlegrounds Mobile India (BGMI) obtained through real money purchases. With BGMI UC purchase, players can conveniently acquire a variety of in-game items, including but not limited to:
Royale Pass: UC allows players to purchase the Royale Pass, providing access to a range of exclusive rewards and challenges throughout the game's seasons.
Crates: Players can use UC to unlock different types of crates, containing various cosmetic items such as outfits, weapon skins, and more.
Outfits: UC enables players to purchase a diverse collection of character outfits, allowing for customization and personalization of their in-game avatars.
Game Shop Items: UC can be used to buy items available in the in-game shop, which might include weapon skins, emotes, and other cosmetic items.
Unlock X-Suit: UC can grant players access to unlock X-Suit, offering unique gameplay features and benefits during matches.
Gift Items: UC can be utilized to purchase gift items that can be sent to other players as tokens of appreciation or friendship.
Premium Items: UC provides a pathway to acquiring premium items, often considered as high-quality and exclusive items within the game.
By obtaining BGMI UC purchase, players gain the ability to effortlessly access a wide array of premium and exclusive content, enhancing their overall gaming experience in BGMI.
Alongside UC, BGMI features several other currencies:
Battle Points (BP): BP can be used to acquire Soldier Crates, which become progressively pricier as you purchase more (starting from 700 BP and increasing to 7,000 BP for the sixth crate onwards). BP is also utilized for purchasing character customization items, allowing you to modify your character's gender, skin tone, hair, beard color, and other features.
Silver Fragments: Silver Fragments can be redeemed for unique weapon skins from the BGMI shop. Additionally, they can be used to acquire character outfits, enhancing your in-game appearance.
Ace Gold (AG): AG allows you to redeem outfits for your character and skins for your weapons. You can also utilize Ace Gold to purchase Supply Crates, adding another dimension to your customization options.
In contrast to these currencies, acquiring free UC in the game is quite limited, and it often involves redeeming special codes. Generally, the most straightforward way to acquire UC is by making real-money purchases within BGMI.
This article aims to guide you through all aspects of BGMI UC purchase, including its pricing and the methods available for purchasing it. Whether you're interested in getting specific cosmetics, enhancing your character's appearance, or simply expanding your customization options, understanding the in-game currency system is essential.
What is the BGMI UC price?
There are six UC packs that you can purchase in BGMI in 2023: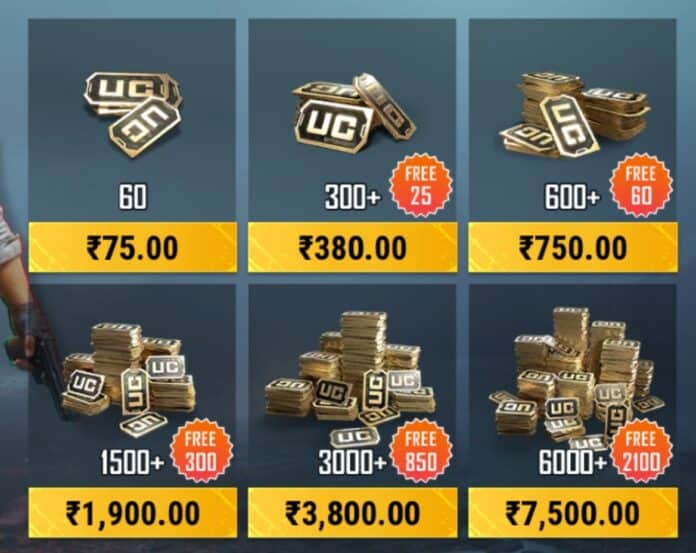 Android BGMI UC Purchase Price
| Price | BGMI UC |
| --- | --- |
| ₹75.00 | 60 UC |
| ₹380.00 | 300 UC + 25 UC (Bonus) |
| ₹750.00 | 600 UC + 60 UC (Bonus) |
| ₹1,900.00 | 1,500 UC + 300 UC (Bonus) |
| ₹3,800.00 | 3,000 UC + 850 UC (Bonus) |
| ₹7,500.00 | 6,000 UC + 2,100 UC (Bonus) |
BGMI UC price 2023 – Android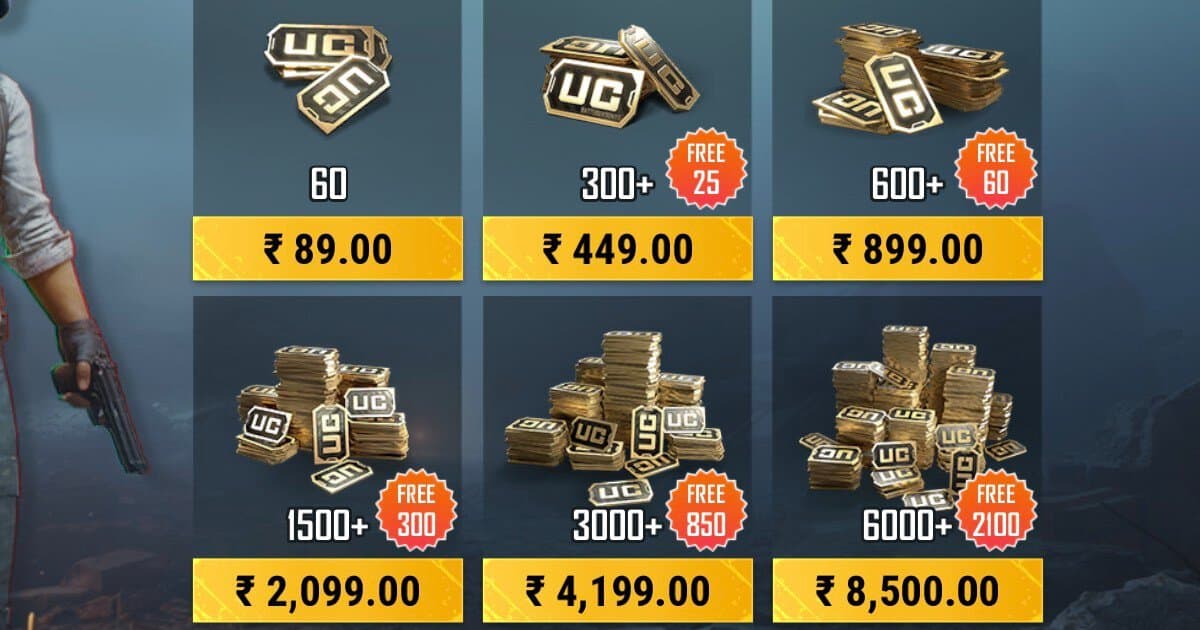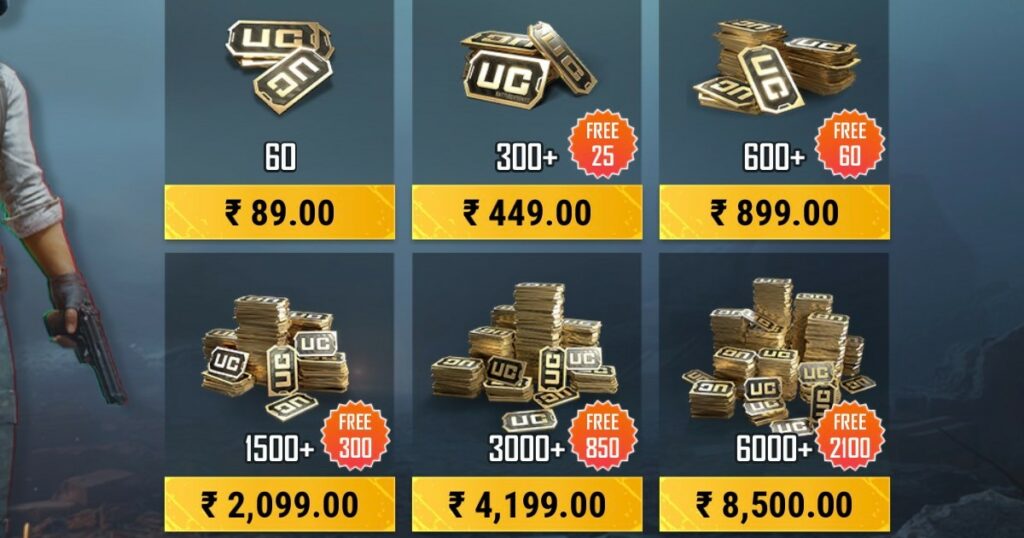 iOS BGMI UC Purchase Price
Regrettably, the cost is slightly higher for iOS users. Here is a comprehensive list of all UC packages accessible to iOS users:
| Price | BGMI UC |
| --- | --- |
| ₹89.00 | 60 UC |
| ₹449.00 | 300 UC + 25 UC (Bonus) |
| ₹899.00 | 600 UC + 60 UC (Bonus) |
| ₹2,099.00 | 1,500 UC + 300 UC (Bonus) |
| ₹4,199.00 | 3,000 UC + 850 UC (Bonus) |
| ₹8,500.00 | 6,000 UC + 2,100 UC (Bonus) |
BGMI UC price 2023 – iOS
What are the accepted Payment Methods for BGMI Purchase?
Google Play offers a versatile range of payment methods to cater to various user preferences. These payment options for BGMI UC purchase include:
UPI (Unified Payments Interface): Users can conveniently link their UPI-enabled bank accounts to their Google Play accounts for seamless transactions.
Net Banking: Google Play supports net banking, allowing users to directly use their online banking accounts for purchases and payments.
Redeem Code: Users can redeem special codes to add funds or credits to their Google Play accounts, which can then be used for various purchases within the store.
Credit/Debit Card: Google Play accepts both credit and debit cards, enabling users to make direct payments using their card details.
These diverse payment methods provide flexibility and convenience for users when making purchases on Google Play, ensuring that everyone can choose the method that suits them best.
How to do BGMI UC purchase?
While game developers don't typically provide direct discounts on UC when purchased in-game using real money, there are alternative methods to indirectly save on BGMI UC purchases. Here are some approaches to consider:
Cashback Offers: Certain platforms may offer cashback deals on Google Play credits. By purchasing Google Play credit separately from these platforms, you can obtain cashback offers that can subsequently be used to buy UC in the game.
Third-Party Websites: Some third-party websites provide Google Play credits at discounted rates or with added bonuses. Purchasing credits from such websites can result in savings when you use these credits to buy UC within the game.
It's important to exercise caution and ensure the legitimacy of these platforms before making any transactions. Here are some websites that offer discounts or cashback on Google Play credits
Third-Party Websites
Amazon Pay
Amazon Pay currently presents enticing discounts for those seeking Google Play credits. Users can enjoy a cashback of Rs 50 when they utilize Amazon Pay UPI to purchase Google Play recharge. This implies that you can initially invest Rs 100 in Google Play recharge to secure the Rs 50 cashback, which can then be utilized to receive a discount on your subsequent Google Play purchase.
For instance, if you intend to do BGMI UC purchase worth Rs 380, you could initiate a Google Play recharge of Rs 100 to claim Rs 50 cashback. This cashback can then be employed to obtain Rs 280 Play credit, effectively lowering the cost to Rs 230. This approach allows you to acquire 325 UC for just Rs 330.
Paytm
Paytm also extends appealing cashback options for Google Play recharge. New users can apply the code "GP300" to seize up to Rs 300 cashback on their Google Play recharge code purchase. Users can obtain Rs 30 cashback for purchases ranging from Rs 105 to Rs 499, Rs 50 cashback for transactions between Rs 500 to Rs 999, Rs 70 cashback for transactions between Rs 1000 to Rs 1,499, and so forth.
CodaShop
For those seeking noteworthy discounts on BGMI UC purchases, CodaShop stands as an excellent choice. The platform now offers BGMI UC packages with additional bonuses. For instance:
Purchase of Rs 60UC rewards 6 Bonus UC.
A 300 UC purchase grants an additional 55 UC.
A 600 UC purchase yields 120 extra UC.
A 1500 UC purchase offers a 450 UC bonus.
A 3000 UC purchase results in an 1150 UC bonus.
A 6000 UC purchase grants a substantial 2700 UC bonus.
Importantly, this limited-period offer is valid until October 13th. As with any offer, it's advisable to verify details and terms before making any purchases.
Before making any BGMI UC purchase, be sure to research the legitimacy of these platforms and check for user reviews to ensure a safe and reliable transaction. Keep in mind that deals and offers may vary over time, so staying updated is crucial when seeking discounts on UC purchases.
Must Read: How can I unban PUBG Mobile account?
Is BGMI UC available for Free?
It's important to be cautious of any websites or applications that claim to provide free UC for Battleground Mobile India, as they are often fraudulent and can put your personal information at risk. However, there are legitimate methods to earn UC through other means. One such method involves using certain apps to earn Google Play credits, which can then be used for BGMI UC purchase. Here's a breakdown of this approach:
Google Opinion Rewards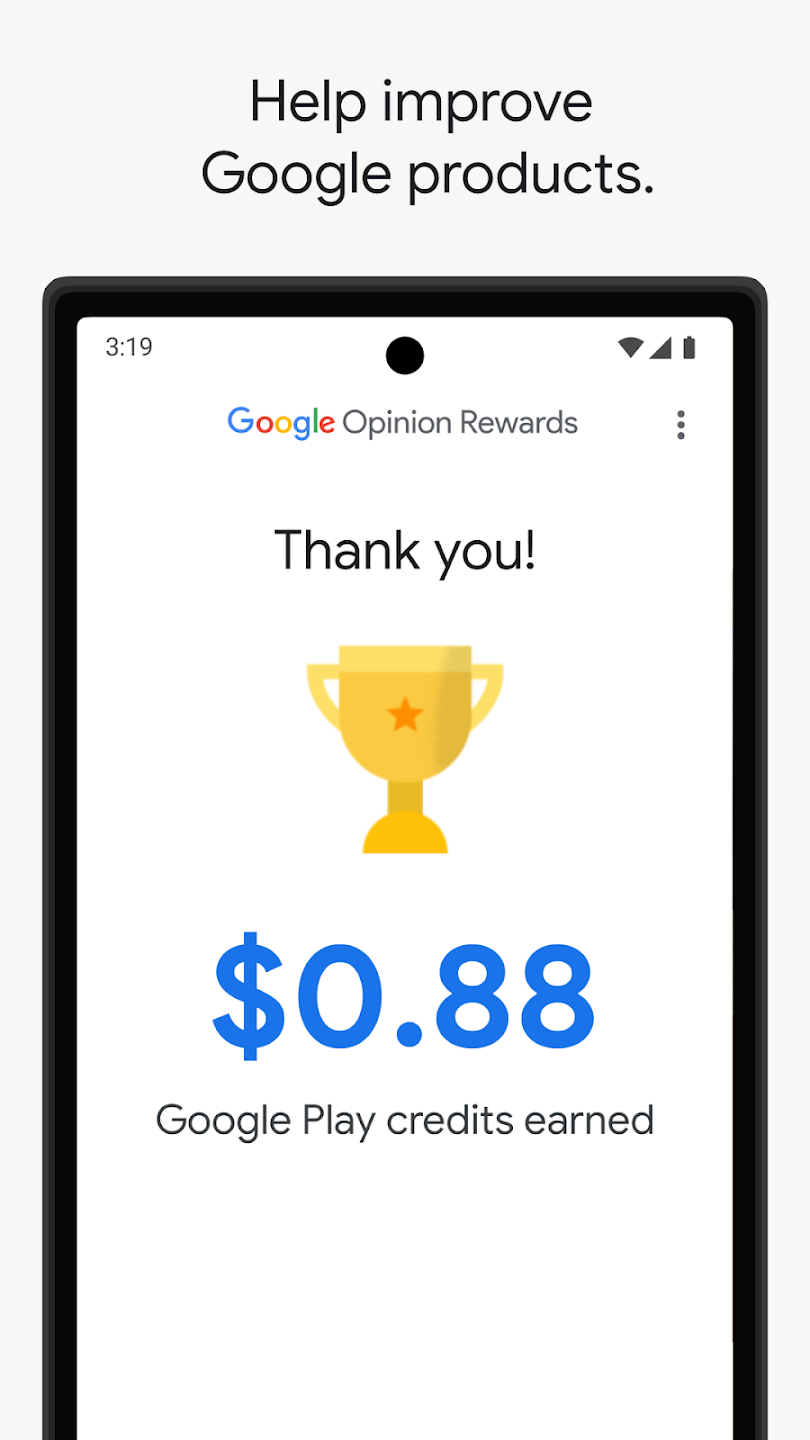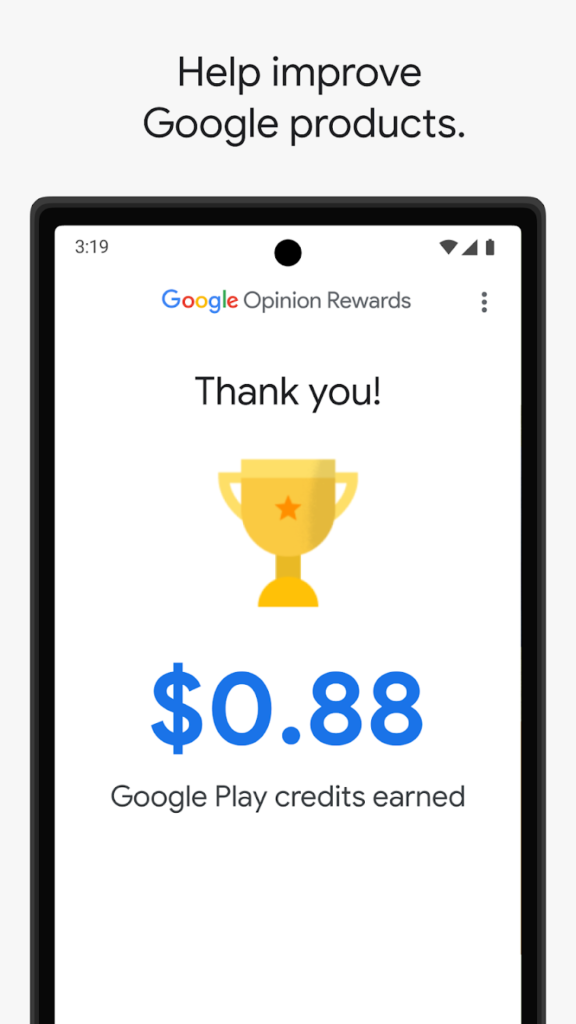 Google Opinion Rewards is a reputable application developed by Google itself. This app provides an avenue to earn Google Play credits by participating in short surveys. These surveys are typically brief and cover a variety of topics. Upon completing these surveys, you receive Google Play credits as a reward.
To leverage this method for obtaining BGMI UC:
Download the Google Opinion Rewards app.
Participate in the surveys offered by the app.
Accumulate Google Play credits over time through completed surveys.
Use these earned credits to purchase UC within BGMI.
In essence, this approach allows you to effectively get BGMI UC for free, as you're utilizing the credits earned from the Google Opinion Rewards app to acquire in-game currency. It's a legitimate way to earn UC without resorting to fraudulent or risky methods.
Remember that while this method may not yield large amounts of UC quickly, it's a safe and trustworthy way to gradually accumulate credits and enjoy in-game benefits in Battleground Mobile India.
Must Read: How to unban BGMI account after getting 10 years?
How can you make a BGMI UC purchase?
PUBG Mobile, now known as Battlegrounds Mobile India (BGMI), boasts an array of enticing costumes for in-game characters and a diverse selection of skins for weapons, vehicles, and other items. However, the majority of these outfits and skins come at a cost and necessitate the in-game currency called Unknown Cash (UC) for acquisition. But how can you obtain UC in BGMI? While UC is occasionally available for free through specific campaigns and events, the primary means of obtaining it is through in-game purchases. Here's a comprehensive rundown of all the ways you can acquire UC in Battlegrounds Mobile India:
1. Free Campaigns and Events
Periodically, BGMI offers UC for free as part of special campaigns and events. Participating in these events and meeting certain criteria can grant you UC as a reward.
Google Opinion Rewards is an excellent method to acquire Google Play credits and utilize them to purchase UC in Battlegrounds Mobile India without incurring any direct costs. Google's Opinion Rewards app offers a legitimate way to achieve this. Here's a more detailed explanation
Google Opinion Rewards is a genuine app available on the Google Play Store. This app presents users with survey questions on various topics, and in exchange for sharing your opinions, you receive Google Play credits. These credits are added to your Google Play account, allowing you to use them for in-game purchases, such as buying UC in BGMI.
While the number of credits earned per survey might not be substantial, consistency in participating can lead to accumulating enough credits to cover UC purchases. This method serves as a reliable and legitimate way to enhance your BGMI experience without any direct financial investment.
By sharing this approach, you've provided an insightful way for players to engage with Google Opinion Rewards and leverage their earned credits to acquire UC and other in-game items in Battlegrounds Mobile India.
2. In-game BGMI UC purchase
The primary and most common way to acquire UC is by purchasing it directly from within the game. UC can be bought using real money through various payment methods, allowing you to acquire the desired amount to spend on in-game items.
If you're eager to do a BGMI UC purchase and can't wait for the release of redeem codes, purchasing UC directly from within the game is a straightforward option. Here's a step-by-step guide on how to go about it:
Log into the Game: Launch Battlegrounds Mobile India and log in to your account.
Access the UC Icon: On the top-right corner of the homepage, you'll find the UC icon. Click on this icon to access the UC bundles available for purchase.
View UC Bundles: Browse through the displayed UC bundles, each offering a specific amount of UC along with its associated cost.
Initiate UC Purchase: To proceed with purchasing UC, follow these steps:a. Press the '+' button located at the top right corner of your screen. b. Select the specific UC pack that you wish to purchase.
Choose Payment Method: The game will prompt you to choose a payment method for the UC pack you've selected.
Confirm and Complete Payment: Once you've chosen your preferred payment method, confirm the purchase by clicking the confirmation button.
Successful Payment: After your payment is successfully processed, you'll receive a message confirming "Payment Successful." The purchased UC will then be added to your account.
It's important to note that UC prices differ between Android and iOS platforms, with UC being less expensive on Android. While Krafton hasn't provided a clear explanation for this discrepancy, it's a notable distinction between the two platforms.
By providing these steps, you've outlined the process for players to seamlessly BGMI UC purchase from within the game, enhancing their in-game experience in Battlegrounds Mobile India.
3. Purchase Elite Royal Pass in BGMI
In Battlegrounds Mobile India, players have the option to choose between the Elite Pass and Elite Pass Plus. These passes offer different benefits and rewards, and interestingly, they're linked to earning back UC in a strategic way. Here's how this system works:
Elite Pass:

Cost: 360 UC
The Elite Pass provides players with a range of rewards, including exclusive outfits, weapon skins, emotes, and more.
By actively playing the game and completing challenges, you'll level up your Elite Pass.
As you progress through the levels, you can earn back a total of 360 UC. This means that if you complete all the levels of the Elite Pass, you'll receive back the exact amount of UC you initially spent on purchasing it.


Elite Pass Plus:

Cost: 960 UC
The Elite Pass Plus offers the same rewards as the regular Elite Pass but with additional benefits.
Similarly to the Elite Pass, leveling up your Elite Pass Plus will allow you to earn back UC.
With the Elite Pass Plus, you can earn an extra 120 UC in addition to the 360 UC, making it a total of 480 UC earned back.
In essence, purchasing either the Elite Pass or Elite Pass Plus creates a cycle where, through gameplay and progression, you can earn back UC equal to or greater than the initial cost of the pass. This system encourages player engagement, as actively participating in the game and completing challenges not only grants valuable rewards but also effectively refunds a significant portion of the UC spent on the pass.
4. BGMI Redeem Codes
One of the most straightforward methods to acquire BGMI UC purchase without cost is through redeem codes. If you're familiar with PUBG Mobile, you're likely aware that Krafton distributes redeem codes to players, offering rewards like UC or unknown cash. These codes are typically given as rewards by the developer or by prominent gamers and streamers.
To redeem a code for BGMI UC purchase:
Visit the BGMI redemption website.
Input your character ID and the redemption code provided.
Click on the "Redeem" button.
Once redeemed, launch the game and navigate to the mail section. Access the mail related to the reward to claim it.
However, as of now, Krafton has not introduced UC-related redeem codes for Battlegrounds Mobile India. There are indications that this feature might be rolled out in the future. It's crucial to note that numerous online links claiming to be BGMI code generators are fraudulent. BGMI does not presently support code generators, and it's important to be cautious of such deceptive offerings.
It's important to remember that while free UC opportunities are limited and infrequent, they do exist within the game's events and promotions. However, if you're looking for a more consistent and immediate method of obtaining UC, making in-game purchases is the primary route to consider.
What can you do if BGMI UC Purchase is not credited to your Account?
If you encounter a situation where a BGMI UC purchase package has not been credited to your Battlegrounds Mobile India account, there are steps you can take to address the issue:
Identify Possible Reasons: There are two potential reasons for this issue:

Glitch from Developers: There could be a technical glitch within the game's system that prevented the UC from being credited.
Transaction Failure: The transaction might not have been successfully processed by the Play Store, leading to the UC not being added to your account.

Contact Krafton Support: If you suspect a technical glitch or an issue with the game's system, you can contact Krafton's support for assistance. Here's how:

Send an email to battlegroundsindia_support@krafton.com.
In the subject line, include "UC not issued to the account."
In the body of the email:

Mention your in-game nickname and character ID.
Attach a screenshot of the payment receipt, which you can find in the Play Store under the "Purchases" section.
By providing this information, you're offering the support team the necessary details to investigate and resolve the issue.
Check Transaction Status: If you suspect a transaction failure, you can check the status of your payment in the Google Play Store:

Open the Play Store app.
Tap on the three horizontal lines (hamburger menu) in the top-left corner.
Select "Payments & subscriptions."
Locate the purchase related to the UC package and check its status.

Request Refund: If the transaction indeed failed and you were charged without receiving the UC, you can request a refund from the Play Store:

Go to the Play Store.
Tap on the three horizontal lines (hamburger menu) in the top-left corner.
Select "My apps & games."
Go to the "Library" tab and locate the app/game for which you made the purchase.
Tap on "Refund" to initiate the refund process.
It's important to be patient throughout this process, as resolving payment issues may take some time. Providing accurate information and following the proper channels will increase the likelihood of a successful resolution.
What can BGMI UC buy?
If you're reading this article, chances are you're already acquainted with Battlegrounds Mobile India (BGMI) and the utility of Unknown Cash (UC). Here's a brief overview of the items you can procure using BGMI UC:
New Outfits: Utilize UC to acquire fresh and stylish outfits for your in-game character, allowing you to personalize your appearance.
New Skins: Unlock a variety of skins for weapons, vehicles, and other in-game items, enhancing the aesthetics and uniqueness of your equipment.
Weapons: Enhance your arsenal with weapon skins, providing a visual upgrade to your firearms while maintaining their functionality.
Elite Pass: Invest in the Elite Pass to gain access to a range of exclusive rewards, challenges, and in-game content that enhances your gaming experience.
Crates: Use UC to unlock crates containing various cosmetic items, granting you the chance to obtain exclusive in-game assets.
Royal Pass: Similar to the Elite Pass, the Royal Pass offers exclusive rewards and challenges, allowing you to further enhance your gameplay and customization.
Recon Mask: Acquire the Recon Mask, a sought-after cosmetic accessory that contributes to your character's appearance.
Hats: Use UC to purchase a diverse selection of hats and headgear, adding a touch of personalization to your in-game character.
In essence, BGMI UC opens the door to an array of customization options and valuable in-game assets, enhancing your overall experience and allowing you to stand out on the battlefield.