The boys of summer are getting ready to swing into action. It's springtime and that means a man's fancy turns to . . . baseball. Opening day for the Major League Baseball season is April 1st, and no, we're not fooling.
If you're interested in picking a winner, according to online sports betting sites, the reigning World Series champion Los Angeles Dodgers are considered the best among the MLB bets to repeat as titleholders at odds of +330. Among American League clubs, it's the New York Yankees (+550) who are assigned the shortest odds.
On the other hand, if it's your objective to stay informed on the goings on within the game, learn a little bit of baseball history, follow a favorite player or simply enjoy some good-natured baseball-related fun, these are the most entertaining baseball follows on Twitter.
Baseball's Most Entertaining Twitter Accounts
Graig Kreindler (@GraigKreindler)
"Craig Kreindler" by craigkreindler.com is licensed under CC BY 3.0
An interesting and informative site, Kreindler is an artist who captures baseball's stars and lesser-known participants by painting them on canvas. There's one thing that all of his subjects share – they're dead.
As his Twitter bio notes,
He mixes in portraits of legendary stars like Al Kaline, Eddie Collins and Dizzy Dean with a painting of José Méndez with Almendares in 1910, one of the biggest stars of the Cuban League during the dead-ball era.
Personal favorite – a painting of the Iron Horse – Yankee's first baseman Lou Gehrig – alongside the Marx Brothers, Groucho, Chico, and Harpo.
If you're a fan of free stuff, Kreindler is constantly offering prizes of his work to his Twitter followers.
Andrew McCutchen (@TheCUTCH22)
Watching the 2013 NL MVP at the ballpark, it's evident he's someone who embraces everything there is to love about playing the game. Take a tour through the Philadelphia Phillies outfielder's Twitter feed and you'll quickly learn he's even more entertaining than you thought.
McCutchen performs skits as Uncle Larry, who he describes as his "alter ego since 2/12/20. Uncle Larry resembles a character pulled right out of the movie Barbershop.
McCutchen also displays a profound respect for the history of the game on his feed. He even personally relays info on Negro League stars from a bygone era.
Rob Friedman (@pitchingninja)
The Pitching Ninja breaks down the minutiae of major league hurlers through video clips. He'll slip in a little bit of comedy in his clips and dazzle you as much with his knowledge of big-league pitchers as the pitchers he highlights do by the way they can make a baseball dance with movement.
For instance, did you know that last season, only eight right-handed starting pitchers got more swinging strikes with their slider against right-handed batters than Randy Dobnak of the Minnesota Twins? Friedman knew that, and he shares data like this with his followers.
Old Hoss Radbourn(e) (@OldHossRadbourn)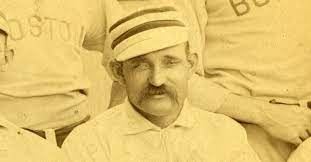 "Old Hoss Radbourn" by baseballhall.org is licensed under CC BY 3.0
If you find the Captain Andrew Luck Twitter based on a fictional U.S. Civil War soldier who told the story of the former Indianapolis Colts quarterback Andew Luck's career through Civil War jargon, then Old Hoss Radbourn(e) is right up your alley.
Sharing a name with a late 1800s pitching sensation who won 60 games for Providence in 1884, Old Hoss Radbourn(e) is an irreverent look at today's culture (mostly baseball) from the perspective of a 19th century ballplayer.
Baseball Quotes (@baseballquotes)
The title is self explanatory. This site recalls famous and not so famous quotable moments from the game's history. "Quoting America's Pastime in 280 characters or less," is their Twitter tagline.
For example, there's former big league backstop Bob Uecker's explanation of the preferred method for receiving a knuckleball pitcher.
Or this unique summation of the sport from Hall of Fame baseball writer Jim Murray: