Nowadays, as the global digitization process is accelerating, the amount of data generated by people's work files, daily life records, entertainment, financial assets, etc. is huge, so clouds have emerged at the historic moment.
The Widespread Use of Google Drive and OneDrive
In the present society, storing and backup data by using all kinds of cloud storage has become more and more popular. One person may have multiple cloud drives and may have different accounts in one drive for saving and keeping their enormous online data and files.
However, among this wide and diverse variety of cloud storages, Google Drive and OneDrive, which are extensively used in the world, might be the two most significant and popular cloud service. After all, they come from two of the most famous companies in the world, so, it is not surprising for their widespread use.
Why Migrate Files from Google Drive to OneDrive?
BothGoogle Drive and OneDrive are the products of the digital age, but since they come from different companies, the features of each other should also be respectively distinctive. Google Drive, as its name shows, is highly related to Google service and has gained great popularity of Android users.
While OneDrive, one of Microsoft's products, so is relevant with the Office software. Google Drive's "My drive" is not only a space for storing and managing data but also for sharing data. space for not only storage and management of data but also a space for data sharing. Differing from Google Drive, the "Files" and "Shared" are two completely separated parts.
A qualified cloud drive makes it easy not just to receive data online, but also to keep them, both individually as well as a part of a team. In order to make better use of these different features, as well as to change accounts for personal or office use, or to files from different drives, sometimes it's unavoidable for people to migrate Google Drive and OneDrive. So, in this article, you can get some ways to complete Google Drive to OneDrive migration.
Traditional Way to Migrate Google Drive to OneDrive
Method 1: Download and upload
The most traditional way, honestly speaking, there might be no technical part of it, but innumerable and repeated steps of downloading and uploading. For instance, download your data from Google Drive to your computer, and then transfer it to your OneDrive. Does it sound simple?
However, the time you spend waiting for downloads and uploads should not be overlooked, and this can be disconcerting if your network speed is unstable. In the end, you will find that it is a waste of time.
Method 2: Google Takeout
Generally speaking, Google Takeout may be a scientific and reliable way compared with the most traditional way of uploading and downloading, if it wasn't still limited by the internet speed.
Above all, the traditional methods inevitably have their own limitations and drawbacks, however, efficiency is especially important in society today. Therefore, it's extremely necessary for us to find a better way to make Google Drive to OneDrive migration.
Easy Way to Migrate from Google Drive to OneDrive with MultCloud
MultCloud, an online cloud storage manager, whose functions include cloud-to-cloud transfer, sync clouds, and scheduled cloud-to-cloud backup, is easy to manage your online cloud storage. With the basic transfer function, you can use MultCloud to complete Google Drive to OneDrive migration without downloading and uploading. Just a few simple steps to finish your data migration from Google Drive to OneDrive.
Step 1: Registration
First of all, you need to create one MultCloud account. If you don't want to create your account, you can choose your "Facebook" or "Google" account to log in or click "Guest Access".
But having your own account is convenient for you to use MultCloud next time., after all, there are many other features of MultCloud that you may be interested in when you finish your Google Drive to OneDrive migration.
Step 2: Add cloud drives
Click on the cloud drive to connect it to MultCloud, select Google Drive, then an interface will show up that prompts you to log in to your Google Drive. When you finish logging in to your Google Drive account and enable MultCloud to access your files, the Google Drive is successfully added.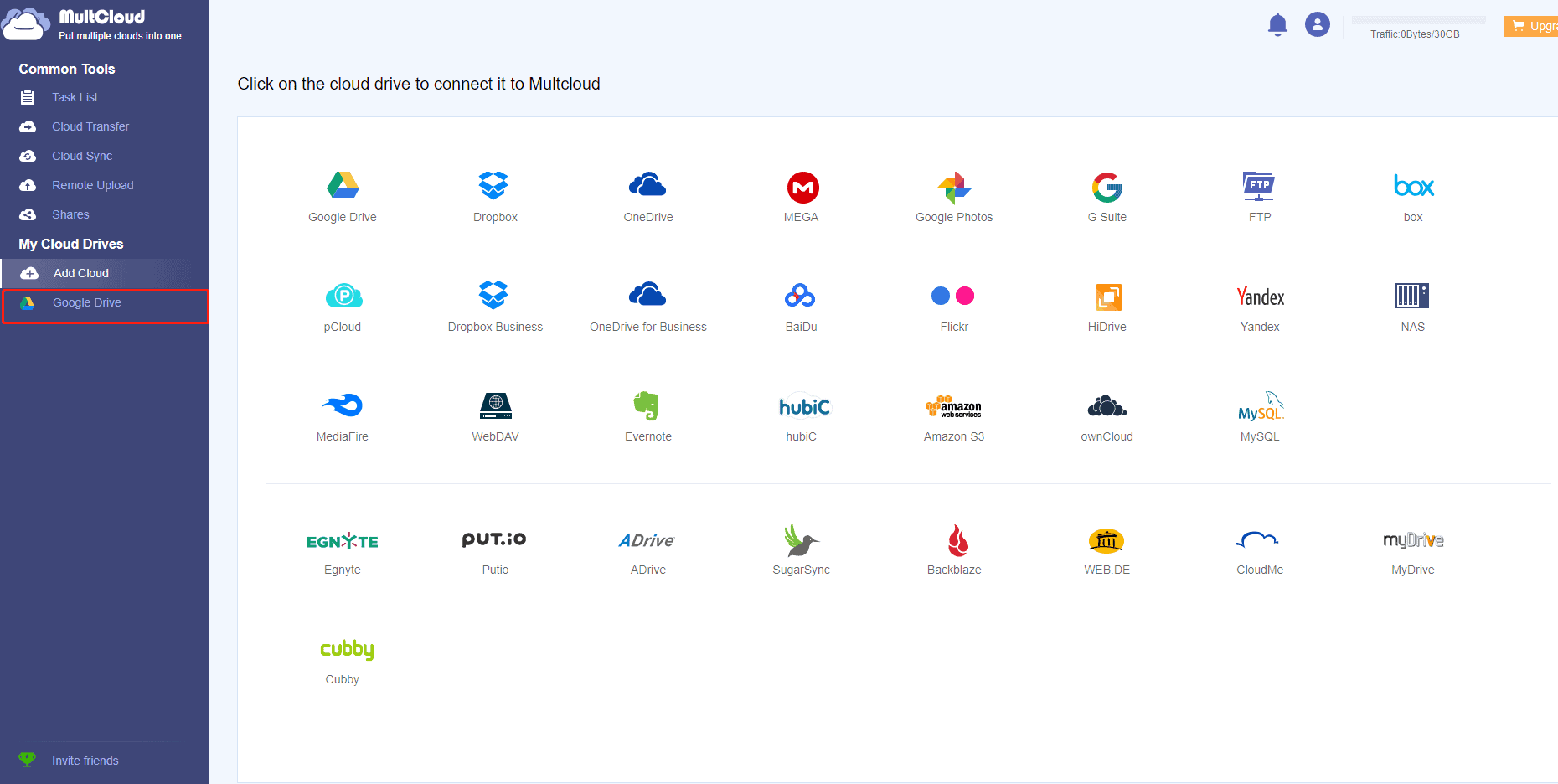 And adding your OneDrive account is entirely the same way. After adding clouds is completely finished, the interface will be shown as the screenshot below.
Step 3: Start migration
The last but the most important step of this file migration, click on "Cloud Transfer", as we are making Google Drive to OneDrive migration, so Google Drive should be the source cloud, and accordingly, OneDrive should be the destination cloud. Then sightly click "Transfer Now" to move files from Google Drive to OneDrive.
Since one of the most outstanding features of MultCloud is offline data transfer. It doesn't matter if you have to close your browser if you have other things to do because MultCloud can deal with it in the background.
In the End
After reading this article, you will learn how to move files from Google Drive to OneDrive with 3 given methods. Since everyone's situation is different, it's up to you to decide which method you choose.