Electric vehicles (EVs) have taken the world by storm, and it's no secret why. With zero emissions and smooth, silent operation, EVs offer a unique and exciting driving experience. However, owning an EV can also come with its own set of challenges, from finding charging stations to navigating the nuances of battery life. Fortunately, there are a plethora of affordable EV accessories on the market that can make your driving experience even more enjoyable. If you're looking for ways to upgrade your EV without breaking the bank, you're in luck.
There are plenty of EV accessories available for under $50 that can help enhance your driving experience, improve safety, and add a touch of personal style to your ride. In this buyer's guide, we've compiled a list of 10 must-have EV accessories under $50 that you're going to love.
From practical accessories like portable EV charger bags and sunshades to fun and stylish options like steering wheel covers and parking signs, there's something on this list for every EV driver. These accessories not only make driving more enjoyable but can also improve safety, protect your investment, and showcase your electric vehicle pride.
Whether you're a seasoned EV owner or a new driver just getting started, these affordable accessories can help take your driving experience to the next level. So, without further ado, let's take a closer look at our top 10 EV accessories under $50.
Why do you need EV accessories?
I truly believe that EV accessories can make a huge difference in your driving experience. Personally, I love how they can improve safety by adding additional features or functionality to your EV. Blind spot mirrors and parking sensors, for example, do help see more clearly while driving and avoid accidents. Not only do EV accessories enhance safety, but they also protect your vehicle from wear and tear. I always advise my folks to invest in items like seat covers, portable charger bags, and trunk organizers to keep my EV looking and functioning at its best for longer.
But the best part about EV accessories? They can add a touch of personal style to your ride. From steering wheel covers to parking signs, there are so many fun and creative accessories out there that can showcase your electric vehicle pride and make your driving experience even more enjoyable. Overall, I highly recommend investing in EV accessories to enhance your driving experience and make the most of your electric vehicle. No matter what you're looking for, whether it's practical solutions, personal style upgrades, or both, there's an EV accessory out there that can meet your needs and budget.
Also Read | Best 10 EV Accessories You Must Have in 2023 — A little meet-and-greet with EVs
EV accessories under $50 that you are gonna love
Whether you are buying it for yourself or gifting someone – these are recommended and non-sponsored. Here, at PhonesWiki, we believe in providing good and honest content. We will provide you with Amazon links to the products, but better deals are always just a search away so whatever suits you best, grab that deal. There are sometimes big differences in offline markets with a bunch of ongoing offers.
Blind Spot Mirror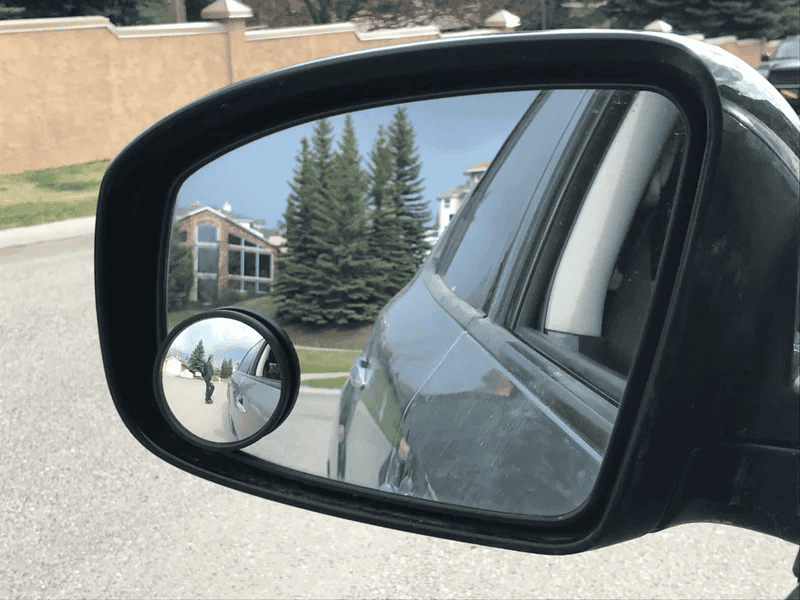 Blind spots can be a real concern for drivers, and even more so for EV drivers who may be less accustomed to the quiet operation of their vehicles. That's why a blind spot mirror is a useful accessory to have for your EV. The Ampper Blind Spot Mirror is a highly rated option that provides a wide-angle view of the area beside your car, making it easier to spot other vehicles or obstacles. It is frameless and convex, ensuring a clear view with minimal distortion.
The mirror is also easy to install and comes with adhesive tape, so you can attach it to your side mirrors quickly and securely. With its affordable price, the Ampper Blind Spot Mirror is a smart investment that can enhance your driving safety and confidence. Available for buying on Amazon
Steering wheel cover
A steering wheel cover is a simple yet useful accessory that can add comfort and style to your EV's interior. The SEG Direct Microfiber Steering Wheel Cover is a highly-rated option on Amazon that is designed to fit most standard steering wheels. Made of microfiber leather, this cover is soft to the touch and provides a non-slip grip to help you keep control of the wheel. It is also breathable, ensuring that your hands won't get sweaty or uncomfortable during longer drives.
The SEG Direct cover is easy to install and comes with an installation tool to help you stretch it over the wheel. It is also available in several different colors, so you can choose one that matches your personal style or complements your EV's interior.
Car fragrance diffuser
A car fragrance diffuser is a device used to add a pleasant aroma to the interior of a car. This particular product is a cylindrical essential oil diffuser that can be used in not just cars, but also in offices, kitchens, and bathrooms. The diffuser comes with a USB cable for power, making it convenient to use in a car with a USB port.
The diffuser is made of high-quality aluminum alloy and features an anti-slip silicone base to prevent it from sliding around.
It is easy to use, simply add a few drops of your favorite essential oil into the water tank, and turn it on. The device will start diffusing a pleasant aroma into your car. This product is a great way to freshen up the interior of your car, and also offers the added benefits of aromatherapy. Essential oils have been known to have calming and relaxing properties, which can help reduce stress and anxiety while driving.
Charging Cable Bags
Charging cable bags are a must-have accessory for any electric vehicle owner. They provide a convenient and safe way to store your charging cables when you're on the go. The Readywares Waxed Canvas Cable Bag is a popular option on the market, made of high-quality materials that can withstand wear and tear.
The waxed canvas material gives the bag a stylish and rugged appearance, while also making it water-resistant and durable. The bag has enough space to hold your charging cable and any other accessories you may need, such as adapters or extension cords. It also features a sturdy handle, making it easy to carry and transport.
Investing in a charging cable bag can save you from the hassle of tangled cables and potential damage to your charging equipment. Plus, the Readywares Waxed Canvas Cable Bag is an affordable option at under $50, providing both practicality and style to your EV experience.
Parking sign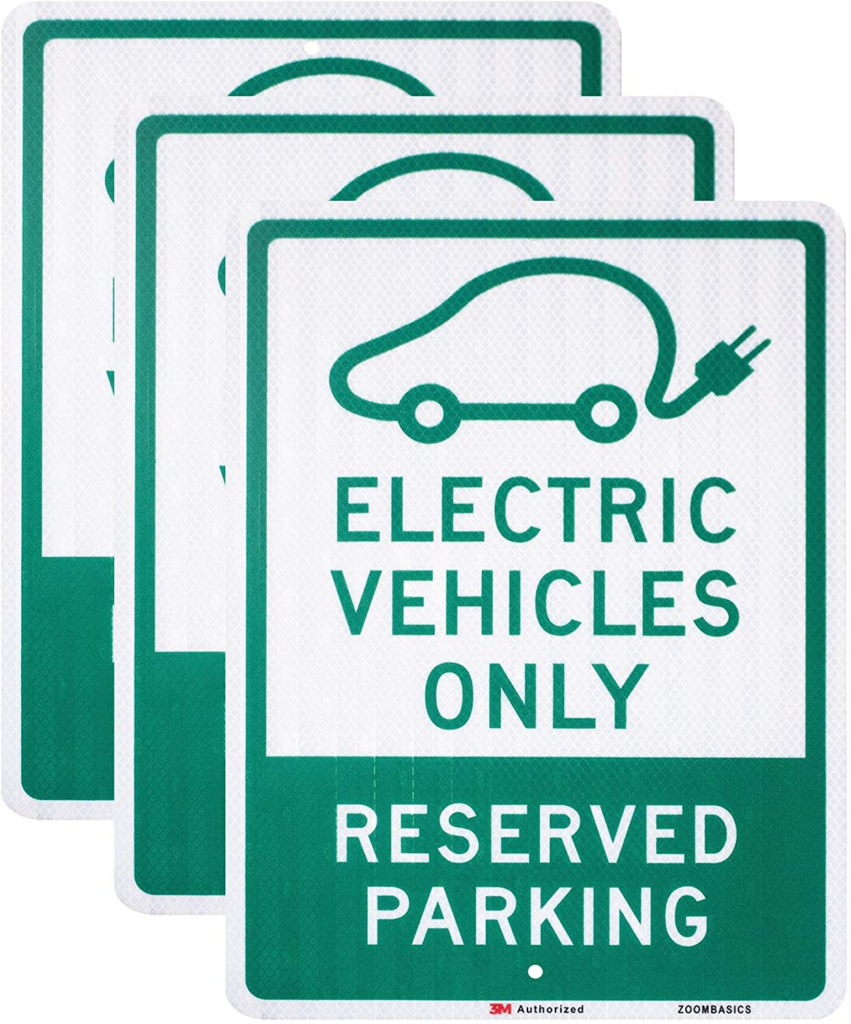 If you're an electric vehicle (EV) owner, why not show off your pride with an EV parking sign? This authorized EV parking sign from Amazon is made of high-quality aluminum and is laminated for added durability. It features the recognizable EV symbol, the words "Electric Vehicle Parking Only," and the phrase "Unauthorized Vehicles Will Be Towed" to help deter non-EV drivers from using your designated parking spot. This sign is reflective, making it visible even at night, and it comes with pre-drilled holes for easy installation. At under $50, this parking sign is a fun and affordable way to show off your EV ownership and keep your designated parking spot safe and secure.
Trunk Organizer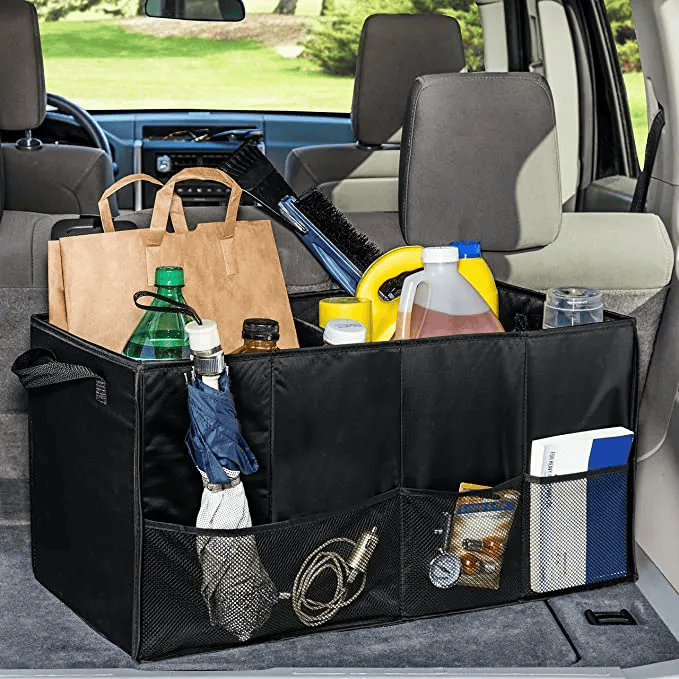 Trunk organizers are a useful accessory for EVs as they can help keep the trunk clean and organized. This specific trunk organizer from TRUNKCRATEPRO has several compartments that can hold groceries, sports equipment, or any other items you may need to transport in your EV. The organizer is also collapsible, which makes it easy to store when not in use.
Car USB Charger
A Car USB charger is an essential accessory for anyone who spends a lot of time driving. It allows you to charge your mobile devices such as smartphones, tablets, and other USB-powered gadgets while on the go. This particular model from AINOPE is a high-quality and reliable USB charger that is compatible with most devices, including iPhones, Samsung Galaxy, and other Android devices.
One of the standout features of this charger is its fast charging capability. It uses advanced charging technology to deliver a maximum charge speed of up to 2.4A per port, which can save you a lot of time compared to other chargers that are slower. This means you can quickly charge your device while on the go and be ready to go in no time. Another great feature of this charger is its compatibility with most vehicles. It can fit into any standard cigarette lighter socket and has a slim design that doesn't take up too much space in your car.
Car Seat Covers
BDK OS309CC Polypro Two-Tone Car Seat Covers are a practical and stylish accessory for EV owners who want to protect their vehicle's interior from wear and tear. These covers are made from high-quality materials that are durable and easy to clean, making them perfect for daily use. They are also designed to be universal and can fit most standard-sized seats, making them a great accessory for any EV model. With their sleek two-tone design, the BDK OS309CC Polypro Two-Tone Car Seat Covers can instantly upgrade the look of your EV's interior, adding a touch of elegance and style. The easy installation process means you can quickly and easily upgrade your car seats without any hassle.
The BDK OS309CC Polypro Two-Tone Car Seat Covers are a great way to keep your EV's interior looking brand new, while also adding a touch of personal style to your ride.
Floor Mats
Floor mats are essential accessories for any car, including electric vehicles. They protect your car's floor from dirt, mud, and other debris that can accumulate over time. These Motor Trend FlexTough Contour mats are made of high-quality rubber that is durable and easy to clean. They are designed to fit most vehicles and come with deep channels that trap debris and liquids to prevent spills and stains. The mats are also slip-resistant, ensuring that they stay in place while driving. With these floor mats, you can keep your electric vehicle's interior looking its best and ensure that it remains in top condition for years to come.
Phone Holders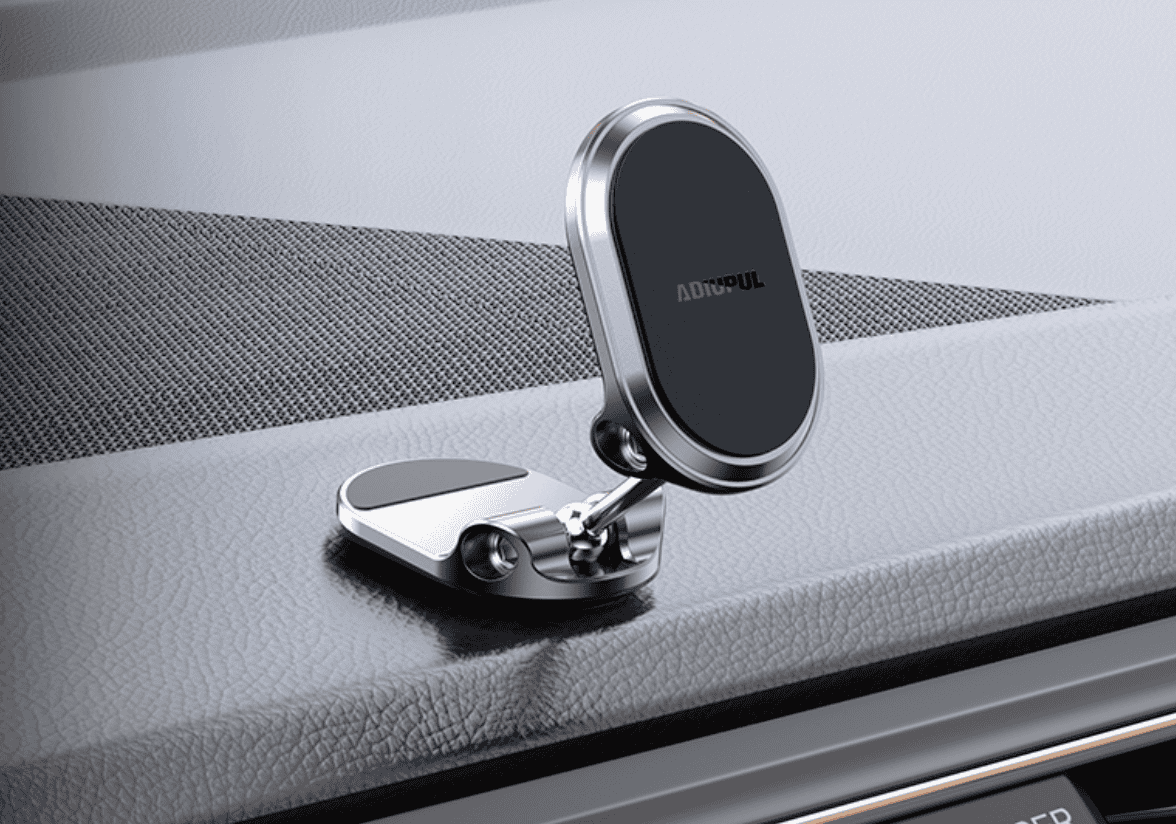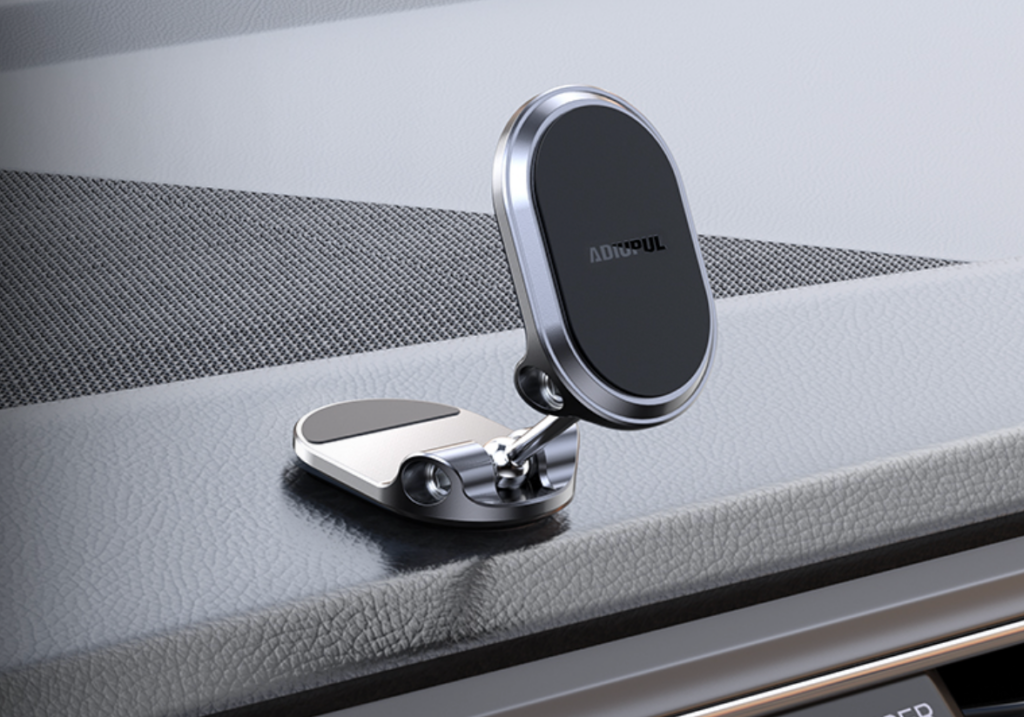 Phone holders are an essential accessory for any EV driver who needs to use their smartphone while on the road. They provide a safe and secure place to mount your phone, so you can easily see navigation directions or make hands-free calls while driving. This particular phone holder is designed with wireless charging capability, making it even more convenient. The clamping mechanism ensures a tight grip on your phone, while the adjustable arm allows for flexibility in positioning. Its compatibility with most smartphones and its easy installation make it a great choice for anyone looking for a reliable and versatile phone holder for their EV. Available for ready-buy in best deals on Amazon.
Final Say
With a budget of $50, you can purchase several useful and fun accessories that will enhance your EV driving experience. From practical items like tire pressure gauges and seat gap fillers to more playful accessories like EV-themed air fresheners and charging cable organizers, there are plenty of options to choose from.
Remember to prioritize accessories that improve safety, comfort, and convenience while driving. And don't forget to check the compatibility of the accessory with your specific make and model of EV before purchasing. By investing in some of these accessories, you can make your electric vehicle more comfortable and enjoyable to drive while also keeping it in top condition. So go ahead and take your pick from this list of 10 EV accessories under $50 that you're sure to love!
Do let us know if you own any of these and how has the experience been thus far. Furthermore, for EV enthusiasts we have come up with a new section on our blog – so make sure to check that – Electric Vehicles.
Happy buying!