Apple recently launched the watchOS 9.3 update for Apple Watch Series 4 and later models, bringing new features, enhancements, and bug fixes. Unfortunately, the update has caused problems for some users who have reported excessive battery drain on their devices after upgrading to the latest OS version, causing disappointment among affected individuals.
watchOS 9.3 Update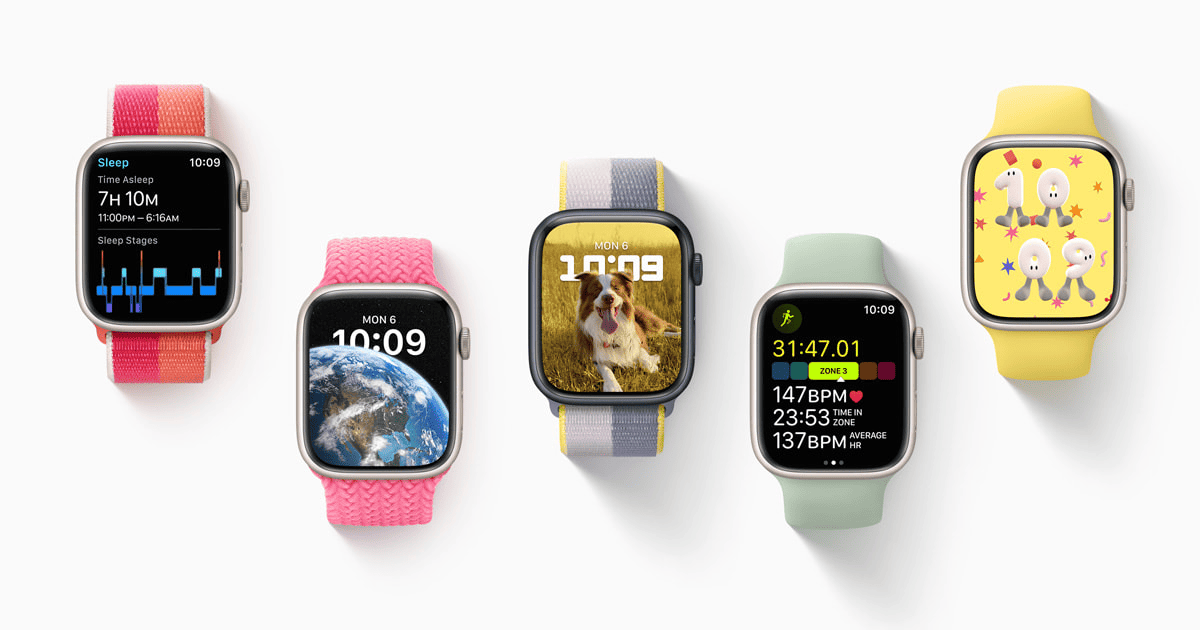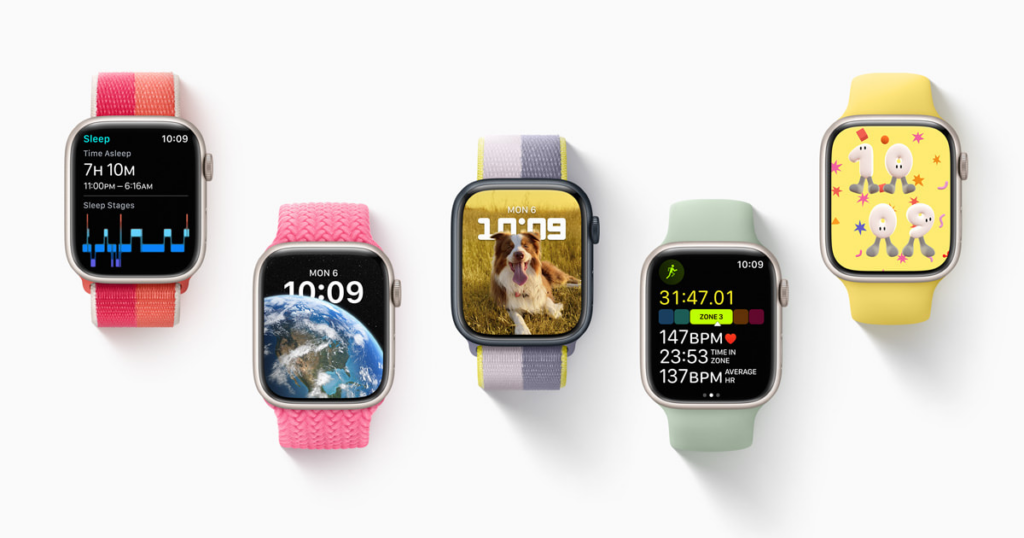 Apple Watch users finally get watchOS 9.3! This new software update brings a range of new and improved features to enhance the experience.
"watchOS 9.3 includes new features, improvements and bug fixes, including new Unity Mosaic watch face to honor Black history and culture in celebration of Black History Month."
Which devices get watchOS 9.3 update?
To use watchOS 9, you will need an iPhone 8 or later with iOS 16 or later and one of the following Apple Watch models:
Apple Watch Series 4
Apple Watch Series 5
Apple Watch SE
Apple Watch Series 6
Apple Watch Series 7
Apple Watch Series 8
Apple Watch Ultra
ALSO READ | The most suitable Apple Watch for kids
watchOS 9.3 brings the issue besides
Battery drain has been a recurring issue for smartwatch users and the latest watchOS 9.3 update has reportedly added to the problem. According to various reports, multiple users are experiencing significant battery drain on their smartwatches running the watchOS 9.3 update. The issue is causing frustration for many as the battery life of a smartwatch is one of its key selling points.
One Apple Watch Ultra owner has claimed that before the update, their watch's battery would last more than three days even with heavy training exercises and sleep tracking usage. However, after installing the recent update, the battery life has significantly decreased to just 5% within a day. The owner further claims that the battery discharged by 3% while in idle or standby mode within just 1.5 hours. This has raised concerns among the users, who are now looking for solutions to resolve the battery drain issue.
It's essential for the tech giant to address this issue and provide a fix as soon as possible to ensure customer satisfaction and maintain the reputation of their product. Until then, affected users can take measures to conserve their battery life, such as reducing background app refresh or lowering the screen brightness. We dug the web and found several claims across social media platforms – let's have a look at them.
Battery Draining After WatchOS 9.3 Update

I upgraded my Apple Watch Series 7 Cellular to watchOS 9.3 yesterday and noticed a lot worse battery life. The battery goes from 100% to 0% in just 6 hours and is connected to Wi-Fi rather than Cellular. I have already reset it to factory settings and performed a hard reset, and the issue persists. I hope Apple did not do this on purpose. Is anyone else noticing the same?

Source
Pre 9.3 my Ultra lived happily between 85% and 30%. This included 1 training set daily (with GPS) of between 60 and 90 minutes daily (I sometimes used headphones as well for a podcast). I wear the watch for sleep tracking as well. I was never worried and tested the watch for a 36 hour stretch (battery went down to 24% from around 80% also included the mentioned training and headphones test).

I usually charge the watch when I have a shower to about 80-85%.

I updated my watch to WatchOS 9.3 yesterday and, post update, the battery was at 78%. When I woke up this morning the watch was down to 5%. Fully recharged the watch to 100% and in 1.5 hours the watch dropped by 3%. this is while sitting at my desk, so no training session or headphone use. I bought the Ultra as the watch 7 and 8 battery life wasn't that great and now this.

Source
Despite the widespread battery drain issue on Apple Watches running the watchOS 9.3 update, many users have tried various methods to resolve the problem. Some have restarted their device, uninstalled a few apps, and even performed a factory reset on their watch, but to no avail. It appears that the battery drain issue persists even after these attempts to fix it.
It's worth mentioning that this isn't the first time users have reported similar battery drain issues on their Apple Watch devices. After the watchOS 9.2 update, there were similar complaints from users. This suggests that the issue is not limited to the latest watchOS 9.3 update and that it may be a more systemic problem.
ALSO READ | Apple's Airpods 4 rumors on features, wish list, price, and release in 2023!
Unfortunately, Apple has yet to respond to the matter, and the battery drain issue remains unresolved for many users. We hope that Apple will acknowledge this problem and provide a fix soon to ensure the satisfaction of their customers and maintain the high standards of their products.
Update to watchOS 9.3.1 as on March 6, 2023
Abnormal battery drain when on idle is still being reported by users after updating to watchOS 9.3.1v released around 20 days ago. The nightmare continues to haunt the users. Even with the display off, the battery has gone down overnight by almost 30% on Apple Watch 5.
Users who have been using the earlier series found that their Apple watch used to drain approx 1.5%/ hour. Post recent updates to WatchOS 9.3, it has degraded significantly. In comparison with the earlier Apple Watch (2015) when put into airplane mode, it lasted about 48 hours with some charge still left.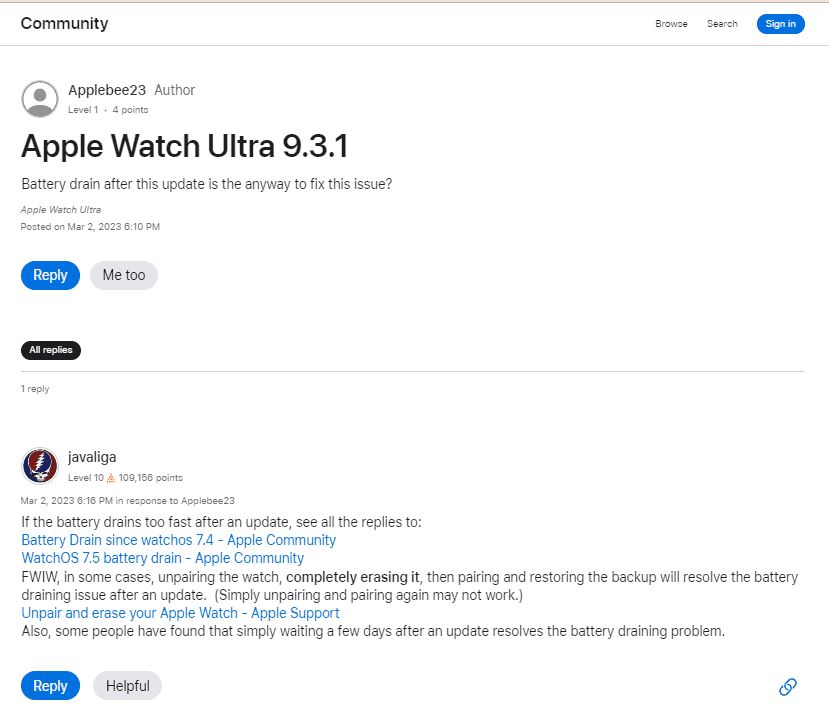 How to fix the battery drain issue?
If you're experiencing battery drain issues on your Apple Watch after the watchOS 9.3 update, don't worry – there are some potential workarounds that may help resolve the problem. Here's what you can try:
Disable background apps: Make sure that background apps are not turned back on after the update. This can be done in the settings of your Apple Watch.
Reboot and re-pair: Try rebooting your smartwatch and unpairing and re-pairing it with your iPhone. This can often help resolve any connection or software issues.
Hard reset: If the previous steps don't help, try a hard reset on your Apple Watch. To do this, press and hold the side button and the digital crown until the Apple logo appears. After the reset, you will need to sign in to your watch again.
We hope that one of these workarounds will help resolve your battery drain issue on your Apple Watch. If not, it's best to reach out to Apple Support for further assistance. In the meantime, keep an eye out for any official updates or fixes from Apple. If you're still experiencing battery drain issues on your Apple Watch after trying the workarounds we mentioned earlier, don't worry, there are a couple of other things you can try.
Warranty: If your device is still covered by warranty, take it to the nearest authorized service center for a check-up. The professionals there may be able to help resolve the issue.
Wait for the next update: If your device is out of warranty or if the workarounds didn't help, you may have to wait for the next update release. It's possible that the next update will include a fix for the battery drain issue.
We'll keep our eyes peeled for any new developments regarding the battery drain issue caused by the watchOS 9.3 update on some Apple Watch units. As soon as we have any new information, we'll update this article. In the meantime, we hope the workarounds we mentioned earlier will help you resolve your battery drain issue.